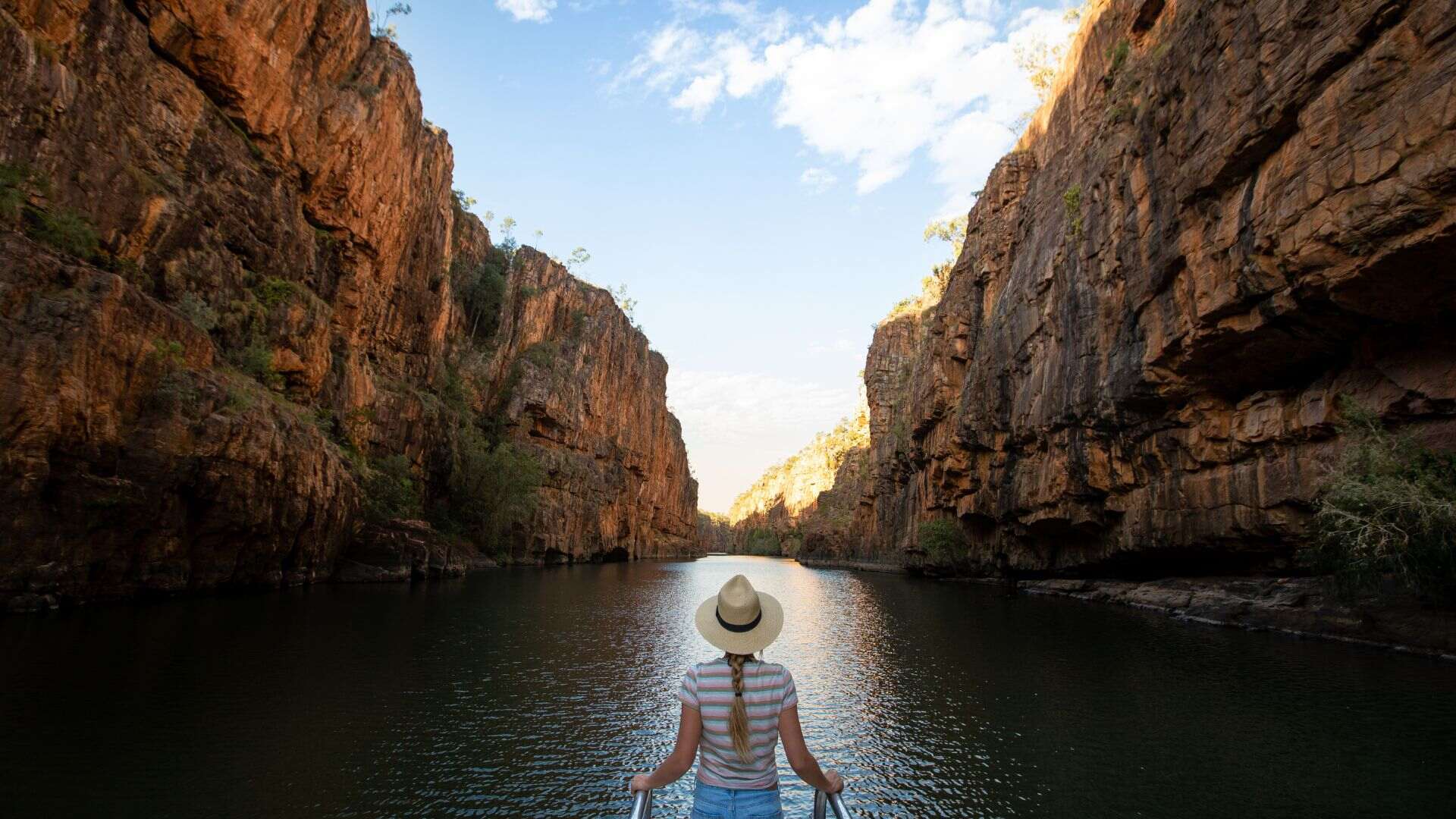 Explore the Iconic Waterfalls, Ancient Gorges and Local Cuisine of Katherine
Outback Oasis
Explore where the outback meets the tropics by relaxing on river cruises, trekking through gorges and chilling in hot springs.
Nestled amongst stunning natural beauty, Katherine is sure to leave you in awe. Whether you're seeking adventure, relaxation, or a bit of both, this outback oasis has something for everyone. Together with Tourism Northern Territory, we've compiled this destination guide so you know the best places to eat, stay and play in Katherine.
Take a dip in the crystal-clear waters of hot springs, hike through the iconic terrain of Nitmiluk National Park, or cruise along the majestic Katherine River to witness the beauty of the towering sandstone cliffs. So pack your bags and get ready to experience the Top End's outback oasis.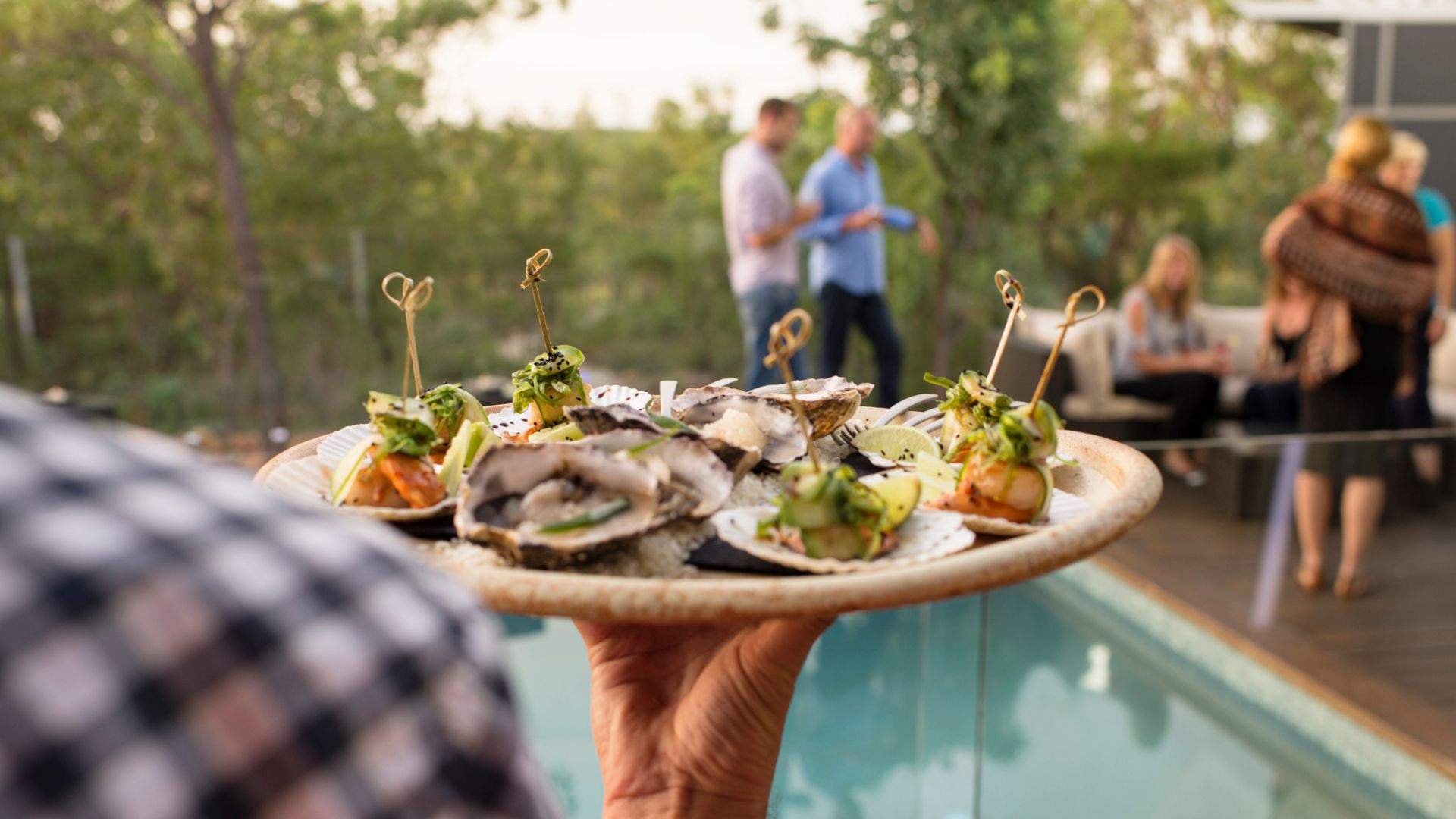 Taste the delights of Katherine at these top spots.
EAT
You won't get far on this adventure on an empty stomach — and with standout culinary experiences to be had, you won't have to. Nabilil Dreaming Sunset Dinner Cruise offers a truly unforgettable evening of delicious food and breathtaking views. As you float along the tranquil waters of the Katherine River, you'll be treated to a candle-lit three-course feast of fresh locally sourced ingredients, expertly prepared by the chef on board, and a complimentary glass of sparkling wine. If you are in the mood for more libations, there is a bar onboard as well. The menu changes regularly in line with what ingredients are in season but expect lots of Indigenous treasures and maybe even a crocodile dish. Your cruise guides will share their knowledge of the Katherine River's yearly cycle, unique wildlife and the Jawoyn culture and history while the sun sets and the cruise makes its way through two gorges.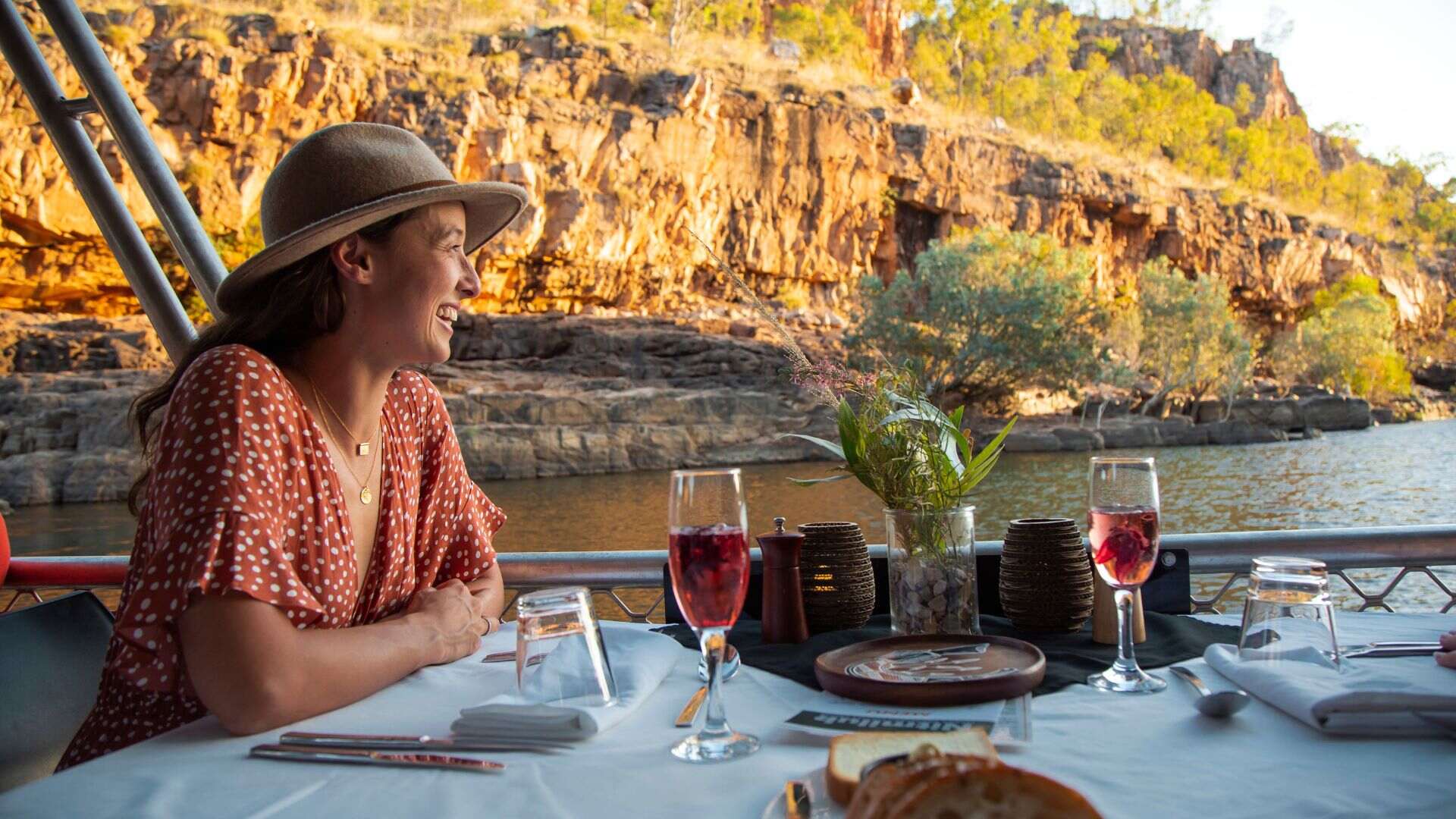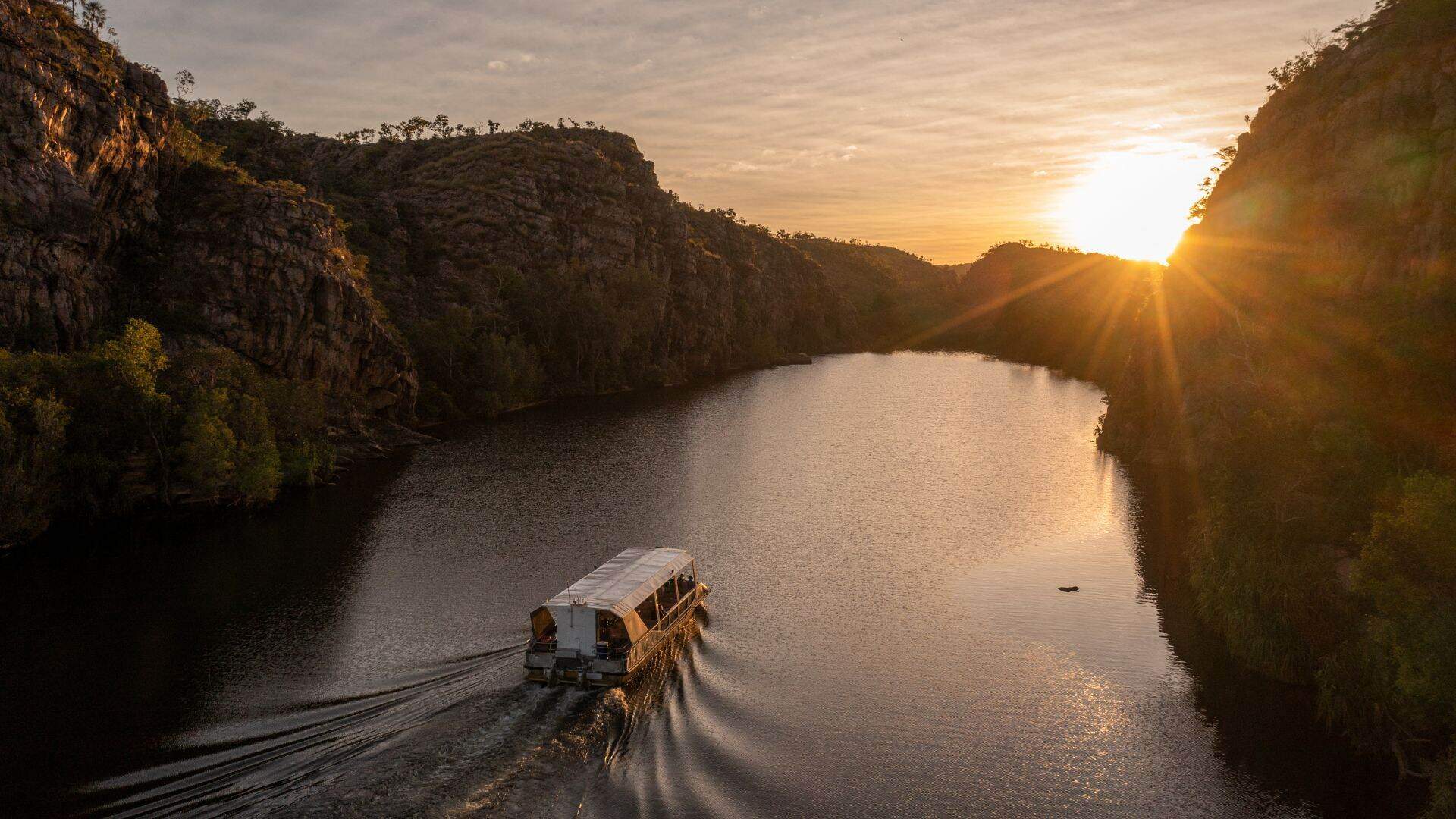 For a land-based alternative, check out Cicada Lodge. This award-winning restaurant — celebrates native ingredients for a contemporary take on Australian cuisine.
For something quick and on-the-go, head to the cute Black Russian Caravan Bar for coffee and teas (iced and un-iced) toasties and sweet treats. The menu features classic toastie combos but with the flavour dialled up. Try the triple smoked ham and triple cheddar, the garlic mushroom with herby bechamel, or the cheesy chipotle chicken with chorizo, bacon, onion and triple cheddar. It's in the heart of Katherine, an ideal location for stocking up on toasties before heading out to Nitmiluk Gorge for an adventure, picnic or swim in one of the many natural pools in the national park.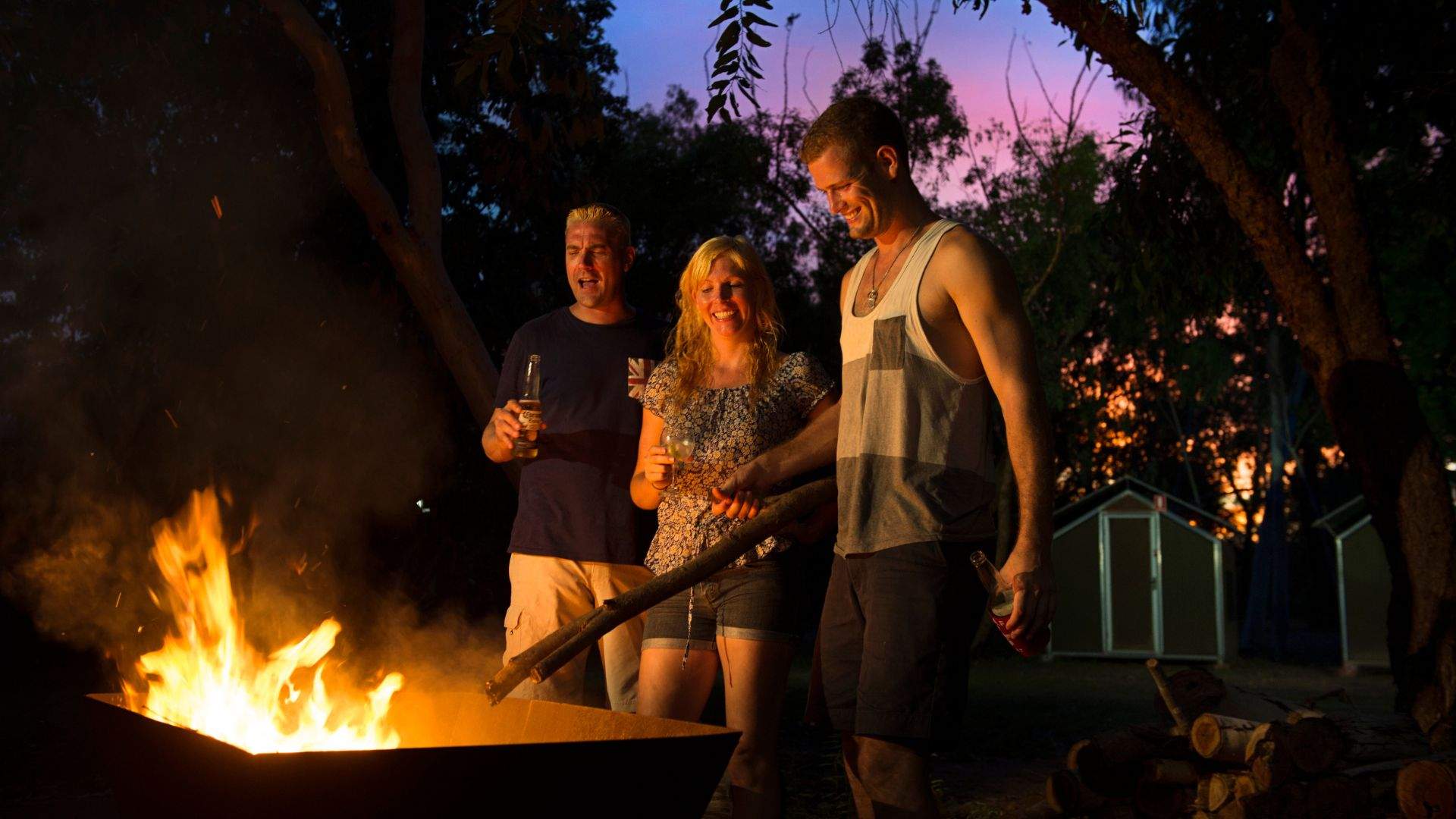 Choose from budget-friendly campgrounds or comfortable lodges.
STAY
Katherine offers a range of accommodation options whether you're looking for a budget-friendly adventure base or a luxurious relaxing retreat. One standout option is the aforementioned Cicada Lodge, which offers a blend of luxury and wilderness. Located in the heart of Nitmiluk National Park and open all year round, this eco-resort has an outdoor pool to chill out at the end of the day and a range of spacious suites — each beautifully appointed with original artwork from local indigenous artists, private balconies and stunning views of the surrounding bushland. It is a comfortable base for your outback adventure with the Nitmiluk Gorge jetty only a 15-minute stroll away.
To get even closer to adventure and the natural beauty of the surroundings, located within the national park is Nitmiluk Gorge Caravan Park, offering unparalleled access to the natural attractions making it the perfect choice for those that want to immerse themselves in the Top End's rugged beauty — you're so close to nature you may even encounter a curious wallaby or two passers-by.
This well-equipped campground offers a range of accommodation options including comfortable cabins — self-contained, air-conditioned with a choice of one or two bedrooms, the ideal choice for families who prefer the convenience of making their own meals. There is an outdoor pool for cooling off after a day of exploring the park. The onsite Nitmiluk Cafe serves breakfast and lunch and the poolside bistro slings pizzas and drinks for those who don't fancy cooking while on holiday. For those camping, there is a choice of both powered and unpowered sites suitable for campers, caravans, and motorhomes to call home while exploring the Nitmiluk National Park.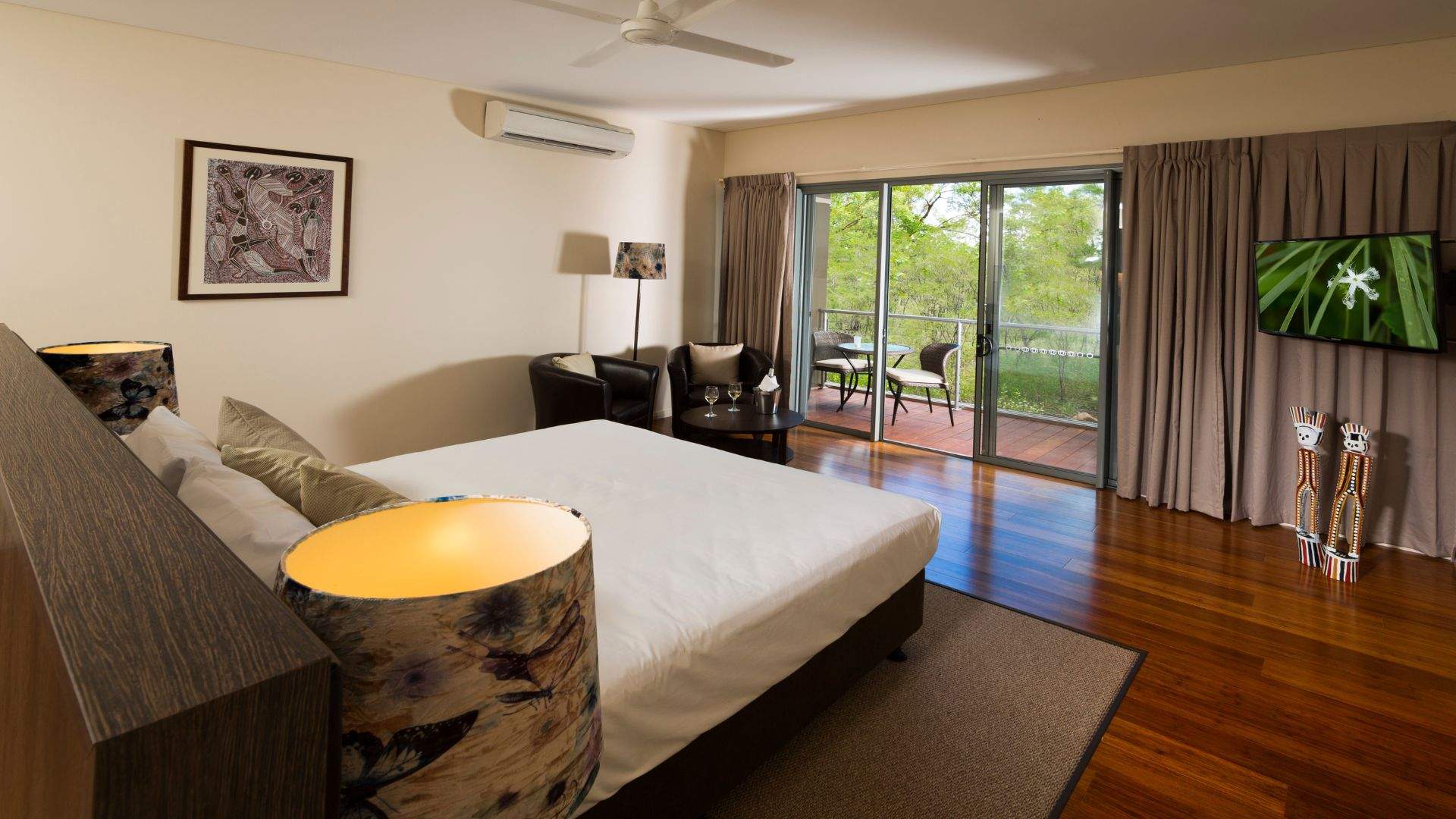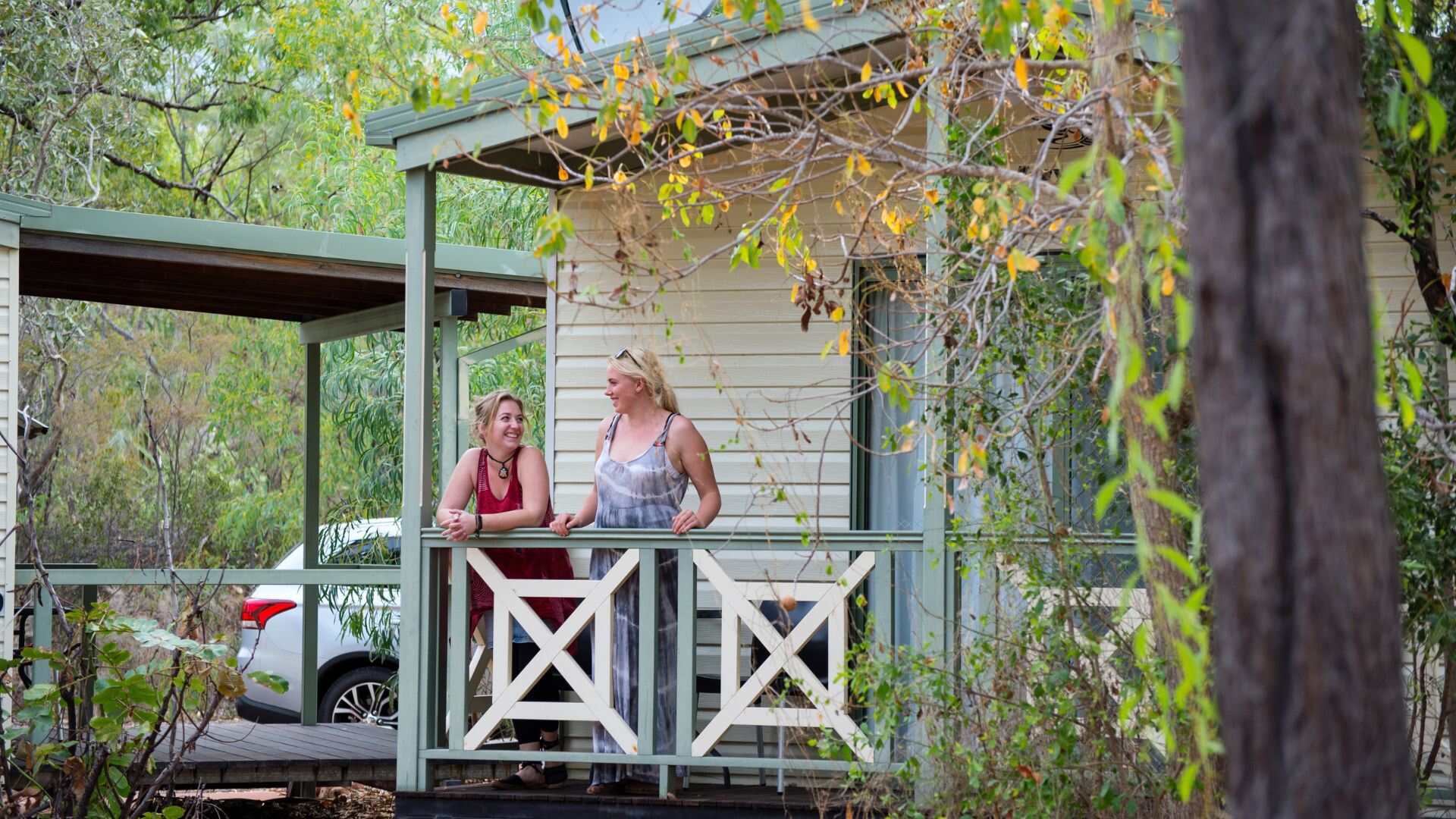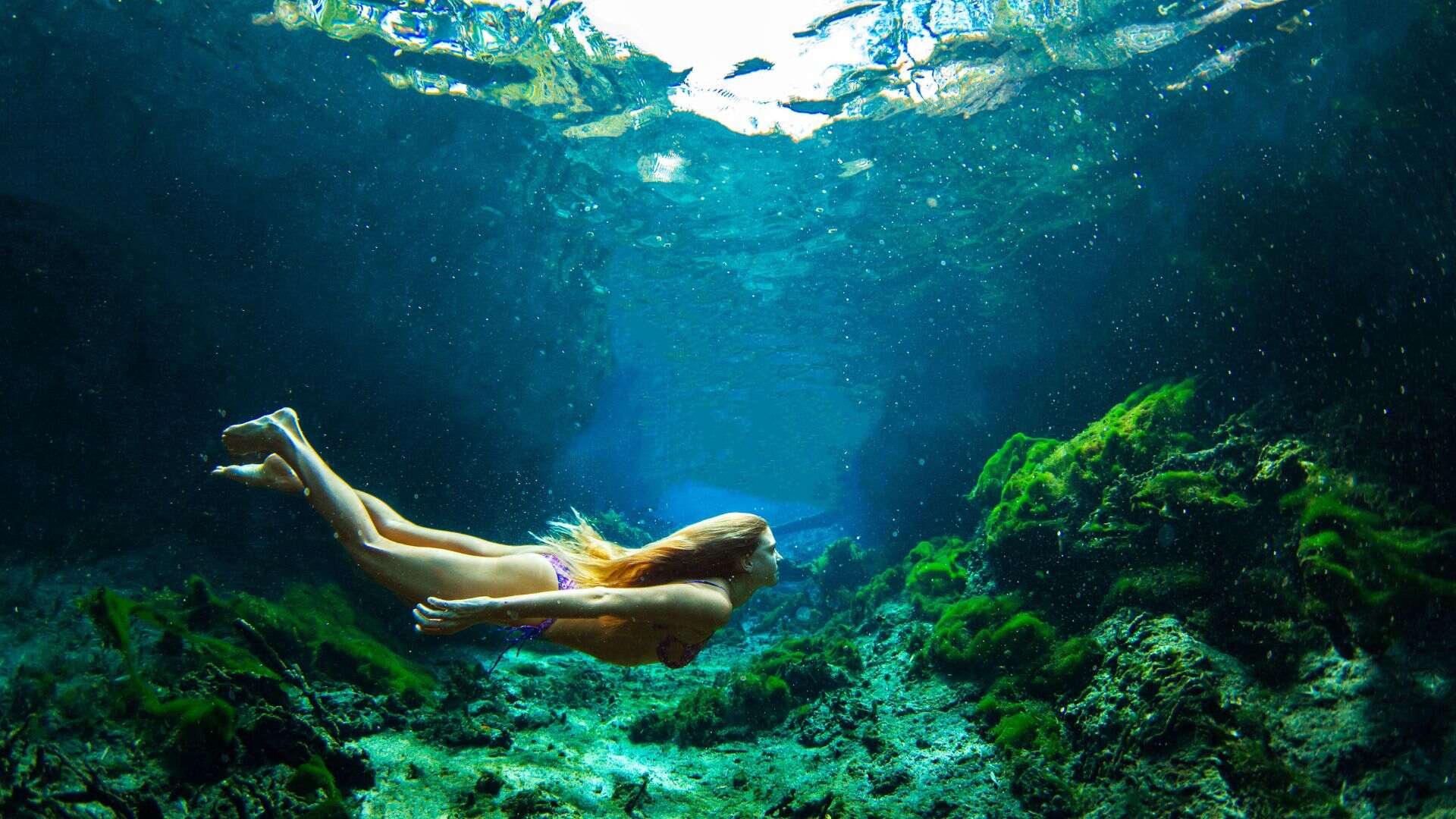 Take a dive in thermal pools after hiking through the gorges of Katherine.
PLAY
Swim, hike, ride, dive, see, fly and float all through the Katherine region at the Nitmiluk National Park, just 30 kilometres northeast of Katherine. Open year-round for visitors, the weather is warm and dry from May to October — perfect for hiking and canoeing on calm waters. But if you want to see the waterfalls at their peak, November to April is when the tropical rains come to visit and water levels rise — be advised that the swimming holes may be closed during the wet season. Nitmiluk National Park has a lot to see and is best explored by car or by taking an organised tour.
The cornerstone of the park is the Katherine Gorge with 13 stunning natural gorges to explore by sky, foot or canoe — there are canoes available for hire, just be sure that you and your canoe partner have a good rapport. Push off from the riverbank to see the sandstone cliffs plunge into the crystal clear waters of Katherine River or lace up your hiking boots and climb to Baruwei (St Pat's) Lookout and watch the canoers and boats sail by as you take in the mesmerising surroundings.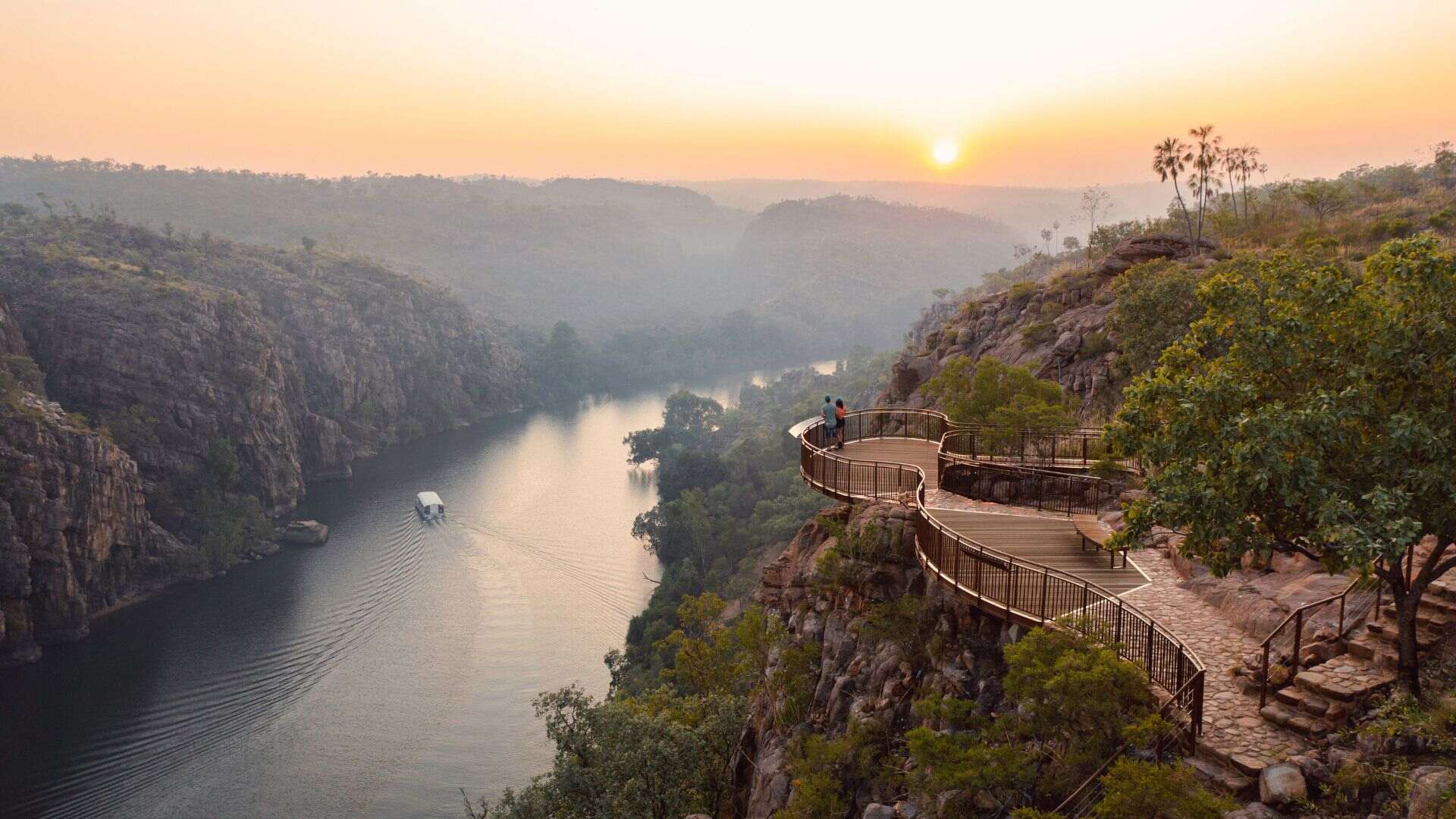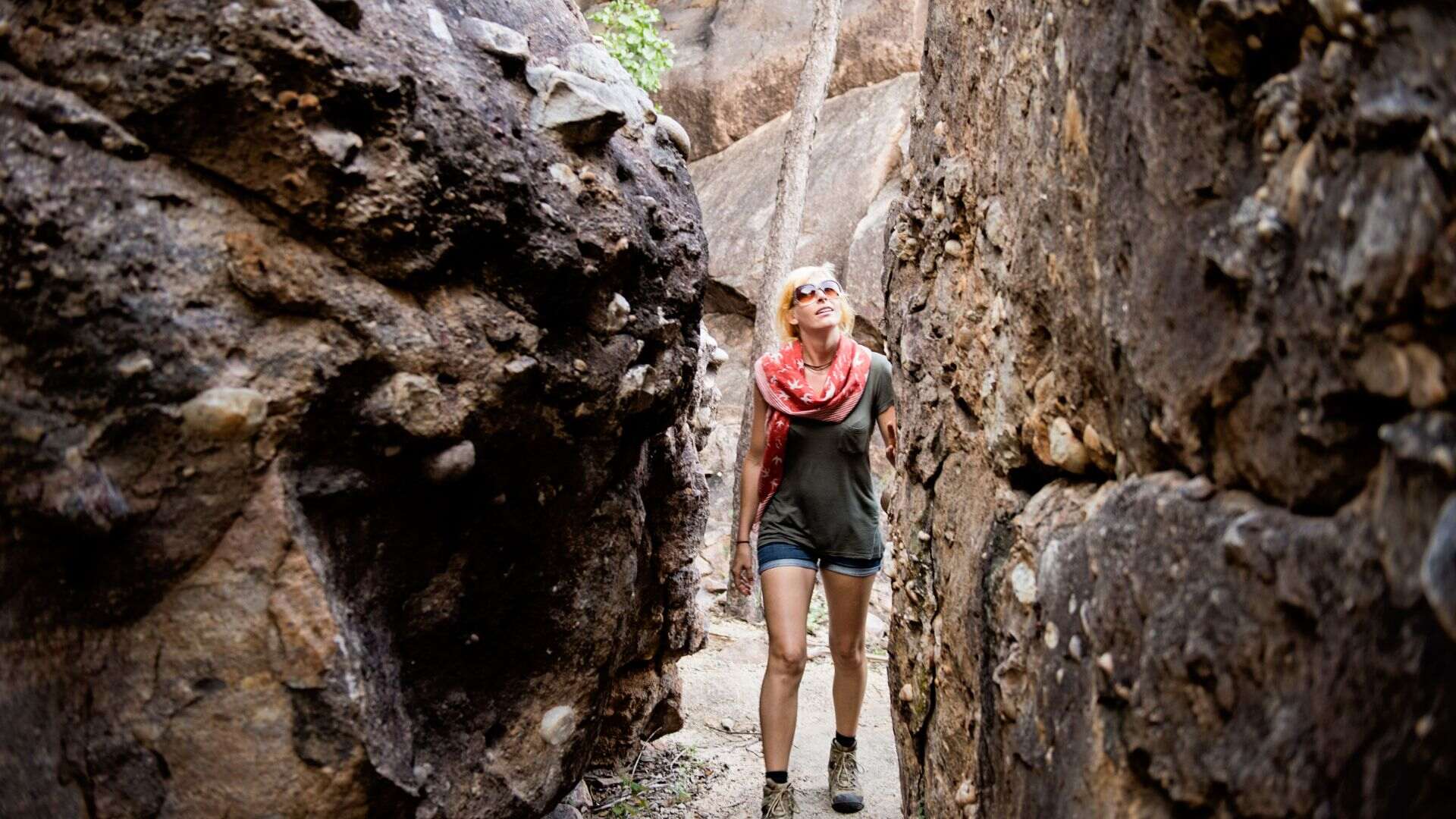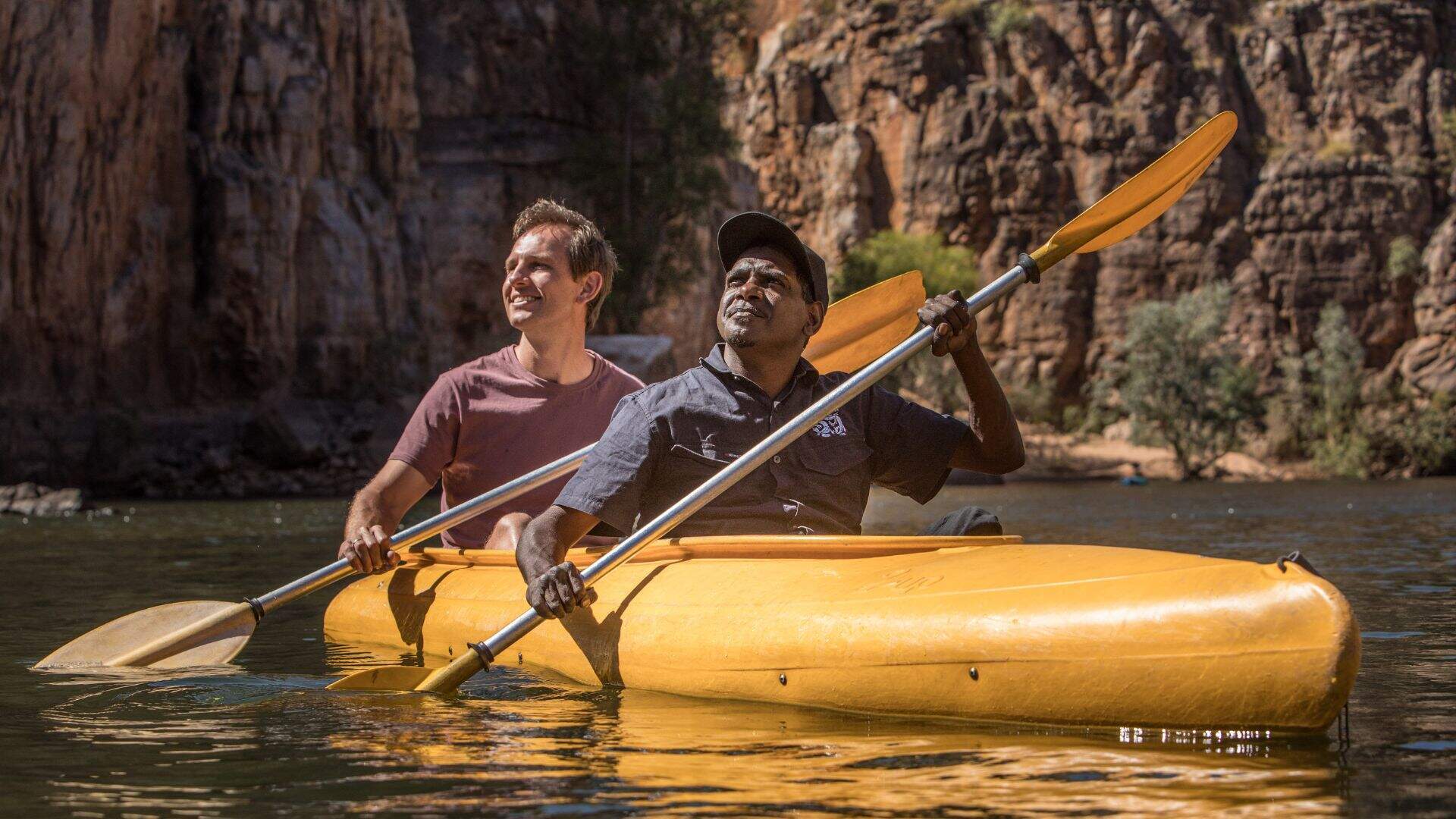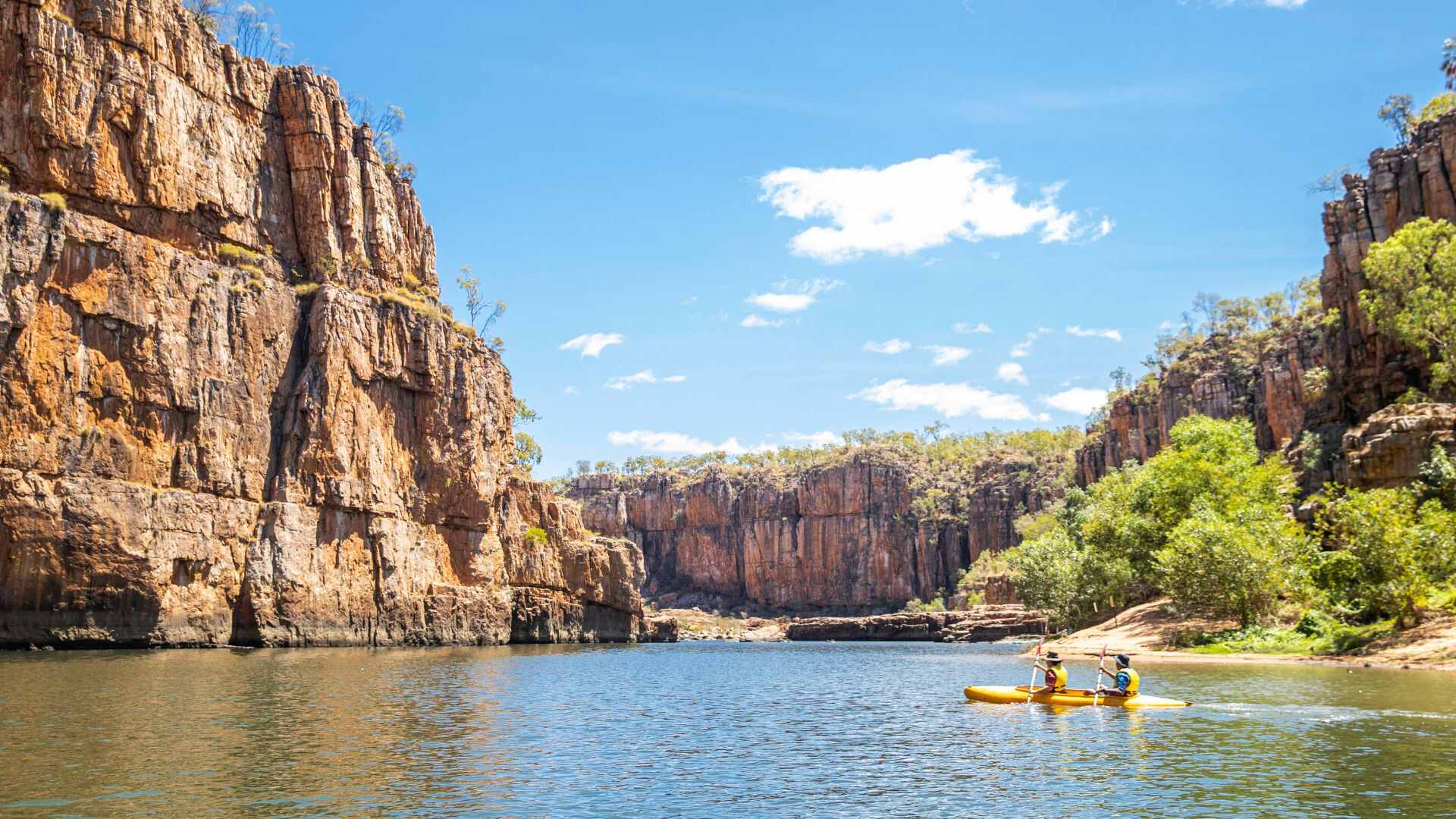 A bit of bush swimming should be on the cards after all that physical exertion. Thankfully, you can take a refreshing dip in the Katherine Hot Springs, natural thermal pools on the banks of the Katherine River flanked by native vegetation, picnic grounds and of course scenic walks.
If you're keen to go further afield there are great swimming opportunities on the western side of the park at Leliyan (Edith Falls). This picturesque waterfall system is surrounded by lush paperbark and pandanus greenery and features a large plunge pool at the base of the waterfall that's perfect for swimming. This natural swimming hole offers a refreshing break from the heat and a chance to connect with the rugged beauty of the Top End. If camping is on the cards for you, there are campsites available in a scenic bush setting and there's a kiosk for those that forgot to pack their post-swim picnic. If you're still in the mood for hiking, there is a steep rocky 2.6-kilometre loop track that passes the upper Leilyan pool. You can even continue on the longer nine-kilometre track to another swimming hole Sweetwater Pool.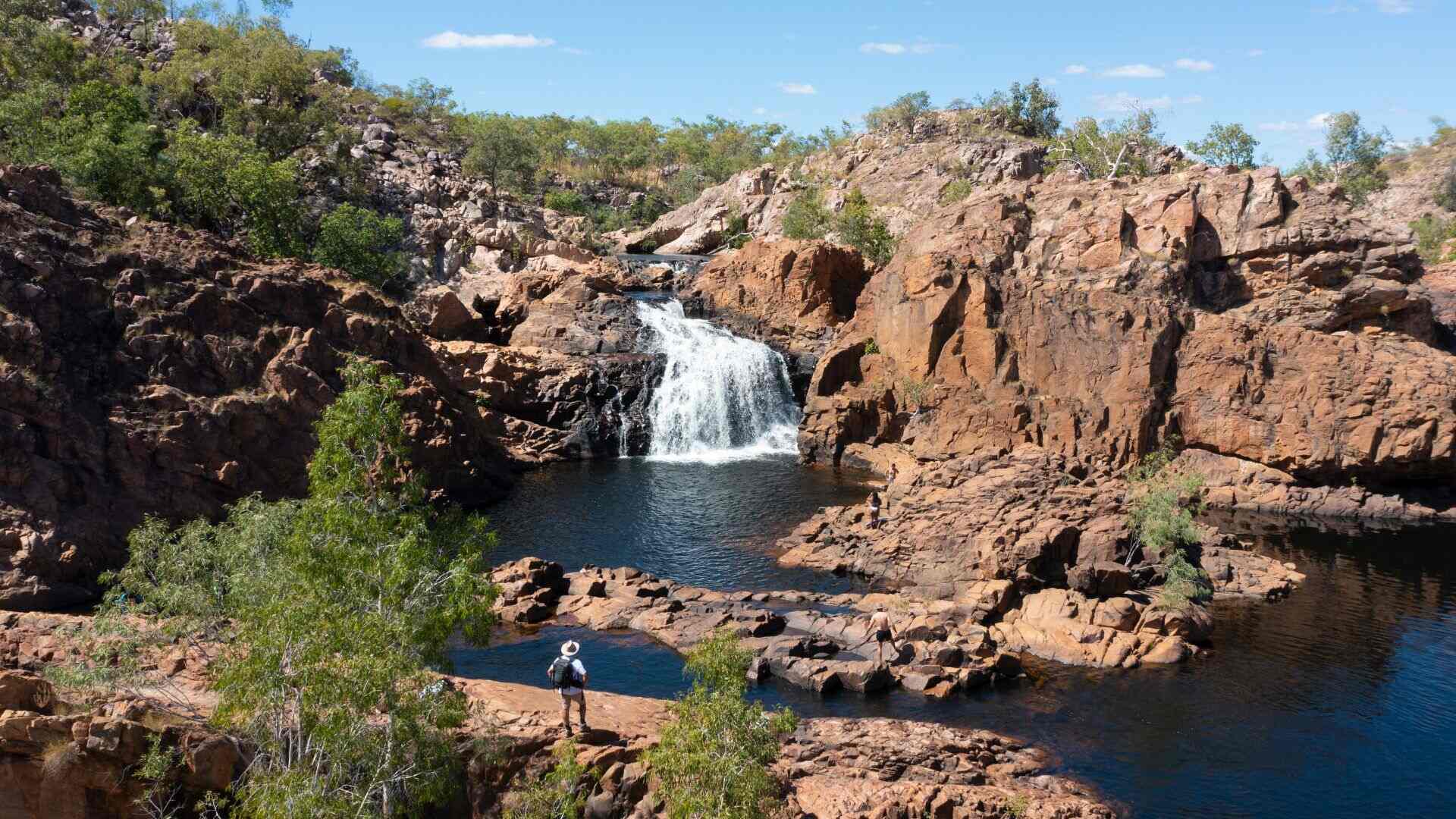 Explore more of the outback oasis at Bitter Springs, the famous spring-fed sandy-bottomed thermal pools in Elsey National Park, an ideal spot to relax and unwind after a day of exploring. The pools are two kilometres away from the township of Mataranka — the setting of the novel We of the Never Never by Jeannie Gunn. Stay a while in the area and wander through the Never Never Museum to learn about this country's traditional Aboriginal custodians, the Mangarayi and Yangman people and browse the Stockyard Gallery's exhibit of local Aboriginal art.
For a more secluded swimming spot, Southern Rockhole is a hidden gem that's worth seeking out. It's found near the top of the first gorge along the Windolf bush walking track. The waterfall may be seasonal but the sandstone cliff faces are there year-round and worth the trek. Speaking of, you better have packed your hiking boots because it's an eight-kilometre return bushwalk from the carpark — alternatively, you can catch a ferry one-way that will drop you off/pick you up within 150 metres of the pool. However, it is also seasonal so you better check it's operating before you head out.
If you're looking to experience the region's unique culture and history, be sure to check out the Katherine outback Experience and get a taste of outback living and the region's rich pastoral heritage. Enjoy horse riding sessions, glamping and boot-tapping music gigs. Private or group horse riding lessons are available to riders of all experience levels. This immersive experience offers a glimpse into the life of a working cattle station, complete with horse training and working dog demonstrations, live music, and fun bush tucker trials.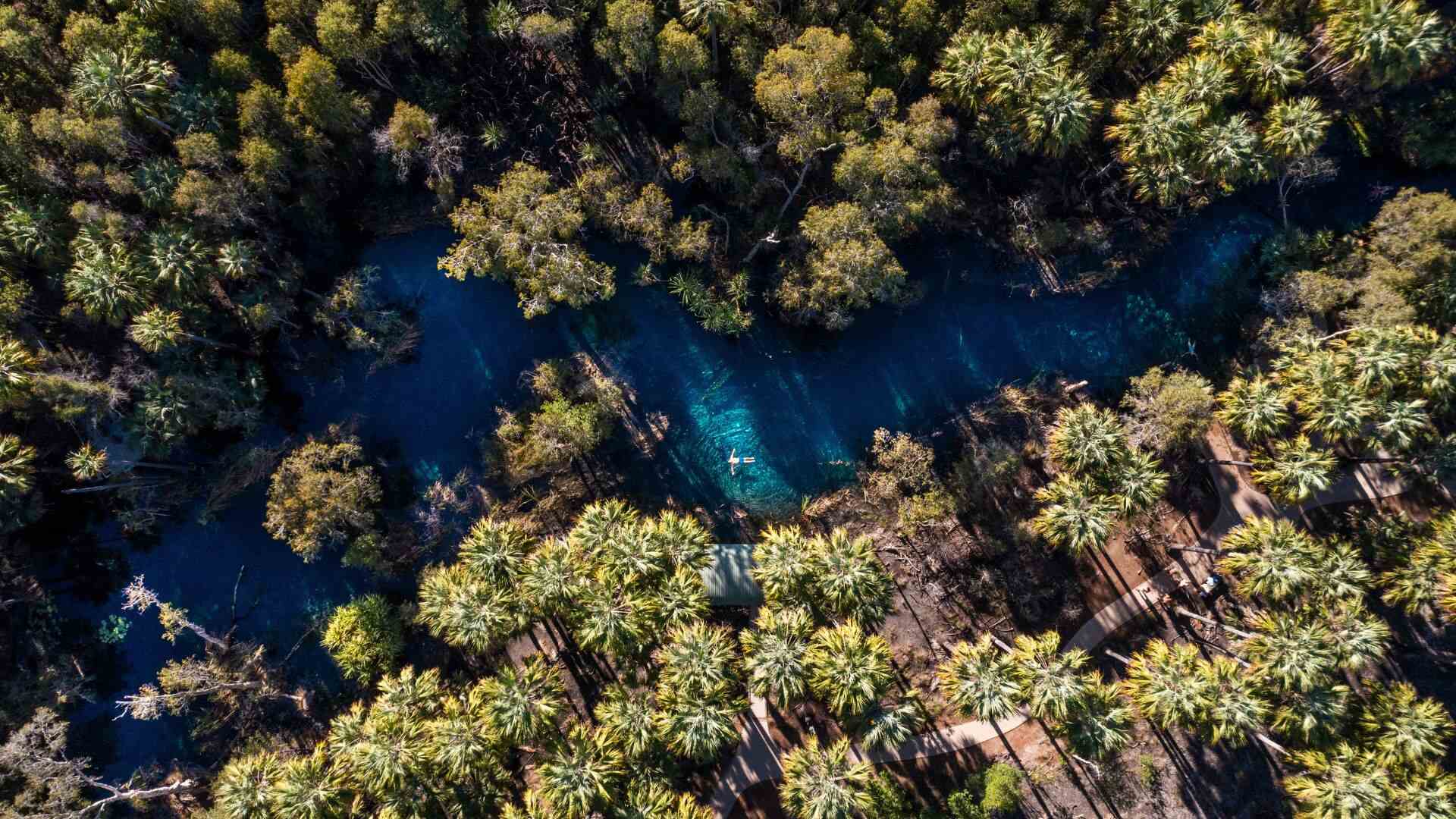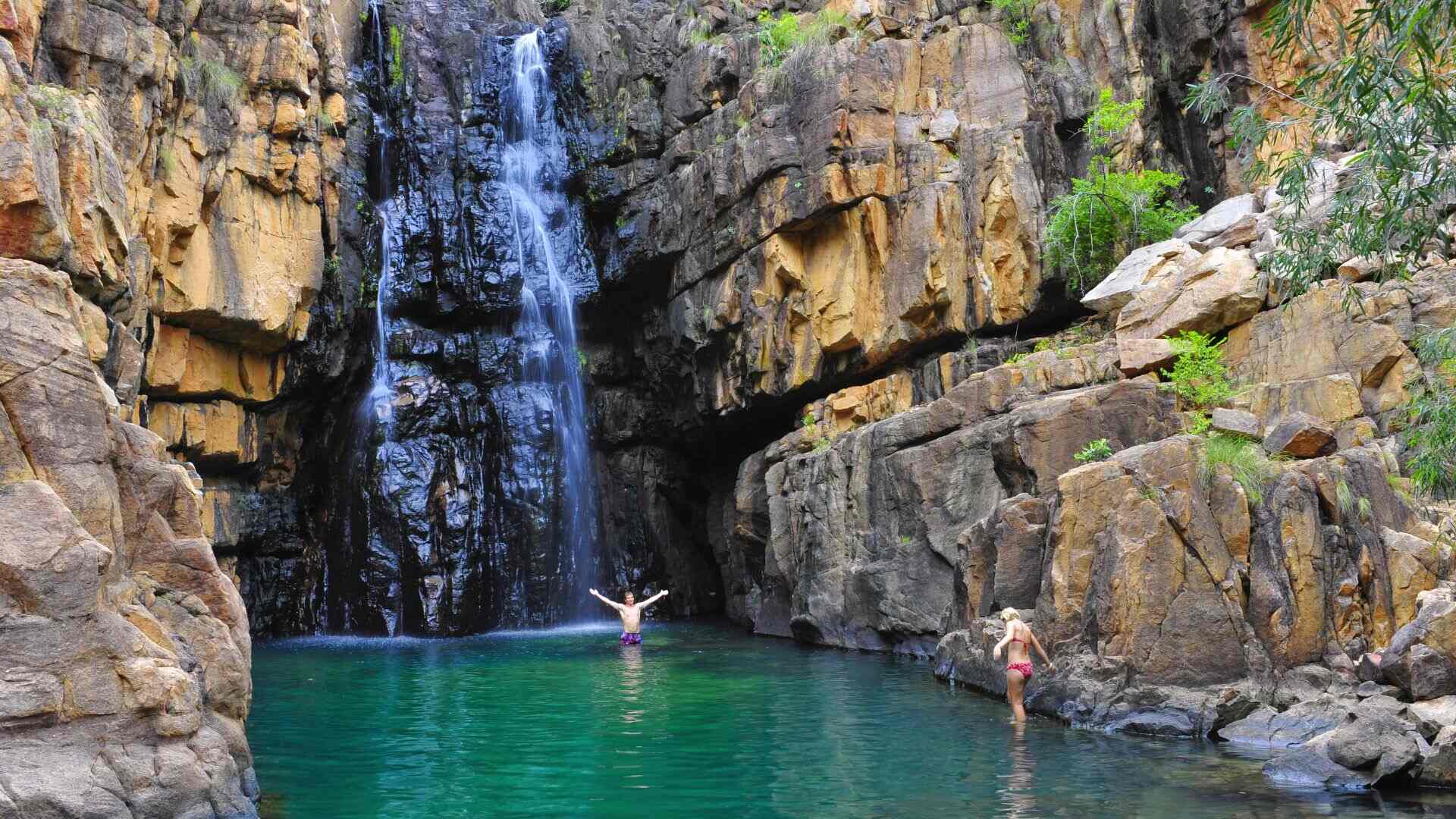 Whether it's your first stop or the next leg in your adventure, Katherine is a destination that promises to leave a lasting impression on visitors. Book flight deals to Darwin at jetstar.com.
Images (in order): Katie Goldie (Top Image); Eat: Shaana McNaught, Nicholas Kavo, Sean Scott, Shaana McNaught, Matt Cherubino; Stay: Shaana McNaught, Peter Eve, Shaana McNaught; Play: Sam Earp, Tourism NT/Tourism Australia, Shaana McNaught, James Fisher, Helen Orr, Sean Scott, Matt Cherubino, Sean Scott, Steve Strike, Geoffrey Reid

Concrete Playground Trips
Book unique getaways and adventures dreamed up by our editors