Charming New Binge Sitcom 'Colin From Accounts' Is Australia's Next Great Rom-Com
After 'No Activity', real-life couple Harriet Dyer and Patrick Brammall reteam for Binge's new series, which is streaming its first season in full now.
Before the opening credits roll on the first of its eight season-one episodes, Binge's new Australian sitcom Colin From Accounts explores some of life's big questions. When two strangers cross paths and literally come to an impasse, who should proceed off into their regular lives to begin with — and who should hang back out of their way till they're gone? Also, what's the appropriate way to interact? Are smiles, nods, waves, and mouthing "you go" or "after you" acceptable? And, if you're the person who scores right of way, how do you show your gratitude as you're merrily venturing forward?
These may seem like trivial matters, as everyday and relatable as they clearly are, but the right moves might just inspire a life-changing meeting. They could also have serious consequences, and bond you in a complicated situation for around 12 years with someone you wouldn't have otherwise met. Or, both could occur. That's how it pans out in Colin From Accounts, with the rom-com spying the familiarity, comedy and chaos in bumping into another person on the street. Medical student Ashley (Harriet Dyer, The Invisible Man) and microbrewery owner Gordon (Patrick Brammall, Evil) do just that one otherwise standard Sydney morning. He lets her go first, she flashes her nipple as thanks, then he's so distracted that he hits a stray dog with his car.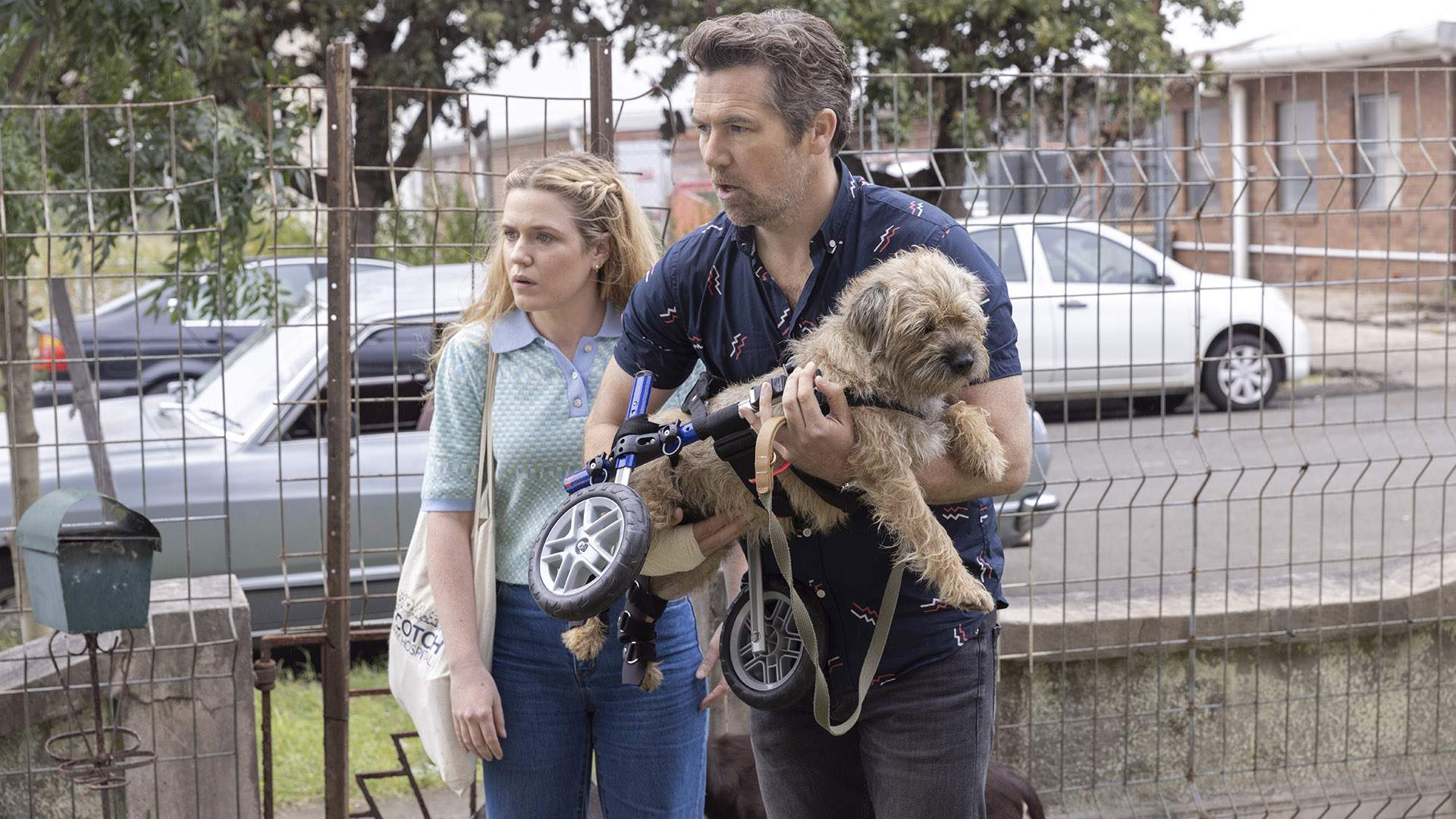 A girl, a guy and a meet-cute over an adorable animal: that's this delightful and very funny series' straightforward underlying formula. But as the circumstances surrounding Ash and Gordon's initial run-in demonstrate, Colin From Accounts isn't afraid to get awkward, much to the benefit of audiences. There's a syrupy way to proceed from the show's debut moments, intertwining sparks flying with idyllic dates, plus zero doubts of a happy ending for humans and pooches alike. If this was a movie, that's how it'd happen. Then there's Dyer and Brammall's way, with the duo creating and writing the series as well as starring in it, and focusing as much on ordinary existential mayhem — working out who you want to be, navigating complex relationships and learning to appreciate the simple pleasure of someone else's company, for example — as pushing its leads together.
Before Ashley becomes 'Flashley', she's a 29-year-old medical student reeling from an unexpected breakup with a colleague (Tai Hara, Underbelly: Vanishing Act). Before Gordon is forced to ask his ex Yvette (Annie Maynard, Playing for Keeps), a vet, to do him a favour, he's a fortysomething who has been single for a unicycle-buying amount of time. By the time the day of their first encounter is out, they'll be sharing a hefty debt and a Sydney home — the former for the dog's treatment and the latter because pets aren't allowed at Ash's sharehouse. She's in his phone as 'Ashley $12k', the amount they're on the hook for. He's in hers as 'Dog Car Guy'. They joke about being each other's weird mate, and openly wonder if two people can be friends once exposed mammary glands get involved.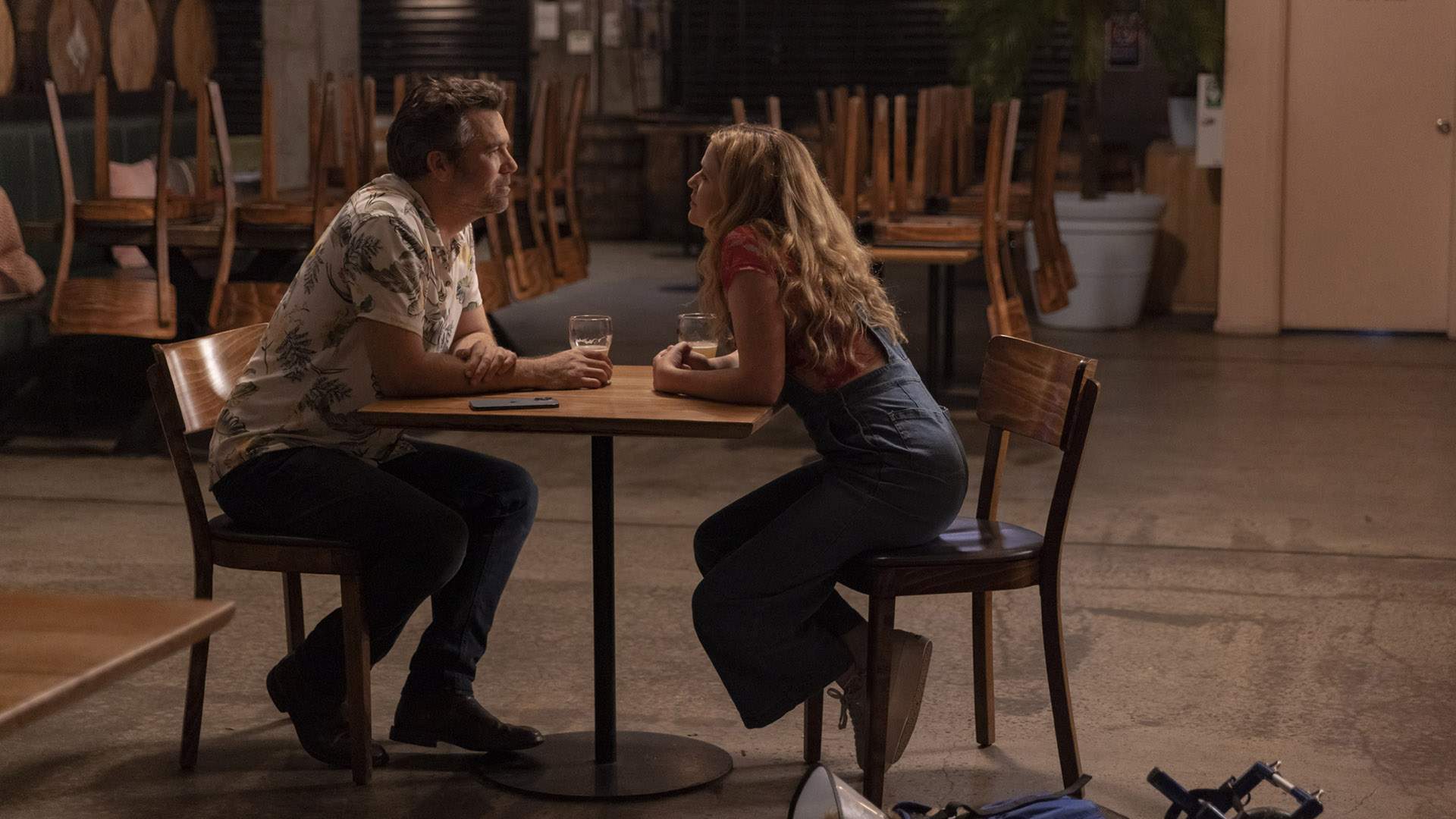 Just like in the Hollywood versions of this kind of tale, romance does blossom. That Dyer and Brammall are behind Colin From Accounts, their past chemistry on fellow Aussie comedy No Activity and the fact that they're married IRL means that pairing them up as more than new pals was always going to be on the show's agenda. It's how the series fleshes out each character and their baggage — including those who-am-I questions, Ash's difficult dynamic with her attention-seeking mother Lynelle (Helen Thomson, Elvis), and the responsibility that running your own business and committing to care for other people each bring — that helps give it depth. Colin From Accounts lets Ash and Gordon unfurl their woes and wishes, and also lets them grow. Sometimes, that happens by peeing and pooping in the wrong place, because that's also the type of comedy this is. Sometimes, it's because the show's central couple have taken a risk, or faced their struggles, or genuinely found solace in each other.
There's more than a touch of Catastrophe to Colin From Accounts, in its thrusting of two strangers together by a twist of fate that sees them sharing caring duties — for a dog rather than children, however. In lesser hands, there'd be an initial dose of New Girl as well, but Ash is no manic pixie dream girl singing her way through Gordon's life or unleashing a big bag of quirkiness. Credited with penning four episodes apiece, Dyer and Brammall bring sharpness and authenticity to their scripts, especially when confronting the truth that neither Ash nor Gordon know what they truly want. There's a clear-eyed feel to Colin From Accounts' still-light embrace of one of life's immutable realities: that we're all just moseying forward, being spontaneous, coping with the fallout, colliding with other people — and critters — and hoping for a content-enough outcome.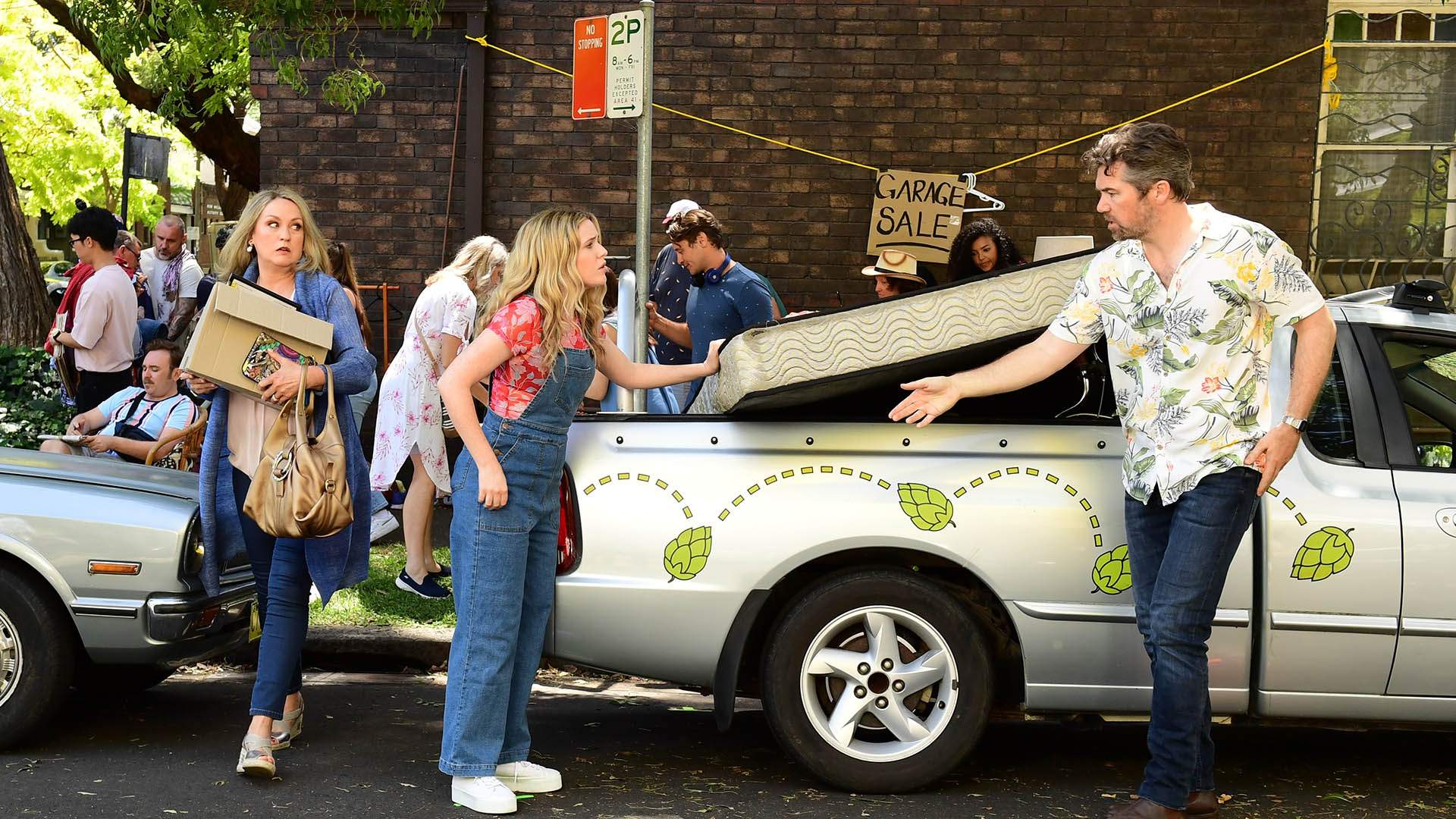 Watching Dyer and Brammall bounce off of each other, dog in tow, is easy. Even when things are at their most strained between Ash and Gordon, and even when Colin From Accounts is swinging for its broadest grabbag-style laughs, their rapport always feels grounded. The script layers in gags about the pair's age difference, and contrasts the distinctive brands of Millennial and Generation X chaos, but the series is never in laugh track-heavy sitcom territory. Neither actor's impressive work should come as a surprise, of course, and nor should their ability to find drama as well as comedy in the show's premise. See: their respective resumes, including Dyer's work in Killing Ground and Wakefield, and Brammall's on Offspring and Glitch.
Colin From Accounts may focus on Ash and Gordon's ups and downs, and on Dyer and Brammall as its driving forces, but it also mines a wealth of other talent. Thomson is a scene-stealer, as part of a subplot that examines the lifelong hurt that can spring when no one actually says what they mean. As Gordon's brewery colleagues, Genevieve Hegney (Doctor Doctor) and Michael Logo (Why Are You Like This) each have their moments to shine, and the same applies to Emma Harvie (Frayed) as Ash's fellow med-student bestie. Behind the lens, directors Trent O'Donnell (another No Activity alum), Matt Moore (The Great) and Madeleine Dyer (Monster of Many Worlds) keep the series both breezy and weighty — and instantly bingeable.
Check out the trailer for Colin From Accounts below:
Colin From Accounts streams via Binge.
Images: Lisa Tomasetti / Tony Mott.
Introducing Concrete Playground Trips
Book unique getaways and adventures dreamed up by our editors