'House of the Dragon' Is the Exact Prequel Series That 'Game of Thrones' Fans Have Been Waiting For
Dragons, fire, family dramas, power struggles — throw in sex, chaotic weddings and wars, too, and HBO's new jump through House Targaryen's history ticks all the anticipated boxes.
In its very first moments, House of the Dragon's opening episode delivers exactly what its name promises: here be dragons indeed. Within ten minutes, the Iron Throne, that sprawling metal seat that all of Westeros loves fighting about, also makes its initial appearance. By the time the 20-minute mark arrives, bloody violence of the appendage-, limb- and head-lopping kind fills the show's frames as well. And, before the debut instalment of this Game of Thrones prequel about House Targaryen's history even hits its halfway mark, a brothel scene with nudity and sex is sighted, too. Between all of the above, the usual GoT family dramas, squabbles over successors and power struggles pop up. Of course they do. 
Kicking off on Monday, August 22 Down Under — via Foxtel and Binge in Australia and SoHo, Sky Go and Neon in New Zealand — House of the Dragon was always going to check all of the above boxes. None of this can constitute spoilers, either, because none of it can come as a surprise. Game of Thrones' fame and influence have become that pervasive, as have its hallmarks and trademarks. Everyone knows what GoT is known for, even if you've somehow never seen this page-to-screen franchise yet or read the George RR Martin-penned books that it's based on.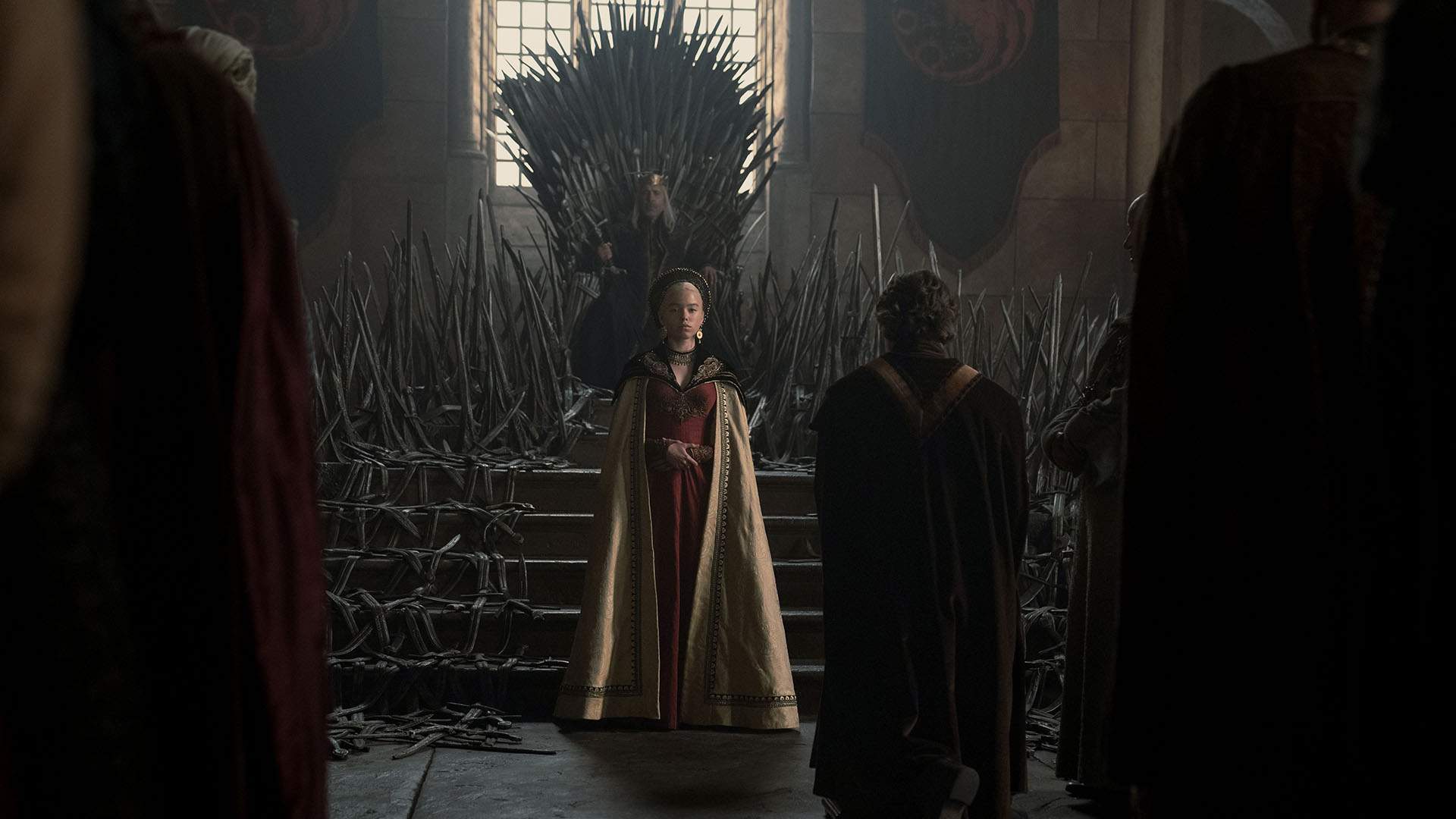 Also, everyone knows that Game of Thrones was the most-talked about and obsessed-over show on television between 2011–19, and that it didn't exactly go out with a bang when it wrapped up its eighth and final season three years back. Accordingly, trying to recapture past glories was bound to be HBO's main aim in its first step back into this fantasy world, rather than daring to tread new territory. House of the Dragon happily sticks to the saga's basics, so much so that everything you think will happen does — and making a drinking game around it is as easy as spotting feuds, orgies, incest, gore and fraying bonds of blood in the Seven Kingdoms.
After green-lighting a different prequel to pilot stage, scrapping it, then picking this one to run with instead — and also making plans to bring novella series Tales of Dunk and Egg to TV, working on an animated GoT show, exploring other potential prequels and forging ahead a Jon Snow-focused sequel series — House of the Dragon is the first Game of Thrones successor to arrive in streaming queues. Its focus: the Targaryen crew 172 years before the birth of Daenerys and her whole dragon-flying, nephew-dating, power-seeking story. Cue silky silver locks aplenty, of course, including cascading from King Viserys I's (Paddy Considine, The Third Day) head as he takes to the Iron Throne over his cousin Princess Rhaenys (Eve Best, Nurse Jackie). She had a better claim to the spiky chair, but is also female. New show, same male-dominated hierarchy and accompanying bullshit.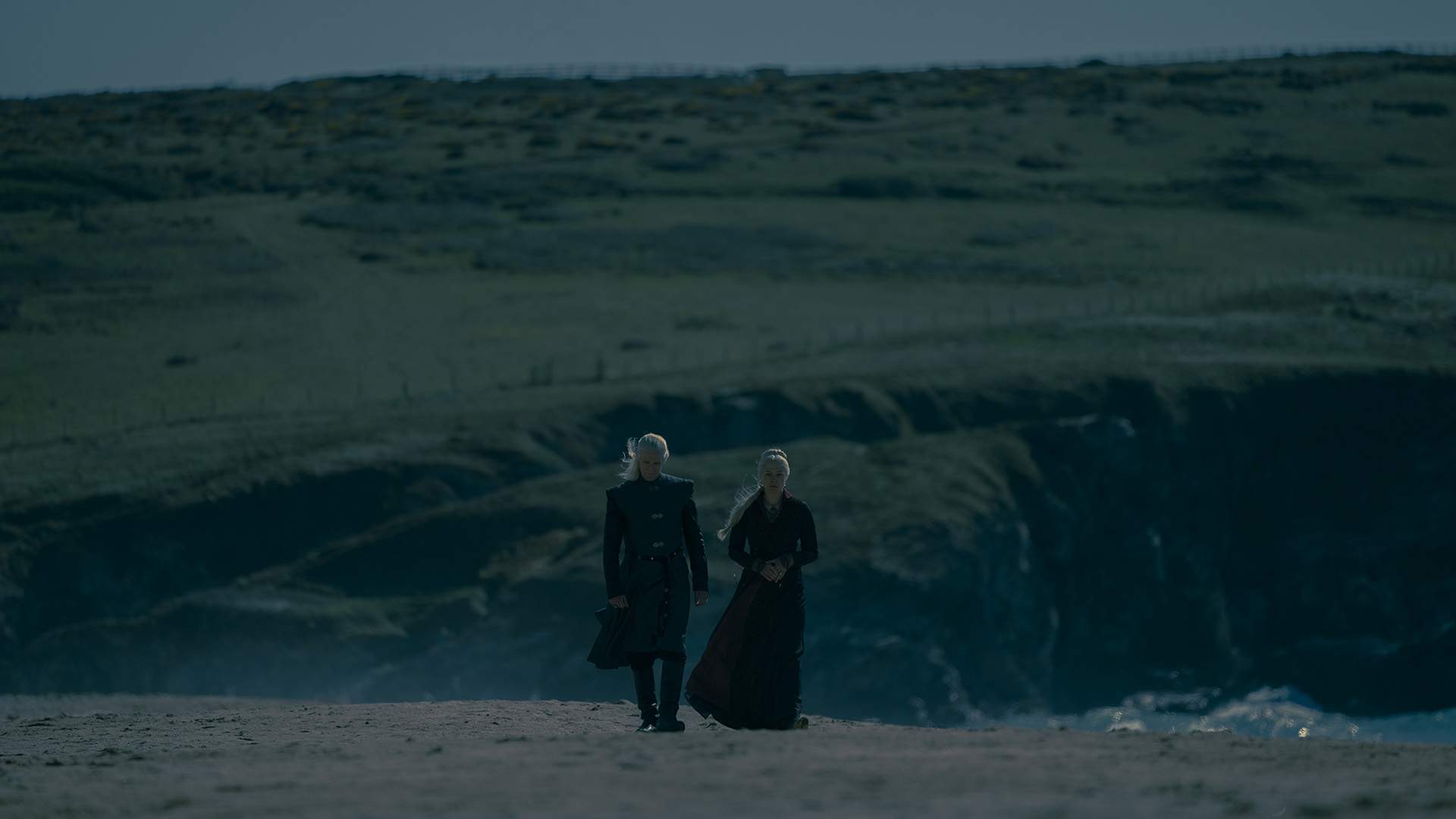 History repeats itself several times over, with Viserys' leap to power just the starting point. House of the Dragon is concerned with the same fights about the throne, but over whether the king's dragon-riding daughter Princess Rhaenyra (Upright's Milly Alcock, then Mothering Sunday's Emma D'Arcy) becomes his heir, or the future son he's desperate to have, or his headstrong younger brother Prince Daemon (Matt Smith, Morbius). No one wants the latter, and everyone around Viserys has an angle. It isn't out of kindness that Hand of the King Ser Otto Hightower (Rhys Ifans, The King's Man) tells his own daughter Alicent (The Lost Girls' Emily Carey, then Slow Horses' Olivia Cooke) to cosy up to their ruler at his loneliest. And when Rhaenys' husband Lord Corlys Velaryon (Steve Toussaint, It's a Sin) suggests an option, it's all about tying his Valyrian bloodline with the Targaryens.
Even if the word "succession" wasn't uttered every couple of minutes — and it is — it'd be clear that another HBO series has left an imprint on showrunners Miguel Sapochnik (an Emmy-winner for directing Game of Thrones' 'Battle of The Bastards') and Ryan Condal (Colony). If House of the Dragon's key pair had written both GoT's and Succession's main characters and narrative beats on post-its, stuck them on a wall, then rearranged the lot to create a slightly different story, this would easily be the end result. That familiarity and formula is exactly what HBO want, too. Sitting down with House of the Dragon is meant to feel like slipping back into an old favourite like no time has passed, and it does. Seeing recognisable places, spying already-explored character dynamics, revisiting how difficult it is to be a woman in Westeros, hearing names such as Lannister and Baratheon get a mention: that's all part of the comfortable design.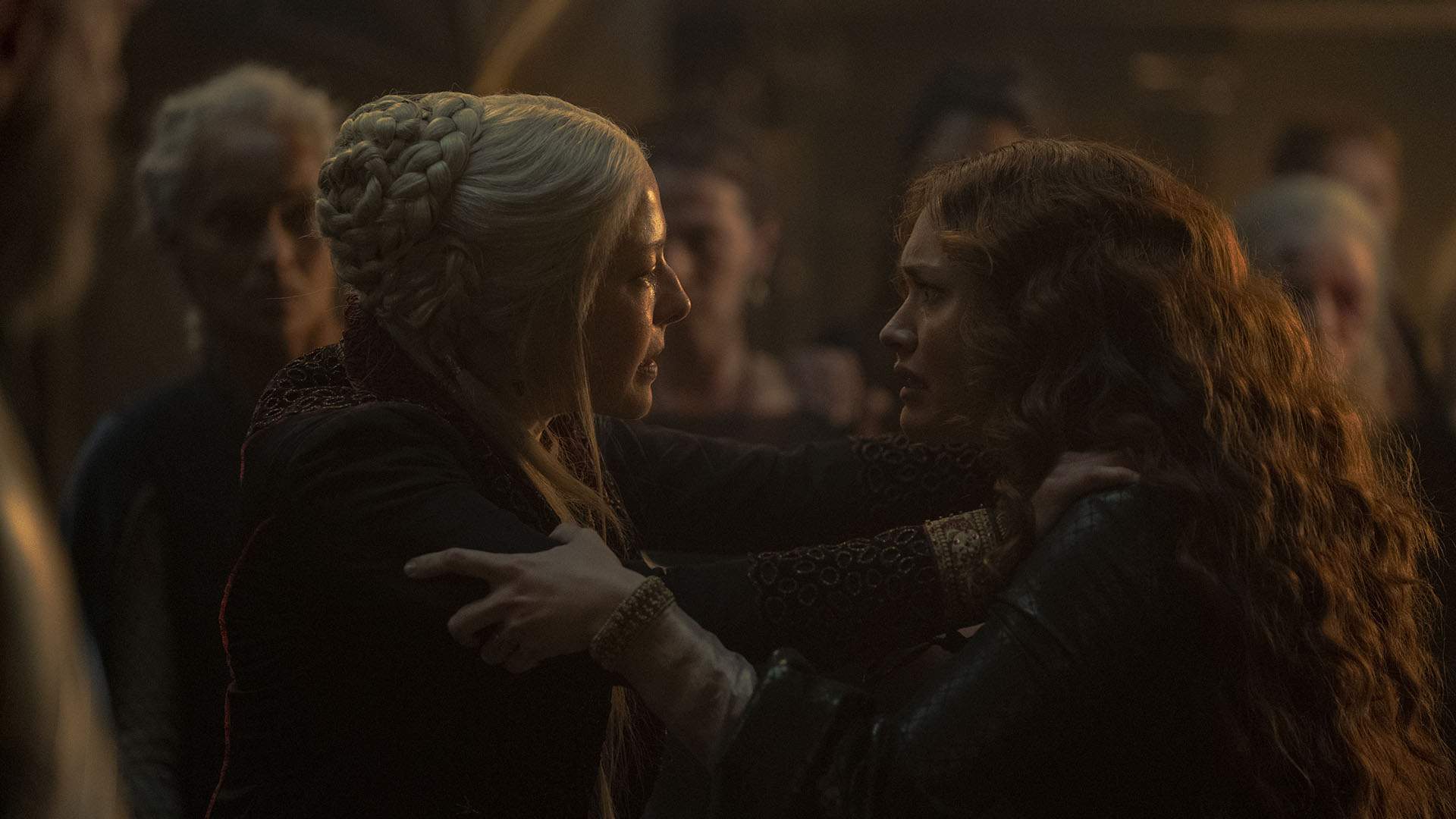 Some prequels evoke their predecessors perfectly, while also evolving into their own spaces. One of the absolute best examples, Breaking Bad spinoff Better Call Saul, just finished up its run. From the first six episodes in its ten-chapter debut season, House of the Dragon is content with the initial part of that equation, flapping the same wings and getting the same reaction as GoT — doing what HBO knows will work, and endeavouring to put Game of Thrones' lacklustre ending in its slipstream. Thanks to its visibly hefty budget, as seen in what makes it on-screen (dragons and all), it easily and instantly looks the part; however, House of the Dragon's biggest strength in achieving its main aim springs from its packed cast. 
New show, similar story, more dragons, thrilling performances: that's also the blueprint — and when it works, it works. Considine, Smith, Alcock, D'Arcy, Carey, Cooke and company navigate been-there-done-that tales, but ensure this prequel do-over never plays like a mere and rote rehash. Considine can bring depth to any part he takes on, including House of the Dragon's Ned Stark equivalent, while Smith ranks alongside Ben Mendelsohn as one of the most compelling actors at playing shady and shifty that's working today. This isn't really Viserys and Daemon's story, though. It's Rhaenyra and Alicent's, and Alcock and D'Arcy, plus Carey and Cooke, are up to that task. Here be dragons, and here be the women forced to deal with more and worse, including their own complicated relationship. Yes, as sure as winter is coming, this is a Game of Thrones spinoff.
Check out the full House of the Dragon trailer below:
House of the Dragon airs and streams from Monday, August 22 Down Under via Foxtel and Binge in Australia and SoHo, Sky Go and Neon in New Zealand.
Images: Ollie Upton/HBO.
Concrete Playground Trips
Book unique getaways and adventures dreamed up by our editors