Calling All Armchair Sleuths: 'Only Murders in the Building' Season Two Is Another Must-See Delight
The most entertaining and amusing murder-mystery series of 2021 is back — and it's just as wonderful the second time around.
Name a fictional detective — be it Sherlock Holmes, Hercule Poirot, Nancy Drew, Scooby-Doo, Inspector Gadget or Benoit Blanc — and, no matter who they are or which cases they've solved, someone has wanted to follow in their footsteps. Actually, more than a few someones have. We've all done it: watched, read or listened to a murder-mystery, then figured that we could solve a big case if the situation arose. Thanks to podcasts such as Serial, as well as the recent true-crime boom in general, that's become the default reaction to hearing about an unsolved or thorny story. It's also the premise behind returning Disney+ series Only Murders in the Building, which satirises the fact that everyone has wanted to be Sarah Koenig over the past decade.
Only Murders in the Building has its own version of Koenig, called Cinda Canning (Tina Fey, Girls5eva). As viewers of the show's first season know, though, she's not the marvellous murder-mystery comedy's focus. Instead, it hones in on three New Yorkers residing in the Arconia apartment complex — where, as the program's name makes plain, there's a murder. There's several, but it only takes one to initially bring actor Charles-Haden Savage (Steve Martin, It's Complicated), theatre producer Oliver Putnam (Martin Short, Schmigadoon!) and the much-younger Mabel Mora (Selena Gomez, The Dead Don't Die) together. The trio then turn amateur detectives, and turn that sleuthing into their own podcast, which also shares the show's title.
In season two, which starts streaming Down Under on Tuesday, June 28, the show returns to the same scene. No time has passed for Only Murders in the Building's characters — and, while plenty has changed since the series' debut episode last year, plenty remains the same. Viewers now know Charles, Oliver and Mabel better, and they all know each other better, but that only makes things more complicated. Indeed, there's a lived-in vibe to the program and its main figures this time around, rather than every episode feeling like a new discovery. Among the many things that Only Murders in the Building does exceptionally well, finding multiple ways to parallel on- and off-screen experiences ranks right up there. That applies to podcast fixations, naturally, and also to getting to know someone, learning their ins and outs, and finding your comfort zone even when life's curveballs keep coming.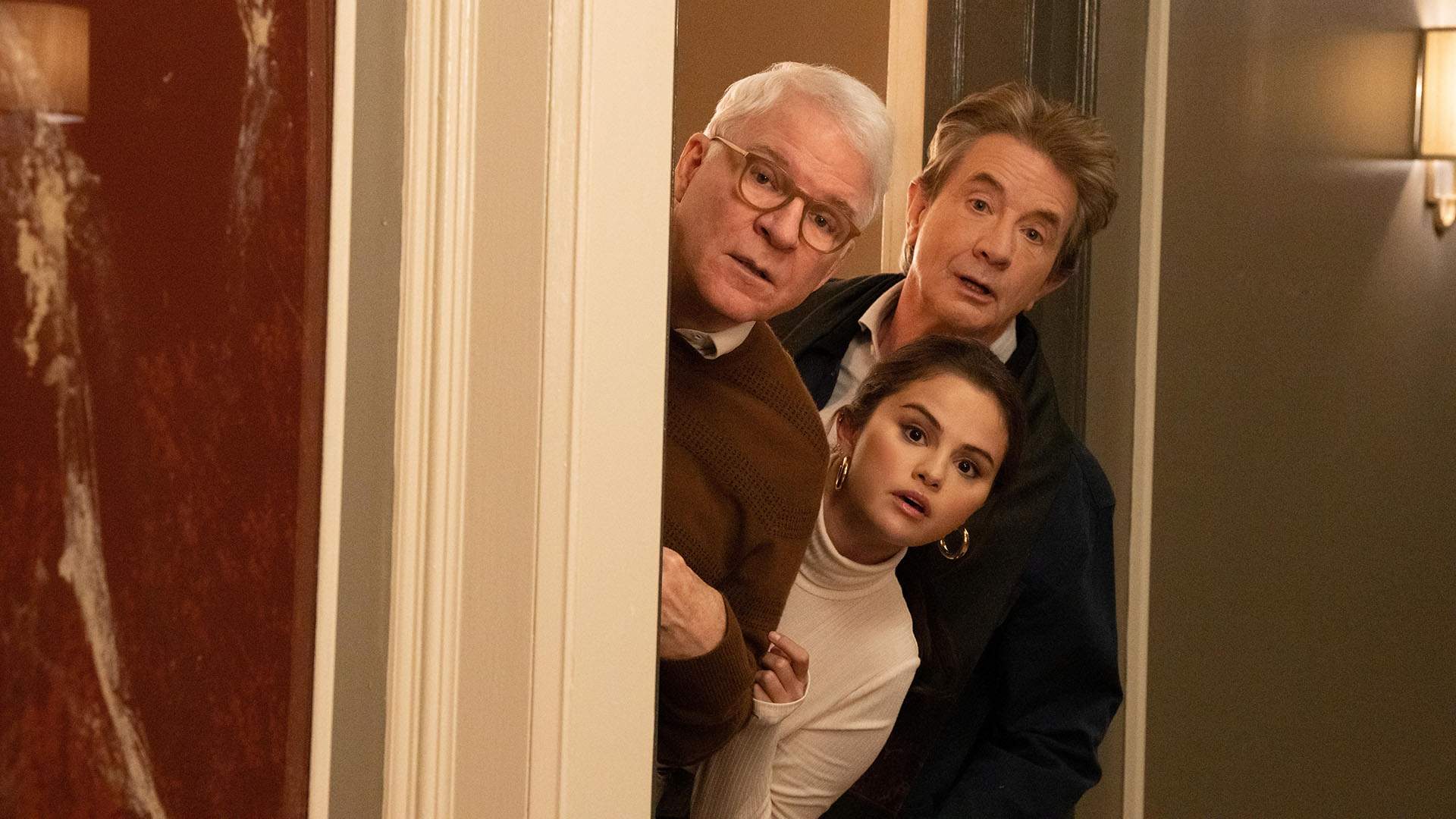 There wouldn't be another season without another murder, however. This time, Arconia board president Bunny Folger (Jayne Houdyshell, Little Women) has left the land of the living. The OMITB crew were all known to have their struggles with her, so they're all persons of interest. They have media profiles now, due to their first-season success. Canning herself starts a podcast about the podcasters. It's Mabel who finds Bunny, in fact, sparking too many internet theories. And, to the joy of the actual NYPD detective on the case (Michael Rapaport, Life & Beth), all the evidence keeps pointing at her, Charlies and Oliver.
Even if you've only watched one murder-mystery before, you know the old cliche about returning to the scenes of crimes. Generally, that's what the guilty do, driven by a need to witness the aftermath of their handiwork, insert themselves into the investigation and enjoy a second round of thrills. But Only Murders in the Building makes a comeback for a different reason, which definitely doesn't involve zapping more enjoyment out of evil deeds. At a series level, there's none of the latter to revel in anyway. The first season was such a warm and amusing gem — and smart and astute, too, whether it was serving up odd-thruple banter, or parodying whodunnits and their obsessives — that it instantly became one of 2021's best small-screen newcomers.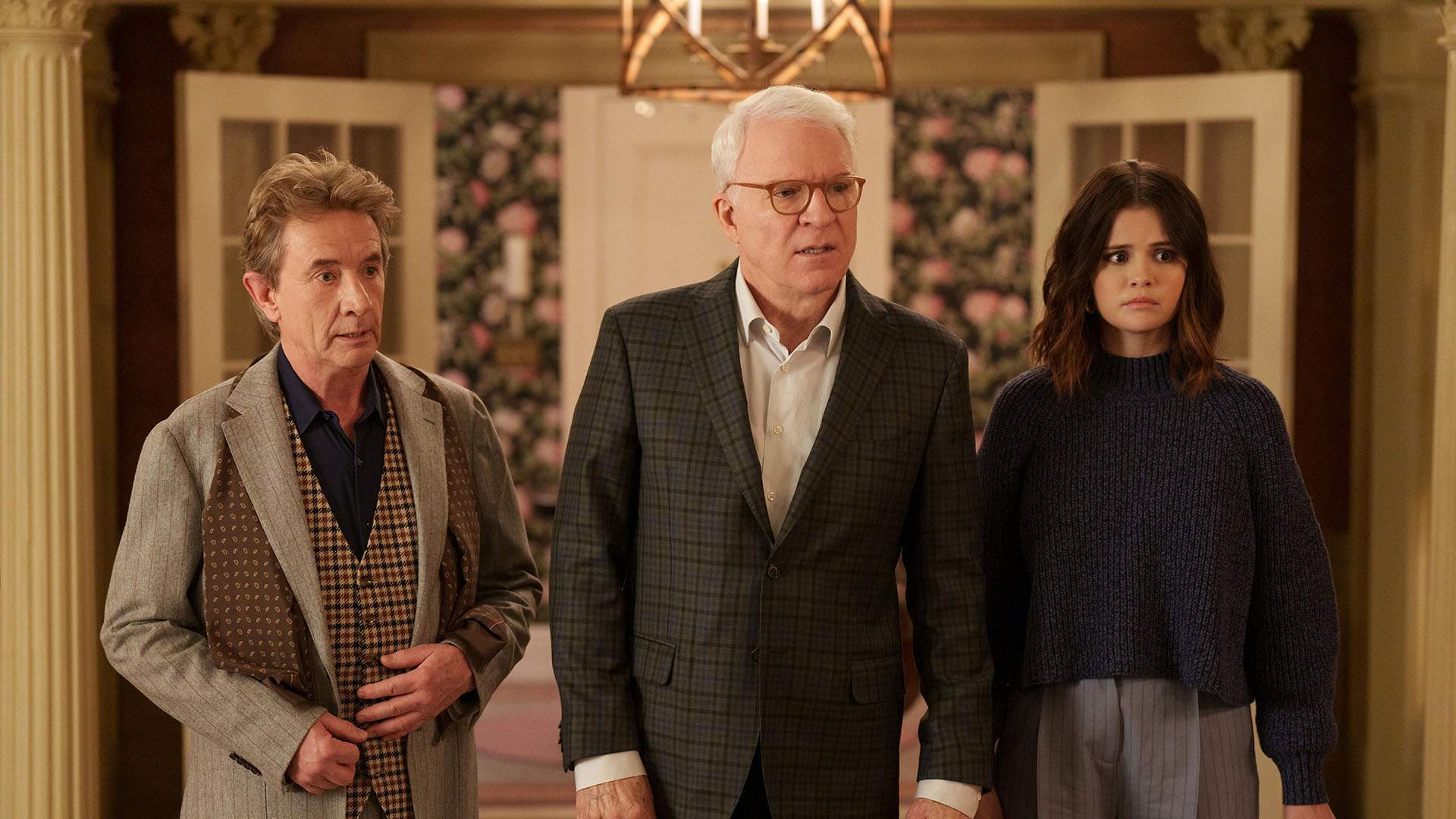 What makes season two tick is the same thing that made season one tick, though: the show's fondness for people above all else. They're the only thing that ever truly matters in any murder-mystery, as should always be the case when someone has lost their life at the hands of another. In its first batch of episodes, Only Murders in the Building made a point of identifying its victim's flaws and troubles — explaining why more than a few people wanted him dead, because that's the genre's whole concept — but also took great care to flesh him out as a person, too. It does the same with Bunny the second time around, unsurprisingly. Indeed, diving into the ups and downs, strengths and struggles, and wins and losses that make the Arconia's inhabitants who they are is as crucial a part of the show as figuring out who decides to wield a gun, knife or knitting needle.
Only Murders in the Building has been doing exactly that with Charles, Oliver and Mabel from the outset, of course, and keeps digging into its central trio. But new residents and familiar faces alike still get the same treatment during season two, including Amy Schumer as herself and the returning Theo Dimas (James Caverly, A Bennett Song Holiday). Viewers learn more about Charles' past with his father, which may be linked to Bunny — and his connection to Lucy (Zoe Colletti, Scary Stories to Tell in the Dark), the now-teenager who was almost his stepdaughter. Oliver's bond with his son Will (Ryan Broussard, Modern Love) gets pushed into the spotlight, as does his need to be the dip-eating centre of attention. And Mabel's distrust of others continues to help drive the narrative, especially after she becomes the key suspect and gets badged #BloodyMabel on social media.
Around of all the above, there are blackouts and 70s-style parties, canny commentary about lives lived online and lonely hearts in equal measures, wonderful one-liners and knowing in-jokes, and an impressive balance of comedy and heart. If cracking any case is all about puzzling together the right pieces, then Only Murders in the Building has found its ideal components — more so in season two, which is weightier, deeper, funnier, more insightful and more charming. It's also an even better showcase for its three leads, who just might be the most likeable trio currently gracing any series. Martin, Short and Gomez all such delights together that they deserve their own podcast about why they're so great playing podcast-obsessed podcasters. If you're already a fan of Only Murders in the Building, you know you'd listen to it.
Check out the trailer for Only Murders in the Building season two below:
Only Murders in the Building's second season starts streaming Down Under via Star on Disney+ on Tuesday, June 28, starting with two episodes, then airing new instalments weekly. Read our full review of the show's first season.
Images: Craig Blankenhorn/Hulu.
Concrete Playground Trips
Book unique getaways and adventures dreamed up by our editors