ARTS & ENTERTAINMENT
Five Contemporary Chinese Works You Need to See at the NGV's New White Rabbit Exhibition
From an intricate sculpture made from 14,000 sheets of paper to a three-metre-long silk sheet embroidered with bullet holes, this new show features works from 26 of the most exciting Chinese artists working today.
Five Contemporary Chinese Works You Need to See at the NGV's New White Rabbit Exhibition
From an intricate sculpture made from 14,000 sheets of paper to a three-metre-long silk sheet embroidered with bullet holes, this new show features works from 26 of the most exciting Chinese artists working today.
---
Over the last decade — since it was established in 2009 by renowned art collector and philanthropist Judith Neilson — Sydney's White Rabbit Gallery has become the world's largest private collection of contemporary Chinese artwork. To celebrate the renowned gallery's tenth birthday, the gallery is bringing a few of its most epic pieces down to Melbourne for a major exhibition in partnership with the National Gallery of Victoria.
Open now and running until October 6, A Fairy Tale in Red Times: Works from the White Rabbit Collection showcases 26 of the most distinguished and exciting contemporary Chinese artists working today. Across installation, painting, photography and more, there are also five landmark works that have never previously been exhibited on Australian shores. More than just an awe-inspiring art collection, White Rabbit documents the post-Mao generation of artists and explores the changing social and cultural landscape of modern-day China.
Below, we've picked out five of the most outstanding artworks that provide the perfect introduction to this striking exhibition. Entry is free, so lock in an afternoon to visit ASAP.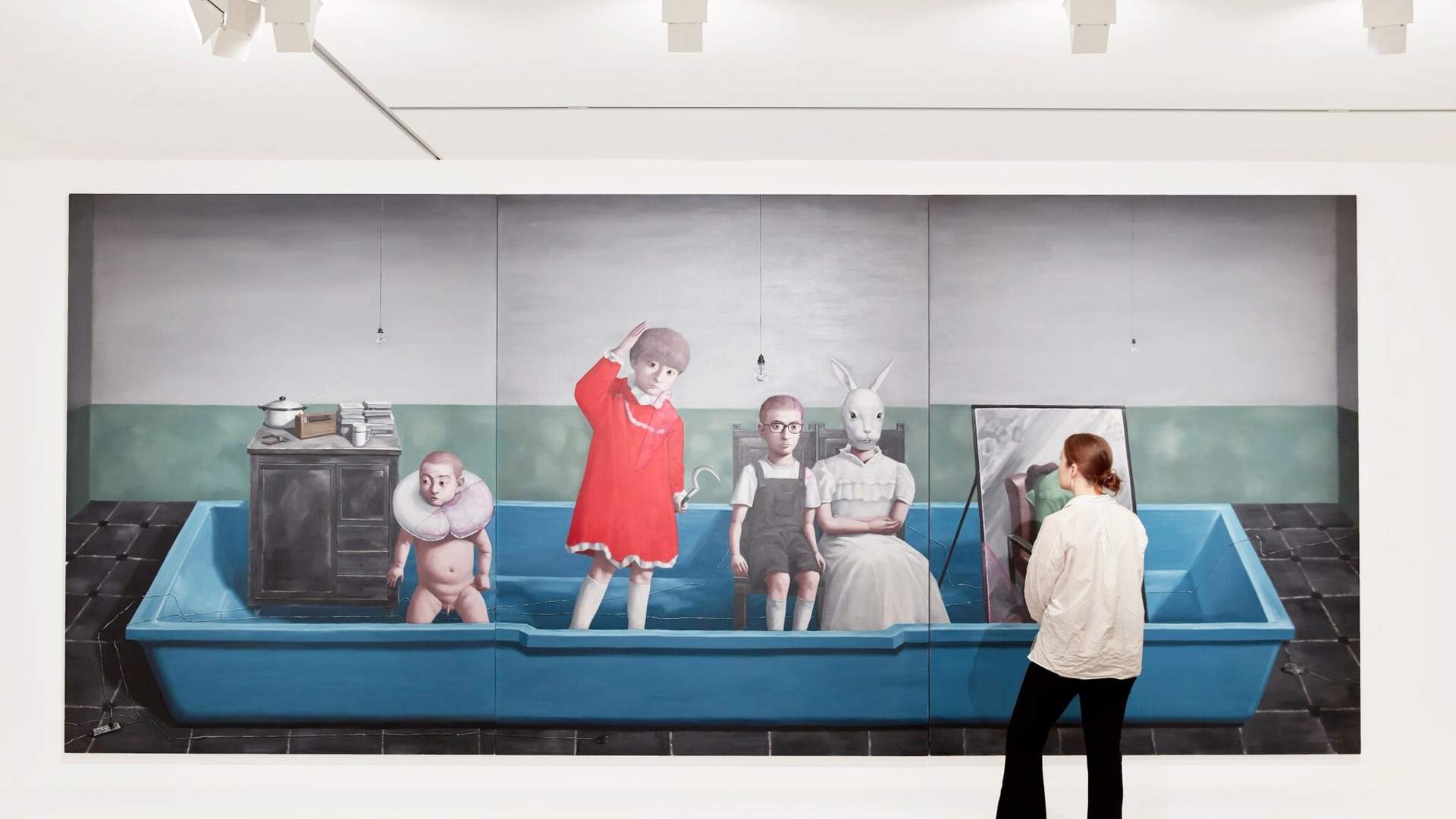 ZHANG XIAOGANG 张晓刚: BATHTUB (2017)
Spanning almost three-metres in length, Bathtub is the newest artwork to be added to White Rabbit Gallery's 2500-strong collection. It's the latest painting in Zhang Xiaogang's ong-running Bloodline series, which is one of the most iconic in contemporary Chinese art. It's also one of the most highly valued; the works have fetched some fairly outrageous prices around the world — one sold for 94.2 million HKD (around 17 million AUD) in 2014. The large-scale oil painting considers memory and imagination, while drawing inspiration from both European surrealists and the family portraits that are symbolic of China's era of Cultural Revolution.


SHI YONG 施勇: A BUNCH OF HAPPY FANTASIES (2009)
Presented in a hazy red gloom, Shi Yong's A Bunch of Happy Fantasies simultaneously explores illusion, poetry and installation. Spread across the artwork are virtually indecipherable Chinese poems that appear upside down and cryptic, having been written by a friend of the artist in an opium-induced daze. Forming seemingly random sentences and ideas – like 'roses made from water' – Shi Yong took this calligraphy and created an installation that ponders the idea that fantasy is inseparable from reality. Featured in its own dedicated space at the NGV, this work alone makes visiting A Fairy Tale in Red Times well worth it.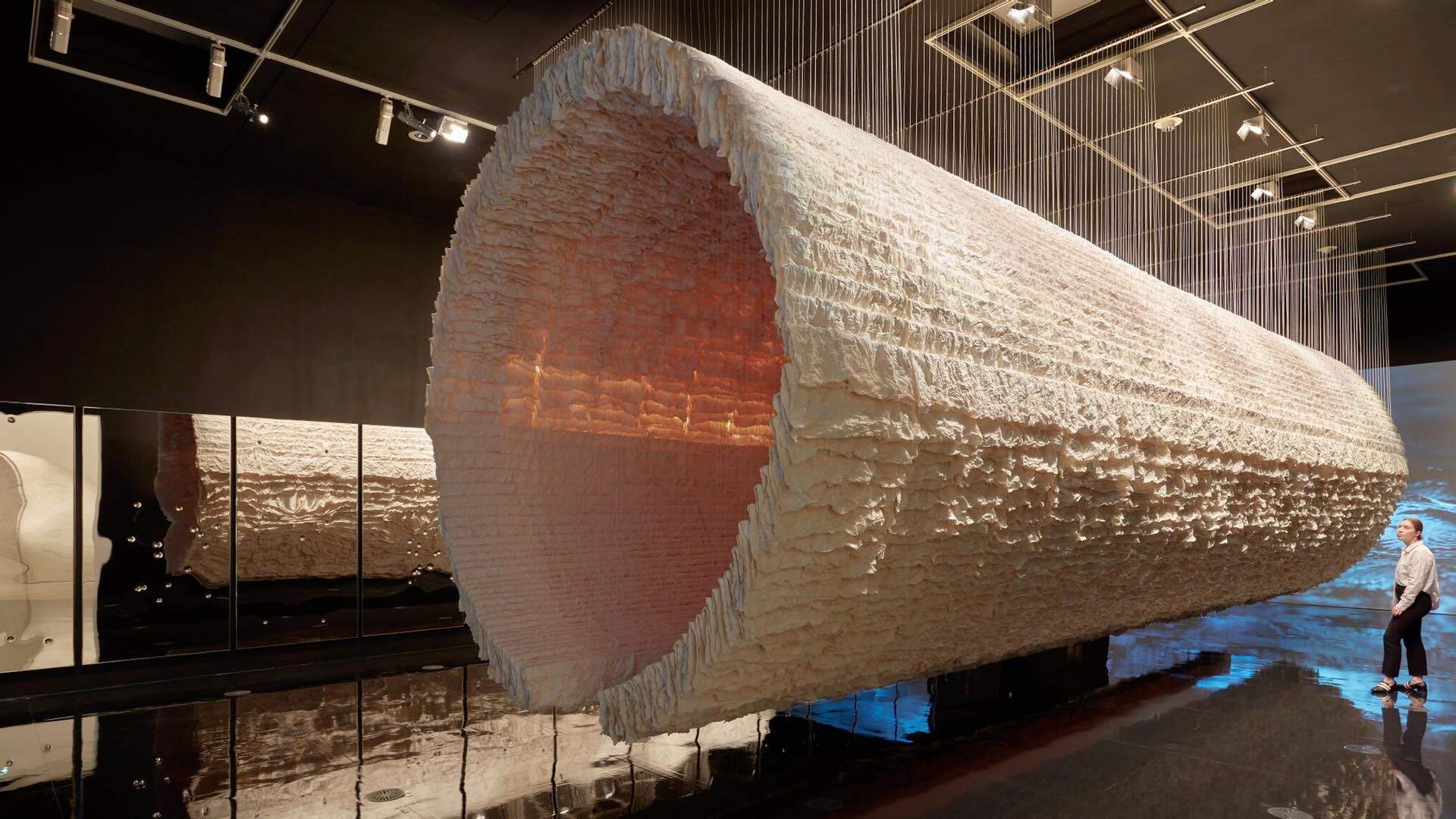 ZHU JINSHI 朱金石: THE SHIP OF TIME (2018)
Undoubtedly one of the most intricate works on display throughout A Fairy Tale in Red Times, Zhu Jinshi's The Ship of Time is hard to miss as it fills a cavernous space hanging from above. Delicately produced, its massive cylinder form was created from 14,000 sheets of xuan paper, 1800 pieces of fine bamboo and 2000 cotton threads. Appearing for the first time in Australia, the work represents a journey into the past with the fireproof xuan paper being collected from ancient villages dotted across the Yellow Mountains. Meanwhile, the work also references the prominent Chinese philosopher Zhuangzi, whose parable, The Empty Boat, encourages people to discard their ego and anxiety.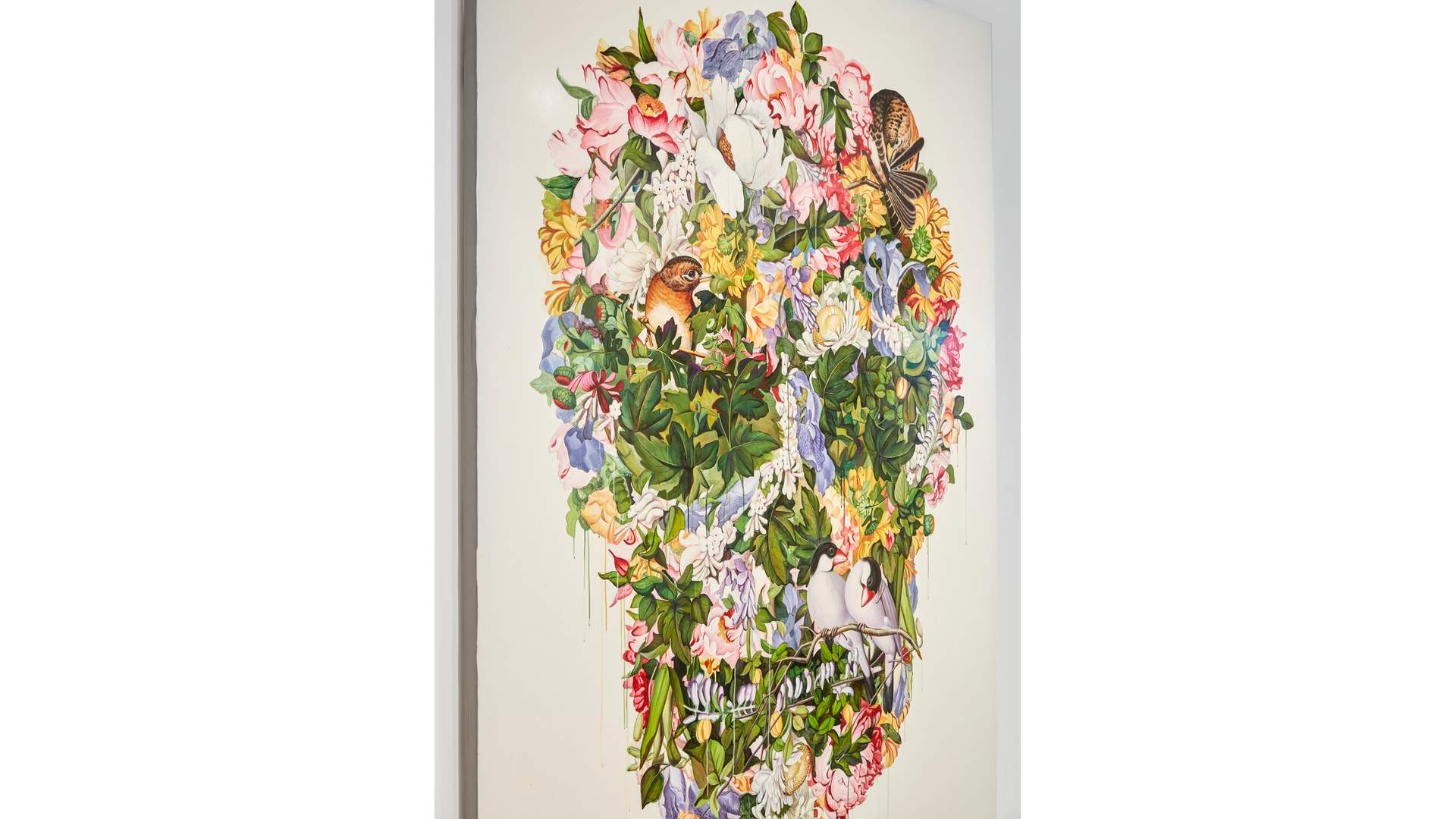 SU MENG-HUNG 蘇孟鴻: THE ALBUM OF IMMORTAL BLOSSOMS IN AN EVERLASTING SPRING BY GUISEPPE CASTIGLIONE (2012)
You likely haven't heard of the 17th century Italian Jesuit missionary and painter Giuseppe Castiglione, but his work had a profound effect on artist Su Meng-Hung. Having worked within the imperial courts of three Chinese emperors, Castiglione was one of the early artists to combine both western and Chinese painting techniques to great success, while also contributing European architectural styling to a variety of Chinese royal palaces and gardens. Bringing new life to Castiglione's art, Meng-Hung borrows the ancient artist's creative lexicon and fuses it with his own interest in life and death, empires, and the nature of art in a globalised world.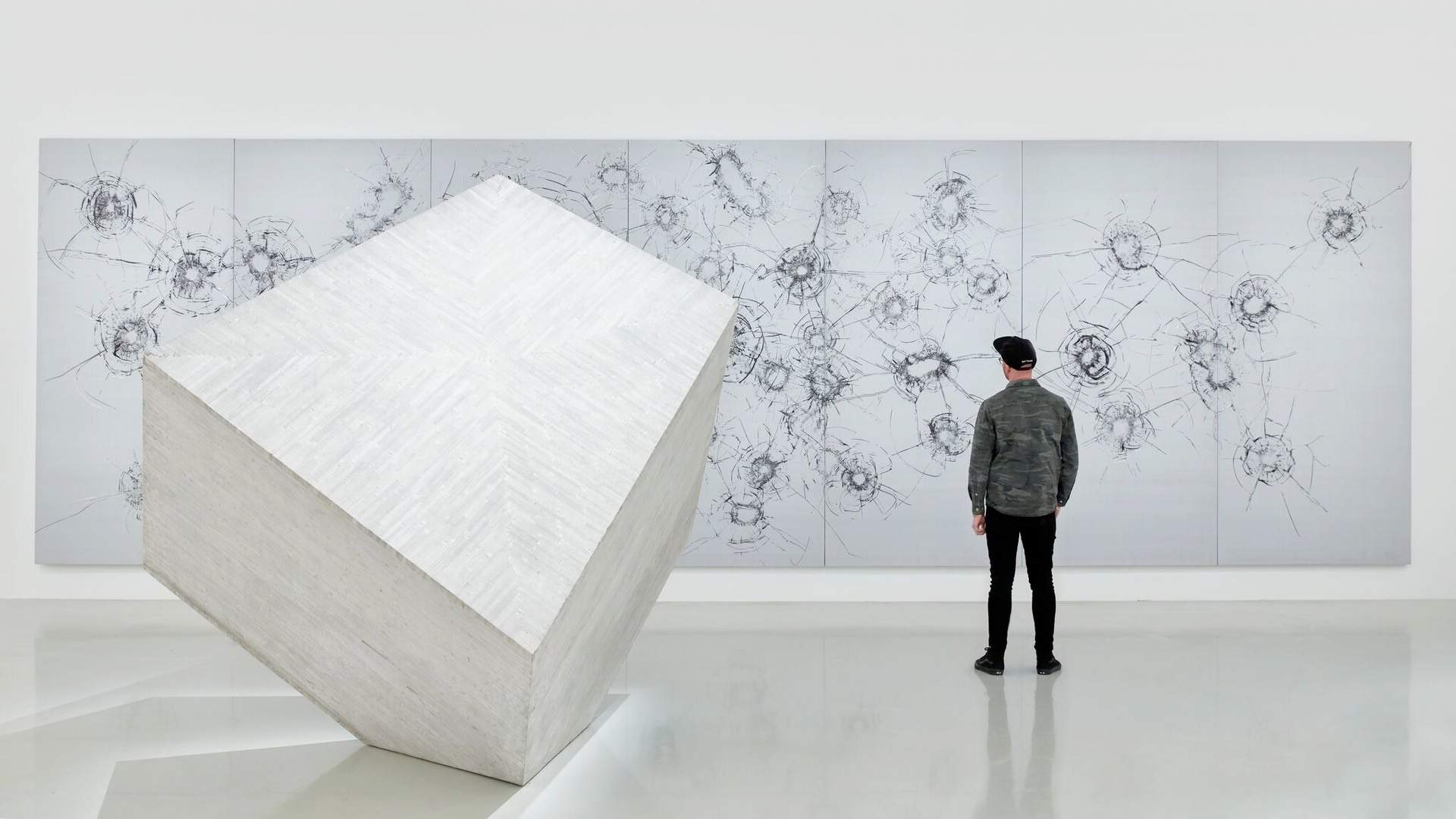 ZHAO ZHAO 赵赵: CONSTELLATIONS (2017)
Training under the guise of China's most provocative artist Ai Weiwei, fellow conceptual artist Zhao Zhao follows closely in his mentor's footsteps with his Constellations series. Having observed photographs of bullet holes found in the aftermath of the Tiananmen Square protests in 1989, Zhao decided to delve into to the concepts of violence and the endless passage of time. To create his ongoing work, he fired a gun into sheets of glass and painted over the resulting damage. Zhao later decided to team up with his mother to replicate these spidery splinters — but, this time, across a massive three-metre work of silk embroidery.

A Fairy Tale in Red Times: works from the White Rabbit Collection is on now and free to attend at NGV International, St Kilda Road, Melbourne until October 6, 2019.
Images: Tom Ross for NGV. 
Published on May 13, 2019 by Hudson Brown