ARTS & ENTERTAINMENT
This New Grampians 'Hope' Mural Is the Latest Addition to Victoria's Silo Art Trail
The St Arnaud artwork took local artist Kyle Torney over 800 hours to create.
This New Grampians 'Hope' Mural Is the Latest Addition to Victoria's Silo Art Trail
The St Arnaud artwork took local artist Kyle Torney over 800 hours to create.
If you've been using all these lockdown hours to plot your next regional Victorian escape, here's another reason to pop the Grampians on that itinerary. Up in the region's north, the town of St Arnaud has just unveiled a striking new cultural attraction: a towering silo artwork by local artist Kyle Torney, titled Hope.
The latest addition to the renowned Silo Art Trail, the piece pays homage to the town's gold mining history, featuring a design of three faces that was selected by St Arnaud residents themselves. And this giant masterpiece was no mean feat to create, taking the artist over 800 hours from start to completion, and involving around 30 treks up and down the silo each day. The whole silo had to be cleaned and primed, before being decked out with a grid to help guide painting the faces' tricky proportions.
Funded in part by the St Arnaud ArtSpace community centre and the Northern Grampians Shire Council, the artwork marks the sixth local mural painted by Torney, who himself is a sixth-generation St Arnaud native. The artist is well-known for his distinctive 'narrative portraiture' style, with works having graced spaces across Melbourne, Adelaide and Ballarat, as well as the walls of an art gallery in New York.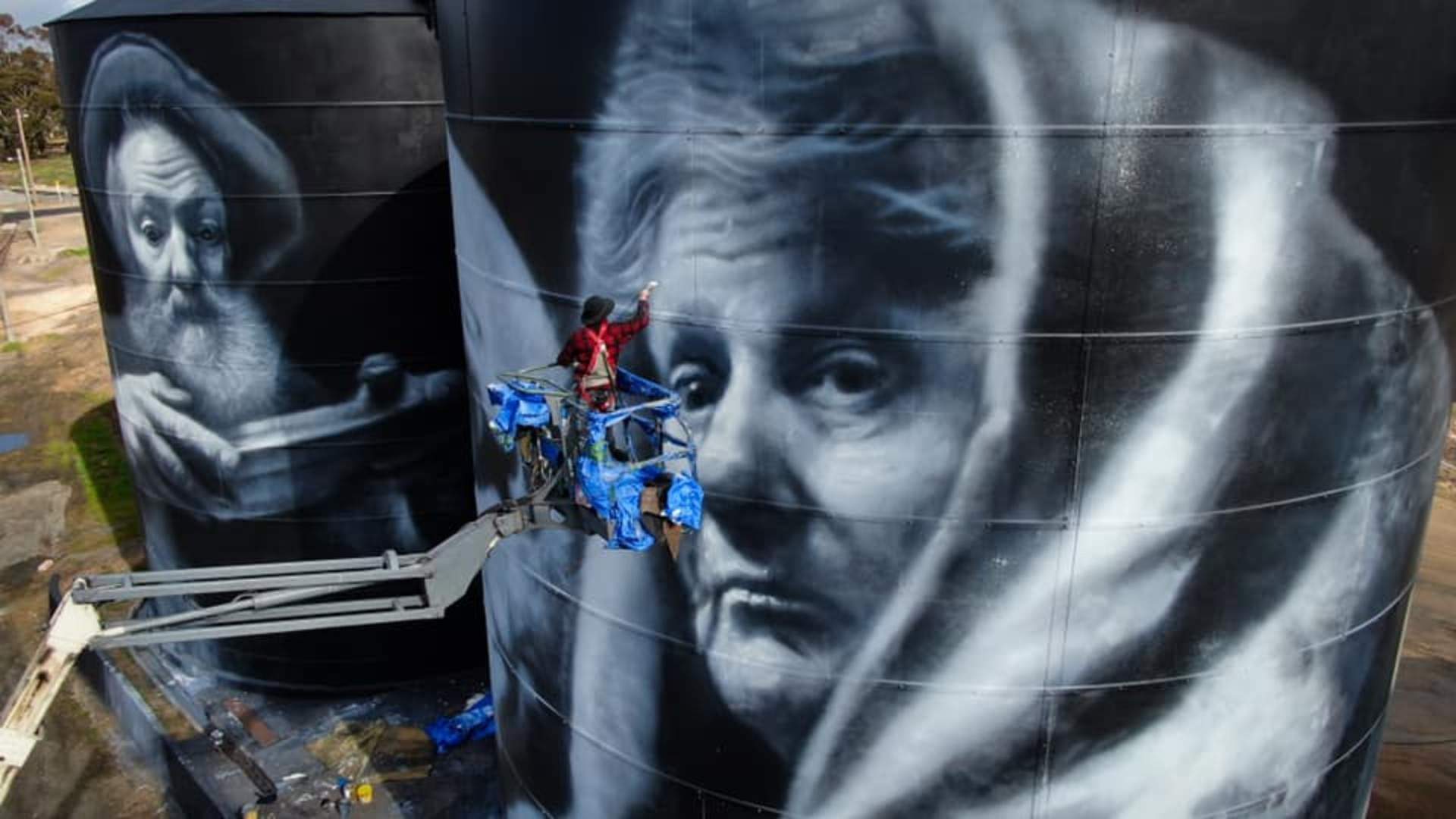 It is hoped the new silo art will help boost tourism in the area following the heavy impact COVID-19 restrictions have had on regional travel. "Street art really brings the community together," said Torney in a statement. "I called the silo art 'Hope' which is reflective of the gold mining period but also resonates with the current climate."
The Silo Art Trail is the country's largest outdoor gallery, covering over 200 kilometres. With this latest design, its collection now includes nine silo murals, featured in the stretch of towns from the Mallee's Patchewollock to St Arnaud.
'Hope' is located on McMahon Street, St Arnaud, Victoria. To learn more about the full Silo Art Trail, visit the website.
Travel is restricted under metropolitan Melbourne's current stage four restrictions and regional Victoria's stage three orders. For the Victorian Government's latest advice, head to the Victorian Department of Health and Human Services website.
Published on September 03, 2020 by Libby Curran