Zymurgy
From the minds behind Hop Nation and Navi, this Footscray outdoor bar celebrates elevated barbecue fare and local craft booze.
To the uninitiated, the name Zymurgy might appear a little daunting. But Footscray's newest watering hole is anything but. In fact, if you've got a thing for craft booze, innovative eats cooked over charcoal and sun-drenched beer gardens, you'll want to waste zero time getting acquainted.
Quietly opening the doors in late November, Zymurgy — pronounced 'zye-mur-jee', we know you were wondering — is a joint venture between Hop Nation Brewing Co owners Sam Hambour and Duncan Gibson and Julian Hills (chef-founder of Yarraville fine diner Navi). Hidden behind a former Sri Lankan restaurant on Barkly Street, the al fresco site is both kid and dog-friendly, boasting shady umbrellas, an outdoor bar and an offering akin to an elevated backyard barbecue.
The name Zymurgy references the chemistry behind fermentation, which is an art that's celebrated right throughout both the food and drink offering. Hills is cooking with wood and charcoal, but turning the familiar barbecue shtick on its head — lending an experimental touch to dishes like grilled pretzel with smoked wagyu butter ($8), asparagus matched with a pepita crumble ($10) and brown butter emulsion and a riff on the reuben sandwich crafted with ox tongue ($17).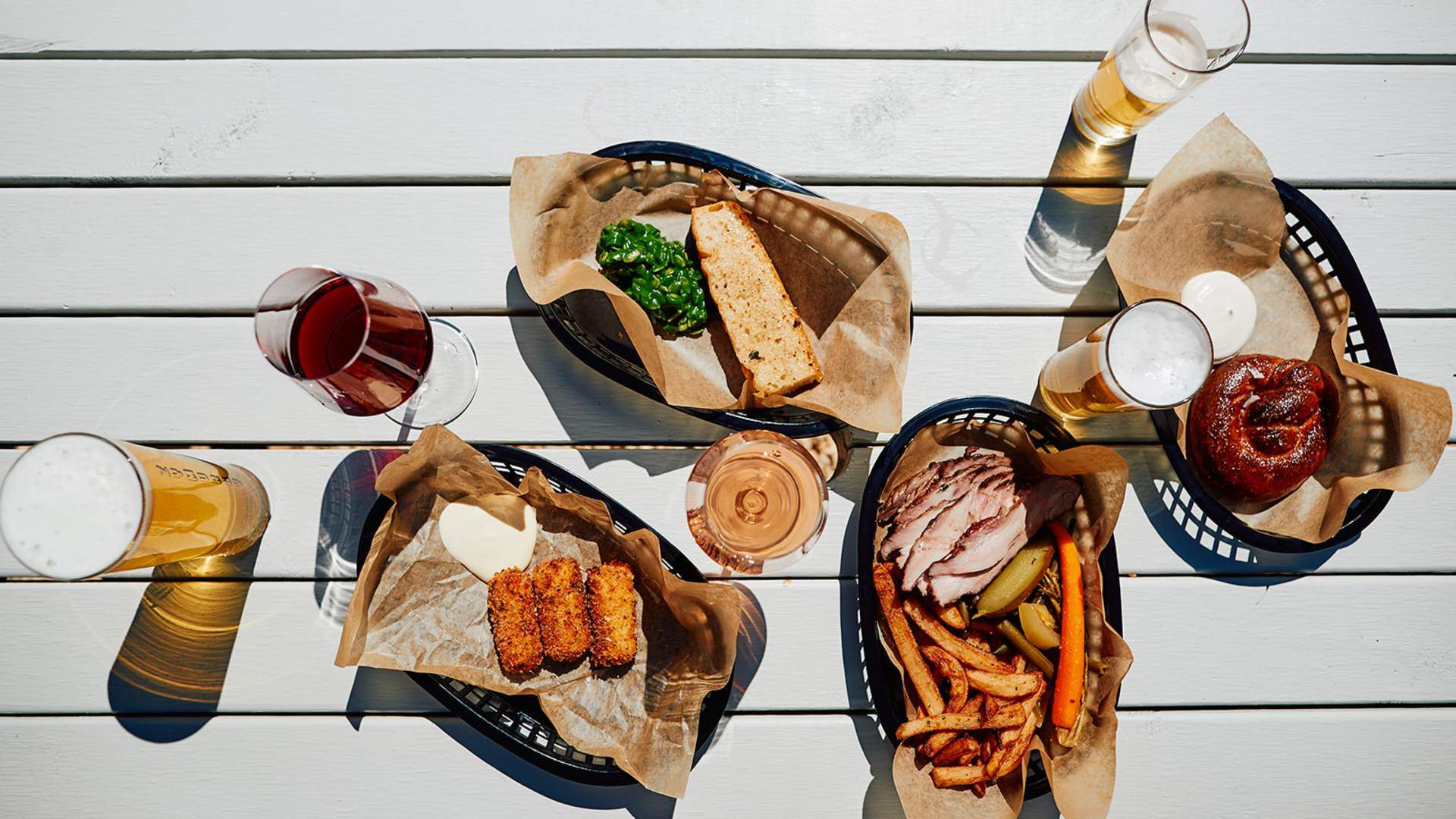 Elements like miso aioli, sourdough and koji fly the ferment flag too, while the grill is turning out plates like charcoal-crusted pork scotch ($25) teamed with pickled elderflower and salted cherries; plus a warm smoked rainbow trout ($18) matched with potato and horseradish.
The liquid side of things leans just as crafty, headlined by a ten-strong tap lineup of Hop Nation brews. Enjoy both familiar drops — think, the J Juice NEIPA and The Heart pale ale — and small-batch creations like the Candyland milkshake hazy IPA, alongside a tight rotation of tap wines and cocktails. If you'd rather crack open a bottle of something to share in the sun, you'll also find a local-leaning range of experimental wines, including releases from Hambour and Gibson's own vinous project Site Wine.
Zymurgy will be sticking around in its current format until at least the end of the year, with some evolutions and expansions planned for 2021.