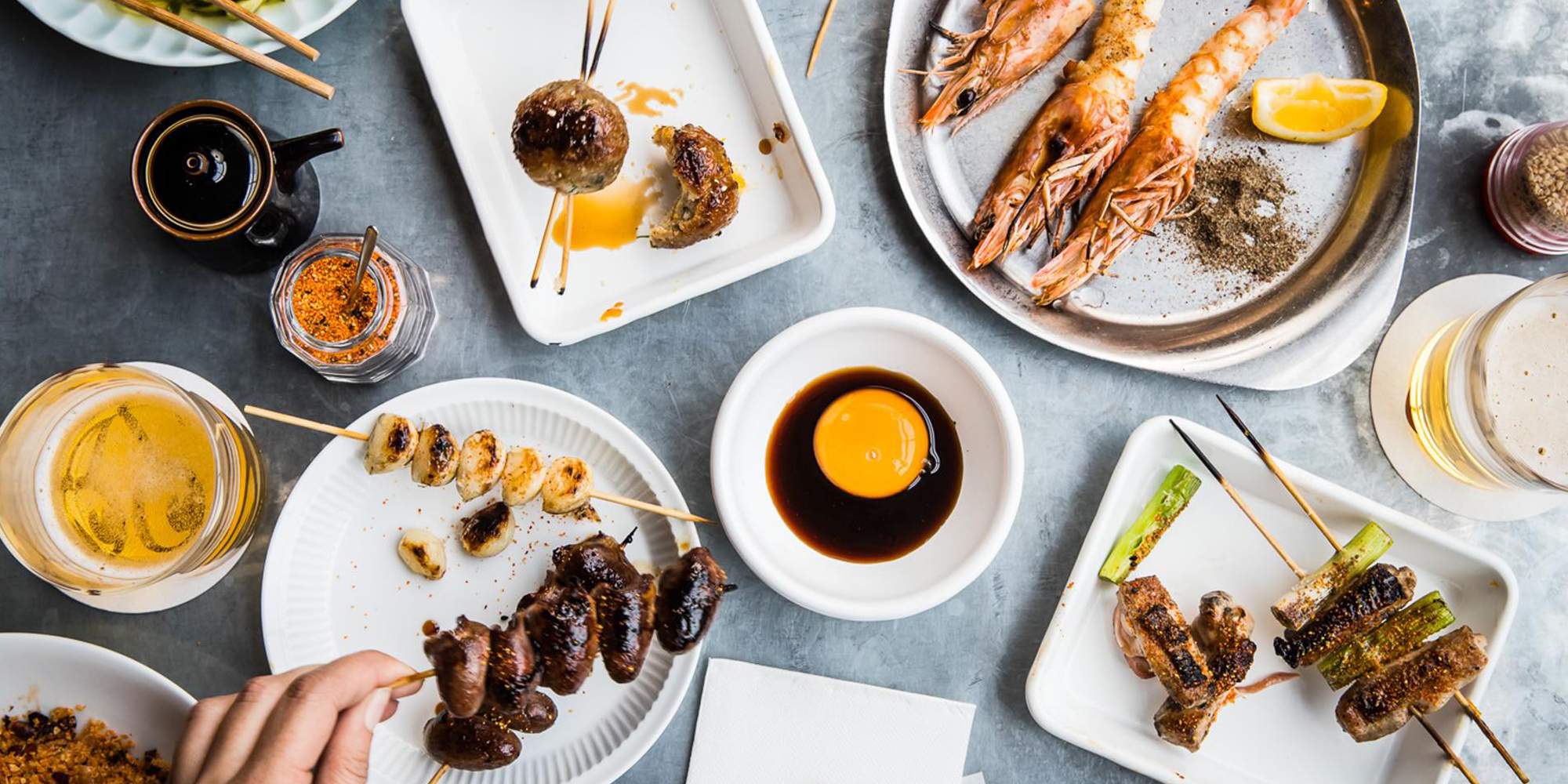 BEST OF 2017
Melbourne
Honouring the very best arrivals on Melbourne's scene this year
There were short-lived rumours that Melbourne's art and hospitality scene had reached peak saturation, but the city quickly put those to bed when its cultural ecosystem grew and flourished once again. It was a year of innovative new restaurants and bars — bigger and taller than ever before — forward-thinking events and bold spaces, pubs and cafes. And they're not all from the big players — independent ventures are flourishing.
As we continue to attempt to define Australian cuisine, chefs continue to push the boundaries. We've seen (and tasted) fermented calamari noodles and cod roe in choux pastry, we've climbed three levels to find some of the city's finest Japanese fare and we've tasted duck smoked by our favourite pasta experts. Bars continue to offer immersive, imaginative experiences that take you beyond their drinks lists — and late into the night, with some now serving inventive bar snacks til 3am.
The cafe culture is stronger than ever, too, with new cafes not only guaranteeing a stellar cup of Joe, but also innovative lunch snacks and sleek interiors that'll really make you reconsider that desk sandwich.
Pubs are now more likely to brew their beer in-house than not, and they continue to champion other local brands, artists and events. The bringing together of the art and food scene has expanded beyond pubs, with venues spending more time on their appearances, collaborating with local designers, architects and street artists to create stunning spaces. This prompted the creation of our new category, Best New Space. We've searched far and wide to find our favourite, visually stunning, innovative and sustainable spaces that are accessible to you — including shops, hotels, co-working hubs and public spaces.
Event organisers have created smart and clever new events, celebrating the city's cultural ecosystem and bringing people together to dance in museums, look at innovative art and to support each other in times of hardship. At Concrete Playground we encourage exploration and showcase innovation in our city every day, so we thought it fitting to reward those most talented vanguards pushing Melbourne to be a better, braver city. And so, we are very pleased to announce Concrete Playground's Best of 2017 Awards.
This year, we will be awarding a People's Choice and Overall award in each of the following five categories:
Best New Restaurant
Best New Bar
Best New Cafe
Best New Pub
Best New Event
Best New Space

These 36 outstanding Melbourne ventures have been handpicked by Concrete Playground for their combination of originality, innovation, creativity, approachability and sustainability. We straight-up love them.
WIN We're giving away one $100 voucher to the restaurant of your choice from the nominees for Melbourne's Best New Restaurant of 2017. Will it be a Japanese feast at Kisumé? A sustainable affair at Project Forty Nine? An Italian spread at Osteria Ilaria? It's up to you. All you need to do to enter the draw is cast your vote below. The winner will be drawn at 5pm on Thursday, December 14 and the voucher will be valid for six months.
Cast your People's Choice votes below by 5pm on Wednesday, December 13 (you can only vote once per category, so make those votes count). People's Choice and Overall winners in each category will be announced at 3pm on Thursday, December 14. Please note that your vote is recorded as soon as you make your selection in each category, but that you can edit your votes right up until when voting closes. If you have any questions or feedback, hit us up at [email protected]
Punch Lane's basement raclette, jazz and wine bar.

Grossi Florentino's basement bar is serving snacks and cocktails until 3am every night.

This French-accented restaurant gives late-night dining a whole new meaning.

At David Moyle's latest you'll find killer bar food and creative cocktails.

Karaoke, cocktails and all-you-can-eat temaki.

Sleek lines, warm smiles and impeccable stuzzichini.
This Abbotsford cafe, bakery and roastery hybrid gets a gold star.

A small all-day cafe and wine bar winning locals over in the backstreets of Fitzroy.

This Chapel Street eatery serves everything from breakfast and coffee through to steaks and cocktails.

A Richmond cafe that serves camel's milk and cricket salad.

A Northcote bakery pairing specialty coffee with Czech honey cakes and Spanish spiral pastries.

Cafe by day, bar by night, sugar coma by choice.
A gastropub that'll please the masses.

Collingwood's new small-scale brewery and tap room.

A two-storey bar and bottleshop in the heart of Footscray.

Just-brewed beer and late night snacks at this 150-seat venue.

Watch the footy, shuck some oysters or enjoy a Sunday roast at Melbourne's oldest pub.

The historic building features five separate hospitality spaces, including a Champagne lounge and a craft beer bar.
A new three-day festival from the organisers of Beyond the Valley.

A major new Asian arts festival featuring more than 350 artists.

Browse handcrafted creations from over 25 different ceramicists.

A series of monthly after-dark, adults-only parties at Melbourne Museum.

A two-night Singaporean pop-up from the Fancy Hanks team.

Ascot Vale's new food truck park serves up $10 espresso martinis every weekend.
A 134-hectare Mornington Peninsula property boasting an evolving sculpture garden and a former Rockpool chef.

This year's amphitheatre-like temporary structure has two grandstands, native plants and a translucent gridded roof.

A $16 million luxury hotel in Victoria's Goulburn Valley.

WeWork's first Melbourne space is a six-floor coworking dream.

Chris Lucas's three storeys of Japanese grandeur.

The Mornington Peninsula's extravagant hotel has two restaurants, an infinity pool and a seven-metre sculpture.
NEXT CATEGORY
PREVIOUS CATEGORY
Concrete Playground Trips
Book unique getaways and adventures dreamed up by our editors
Tap and select
Add to Home Screen
to access Concrete Playground easily next time.
x