FOOD & DRINK
Eats and Drinks That'll Make a Mark While You're Watching the 2021 AFL Grand Final at Home
No matter who takes out the flag, you'll be the winner with one of these lockdown-friendly footy feasts.
Even though this year's AFL Grand Final is set to feature two Victorian teams — it's going to look a little different from the usual year. But bars and restaurants across the city are here to help make your 2021 at-home Grand Final celebration as memorable as possible, with food and drink specials to suit every footy lover's tastes.
Whether you're a diehard footy fan looking to recreate some of that Grand Final Day magic from your spot on the couch, or you're simply looking for some top-notch eats and drinks to see you through yet another lockdown weekend, we've found some primo options available for takeaway and delivery. No matter who takes out the flag, you can consider yourself the winner with one of these fine footy feasts.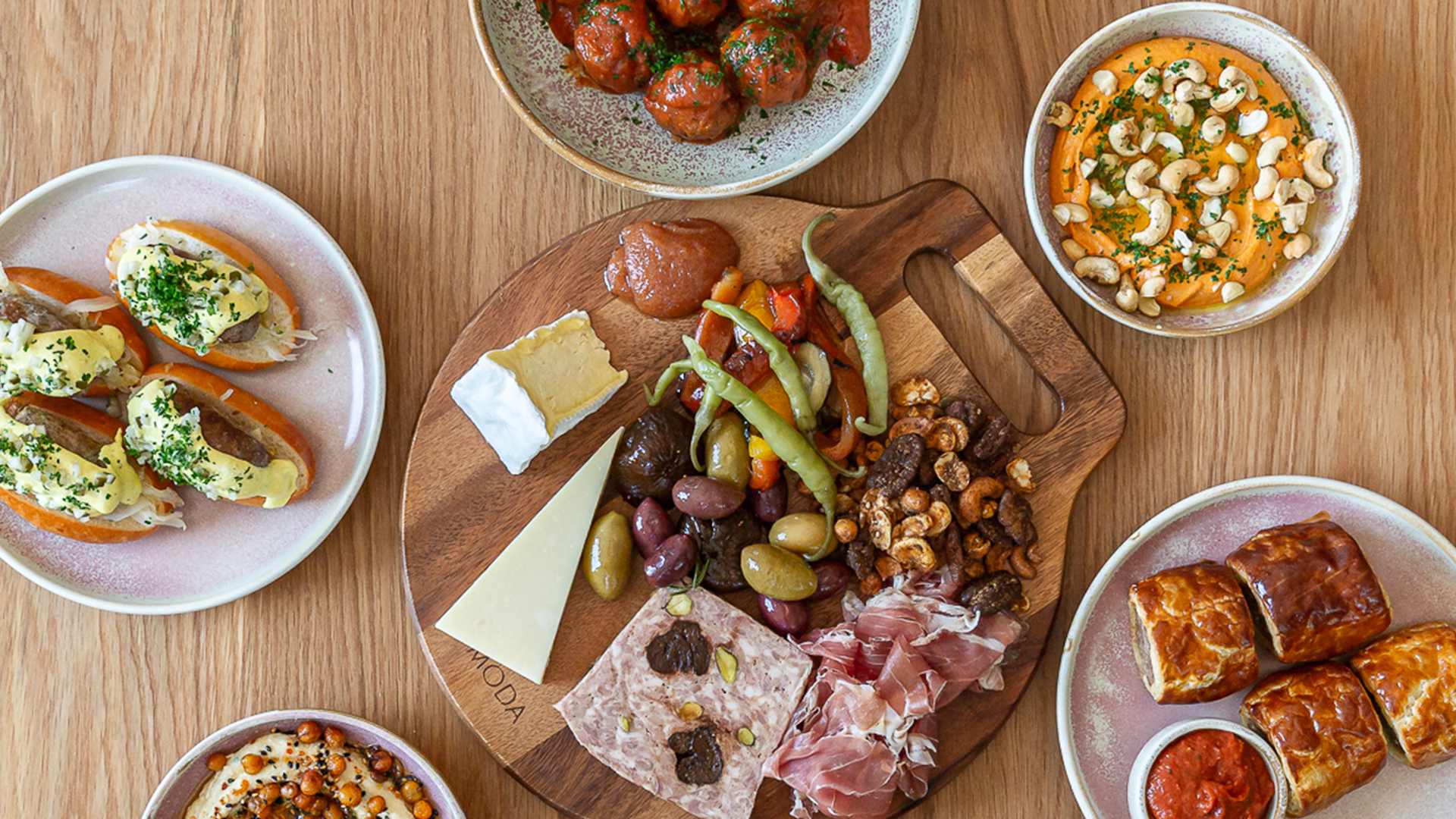 FEELING SNACKY?
Everyone loves a good snacking session; especially when footy action means keeping your eyes glued to that screen. Prince Dining Room and Little Prince Wine have joined forces to create an upscale selection of revamped footy snacks, available for delivery via Providoor this weekend. We're talking mini prawn cocktail rolls, charcuterie, blistered bread with dips and dreamy signature sausage rolls, to feed two ($130) or four ($260) hungry viewers.
Attica's nacho-style footy loaf proved such a hit for last year's Grand Final celebrations that it's making a return, available only from September 23–25 for pick up and delivery. At $85, it's designed to feed between two and four punters, featuring a rich beef and black bean chilli piled into a loaf of bread, and served with an array of accompaniments and dippers.
Richmond's Spread Eagle Hotel is championing a selection of snack classics with its Granny special — a two-person ($60) or four-person ($120) serve of hot dogs, sausage rolls, party pies, fried chicken and potato cakes, plus a one-litre growler of Moon Dog beer. There's a swag of add-ons available, with collections happening at the pub on Saturday, September 25.

AN AT-HOME PUB SESH
We'd all love to be cheering on this all-Victorian Grand Final with mates at our local, but while pub doors are shut, you'll have to settle for an at-home food edition instead. Australian Venue Co is offering a DIY parma pack (or eggplant parma alternative) on the day, available to click-and-collect from six of the group's local pubs. The solo-serve boxes ($25) contain all the trimmings for a build-your-own parma, along with a raw slaw, and some mini pies and sausage rolls for warm-up snacks.
The Builders Arms is offering a special at-home spread featuring Boston Butt slow-cooked pork roast, prawn cocktail rolls, potato salad and more. It feeds two for $120 and you can get it delivered, or pick it up from the pub, between Friday and Sunday.
The burger gurus at Easey's are once again teaming up with The Emerson to offer a loaded footy feast, this time featuring dim sims, cheeseburgers, potato cakes, hot jam doughnuts and an espresso martini for refuelling at half-time. You'll also score some footy merch courtesy of Furphy. It all clocks in at $39 per person, available for collection from The Emerson.

FIRE UP THE BARBECUE
If the biggest sporting clash of the year puts you in the mood for cold brews and smoky barbecue fare, consider yourself spoilt for choice this weekend. For starters, Moonee Ponds' Holmes Hall has teamed up with Public Brewing Co to create a couple of bumper beer and barbecue packs — a carnivore-friendly lineup featuring the likes of marinated wings and lamb chops ($99), and a vegan or vegetarian alternative starring bites like miso-glazed eggplant and barbecued mushrooms ($89). Each includes a selection of Public brews, too.
Preston brewery Tallboy & Moose is doing its own beer-matched meat feast in collaboration with Bluebonnet Barbecue. Available for delivery across a stack of northern suburbs, the ready-to-heat pack stars dishes like wagyu brisket, pecan pie and a couple of one-litre 'crowler' cans of Tallboy's finest.
For a luxe take on the classic Grand Final barbie, try the premium barbecue box ($300, feeds four) from St Kilda's Stokehouse. It's loaded with ready-to-grill goodies like octopus skewers, butterflied king prawns, wagyu beef and local calamari, with extras like fresh oysters and bottles of Bollinger available to add on. Click-and-collect is running this Saturday, as well as delivery for addresses within 10 kilometres.

CARN THE (HOT) PIES
An iconic Aussie sporting event calls for an iconic Aussie dish. And nothing screams footy quite like a hot pie. Or five. Brunswick East's beloved Pie Shop is serving up its last homemade pie (for now) on Grand Final Day, and we can't think of a much more fitting send-off. Jump online to pre-order, or roll in this Friday or Saturday to stock up on favourites like The Allen (slow-cooked beef and veg) and The Shazza (cauliflower, leek and cheddar).
In East Melbourne, Hemingway's Wine Room is serving up a chic feasting pack for two ($129), featuring a homemade wagyu beef cheek pie with green tomato relish as the headline act. Supporting stars include freshly shucked oysters, potato rosti and rolls with whipped goat cheese butter, plus there's an array of food and booze accompaniments to add on. Order now for delivery or pick up.
Southeast Asian favourite Chin Chin is also embracing the classic pie-and-footy pairing, with its series of limited-edition family-sized creations. Choose from pie fillings like butter chicken, yellow veg curry or the famed beef rendang, or opt for a four-pack of Thai-style pork sausage rolls. Your pick comes teamed with a chocolate brownie slab, an official AFL Grand Final Record and a mixed four-pack of Coopers brews, for $55. Click-and-collect and delivery are both available.
And the much-lauded Country Cob Bakery is serving special Grand Final mixed packs of its award-winning pies for in-store pick-up and free delivery across metro Melbourne. Treat your household to an assortment of beef pie varieties ($88), or go for the pack filled with recent championship winners ($142) like the pork and pepper, and the curried scallop.

A GLOBAL FOOTY FEAST
Fancy venturing beyond the usual pies and parma scenario for this year's Grand Final festivities? Hawker Hall is serving a special edition of its finish-at-home Feed Me pack, that'll see you cheering on the telly while chowing down on plates like cumin-spiced lamb buns, a whole-roasted honey and black pepper chook, and sweet apple pie. Order here before September 22 for pick up or delivery.
The newly reimagined Hotel Collingwood (formerly the Robbie Burns) is getting into the Granny spirit with a Finals Day Feed Me Pack from mates at Asian street food kitchen Too Good Talker. Feed two or four with dishes like kingfish ceviche, pork and prawn wontons with a chilli peanut sauce, soy-braised beef cheek and mango sago, to pick up in-store this Saturday. A full vegan menu is also on offer, along with some tasty add-ons.
Grossi a Casa is serving a couple of generous, Italian-accented footy feasts to finish at home. There's a $75 feed for two starring house-baked sourdough, lasagne and a classic tiramisu, as well as a dedicated Grand Final special ($120, feeds two) packed with salumi, a beef and porcini pie, two Peroni brews, and half-time snacks including spinach and ricotta panzerotti. Pre-order now for delivery or collection.
And craft beer bar Benchwarmer invites your tastebuds on a trip to Tokyo with its Japanese-inspired Grand Final Day family pack — a sumptuous spread of karaage chicken (or cauliflower), Japanese potato salad, white miso slaw, brioche buns and house-made sauces. Pre-order online for pick up or delivery this Saturday.

A FEED FIT FOR A CHAMPION
If you're after a footy feast that's a little bit fancy, up the ante with the likes of the three-course feast Lancemore Lindenderry Red Hill is whipping up in collaboration with Red Hill Brewery. Available to pick up from the hotel or for delivery across the region, it's a hefty banquet for two ($189) complete with house-made pork rillettes, a roasted spring chicken with salsa verde and new potatoes, creme caramel with rum raisins, a mixed six-pack of beers and more.
For a chic take on classic comfort food, try the at-home pack from the CBD's Hazel, showcasing the likes of smoked rainbow trout rillettes, beef wellington and a strawberry meringue roulade with Negroni marmalade for $70 per person. A vegetarian lineup is also on offer and you can even add on some excellent cocktails courtesy of sister venue Dessous.
Out west, Zymurgy's generous Grand Final Footy Packs will feed four each ($130/200), with refined dishes like duck liver parfait, chorizo and fennel sausage rolls, and lemongrass-stuffed chicken wings finished with fermented honey and garlic. Teamed with a selection of craft brews from sibling Hop Nation, of course. Order here for pick up or local delivery.

Top Image: The Pie Shop, Annika Kafcaloudis; The Builders Arms
Published on September 21, 2021 by Libby Curran