Four Pillars Is Doing Bloody Shiraz and Bloody Pinot Noir Gins for 2023 — and Hosting a Midwinter Gin Fest
What's better than one bloody great gin? Two, plus 15 events celebrating Four Pillars' cult-favourite tipples across Sydney, Melbourne and Brisbane.
Bloody excellent news, gin lovers: Four Pillars' bloody season is back for 2023. Since 2015, the Healesville-based distillery has turned its winter sip into one of the most coveted tipples of the year, and this year is no different. But, instead of just one limited-edition wine-infused concoction, there's two on offer: the cult-favourite Bloody Shiraz Gin and new sibling Bloody Pinot Noir Gin.
Spirits fiends familiar with the shiraz version will know that it is ridiculously popular for a reason. Also, it's gin infused with shiraz grapes. That blend gives the drop its cerise hue, and provides sweet undertones — but means that it avoids a higher sugar content. It is boozier, though, with an alcoholic content of 37.8 percent (compared to an average 25 percent in regular sloe gin).
Initially it came about when Four Pillars came into possession of 250 kilograms of Yarra Valley shiraz grapes, did some experimenting, and bet that steeping those grapes in its OG Rare Dry Gin for eight weeks — then pressing the fruit and blending it with the gin — would end tastily.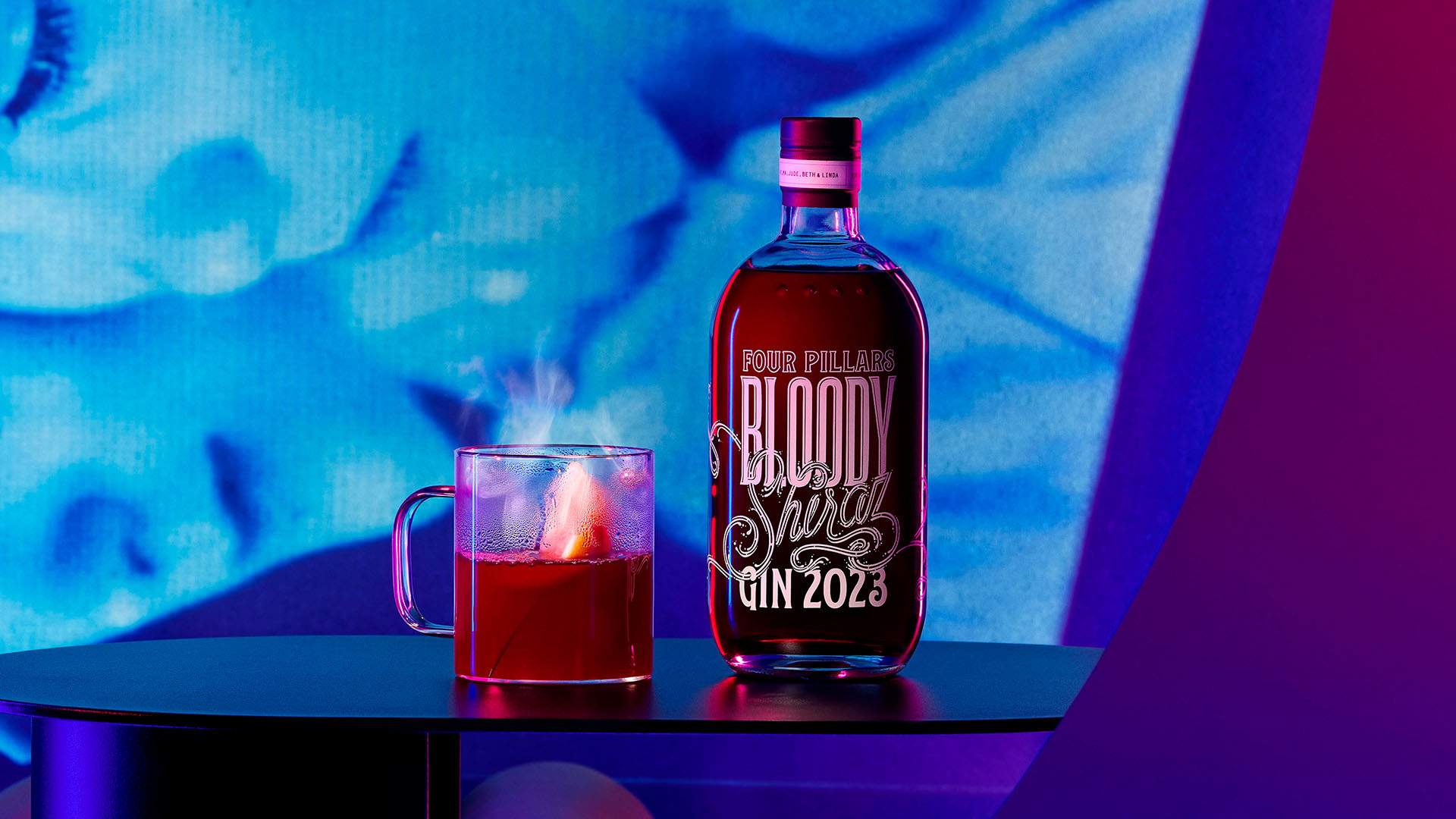 The 2023 Bloody Shiraz Gin follows that process again, while the Bloody Pinot Noir Gin sees Four Pillars try another grape variety. If the distillery is bottling it and selling it, clearly it turned out well, too. This newcomer also sources its fruit from Yarra Valley again. The end result is softer and lighter but with a heavier gin taste, and with aromas of rose petals, strawberries and cherries.
Both gins go on sale on Saturday, June 10 for $88 each at the brand's website, and from Thursday, June 1 if you're a Four Pillars subscriber. The shiraz version will also be available at the Four Pillars Healesville Distillery and Four Pillars Sydney Lab, plus selected bottle-os.
Bloody Shiraz Gin fans over the years will also know that it always comes in a limited-edition bottle, with year's featuring artwork by Australian illustrator Luke Lucas.
Plus, the full bloody range includes gin and tonic cans and a Bandwagon booze-free shiraz option — so even if you're not partaking in alcohol, you can still enjoy a drink.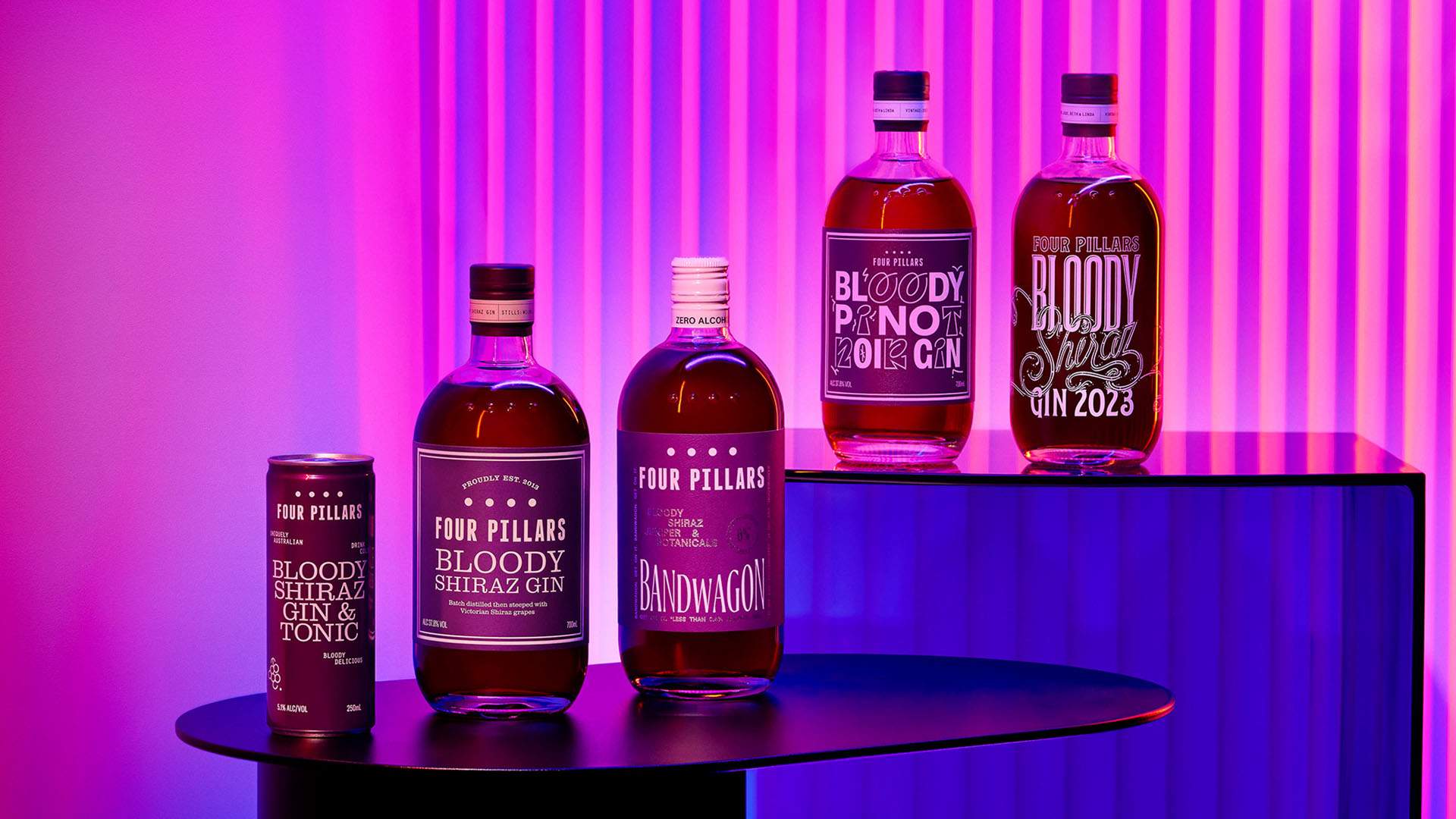 Also bloody brilliant: to celebrate not one but two bloody gins, and bloody season overall, Four Pillars is hosting a midwinter gin fest. Running from Thursday, June 1–Sunday, July 31 in Sydney, Melbourne and Brisbane, the festival is actually 15 events, offering each city something a little different (while always heroing the two tipples in the spotlight, of course, and getting everyone saying "bloody" over and over).
In Sydney, the Four Pillars Lab will celebrate World Gin Day with a weekend-long party filled with drinks, snacks, DJs, workshops and free tastings. The venue is also doing a Golden Century BBQ takeover, teaming pork, duck and dumplings with Bloody Shiraz Gin drinks; putting on a big feast with North Bondi Fish; popping up at North Sydney's Rafi and the Harbour View Hotel; and bringing back the Gin & Film Fest at Golden Age Cinema with a focus on slasher sirens.
In Melbourne, the Healesville distillery is doing comparable World Gin Day festivities, and also hosting a Fireside Festival that's all about hot cocktails. Also, Yakimono is doing a feast, there'll be takeovers at Dessous and Goldilocks, and the Gin & Film Fest is back at Thornbury Picture House.
Last but not least, Brisbane gets a feast as well at Newstead's Stratton. And, the venue is hosting a month-long takeover with a special Bloody Shiraz Gin drinks menu.
The 2023 Four Pillars Bloody Shiraz Gin and Bloody Pinot Noir Gin will go on sale around the country on Saturday, June 10, or on Thursday, June 1 if you're a Four Pillars subscriber. Head to the Four Pillars website to make a purchase — or hit up the Four Pillars Distillery at Healesville, Victoria and the Four Pillars Lab in Surry Hills, Sydney.
Four Pillars bloody range images: Benito Martin.
Concrete Playground Trips
Book unique getaways and adventures dreamed up by our editors