FOOD & DRINK
Five Epic Melbourne Burgers to Order When You Want to Treat Yourself
Wagyu cheeseburgers, plant-based patties and eye-watering sauce could be winging their way to you at the click of a couple of buttons.
Five Epic Melbourne Burgers to Order When You Want to Treat Yourself
Wagyu cheeseburgers, plant-based patties and eye-watering sauce could be winging their way to you at the click of a couple of buttons.
Some nights in lockdown call for whipping up a fancy two-course Ottolenghi feast. Other nights, you need a no-holds-barred burger with all the carbs and all the cheese in your stomach, stat. Thankfully, Melbourne's restaurants are here for you. You can order a double smash patty from the recently revived Rockwell and Sons, a Le Bon Ton cheeseburger packed with wagyu or a burger that comes with fried mac 'n' cheese. To help you in your time of need, we've rounded up five of the most epic burgers you can order for takeaway or delivery in Melbourne.

Ask any true Melbourne burger fiend and they're sure to have some fond, cheesy memories of the double patty smash creation from late Collingwood institution Rockwell and Sons. The long-running diner broke more than a few hearts when it shut up shop last year, but, you can thank your lucky lockdown stars, because the legend is back in our lives once again; at least for a limited time. Sibling venue Bar Liberty — which has transformed into a bottle shop during stage four restrictions — is slinging DIY kits so you can recreate the double smash patty at home. Or, whip up a vegetarian-friendly black bean alternative, if that's more your speed. Available in limited amounts Tuesday to Sunday, the Rockwell and Sons at-home burger packs have been flying out the door at $15 a pop. At the risk of sounding like a broken record, a reminder that as the burgers are pick-up only, you can only get them if you live within five kilometres of Bar Liberty, in line with the current stage four restrictions.

A WAGYU CHEESEBURGER FROM LE BON TON
One of Melbourne's best (and we mean best) burgers, the Le Bon Ton cheeseburger comes with a 150-gram patty of chargrilled wagyu, served with crisp bacon, cheese, onion, lettuce, tomato, pickles, aioli and spicy ketchup. The Collingwood joint's sandwiches, though technically not burgers, are also very delicious and range from the pit-smoked brisket number to a fried chicken and cayenne pepper sauce sanga and smoked mushroom version for vegos. Of course, if you're into slow 'n' low meats, Le Bon Ton has plenty, with its entire menu (and some of its booze) available for takeaway and delivery via Uber Eats, Deliveroo and Doordash.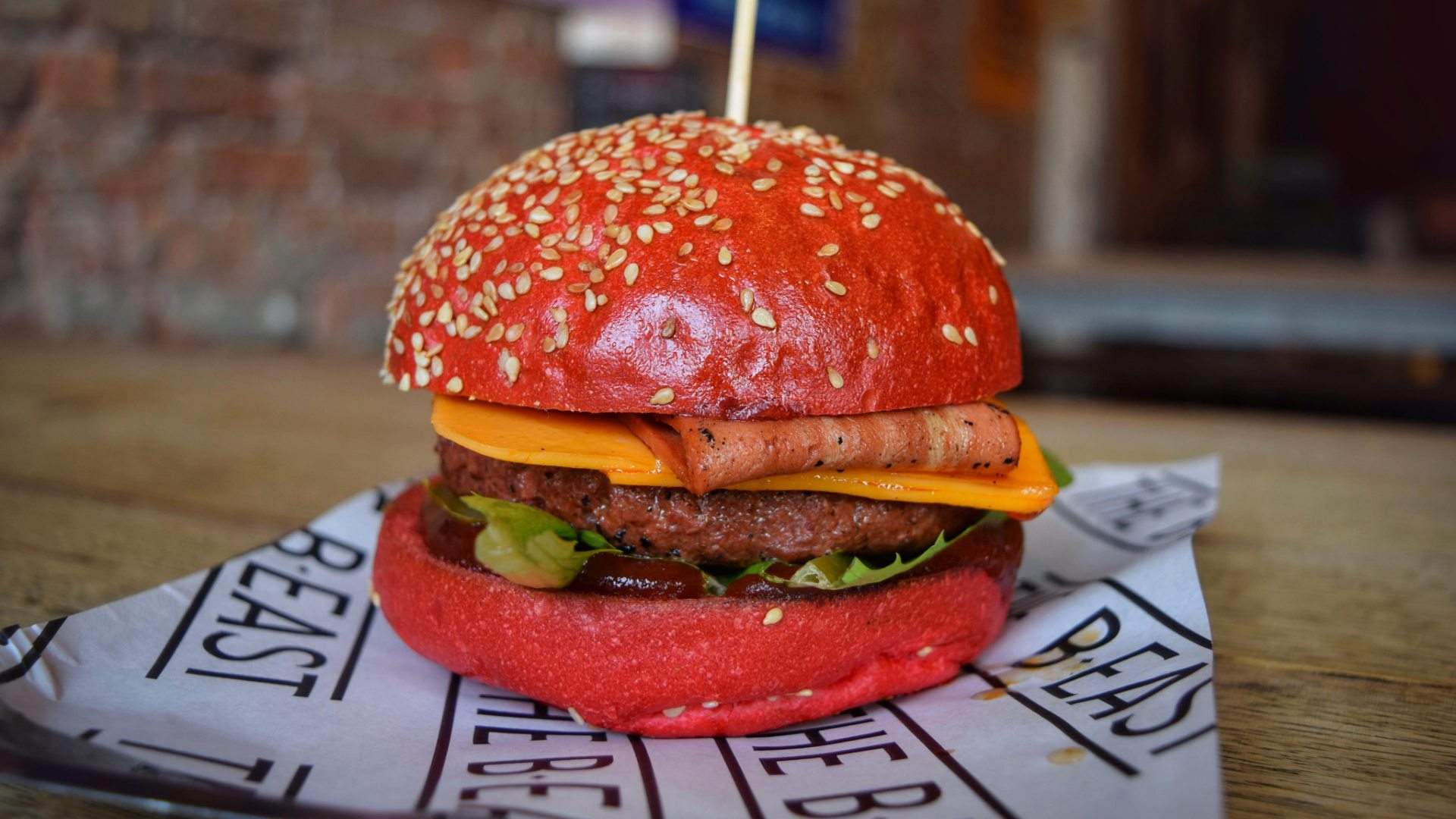 TEXAS RATTLESNAKE AT THE B.EAST
Brunswick East's B.East is out to prove vegans can enjoy a good burger, too. Since it came to life in 2021, it's been feeding hungry northsiders with meat and vegetarian burgers, fries, sides and shakes. On the plant-based lineup, you'll fine the Texas Rattlesnake, which comes with a chargrilled patty, Texas barbecue sauce, vegan cheese, maple 'bacon' and lettuce and pickles. It can be made gluten free for an extra $1.50, too. If you prefer your burgers with meat, you can choose from the pork katsu Daikaiju, the Clint Beastwood with southern fried chicken and the Holy Cheezus with a mac 'n' cheese croquette inside it, among others. If you live within five kilometres, you can order online and pick up from the store, otherwise delivery is available via Deliveroo.

The burgers at this vintage Thornbury restaurant range from the standard Kustom Burger with a beef patty, bacon, American cheese, pickles, onion, lettuce, tomato sauce and mustard to the Impala southern fried chicken burger with cheese, jalapeños, house-made chipotle mayo and slaw, with a few stops in between. There's also a southern-fried portobello mushroom burger for vegetarians and the Hot Rod Burger will bring the toughest chilli fiend to their knees. It comes with either spicy barbecue, chilli chipotle mayo and hero chilli sauce — pick your poison wisely. Also on the lineup: poutine, choc tops and onion rings. To order, head over to Deliveroo.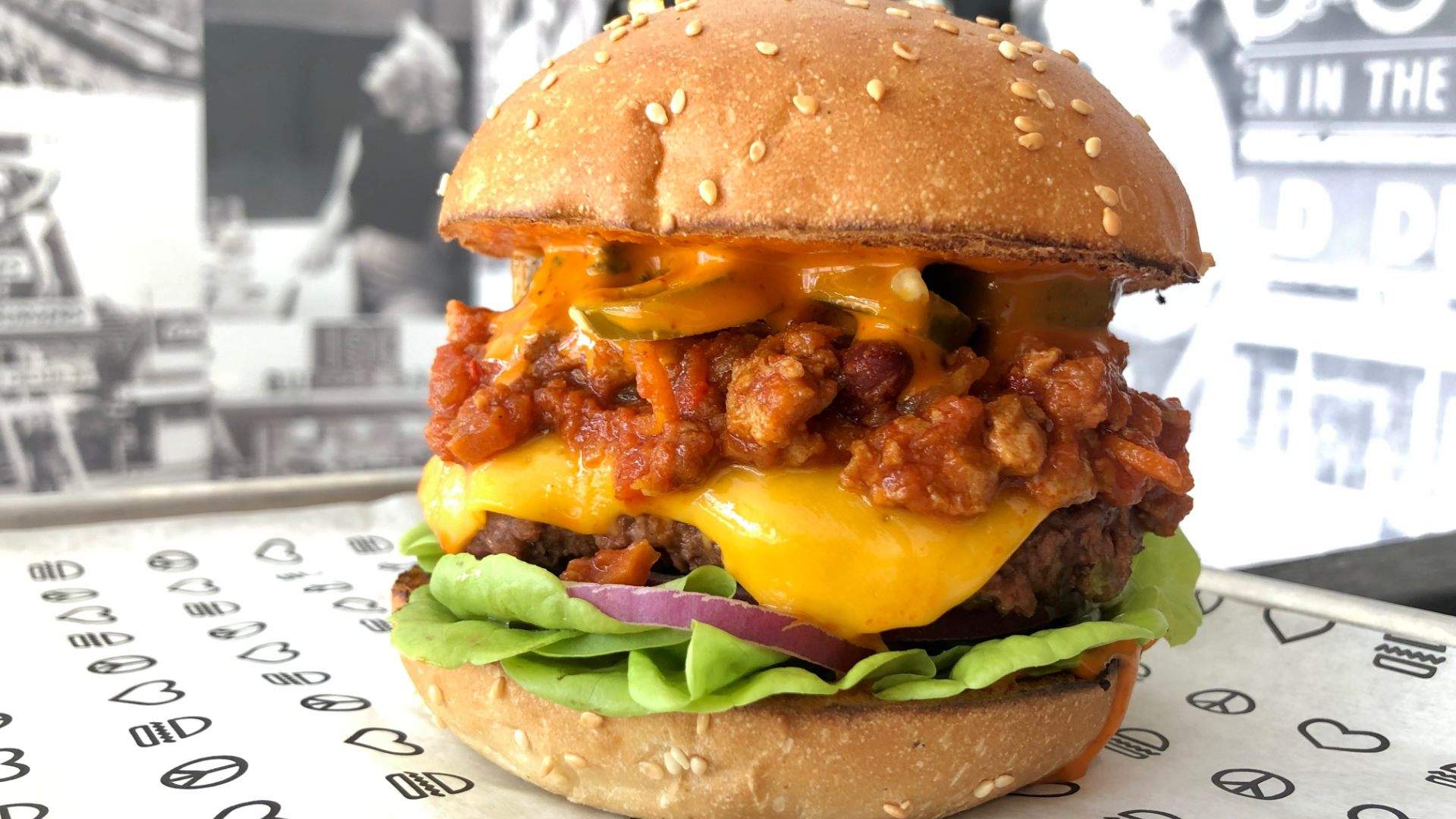 CHEF'S SPECIAL FROM HELLO SAM
As this southside takeaway joint proclaims on its website: "burgers fix everything". While we know that's hyperbole, it certainly can't hurt to try it. Chapel Street's Hello Sam serves up all the classics (try the Simply Sam with beef, lettuce, tomato, onion and Hello Sam sauce) as well as options for those who like things a little spicy — including the Spicy Sam has chilli-basted beef, jalapeños and chipotle mayo, and is topped with a jalapeño popper. Or you can mix it up a little bit with the chef's special. This might be a monster Hello Jam — with maple bacon and chilli jam — or a vegan Italian Stallion. Plus, the venue is now serving a range of loaded fries options, including a vegan HSP, if you feel like going all out. South Yarra locals can order takeaway through the website, otherwise delivery is available via Deliveroo and Uber Eats.

Top image: Hello Sam
Published on September 09, 2020 by Concrete Playground