FOOD & DRINK
Twelve Grown-Up Easter Treats to Try in Melbourne
You're never too old for this Easter hunt.
Twelve Grown-Up Easter Treats to Try in Melbourne
You're never too old for this Easter hunt.
---
It's Easter. Time to stuff yourself with baby animal-shaped chocolates and cross-covered baked good while feeling absolutely zero shame. To help you make the most of it, here are the best holiday treats making up your Easter hunt this year.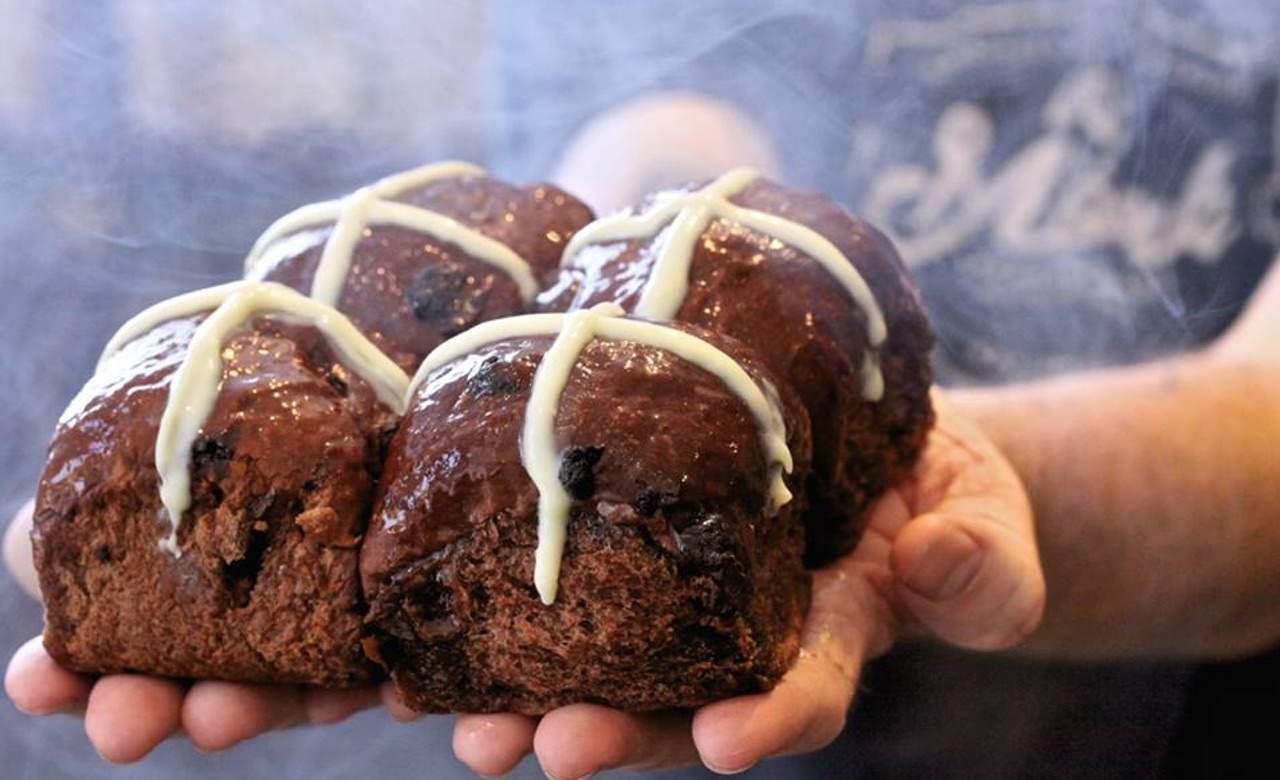 Normally we'd be more inclined to stick to traditional fruit hot cross buns, but we'd be absolutely bonkers to turn down one of Mörk's creations. These triple chocolate bad boys (pictured here straight from the oven) are studded with dark chocolate pieces, candied orange and soft chocolate ganache centre. We repeat: a chocolate ganache centre. Order yours here.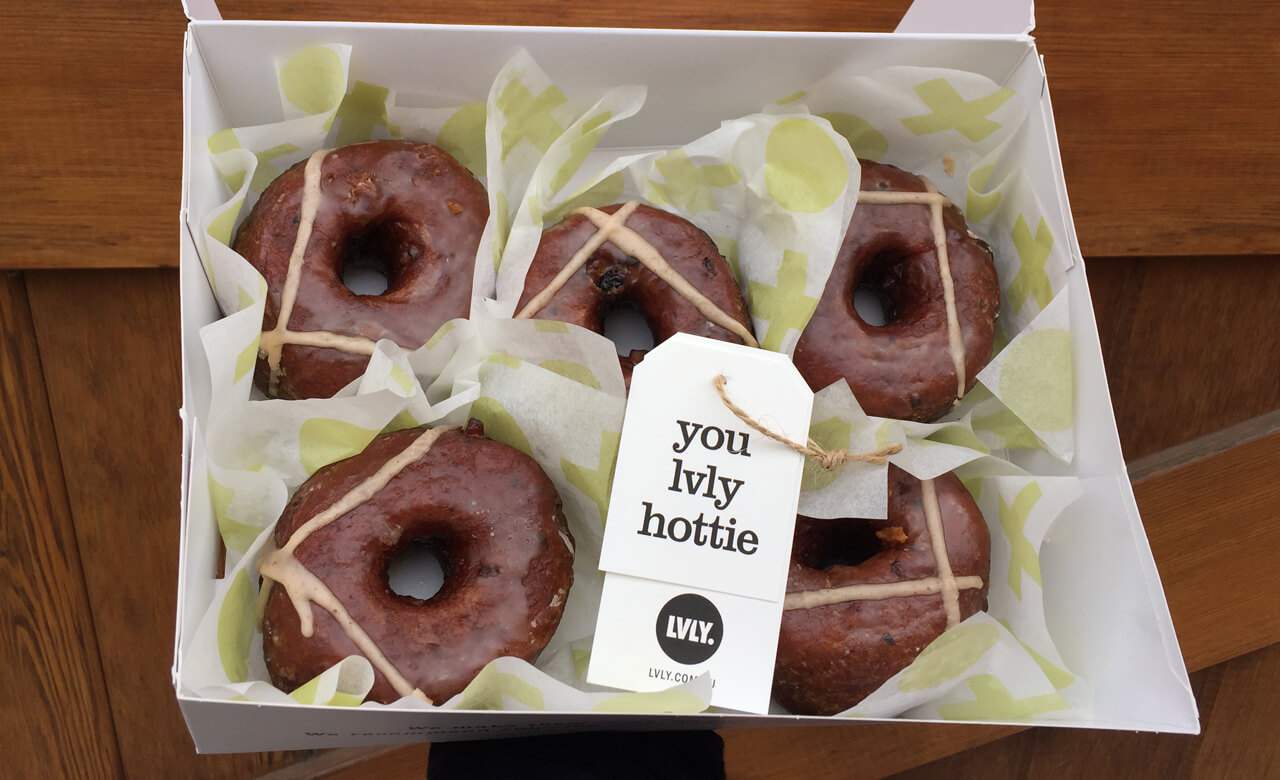 HOT CROSS DONUTS AT SHORTSTOP
These drool-worthy rings of spiced doughy goodness are the latest creation from the ever-baking doughnuteers at Shortstop Coffee & Donuts. Alcohol soaked dried fruit is mixed through a sweet and spiced dough, before being fried and covered in a milk and honey glaze. You can pick one up at their CBD store or LVLY will even deliver a five-pack to your door. If that's not an Easter miracle, what is?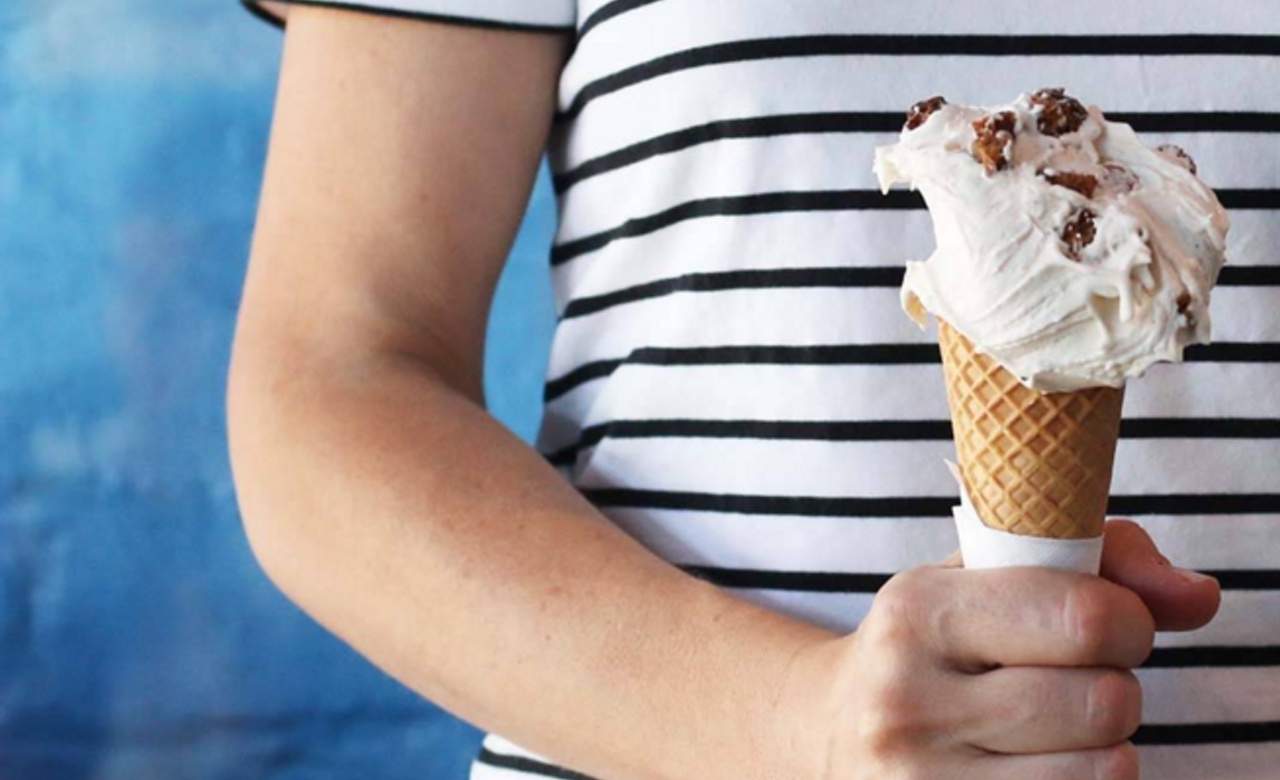 BAKER D. CHIRICO HOT CROSS BUN GELATO AT PICCOLINA GELATERIA
This March is meant to be a hot one, so if you're more interested in licking your Easter treats than chewing them, Piccolina's hot cross bun gelato will be your treat of choice. For Easter, the Hawthorn gelateria have created a special cream-based gelato with hot cross bun spices and pieces of toasted Baker D. Chirico hot cross buns throughout.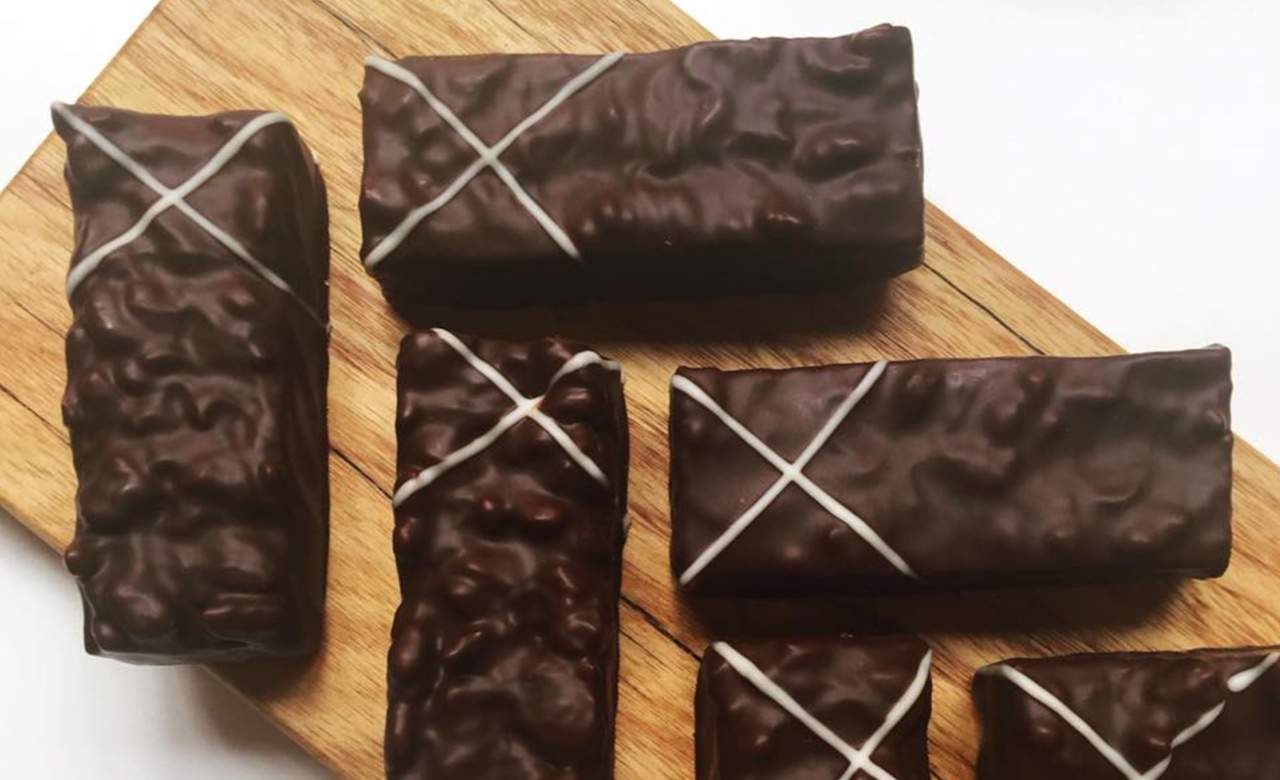 HOT CROSS BARS AT BIBELOT
The dessert masters at Bibelot have a few things on offer for Easter this year — including some seriously pretty eggs made in-house — but it's their hot cross bars that've caught our attention. They've made a slab of spiced hazelnut praline and covered it in dark chocolate — just like a hot cross bun, only way more decadent and chocolatey. If that doesn't do the trick though, you can always ask them if you can stick your head under one of their chocolate taps.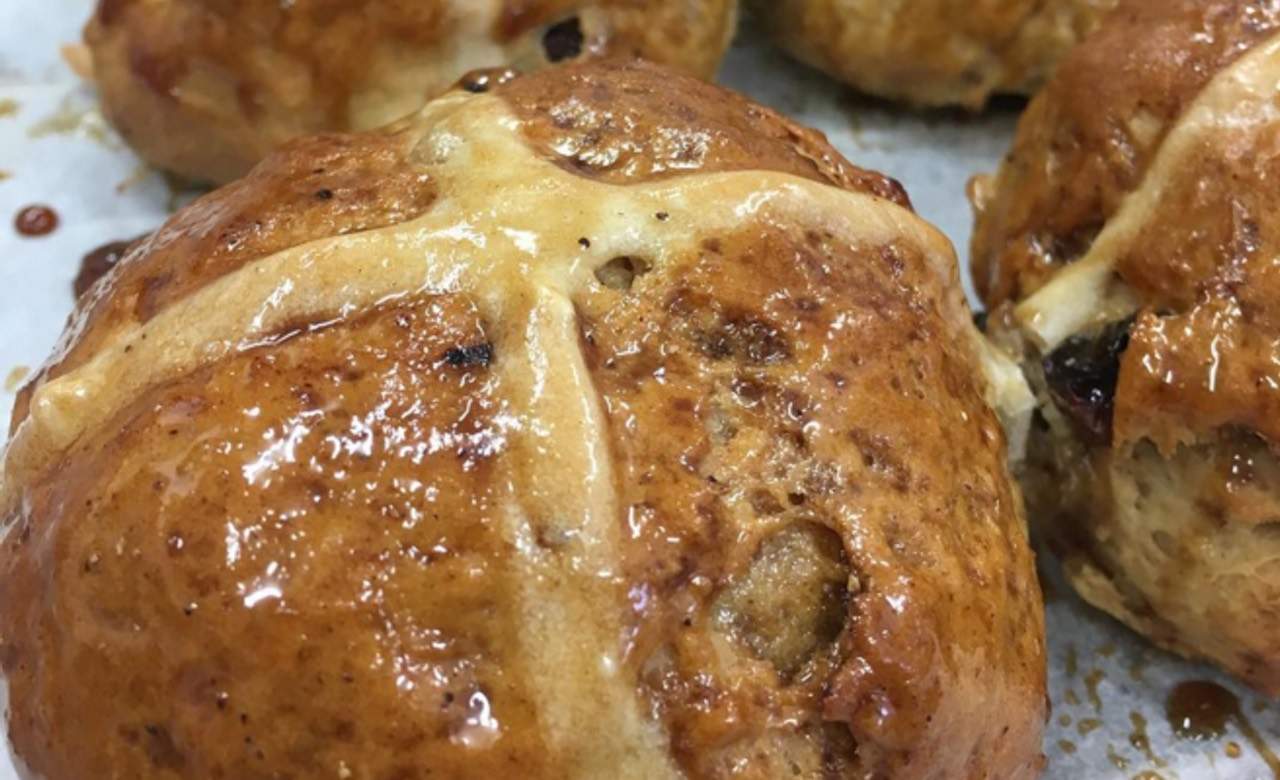 Easter used to be a sad time for hot cross bun-loving vegans, but since the arrival of Smith & Deli, they no longer have to miss out. These are set to sell like, well, vegan hot cross buns so keep an eye on their Instagram and be ready to get down to their Fitzroy deli at a moment's notice.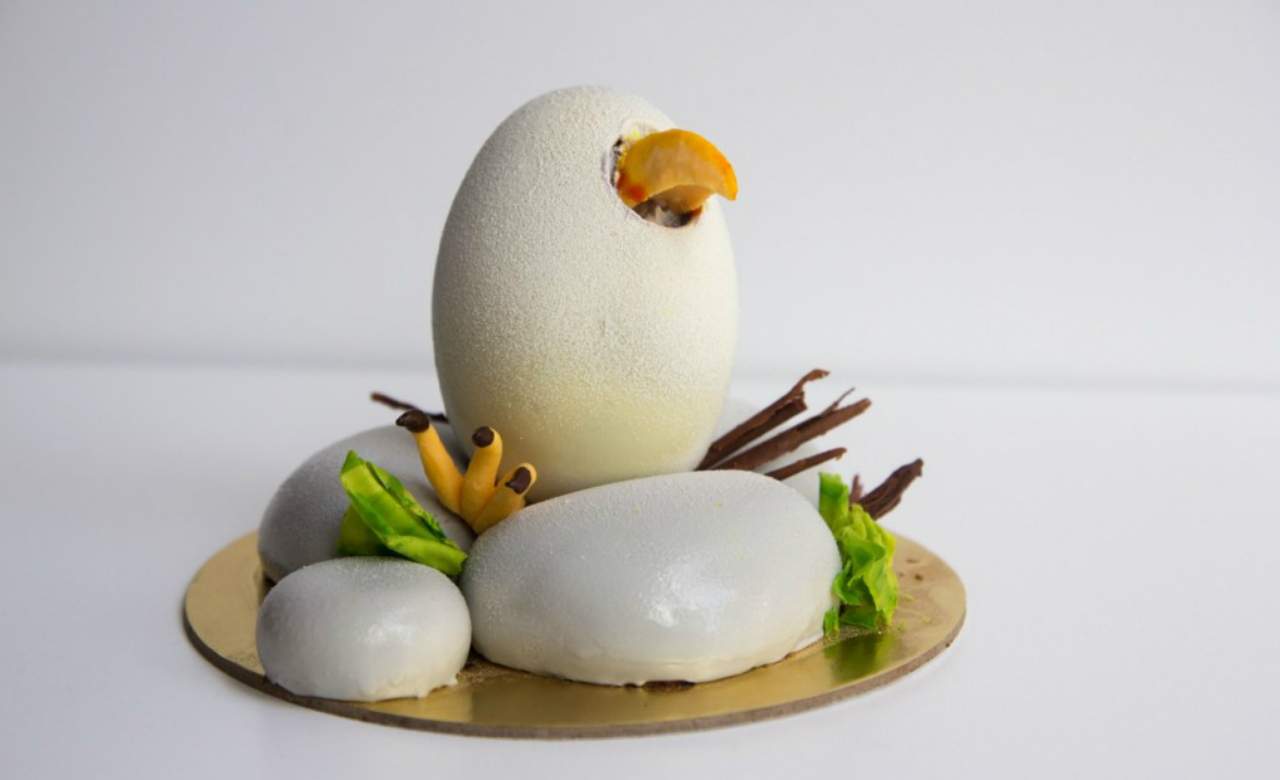 Easter gelato? Yep, it's a thing. Every year, those frozen wonder wizards at Gelato Messina whip up a specific dish that'll make you think they've grown their very own pair of rabbit ears. In 2016, none other than the Chick Magnet is on the menu, offering up milk chocolate ganache and white choc hazelnut gelato inside a milk and white chocolate shell. Available from the Fitzroy store only.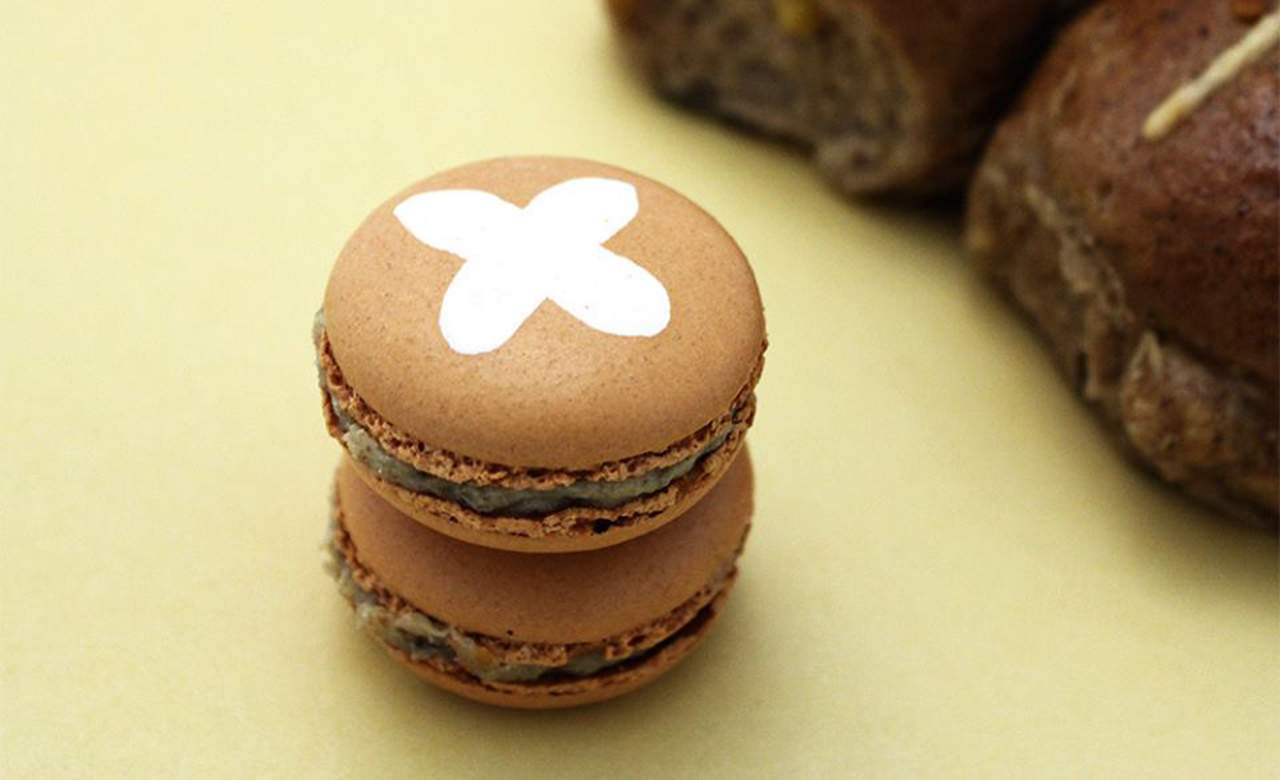 Adriano Zumbo Patissier has to win the award for the most creative and varied range of Easter treats in Melbourne. Alongside adorable Easter bunny paw-shaped tarts with chocolate sponge, mascarpone mousse and pink grapefruit jelly and mini hundreds and thousands white chocolate Easter eggs, a favourite for pure simplicity is the Hot X Bun Zumbarons. They lend an Easter touch to the patissier's year-round mouth-watering macarons.
If there's anything as satisfying as biting into a gooey, chocolatey Caramello egg, it has to be biting into one that isn't even bad for you in the slightest. Pana's epic raw, vegan, sugar free, gluten free and dairy free Easter creation is back for another year, and cult followers couldn't be more ecstatic. Order online for pick-up from their Richmond store to avoid disappointment.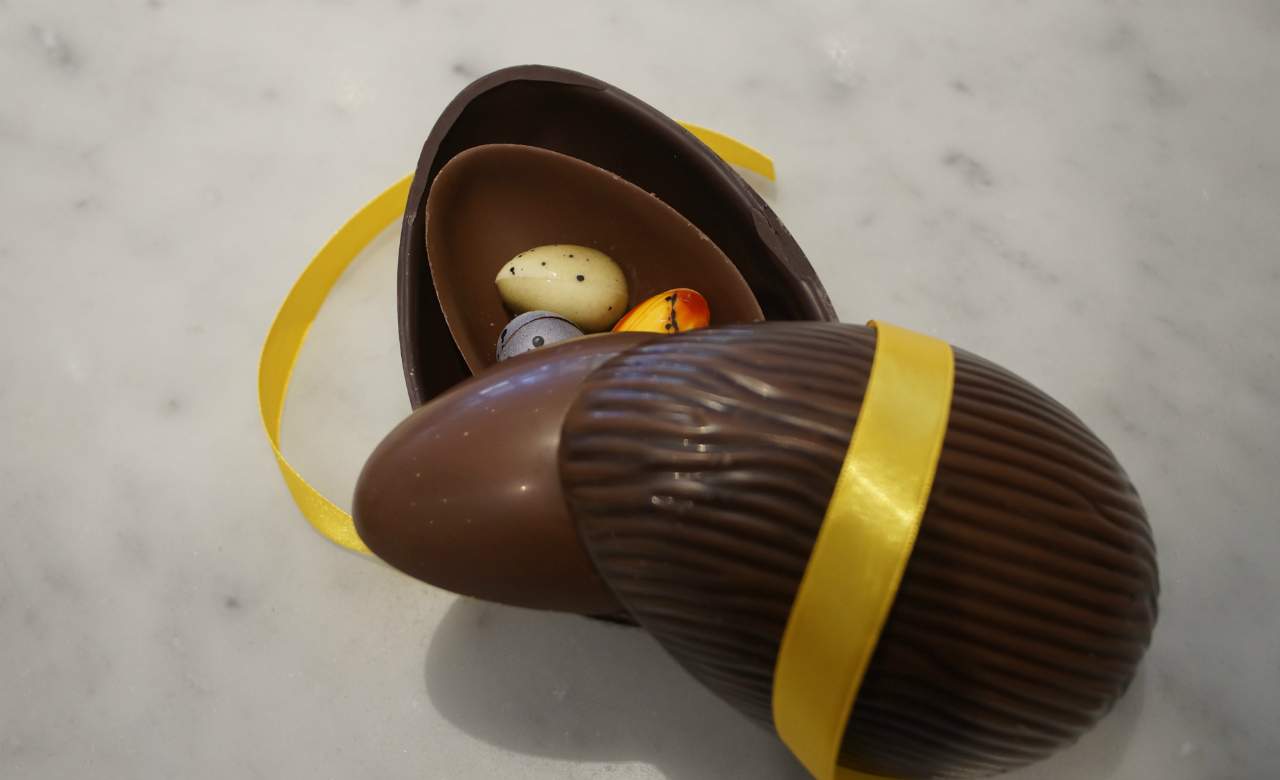 This could be the most grown-up Easter egg/piece of chocolate art we've found this year. Purveyors of lovely things Sorry Thanks I Love You have worked with Sydney chocolate wizards Kawawa Chocolates to create this gem. Painstakingly constructed by hand by master chocolatier Jin Sun Kim over a few days, these limited edition Babushka eggs are three layers of delicate, chocolatey goodness. Hand-painted 'quail' eggs are encased within a fine milk chocolate shell, within a thick, single origin dark chocolate outer shell. It's about 20cm long and will set you back $60, available from Sorry Thanks I Love You's online store.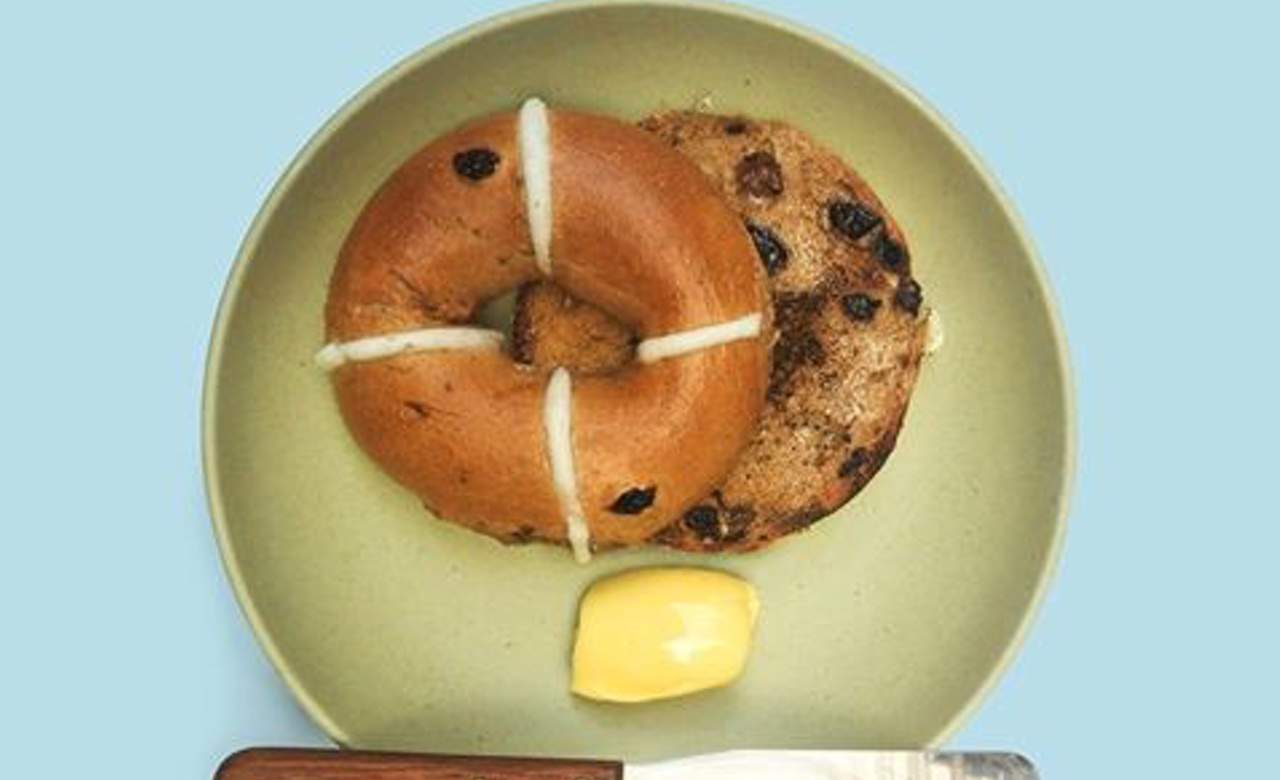 HOT CROSS BAGEL AT SCHMUCKS
What is a hot cross bagel? Well, it's suspiciously similar to a cinnamon raisin bagel. Except that it has a cross on top. Even if that is the case, we'll take the invitation and slather an extra thick layer of butter on it for the occasion.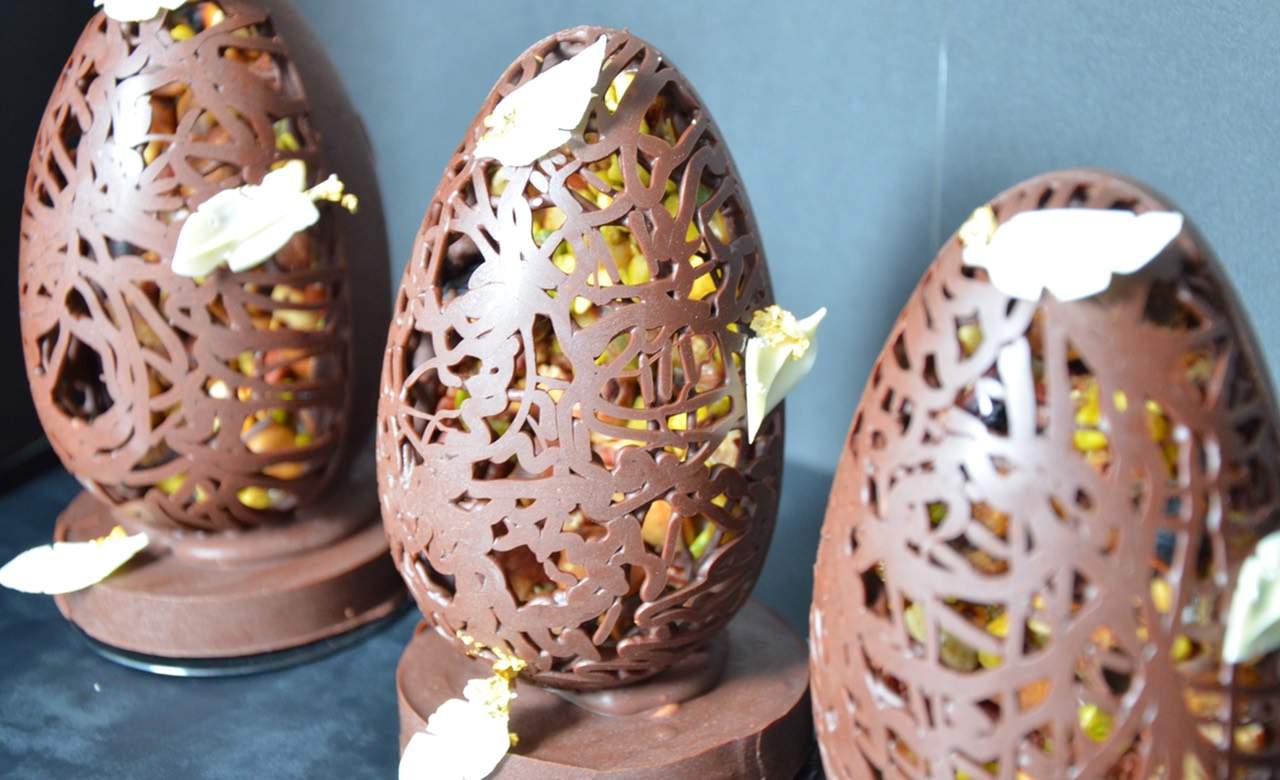 Looking for the perfect Easter lunch centrepiece? Well, this might just be it. This beautiful, intricate creation from Christy Tania at Om Nom is filled with banana milk chocolate brownie, chocolate cream, caramel toffee, roasted nuts and a 50 percent cacao chocolate. You can buy it from the foyer at the Adelphi Hotel, but just know that all pretty things must be broken — and this egg faces a tragic death.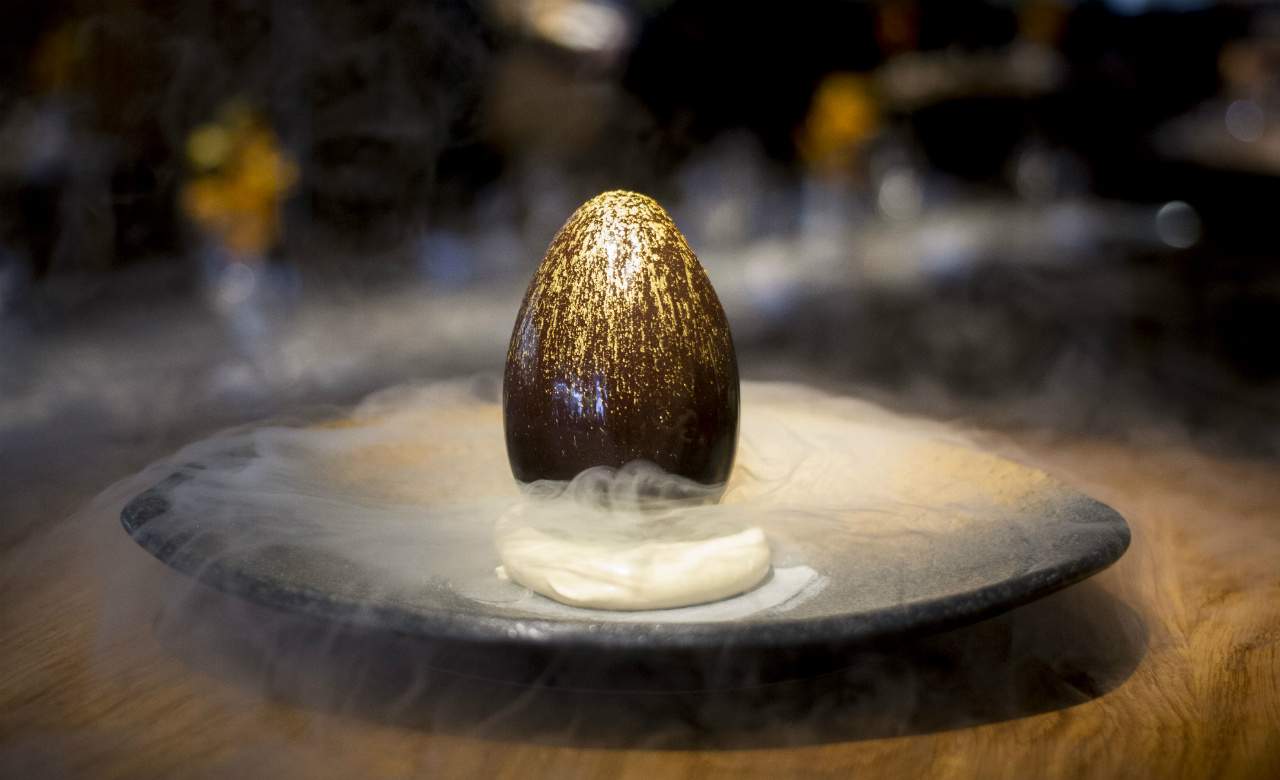 DRAGON EGG AT SAKE
Taking three days to make, the signature Dragon Egg dessert at Saké Double Bay has a bit of a cult following (around 400 are made each week at the Double Bay venue). It's a Valrhona chocolate shell filled with toasted chocolate crumble, edible soil, passionfruit yoghurt crispy chips, chocolate mousse, passionfruit curd, and mango caramel, A light gold dust finishes everything off and the egg comes served with passionfruit ice cream, under a pouring of liquid nitrogen — so it can be broken open with a mere spoon. Over Easter, you'll be able to order the Dragon Egg at Sake in The Rocks (Sydney), Hamer Hall (in Melbourne) and Eagle Street Pier (Brisbane) too. Only 50 will be available at each venue and for a limited period — Friday, March 25 to Monday, March 28.
Spotted any other inventive and tasty Easter treats around town? Let us know in the comments below.
Published on March 17, 2016 by Lauren Vadnjal