Local Burger Guru Goldieboy Is Slinging DIY Double Cheeseburger Kits to Make at Home
His signature creations feature Martin's potato rolls, brisket-chuck patties and a top-secret adobo kewpie sauce.
If you're missing fresh-off-the-grill burgers due to Melbourne's extended lockdown, Simon O'Keefe — aka Goldieboy — is here to change that with his new DIY double cheeseburger kits.
You might have experienced Goldieboy's work at private parties and pop-ups, where he's been honing his creations along the way. The result is a beast-like fusion of Martin's potato rolls (the same used by Shake Shack), a patty made with a special blend of chuck and brisket courtesy of Toorak butcher Peter Bouchier, and a top-secret adobo kewpie sauce.
Now O'Keefe is unleashing his finely-tuned formula in a DIY kit so you can recreate the magic at home. Each pack contains all the ingredients necessary to whip up a batch of the double cheeseburgers for two or four — patties, pillowy buns, American cheese, pickles and lashings of that secret sauce.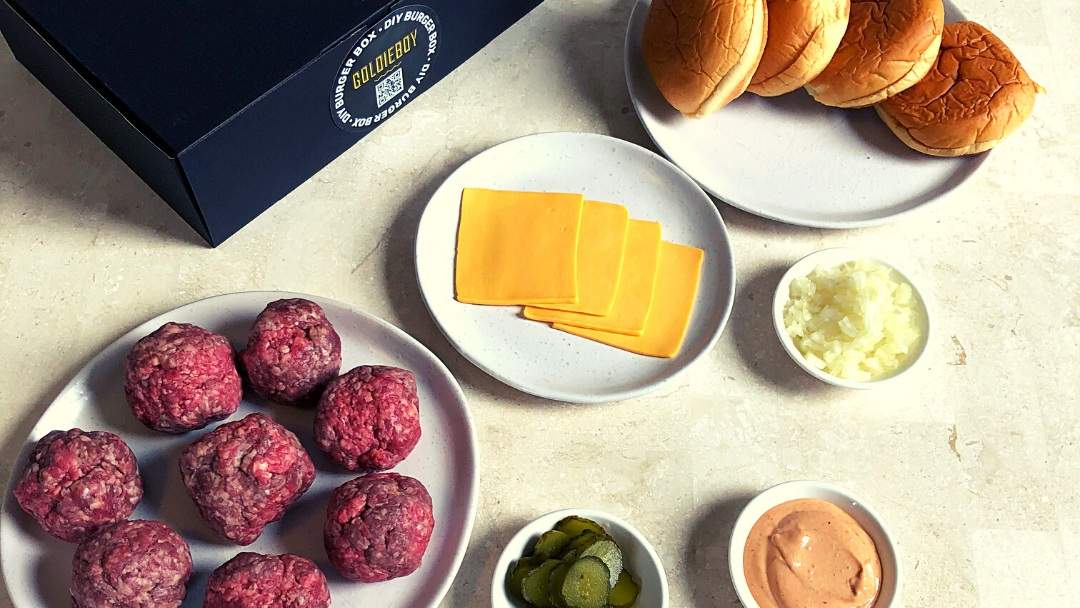 A limited number of the kits drop weekly, with online orders open from 5pm Sundays till midnight on Tuesday or until sold out. Deliveries are then sent out on Friday between 7am and 4pm.
Goldieboy has also teamed up with the folks at South Yarra's Two Wrongs, where you can collect pre-ordered burger kits each Saturday, alongside a super limited number of ready-to-eat burgs and take-home cocktails.
In the coming weeks, more cafes and venues are set to jump on board, expanding the list of places where you can order and collect burger kits. And if all goes to plan, O'Keefe is looking to set up a permanent Goldieboy burger joint next year — more on that to come soon.
Goldieboy's DIY kits are available to order via Mr Yum, Sunday to Tuesday. You can keep an eye on his movements over on Instagram. Otherwise catch Goldieboy from 11am Saturdays at Two Wrongs, 637 Chapel St, South Yarra.