FOOD & DRINK
Where to Find Victoria's Best Vanilla Slices
Mille-feuille, snot-blocks, slices of heaven — here's where to find all the best vanilla slices Victoria has to offer.
Victoria's annual competition for the best vanilla slice — the Great Australian Vanilla Slice Triumph —  began in 1998, reportedly because the then-Victorian premier Jeff Kennett claimed the vanilla slice from Ouyen's town bakery was the best he had ever tasted. It's not surprising then, that the tradition has lived on, with Victorians rallying in staunch defence of their local bakery's version of this sweet and flakey Australian icon. 
The origins of the enigmatic vanilla slice are hazy. The French would argue it's derived from their beloved mille-feuille, meaning one thousand sheets — a much more sophisticated title than its Australian counterpart, where we affectionately nickname said slices "snot-blocks".
Mille-feuille, snot-blocks, slices of heaven — whatever you want to call them, here's the list of the best vanilla slices Victoria has to offer.

BEATRIX BAKERY, NORTH MELBOURNE
Beatrix, arguably the best bakery in Melbourne, is renowned for its no-fuss simplicity and sumptuous, inventive takes on traditional cakes and sweets. The lines of people that regularly cascade down Queensbury Street are a testament to its ability to get every texture and flavour combo just right. However, Beatrix's vanilla slice is not a daily offering, so be sure to check their Instagram to see what freshly baked goods are up for grabs when you decide to visit.
If you're lucky enough to catch one while you're there, you're in for a treat. Beatrix's most recent vanilla slice special was blood orange with candied blood orange atop glazed, buttery puff pastry. Or, if you're in for something more traditional, Beatrix sometimes has a classic vanilla slice with a custard middle and passionfruit glaze. The pastry to custard ratio is also on point: the two slices of pastry are thick and hold the custard filling together in perfect harmony. But, make sure to arrive early. Readers that sleep in past midday might face a disappointing, baked good-less trudge out of the bakery.


THE FRENCH LETTUCE, CARLTON & BULLEEN
The French Lettuce is a classic French-Aussie patisserie, with fresh raspberry tarts and beef and burgundy pies filling its glass cabinets. Its shop window also states it's been voted the number one vanilla slice in Melbourne — and we can think of a few reasons why. The French Lettuce's award-winning dessert (or indulgent snack) has made a name for itself through a thick slab of custard, perfectly flaky pastry and a decent dusting of icing sugar. And if that's not enough for the vanilla slice addicts out there: you can also get it in cake form. That's right, an actual cake with double-layered puff pastry and classic vanilla slice custard filling, with some strawberries and almonds on top, for good measure. The French Lettuce also has a stall at Richmond Gleadell Street Market Bakery, so be sure to check it out next time you're in the area. 

BRIDGEWATER BAKEHOUSE, BRIDGEWATER
Number one on many-a vanilla slice lover's list, Bridgewater Bakehouse is a must-try. Using fresh vanilla beans instead of vanilla essence like many vanilla slices, these perfectly square numbers can be found in the tiny town of Bridgewater near the Loddon River in central Victoria. Bridgewater Bakehouse has an old-fashioned country charm about it, but that's not the only reason people flock there. It has won the aforementioned Great Australian Vanilla Slice Triumphs in both 2018 and 2019 (the competition was paused in 2020 due to the pandemic). The wins have put the Bridgewater Bakehouse on the map, making the small town a gastronomic destination, selling over 500 pastries every day.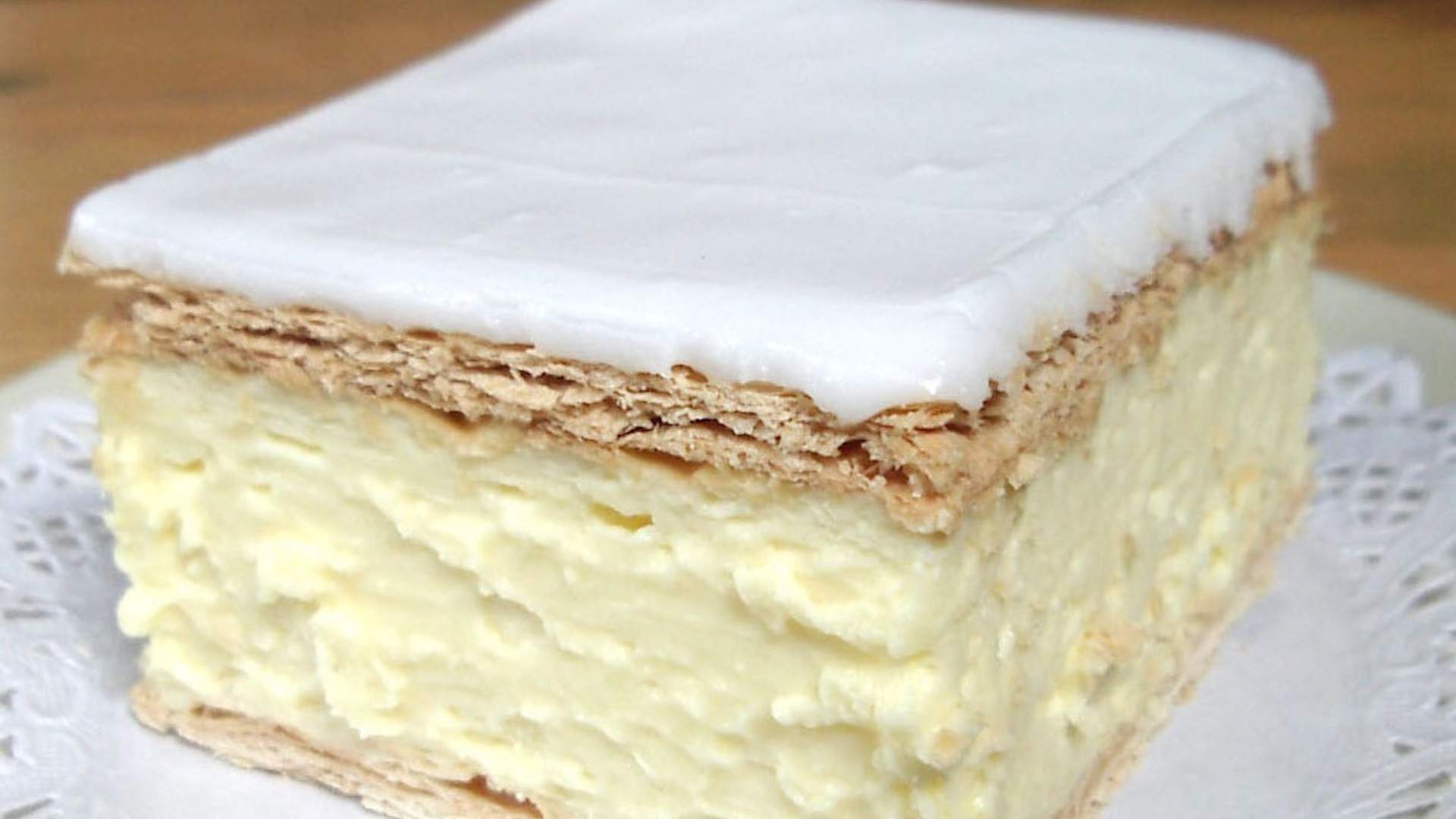 BOURKIE'S BAKEHOUSE, WOODEND
Bourkie's Bakehouse has been in business in the small, picturesque country town of Woodend for 32 years. They've reeled in numerous trophies for their vanilla slices, including a tie for first place, three second places, and six third place  in the Great Australian Vanilla Slice Competition. With three permanent vanilla slices residing in their cabinets: iced vanilla, strawberry and passionfruit, Bourkie's is worth the pilgrimage. And if you catch them on a day when they're offering a special, you'll be cheering. On occasion, they have vanilla slice specials which include raspberry mousse, mocha (choc mousse with coffee icing), apple crumble and sticky date pudding. Bourkie's slices will set you back $4, with their ever-popular 6 packs coming in at $22.50 for vanilla slice enthusiasts.  

MISTER NICE GUY'S BAKESHOP, ASCOT VALE
Mister Nice Guy's Bakeshop is Melbourne's first 100% plant-based bakery and home to one of Melbourne's only vegan vanilla slices. But, to our non-vegan readers, don't be worried if your plant-based friend begs you to come along to get some vegan vanilla slices, donuts or scrolls — you'll probably end up leaving with a box of treats too. With custard so silky and pastry so flakey, you might be jumping on the vegan sweet train for good.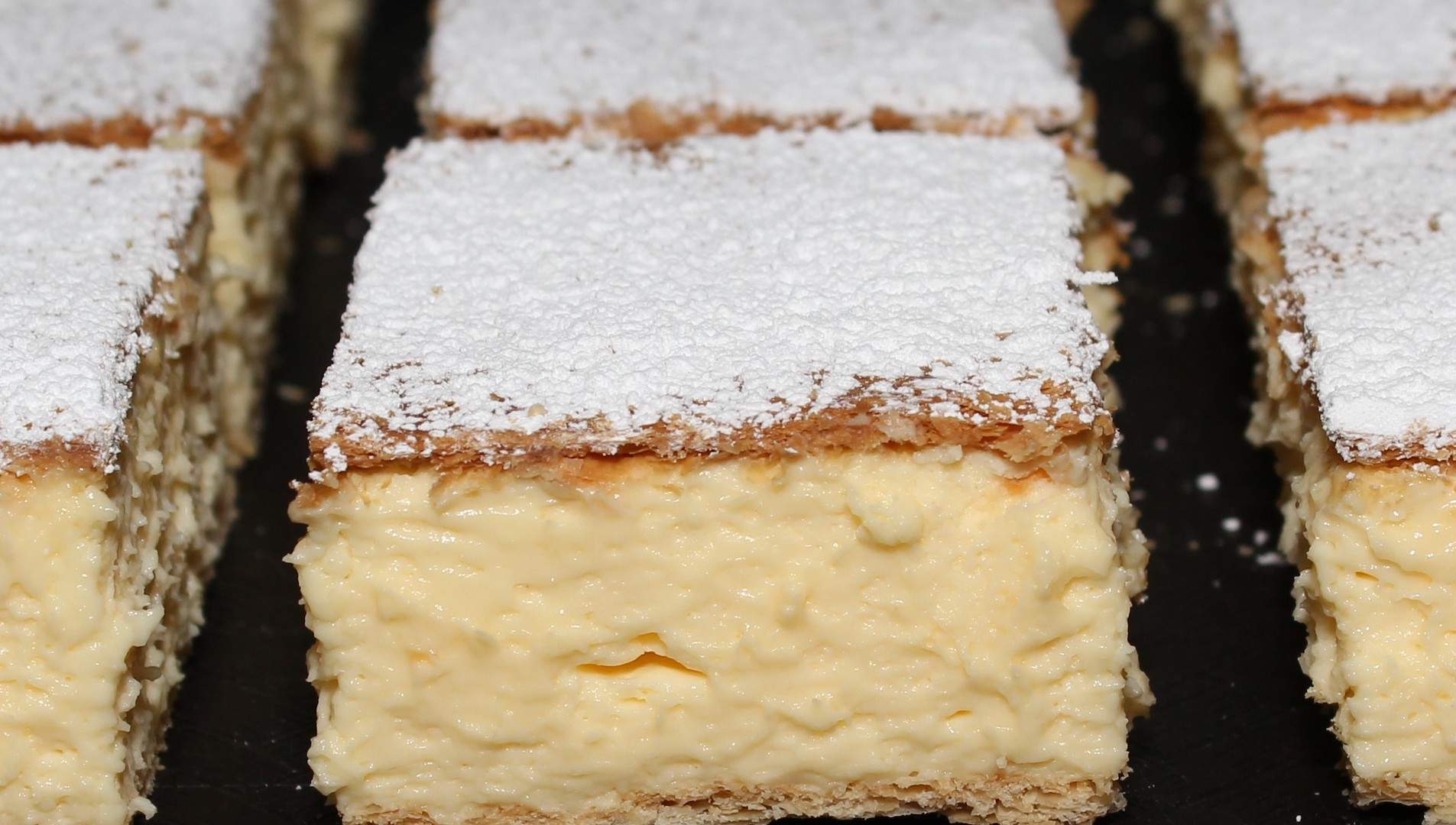 GUSTO BAKERY, FAIRFIELD & STRATHMORE
Gusto Bakery is a family-run institution. With seven children between them, four of which have worked at the bakery, owners Simon and Carly's homestyle bakery is certainly a labour of love. Gusto Bakery offers two types of vanilla slices: one is a classic french-style slice with an impossibly creamy vanilla custard sandwiched between two layers of light puff pastry and a thin dusting of icing sugar. The other slice of vanilla heaven is more inventive than its traditional counterpart: this award-winning slice is smothered with apricot jam and fondant. Yes, please!

MOUNT MARTHA FINE FOODS, MOUNT MARTHA
If you're the kind of vanilla slice aficionado that likes their custard to be around thirty times as thick as the pastry it's sandwiched between, then Mount Martha Fine Foods is your next foodie destination. These creamy vanilla bricks are a sight for sore eyes, as is the stunning beach they are baked next to. Eating a mammoth slab of custard before a swim at one of Victoria's most beautiful beaches? Don't mind if we do. 

VANILLA SLICE CAFE, SORRENTO
It would be a crime against the vanilla slice community of Victoria to not mention the Vanilla Slice Cafe in Sorrento. Nestled on the main road in a quaint, homely shop with a limestone facade, on some days, you'll find lines outside The Vanilla Slice Cafe made up of both tourists and locals waiting to buy one of its famous slices. These guys will set you back over $9, but they're well worth the price. They're on the thicker side, so while you'll be tempted to share one between two people, we urge you to get your own — trust us.

SWAN STREET BAKERY, RICHMOND
Thin, flakey, buttery pastry, with a well-portioned custard bursting with delicious vanilla is a winning combination for Richmond locals who flock to Swan Street Bakery for their vanilla slice fix. Swan Street's vanilla slice has a thinner custard slab than others on this list, so if you like yours with a little less snot and a little more pastry, you've come to the right place.

RICHMOND PIE SHOP, RICHMOND
While there is always a steady stream of locals picking up takeaway pies from Richmond Pie Shop, its vanilla slices are hailed as some of the best in Melbourne far and wide. Its vanilla slices have some of the thickest icing sugar dustings we have ever seen. It had alfresco dining too, so if you wanted to be authentically French while eating your mille-feuille, sorry — snot block — pull up a chair outside after lockdown ends, and enjoy. 
Image: The French Lettuce
There are currently restrictions in Melbourne and some parts of regional Victoria. For more details or more information about the rules in place at the moment, head to the Victorian Department of Health website.
Published on September 23, 2021 by Ines Francesca English