FOOD & DRINK
Chef David
Expect live bands, DJs and nine different different soup bases — including one with 130 different herbs and spices.
UPDATE: THURSDAY, JULY 9 — Hot pot at home? You betcha. While David's many Melbourne stores are closed to dine-in customers, they're now delivering their Sichuan hot pot to homes across the city. Available to order via UberEats, the menu includes the chain's popular toppings, sides and — to complete the experience — even pots and accessories.

On the off-chance you've already slurped your way through Melbourne's hot pot restaurants (think Panda Hot Pot and Jiyu Thai), here's yet another one to check off your hit-list. The boldly executed Chef David on Elizabeth Street is a vision of marble, metallics and neon blue — and it serves up some seriously spicy soups.
Sibling to Melbourne's two David's Spicy Pot outposts, as well as Russell Street's David's Hot Pot, this restaurant's dishing up spicy Sichuan hot pot against a futuristic, multimillion-dollar backdrop. There are seats for 200 diners, ceilings hung with dazzling chrome chandeliers and a high-tech sound system for the program of live acts and DJs to come.
The menu's handy 'how-to' guide is useful for both seasoned hot pot fans and novices alike, with the kitchen offering a hefty nine different soup base options to tempt all levels of spice tolerance. You can select up to three to fill your table's communal hot pot — perhaps the easygoing dried fish maw and chicken number, or the Signature Spicy Instagram Soup starring 130 herbs and spices, and an animal character shaped out of beef tallow.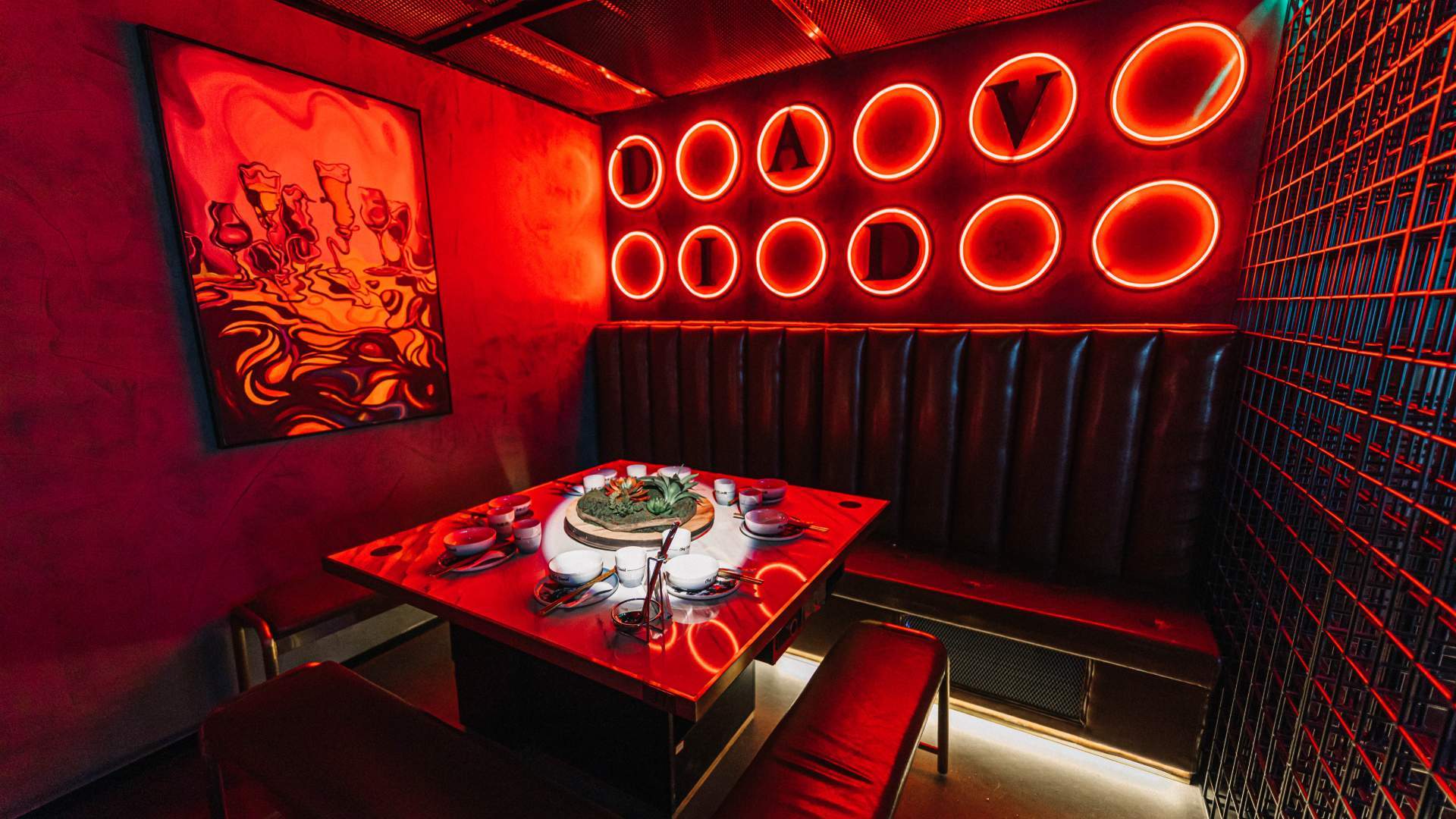 Then, pimp it out with your choice of high-quality meat cuts, plenty of offal, vegetables, tofu and market-fresh seafood, along with sausages, dumplings and various meatballs. Each is listed on the menu with a handy suggested cooking time. A range of dipping sauces lets you customise things further.
But it's not all about the hot pot, of course — the kitchen's also whipping up grilled dishes, barbecued skewers and snacks that include everything from deep-fried pork belly to crisp sticky rice doughnuts. And, since this one's got a 4am licence (but is currently only open till 2am), we're guessing the lineup of tap beers, Japanese whisky and creative cocktails should get a solid workout of its own.
Food & Drink

Friday, October 22 - Sunday, February 27

QT Melbourne

Food & Drink

Thursday, October 21 - Friday, November 26

Secret Melbourne location