FOOD & DRINK
Harley & Rose
Footscray's diner churns out pipi pizzas and has an impressive front courtyard.
If you think hard enough, you may remember 'Harley & Rose' as a melancholic track from the 90s. Fast forward to 2018 and Melbourne chef duo Josh Murphy and Rory Cowcher use it as a nostalgic reference for their new bar-cum-pizzeria restaurant in Melbourne's west. Located on Barkly Street, West Footscray, Harley and Rose is very much a neighbourhood hangout complete with its very own in-house bottle-o.
The culinary rising stars, best known for their time spent at the Builders Arms Hotel, Cutler & Co. and Cumulus Inc., have worked on and off together for years. "We're very much on the same page when it comes to what we like and don't like about restaurants and food," says Cowcher. "When it came to writing the first draft of the menu, it just sort of came together within an hour. We didn't really need to talk it out."
The result? A very casual, neighbourhood bar with a menu showcasing everything the boys like to eat themselves. "We both spend a lot of time cooking on our Webers at home and wanted to work with that style of cooking — and we both love pizza so we used that as a starting point," says Murphy.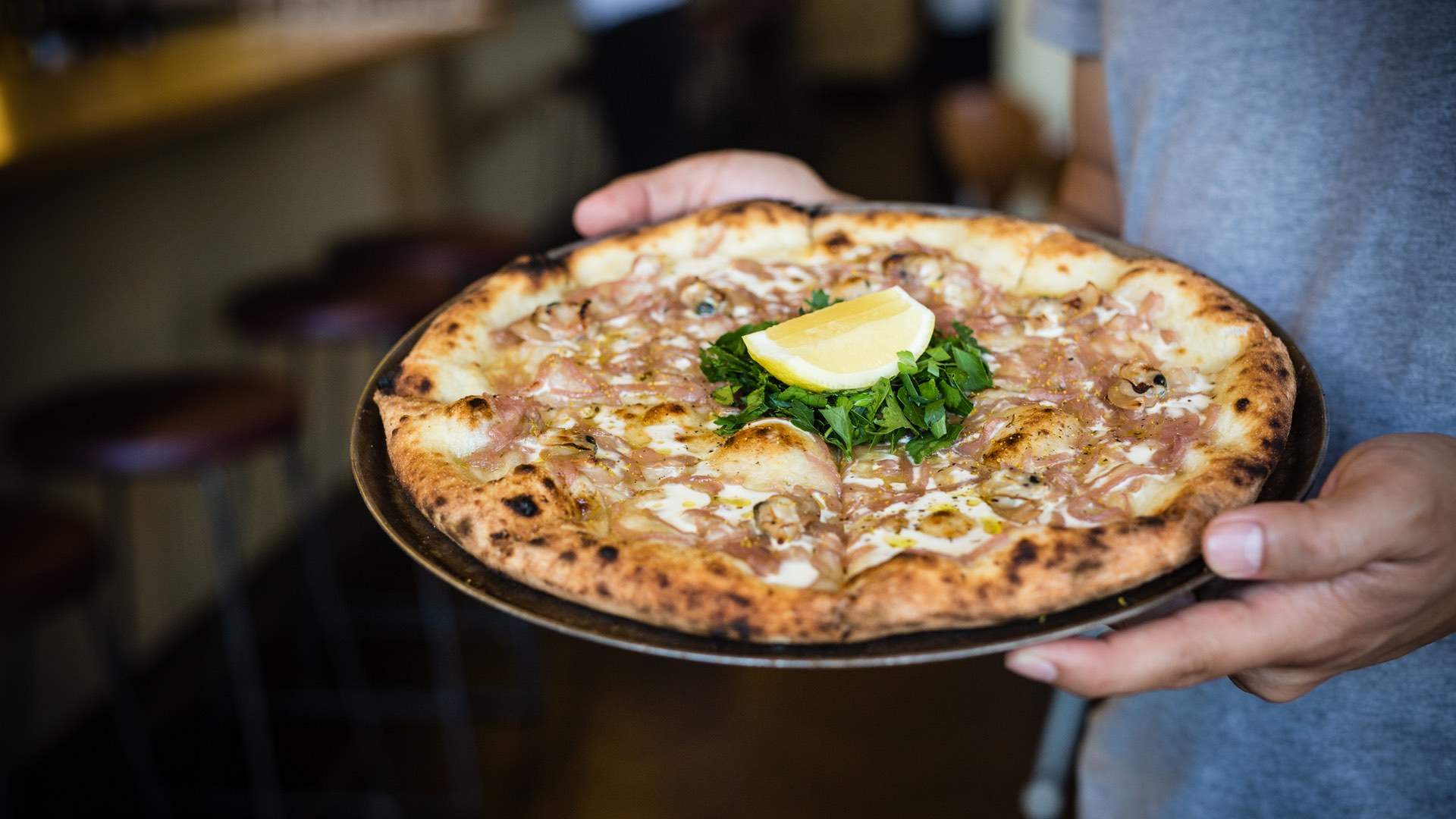 The boys enlisted the help of Dion Hall from Projects of Imagination to create an approachable and comfortable environment centred on a neighbourhood quality. The 90-seater also features a front courtyard perfect for summertime drinks with friends.
The menu is simple, featuring six woodfired pizzas and five mains alongside a heap of salads and snacks, including cured meats and tasty seafood plates. While sharing is the best way to taste everything, the boys are also big on going solo. "The menu is just as much designed for sharing as it isn't," says Murphy. "You can grab a couple of pizzas and order some sides, or you can have a steak or enjoy both, really."
You'll find all the Italian classics on the pizza menu; there's everything from margherita to prosciutto to diavola, as well as a pipi pizza with parsley, lemon and cream. For those after a little more, mains include the prime rib eye steak, whole baby snapper, and the highly coveted spaghetti cacio e pepe. Add the Roberta's romaine lettuce salad with candied walnuts, pecorino and mint and finish off with one of the epic desserts. Our pick: the 18+ heartbreaker featuring Bulleit bourbon and Maltesers.
The wine list is managed by ex-Cumulus beverage manager Mark Williamson and features a stack of varietals from established producers both local and beyond. If you're after something to take home, visit the in-house bottle-o located just behind the bar. It offers around 100 different take-home varietals that are also offered in the restaurant – a try before you buy kinda approach. Beer also takes centre stage at Harley and Rose with brewed tap Napoleone Helles lager from the Yarra Valley and Young Henrys Newtowner pale ale up for the taking.
Images: Giulia Morlando
Food & Drink

Friday, December 3 - Friday, December 24

Railway Reserve

Food & Drink

Saturday, November 6 - Sunday, January 30

Port Melbourne Dog Beach

Food & Drink

Saturday, November 13 - Saturday, February 26

The Boatbuilders Yard

Food & Drink

Friday, November 5 - Sunday, May 29

Crown Riverwalk