TRAVEL & LEISURE
This Website Helps You Easily Find You and Your Mate's Ten-Kilometre Bubble Crossover
From 11.59pm on Friday, September 17, you can travel twice as far to exercise — so this will make planning a breeze.
Melbourne's current lockdown isn't ending for the foreseeable future, but an important change is just about to kick in. After you've just spent almost a month and a half getting reacquainted with that all-too-familiar five-kilometre bubble, it's now doubling. From 11.59pm on Friday, September 17 — so, realistically, from Saturday, September 18 — you can now venture ten kilometres from your house to shop for essentials, exercise or spend time outdoors with a friend.
Yes, some other changes are coming, too. You'll also be allowed to head out within that ten-kilometre radius to meet with someone you don't live with for a picnic, a walk or some other outdoor activity. Or, if you and your friends are fully vaxxed with both doses of the COVID-19 vaccine, then up to five adults from two households, plus their dependents, will be permitted to gather outdoors.
Accordingly, picnics are back on the agenda, as long as you stay within your travel bubble — and so does either the one other person you're meeting up with, or the group of up to four other people from one other household if they've all had both their COVID-19 vaccinations. And there's an easy way to calculate exactly where you can partake in that government-approved exercise, shopping and "outdoor social interaction", as Premier Daniel Andrews called it, thanks to the same website that lets you find your own ten-kilometre radius.
First, you'll want to head to KM From Home, centre the pin on the screen to your address and select a ten-kilometre radius as normal. After that, you can also use the 'drop pin' function to pop another blue marker on the screen and move it to your friend's address. Now, there'll be two big bubbles — one red, one blue — encompassing the zone you're each  free to travel in under the Victorian Government's new rules, and showing where they overlap.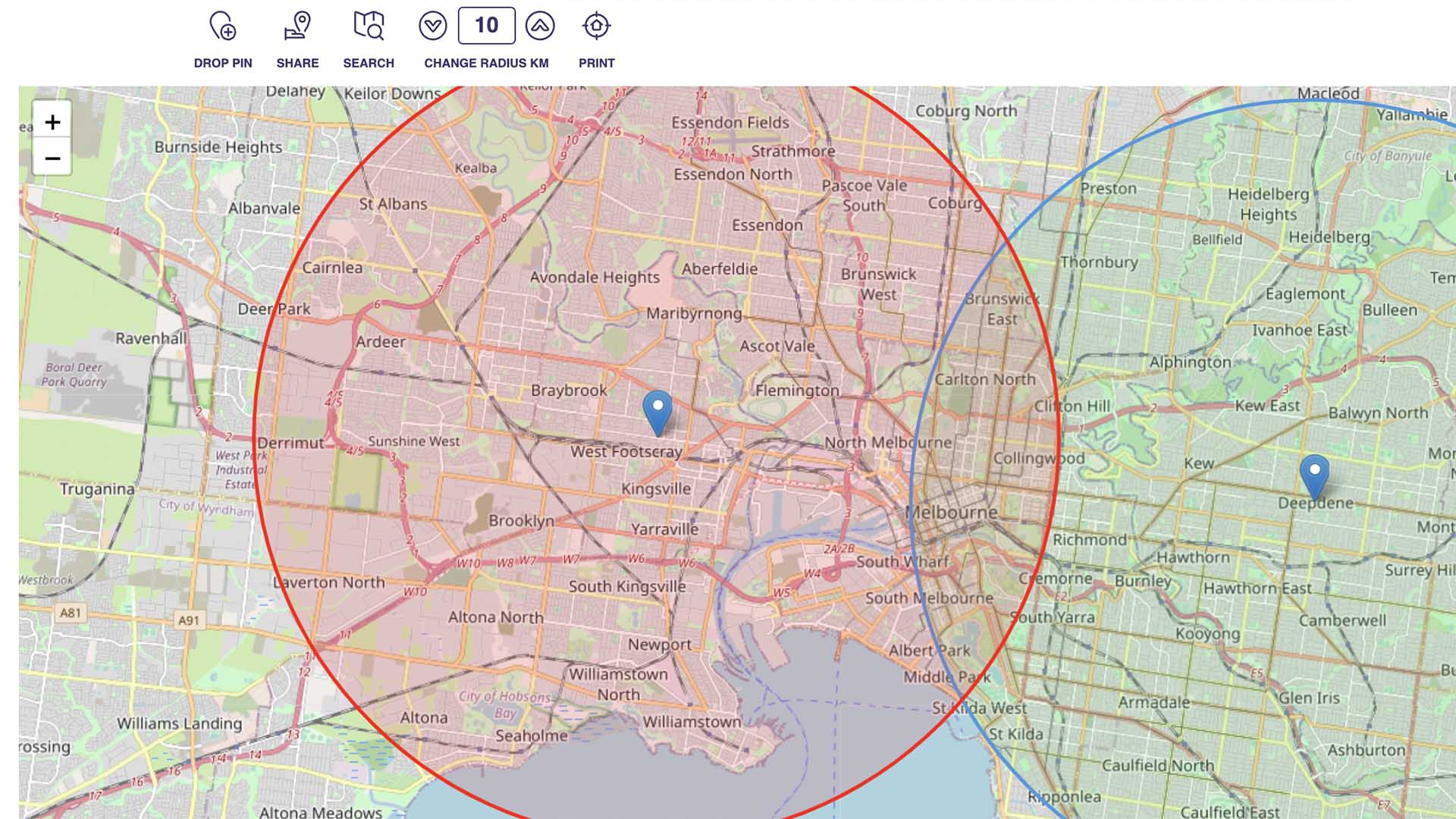 Another nifty COVID overlap finder website has been in use already this lockdown, and in past lockdowns as well, but at present it hasn't been updated from five to ten kilometres. If you want to keep an eye on it, too, it might move that distance when the new rules kick in. If so, it requires you to simply plug in your home address and that of your mate, and it'll then display each of your ten-kilometre radiuses highlighted on the map, as well as the all-important crossover zone shows all the places where you're allowed to meet up for your two daily hours of exercise.
To work out where you and your mate can exercise or meet up outdoors together — and stay within your respective ten-kilometre bubbles — use the pin function on the KM From Home website. Lockdown rules in metropolitan Melbourne will ease slightly from 11.59pm on Friday, September 17, with exercising, shopping for essentials and outdoor gatherings within ten kilometres of your house permitted from that point. For more information about the rules, head to the Victorian Department of Health website. 
Published on September 17, 2021 by Concrete Playground