Woodford Is Now Home to Australia's Largest All-Natural Conservation and Recreation Lake
Lake Gkula will be open to festival-goers at this year's Woodford Folk Festival.
When festival-goers converge on Woodford at the end of December for the southeast Queensland town's annual folk festival, they'll find a brand new addition at the event's Woodfordia location. Each year, the spot 75-minutes north of Brisbane by car turns into a thriving pop-up community for six days; however from this point onwards, it's also the site of a permanent new lake.
Called Lake Gkula — a name that refers to the region's traditional owners, the Jinibara people, and specifically references spokesperson Uncle Noel Blair, whose indigenous name is Gkula — the body of water is now Australia's largest all-natural conservation and recreation lake, too. The man-made spot is also teeming with fish and plant life. More than 400 species of native freshwater fish are swimming in its waters, while over 4000 plants have been planted in and around the lake to date, with more planned.
Crucially for both the lake's biodiversity and for human swimmers, the entire body of water is chemical-free, using pumps and injectors to keep both a constant water flow and high levels of oxygen. The water is pushed through two wetlands, which act to purify the lake while also encouraging microorganisms to thrive.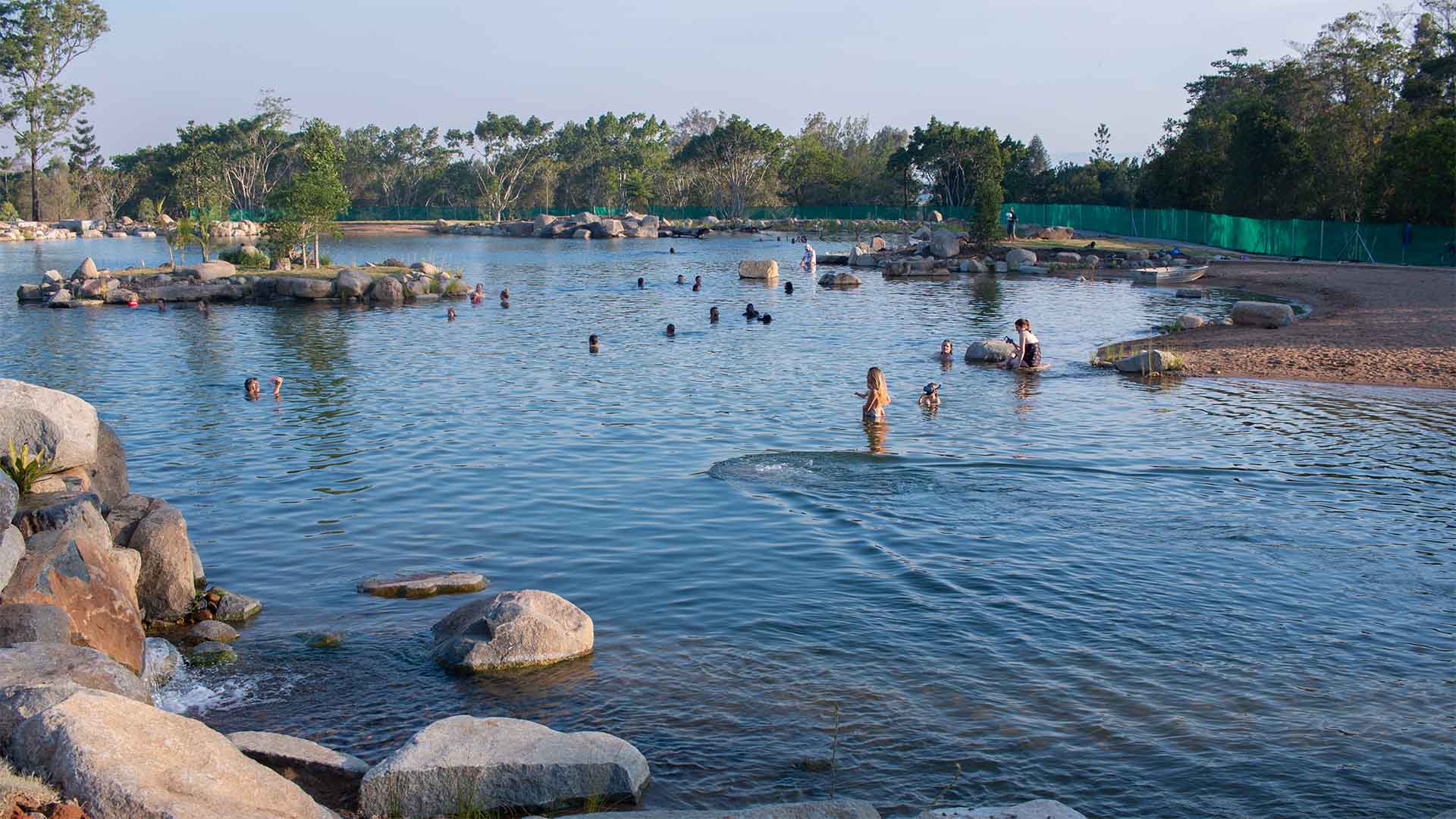 If you're eager to go for a splash, it'll only be open to season campers during the 2019–20 fest, although swimming privileges will also given to artists and volunteers. Season campers will need to pay a ticket fee of $4 for adults, which'll help recover the costs of building the lake — and they'll also need to book in advance, with 50-minute slots available between 6am–6.30pm.
For those who don't fall into those categories, you'll still be able to peer over the water at the lakeside bar, which'll be running during the festival and open to all Woodford patrons.
At this stage, the lake will only welcome swimmers during the festival, but founder of Woodfordia, Bill Hauritz, sees Lake Gkula as a hotspot for the Moreton Bay hinterland area, so perhaps watch this space. "Groups and organisations outside our own are already expressing a keen interest in using this stunning new feature," he advised in a statement. "We know Lake Gkula will be an attraction; it's that beautiful."
Costing more than $1.5 million to build, including funding from the Queensland Government, Woodford's new addition has sourced all of its water from onsite dams and a bore, with festival organisers aware that they're opening a watering hole in drought conditions. It's also partly powered by solar energy, and the Woodford team is working towards running the lake wholly on 100-percent renewable sources.
The 2019–20 Woodford Folk Festival runs from Friday, December 27, 2019–Wednesday, January 1, 2002. For more information about Lake Gkula, visit the Woodford Folk Festival website.
Introducing Concrete Playground Trips
Book unique getaways and adventures dreamed up by our editors