Nine Essential Outdoor Adventures to Have Throughout the Bendigo Region
Stretch your legs — and your photo-taking expertise — along converted rail trails, through bushland and over pink-tinged peaks.
in partnership with

Okay, we don't like to get preachy but if you haven't been to the Bendigo region yet, you've been missing out. Over the past few years, the region, which includes Heathcote, Castlemaine, Maldon, Maryborough, Talbot, Inglewood and Wedderburn, has further established itself as an incredible destination for all things arts, crafts and culture — not to mention its emerging foodie scene. But it's not just the urban aspects that are drawing people to the area. The region is a treasure trove of exciting outdoor activities that demand to be explored — from getting your hands dirty and (hopefully) striking gold to uncovering strange wonders like Heathcote's powdery Pink Cliffs and specially built mountain bike trails amid the foothills of Mount Alexander. With that in mind, here are nine that should add to your list right away.

CONQUER (SOME OF) THE 210-KILOMETRE GOLDFIELDS TRACK
The Goldfields Track links the two cities of Bendigo and Ballarat — but you don't have to complete the whole length of the 210-kilometre trail to experience its beauty. Whether you're on a bike or just on foot, the pathway is broken into three smaller sections to make it easier to tackle. And, the Leanganook Track, between Bendigo and Castlemaine, via Harcourt, is a real knock-out. Throughout spring and summer, colourful wildflowers and orchids line the route, which passes by the historic, still-operating Coliban Water Main Channel and the ever-imposing Garfield Water Wheel. The natural wonders are just as interesting, with highlights including lush pine plantations, tempting apple orchards, Australia's first National Heritage Park and Mount Alexander's huge, picture-ready rock formations. Be sure to stop at Harcourt for lunch, cider and wine tasting.

RACE AGAINST AN OLD STEAM TRAIN ON A TRAIL
Opened in 2017, the Castlemaine to Maldon Trail is one of the newer kids on the block. From the dry forests of Maldon Historic Reserve and the open farmland of Muckleford to the historic Beehive Gold Mine and its impressive 30-metre-high chimney, there's so much to see and explore along this 17.7-kilometre trail, which can be completed as either a good hike or a beginner-friendly bike ride. Time your visit right (on a Wednesday or Sunday) and you can even have a race a heritage steam train operated by Victorian Goldfields Railway. Too tired to ride back? You can always ride the train back.


WANDER OR RIDE ALONG THE O'KEEFE RAIL TRAIL
The gold rush may be a legendary part of Australian history, but it may not have happened at all without construction engineer Andrew O'Keefe. The Irish migrant is considered a pioneer of the Victorian railway, and this line — which connects Bendigo to Heathcote, and is now a cycling hotspot — is named for him. The O'Keefe Rail Trail provides you with the perfect opportunity to uncover the stunning native bushland and wildlife — here's looking at you, adorable platypuses. If you're game, you can walk or ride the whole stretch. Be sure to pack a picnic for a riverside break at the Campaspe River Reserve or Lake Eppalock, before arriving in Heathcote and exploring some wineries or tucking into a well-earned pub feed.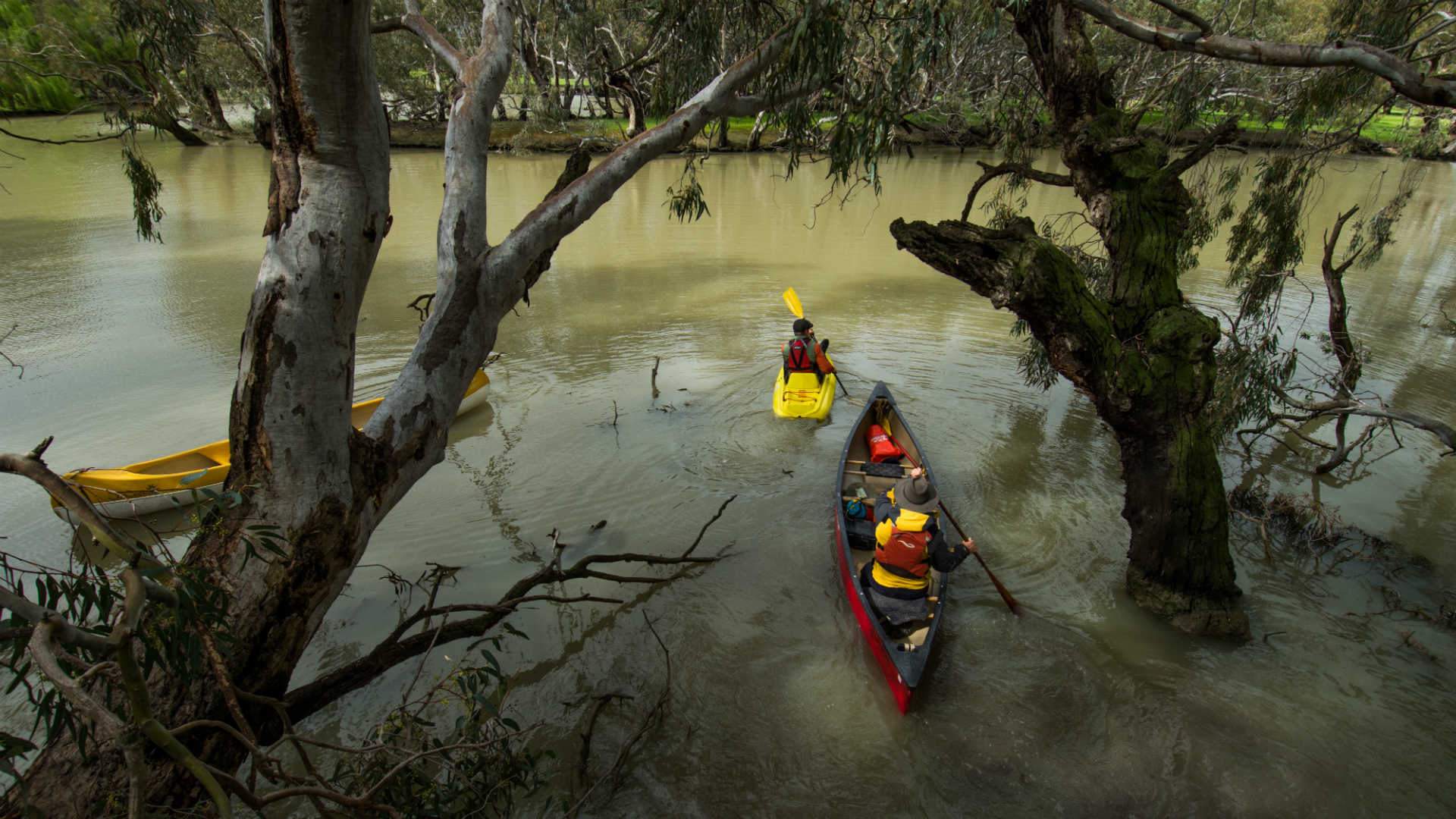 PADDLE DOWN THIS FIVE-KILOMETRE CREEK
Give your legs a rest from all the walking and cycling, and let your arms take over with a canoe tour along Serpentine Creek. Canoe hire is readily available at Boort Lakes Holiday Park from just $10 an hour or $40 for a full day. You'll set off on your journey from Whytcross Road, Durham Ox and throughout the five-kilometre paddle, you'll see the historic red-brick inn, trees scarred from traditional practices of the Dja Dja Wurrung people and a diverse range of birds. You'll also find a bunch more canoe trails, plus training opportunities, over here.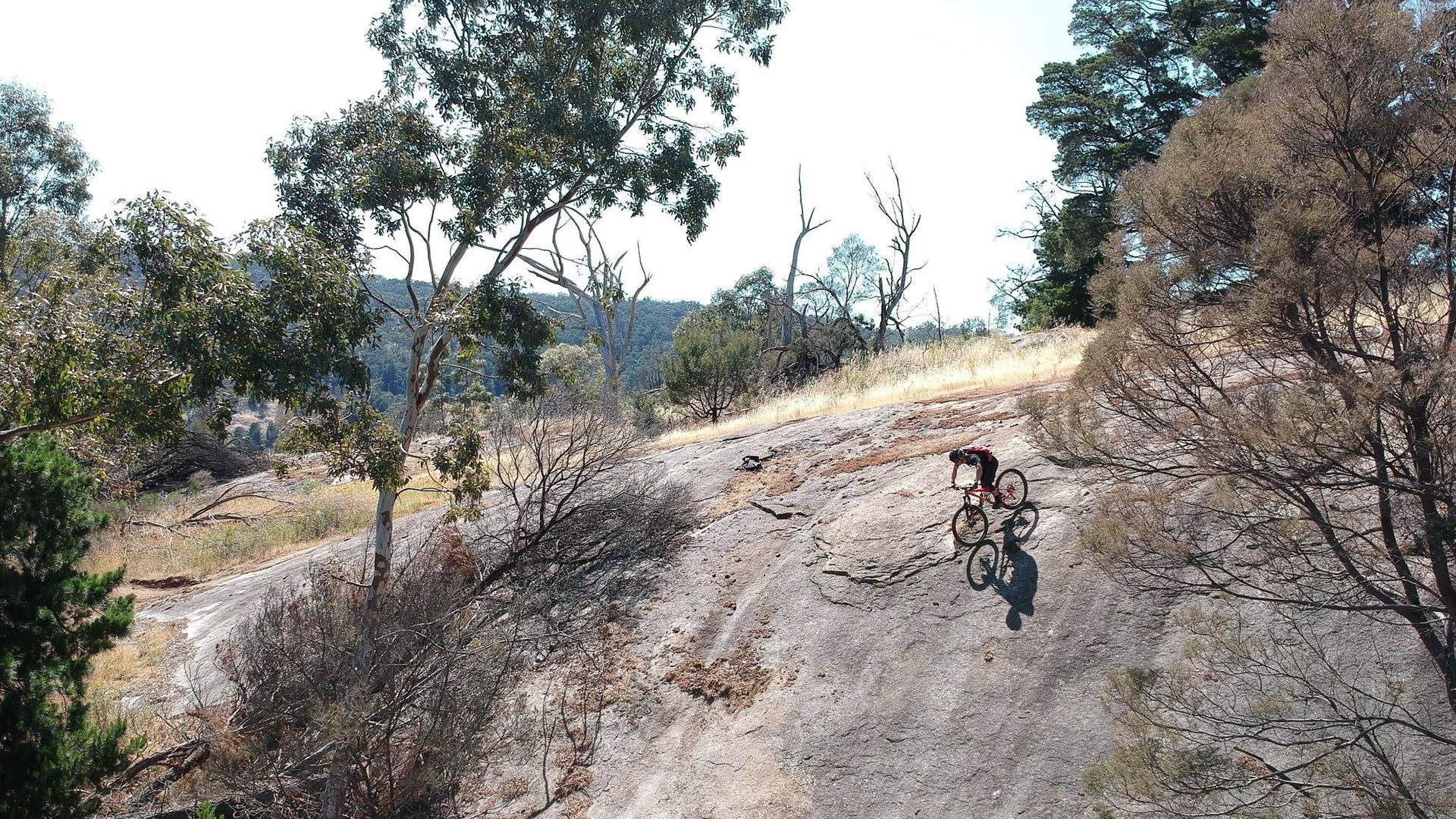 ZOOM AROUND A MOUNTAIN BIKE PARK
Set amid the foothills of Mount Alexander, the La Larr Ba Gauwa Mountain Bike Park is a 34-kilometre network of purpose-built mountain bike trails. The tracks have been specially designed to take advantage of the area's tough granite-filled countryside. The 11 exciting trails feature jaw-dropping views of the surrounding rolling hills, boulder drop-offs and English-style oak forest. Plus, riders visiting the park won't just be treated to an incredible physical challenge. They'll also have a chance to take in some art along the way as the trail builders have created a few interesting installations along the tracks. Word of warning: if you're a beginner, stick to the green loop. The rest of the trails are all geared toward intermediate and experienced mountain bikers and feature a lot of drops, jumps and other technical features.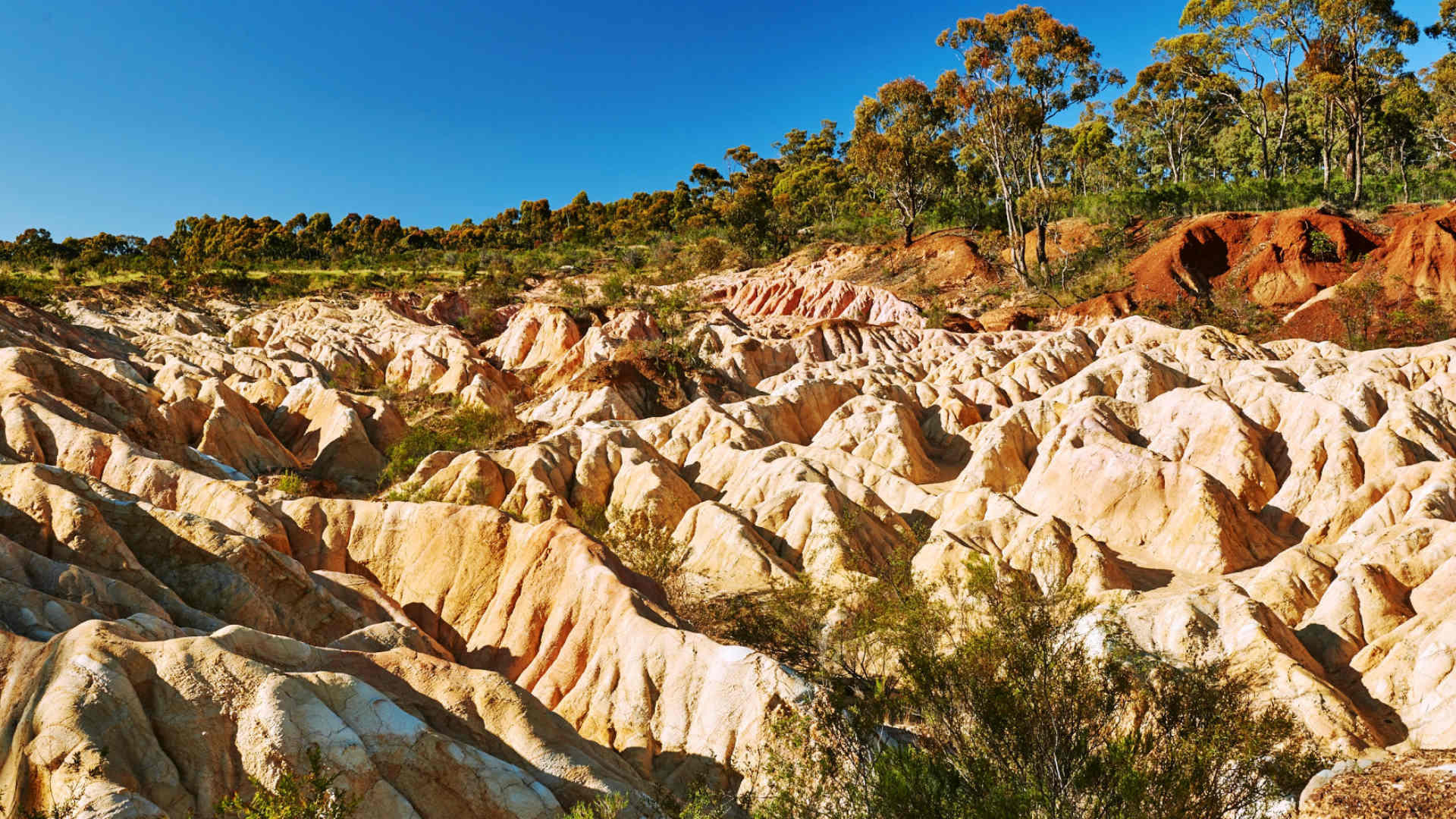 DISCOVER THESE NATURALLY FORMED PINK PEAKS
The gold rush era shaped the town of Heathcote in more ways than one. But, it was the introduction of sluicing in the 1880s that revealed one of the area's most notable sites. Known as the Pink Cliffs and located a short walk from town, the strange mini gorges rise and fall in a sporadic undulation and, like some kind of natural mood ring, change colour depending on the time of day you visit. As you wander through the geological reserve, you'll realise that these stone-like formations are actually made up of a pink clay that feels a lot like talcum powder — so watch where you sit or you'll find yourself covered with the stuff.

WALK OR RIDE THROUGH A EUCALYPT FOREST ON THIS HERITAGE TRAIL
If you're hoping to immerse yourself in the history of the area while taking in the beauty of Victoria's countryside, then the Ballarat–Maryborough Heritage Trail is a great choice. The 91-kilometre trail is broken into four sections that flow through tall eucalypt forests, grand homesteads from times gone by and sprawling vineyards. Quick dips into quaint towns like Clunes — made famous by Ned Kelly — and Talbot will break up the journey, as do the unbeatable views of Mount Beckworth's imposing volcanic mound. The trail ends with a short journey through open grazing land and through box ironbark forest before you arrive in Maryborough.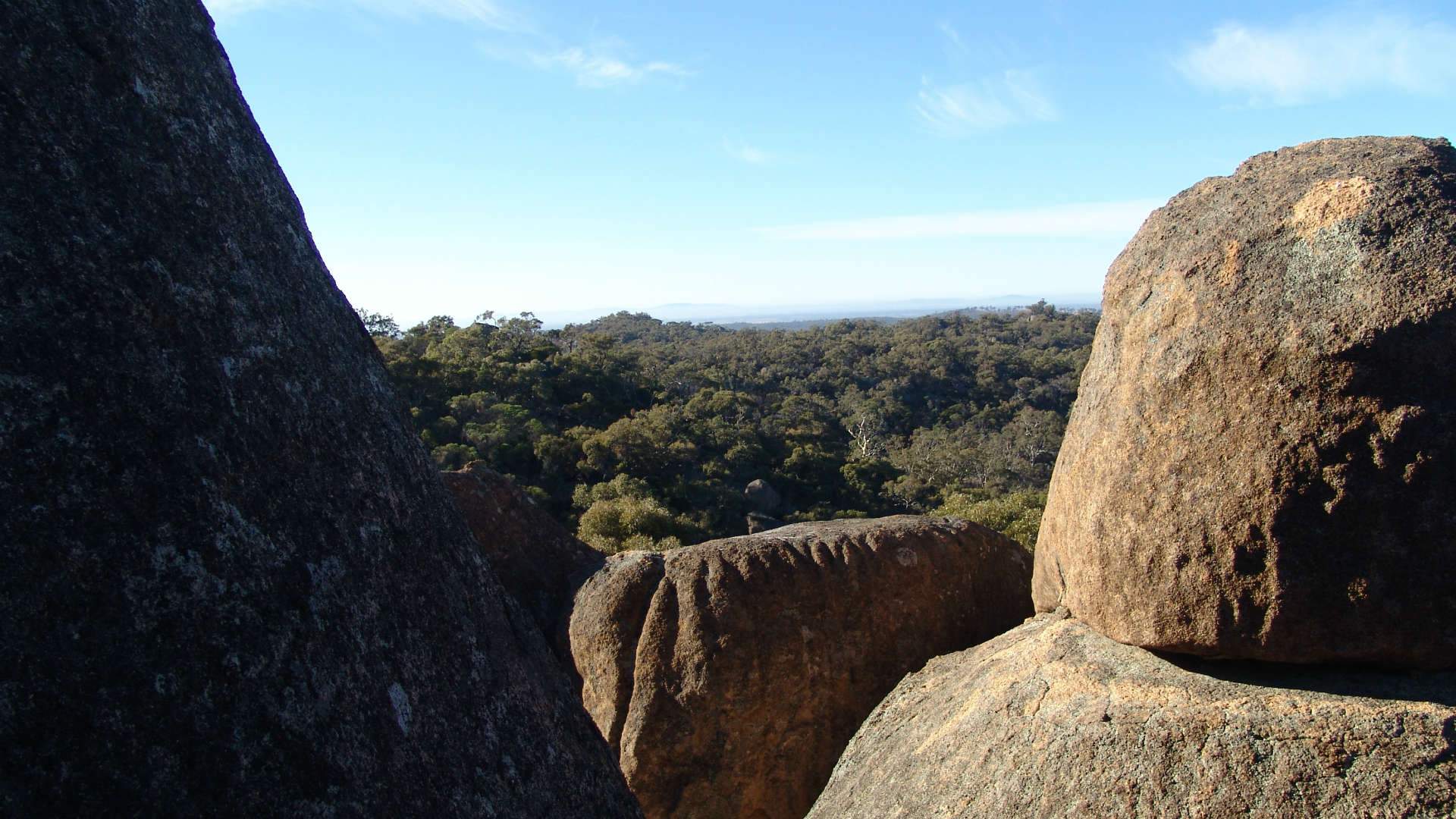 VENTURE INSIDE THE MELVILLE CAVES
If you're searching for a great weekend hideout, then look no further than the Melville Caves at Kooyoora State Park. The rocky outcrop is not the dark and bat-filled cave system you might imagine, but rather a collection of granite boulders that notorious bushranger Captain Melville apparently used as a hiding place and a lookout in the 1800s — hence the name. The hike to reach the cave area takes about 20 minutes (or can be accessed more conveniently by driving to the top of the park) and winds its way through lush trees and shrubs while offering sweeping views of the park below. While you're wandering beneath the rocks, keep an eye out for something shiny. Rumour has it that Captain Melville left some treasure behind.

GO PROSPECTING ACROSS THE BENDIGO REGION
Although the Bendigo region is now brimming with art galleries, cultural institutions and a calendar packed with exciting contemporary events, it's still one of the key places people visit hoping to strike gold — and for good reason. Its vast gold rush history has proven time and time again that the area is rich in the shiny mineral that has had people seeing dollar signs for decades. But you don't have to be a serious miner to have a taste of glory. The Coiltek Gold Centre runs tours for those interested in learning how to unearth a natural gold nugget or two — all you need to bring is your lunch (and a bit of luck).

To start planning your trip to Bendigo — and to discover more of what's happening in the region — head to the Bendigo Regional Tourism website.
Introducing Concrete Playground Trips
Book unique getaways and adventures dreamed up by our editors