This Is What You Can Expect at Hijinx Hotel, Australia's Nostalgic and OTT New Challenge Room Bar
A ball pit that looks like a bowl of cereal, a 'Big'-style floor keyboard, IRL 'Tetris', cocktails topped with bubbles — Sydney's new challenge room 'hotel' has it all.
When is a hotel not really a hotel? When it's a hotel-themed bar that decks out its interiors like somewhere you can stay — taking a few cues from Wes Anderson's The Grand Budapest Hotel and The Shining's Overlook Hotel, in fact — but doesn't actually include slumbering in its rooms.
When is an escape room bar not at all an escape room bar? When it takes the escape room concept of theming different spaces — those aforementioned hotel-style rooms — and decks them out with challenges instead.
Yes, the premise behind Hijinx Hotel needs a bit of explaining. It also gleans inspiration from all those supremely Instagrammable pop-up installations that include ball pits, but this one is sticking around in one spot permanently. Plus, it jams in three different bars for multiple cocktail-sipping opportunities, nods to New York hotels in its facade, and ensures that each one of its rooms pays homage to either a movie or a board game from the 80s and 90s.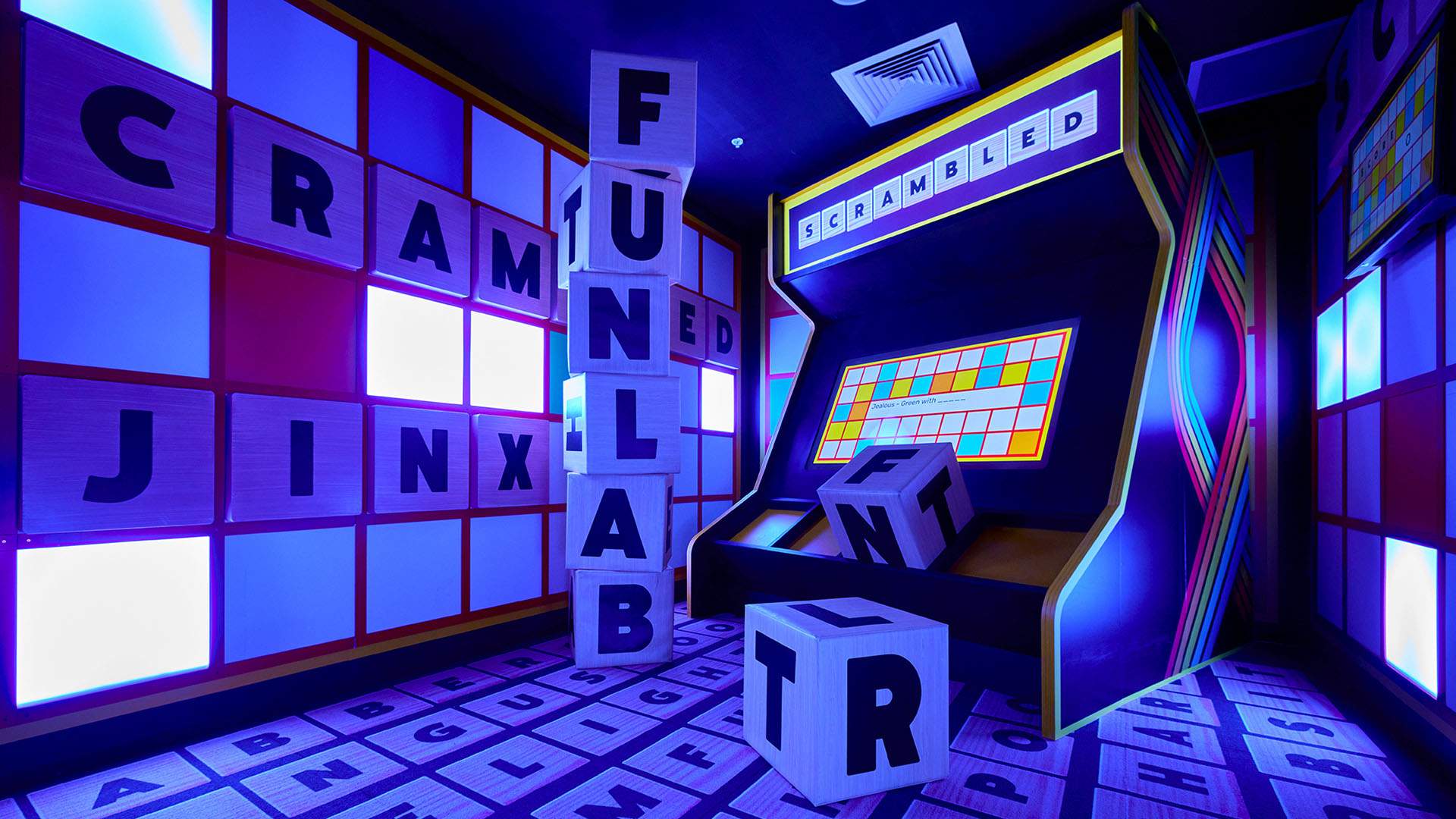 First announced back in mid-April, and now opening its doors in Sydney on Friday, June 17, Hijinx Hotel is basically an OTT nostalgia bomb — and something that Willy Wonka would've been proud to dream up if the fictional character branched out beyond making chocolate and candy. It hails from a team that know a few things about indulgent kidulting experiences, with Funlab also behind venues such as Strike, Holey Moley, Archie Brothers Cirque Electriq, and B Lucky and Sons. And, Hijinx Hotel also sits next to a brand-new 27-hole Holey Moley, too, with the boozy mini-golf spot's latest venue going big on Alice in Wonderland vibes.
Escapism is clearly the name of the game here, and partying like you would've before you were old enough to drink alcohol — but with the hard stuff definitely on offer. Wondering what that entails? Yes, it's as chaotic as it all sounds.
Firstly, you enter via the faux hotel lobby bar that's full of colour and surrealist touches. You won't miss the purple unicorn in the centre of the bar, for instance. Instead of merely checking in, though, you'll down cocktails in the neon-lit space — including a particularly potent Red Bull number that's served in a golden owl-shaped vessel, multiple types of margaritas, and the bubble-topped Bubble and Pop (made with tequila, white chocolate, passionfruit, lemon and egg white, and that scented bubble) — and hang out in booths.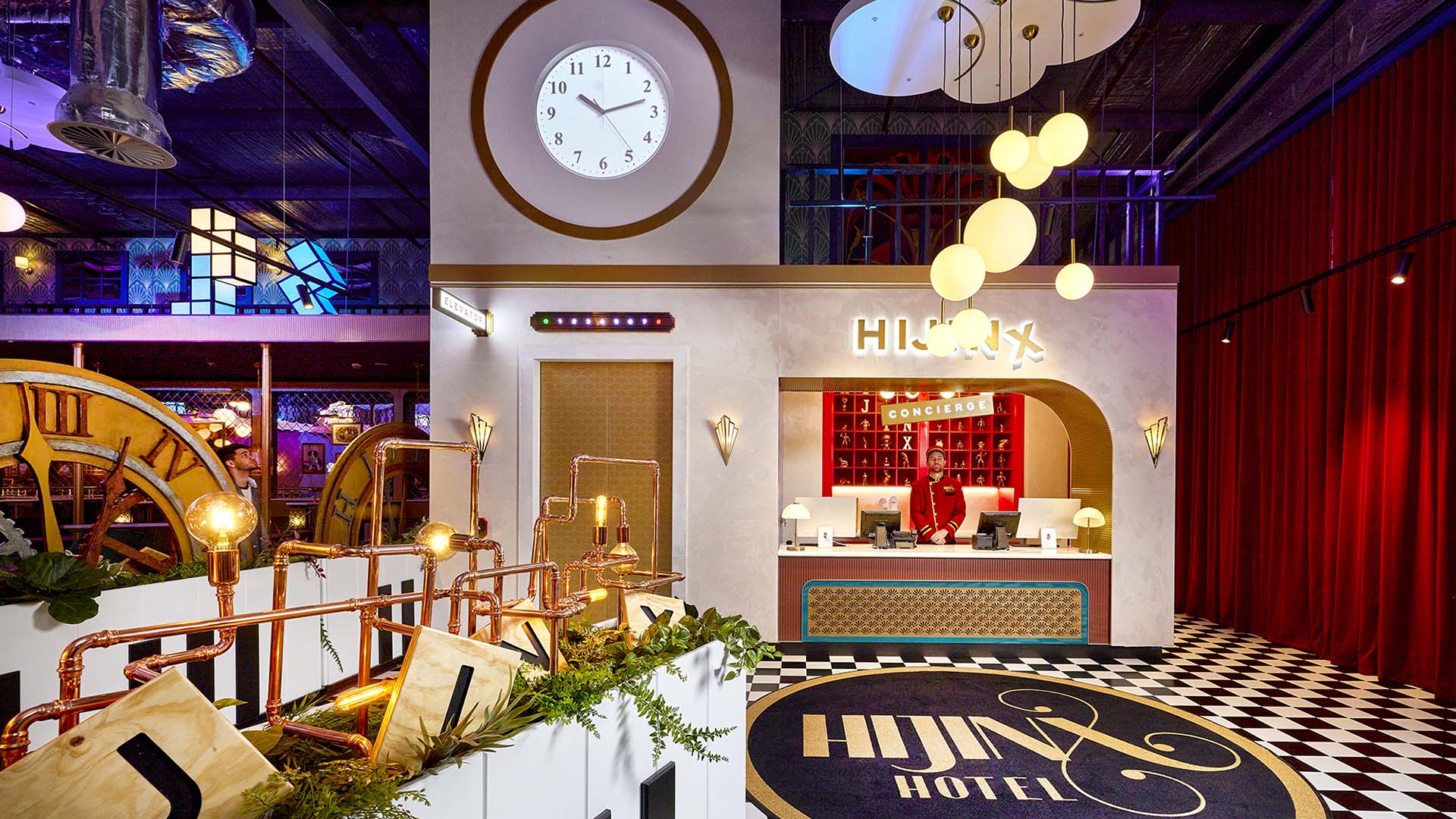 As for the not-quite-hotel rooms themselves, there's 15 of them, with ten opening at launch and five more unveiling their wonders in the weeks afterwards. To gain access, you do need to head to reception t0 pick up a swipe card. Next, you'll follow the concierge's instructions to the red elevator — without a river of blood flowing out of it, thankfully.
Inside the rooms, prepare to play games inspired by Twister, Scrabble and Tetris — here called Poke A Dot, Scrambled and Shape'n Up — in separate spaces. Or, Tom Hanks fans can live out their Big dreams in the piano room, which features a giant keyboard across the floor, and requires you to play it with your feet. Prefer Titanic? Then make a date with the Draw Me Like One Of Your French Girls room, which is designed to make you feel like you're in the middle of a sinking ship.
Other highlights include a pastel ball pit that resembles a huge bowl of cereal, a room that releases balls from the top of the wall like you're in a life-sized pinball machine, and another that's all about shooting hoops. In each, you'll need to complete a challenge within a set time — with set packages spanning five rooms starting at $25 per adult for 30 minutes.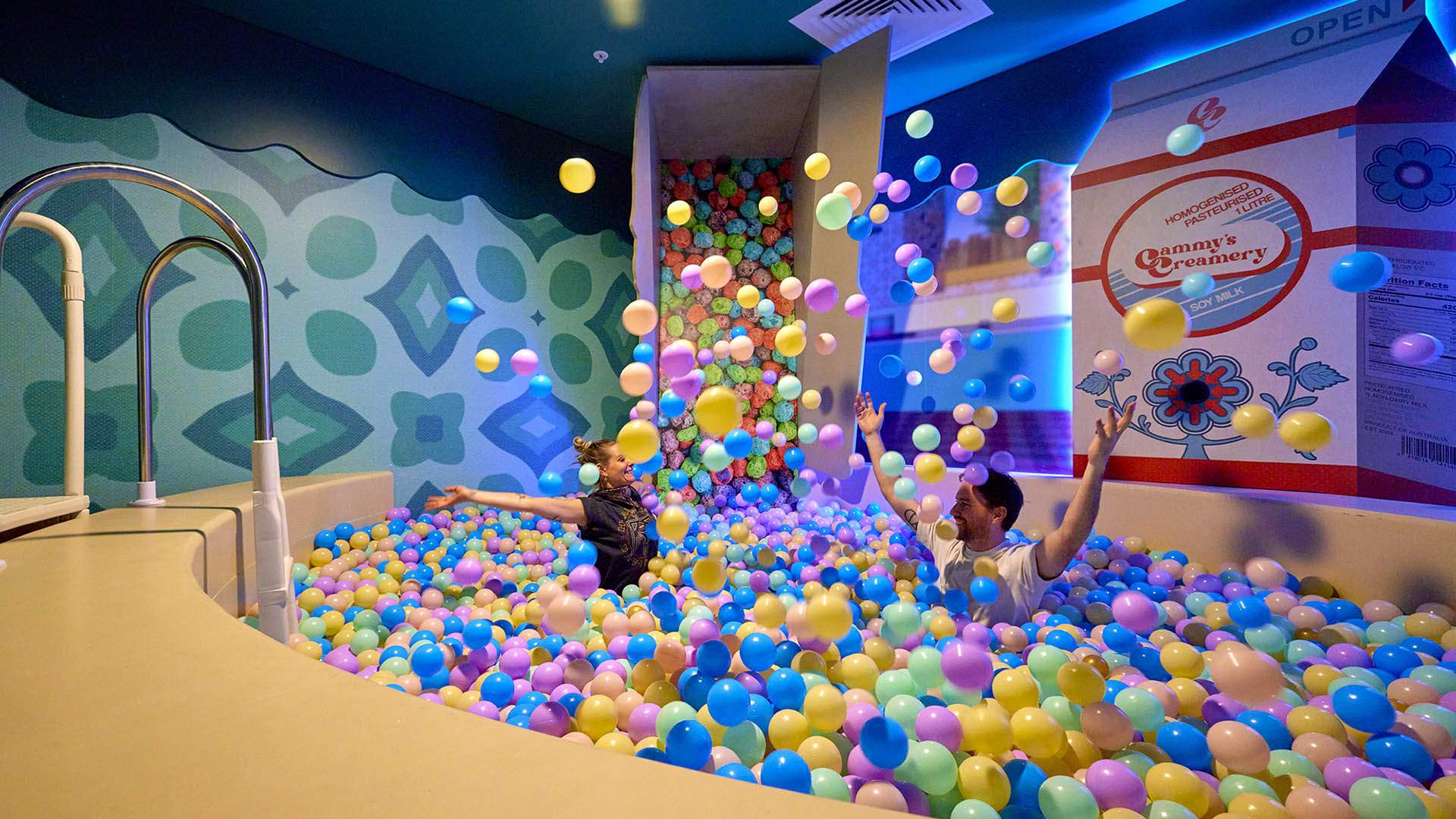 As well as that already-mentioned lobby bar, there are two other places in quench your thirst — and you can snack on bites such as fries, pizzas and two-cheese toasted sandwiches.
Whether you're a Sydneysider scoping out your next boozy bit of fun, or you live elsewhere and you're making plans for a trip to the Harbour City, you now have somewhere new to head to. And, as well as that new Holey Moley, there's also an Archie Brothers Cirque Electriq in the same complex.
Usually, Funlab launches its new concepts in one city, then shares the love across other east coast capitals. So Melburnians and Brisbanites, cross your fingers that more Hijinx Hotels will eventually pop up closer to home.
Find Hijinx Hotel at 75 O'Riordan Street, Alexandria, Sydney, from Friday, June 17. For further information or to make a booking, head to the venue's website.
Introducing Concrete Playground Trips
Book unique getaways and adventures dreamed up by our editors