Jetstar Is Celebrating Its 18th Birthday with a Range of Hard Seltzers Based on Popular Destinations
The Melbourne seltzer tastes like a "deconstructed cafe latte", the Gold Coast version features fairy floss and sea salt flavours, and the Queenstown tipple includes mulled wine and cloves.
Finding a drink to match the place you're in hasn't been too hard in recent years. For folks in Sydney, two different types of gin have paid tribute to the Sydney Opera House. For people in Melbourne, there's a juniper spirit that nods to St Kilda live music institution The Espy. And Brisbane scored its own themed gin, too. They're just some examples — and now Jetstar, of all companies, is serving up four more. Having a tipple to celebrate turning 18 is the done thing, after all.
Yes, the discounted Australian airline has come of age, and it's hosting a two-day birthday flight sale to mark the occasion. But, once you've bought cheap fares, you can also say cheers to your trip — or just in general — by knocking back a few sips from Jetstar's new hard seltzer range.
The boozy beverage line is a collaboration with 'Ray, the Hop Nation crew's hard seltzer side hustle. Obviously, a Melbourne-themed seltzer is on the menu — and it somehow tastes like a deconstructed cafe latte. If you're not so fond of the idea of coffee-flavoured seltzer, the other options include a coconut, fairy floss and sea salt number for the Gold Coast; mulled wine, cloves and cinnamon for Queenstown; and rambutan, soursop and hibiscus for Bali.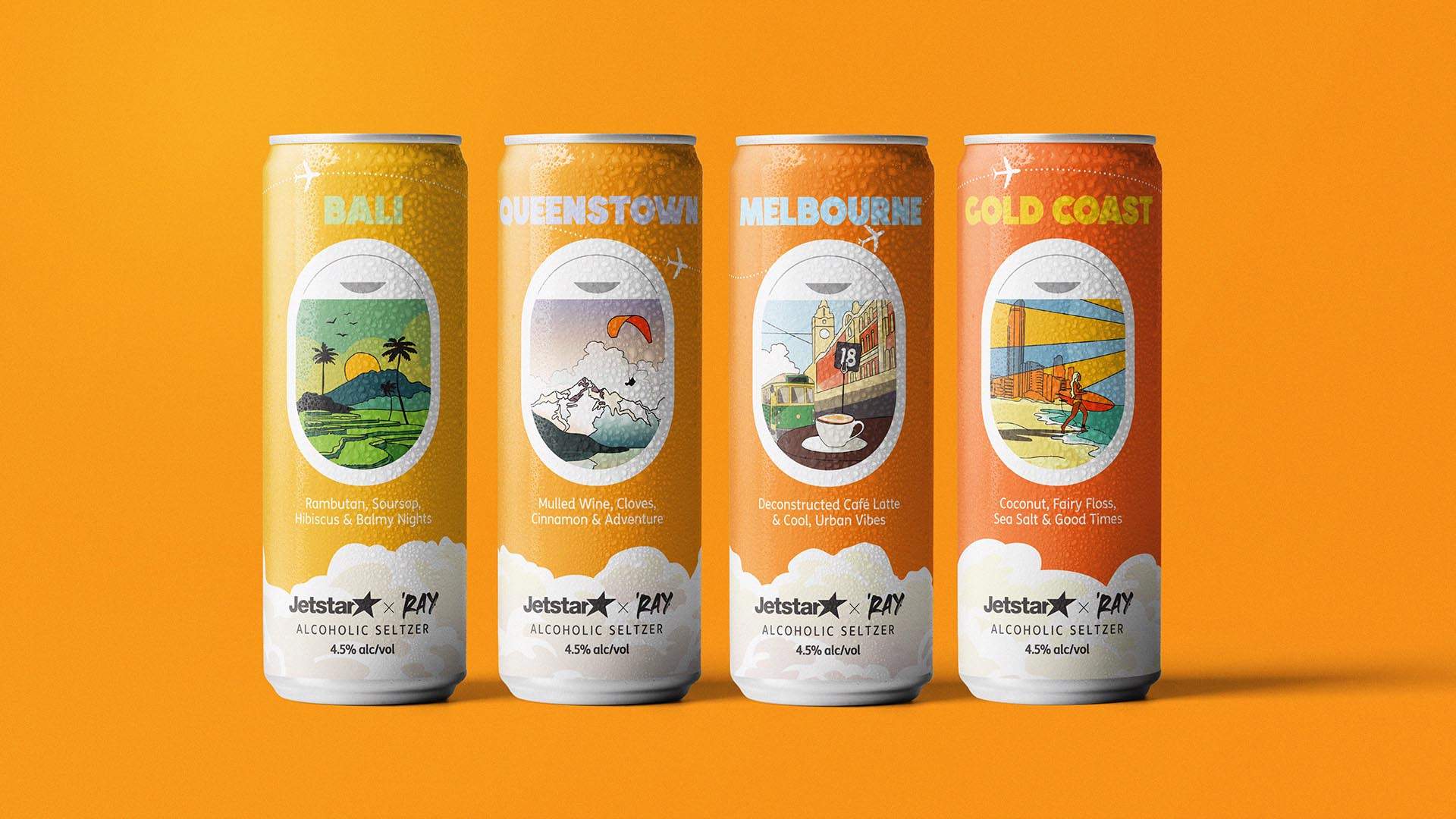 The four tipples are also meant to exude a particular vibe that reflects their cities of inspiration — so urban vibes for Melbourne, good times for the GC, adventure for NZ and balmy nights for Bali. Or, maybe take that as advice on where and when to knock back said drinks, since who knows what "urban vibes" taste like.
If you're keen to give the seltzers a sip, you'll have to nab some online via the 'Ray website. They'll be available from Tuesday, May 17 — and because they're a limited-edition affair, getting in quickly is recommended.
Jetstar's Bali, Gold Coast, Melbourne and Queenstown seltzers will be available to purchase online from Tuesday, May 17.