A Very Nice Statue of Borat Has Popped Up at Bondi Beach for 24 Hours
The second movie about the fictional Kazakh journalist, 'Borat Subsequent Moviefilm', hits Amazon Prime Video tomorrow.
Since first appearing on-screen back in 1997, Borat Sagdiyev has always stood out. In 2006 mockumentary Borat! Cultural Learnings of America for Make Benefit Glorious Nation of Kazakhstan, which sees Sacha Baron Cohen's fictional Kazakh journalist head to the "US and A" and chat with ordinary Americans across the country, that's a big part of the point. And in surprise 14-years-later sequel Borat Subsequent Moviefilm: Delivery of Prodigious Bribe to American Regime for Make Benefit Once Glorious Nation of Kazakhstan, that also remains the case — even if he has to don over-the-top disguises because he's now quite famous in the US.
Before Borat Subsequent Moviefilm starts streaming globally from Friday, October 23 via Amazon Prime Video, Borat is standing out in another way, too: via a towering statue of the character that has been helicoptered into Bondi Beach for 24 hours. As Borat would say, "very excite!". It's a promotional move for the film, obviously, but if you've ever wanted to stare up at a giant version of the moustachioed figure — who is scantily dressed, even in sculpture form — then here is your chance.
Sydneysiders can find the six-metre statue at Marks Park until 11am tomorrow, Friday, October 23, featuring a reclining Borat clad only in an American flag. The very nice sculpture was unveiled today as part of a press conference which featured a streamed appearance by the character, a big display of Kazakh flags and a parade of Borat look-alikes wearing nothing but maskinis — yes, they're face masks turned into mankinis, because of course they are.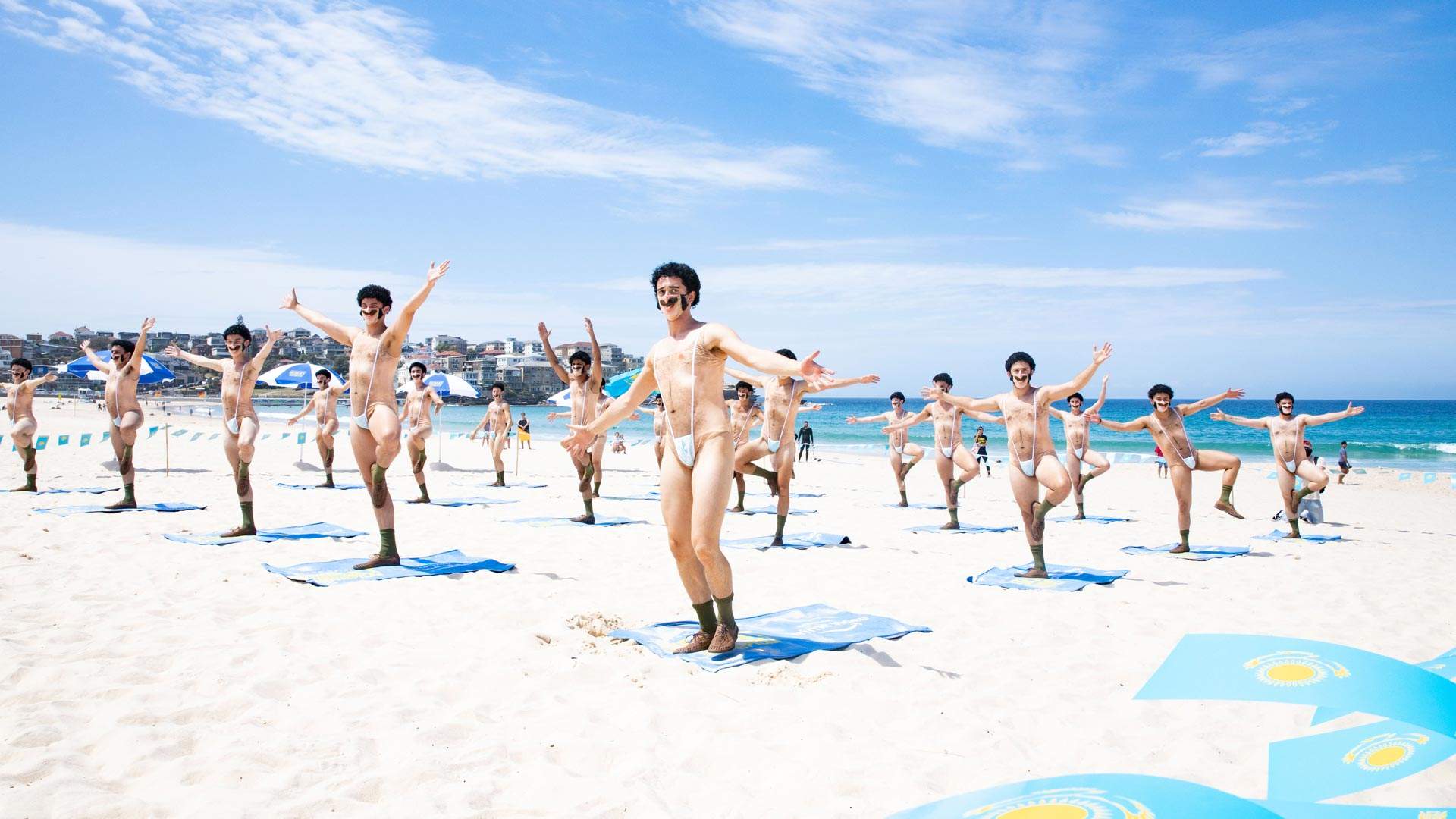 As for the movie itself, it's exactly what you'd expect of Borat's return visit to the US — especially during an election year, as American politics seems more polarised than ever, and as COVID-19 affects the country. While last time he travelled across the nation after falling in love with Pamela Anderson, now he's trying to gift his daughter to Vice President Mike Pence (or "vice pussy grabber", as Borat calls him). His aim: to get Kazakhstan's own leader into President Donald Trump's good graces, and specifically his "strong man club", which refers to Trump's penchant for promoting his ties with the likes of Vladimir Putin and Kim Jong-un.
Along the way, Borat tries to kill the coronavirus by hitting it with a frying pan, dresses up like Trump to infiltrate a conservative conference and struggles with the daughter he previously didn't even know he had. As he always does, Baron Cohen also uses his time back in the character's grey suit to expose plenty of engrained, overt and unpleasant viewpoints and prejudice among those he meets. And, he also has a run-in with Rudy Giuliani that's been garnering plenty of news headlines over the past day.
Check out the Borat Subsequent Moviefilm trailer below:
The Borat sculpture is on display at Marks Park, Bondi Beach until 11am tomorrow, Friday, October 23.
Borat Subsequent Moviefilm: Delivery of Prodigious Bribe to American Regime for Make Benefit Once Glorious Nation of Kazakhstan will be available to stream via Amazon Prime Video from Friday, October 23.
Concrete Playground Trips
Book unique getaways and adventures dreamed up by our editors