Aerobics Comedy 'Physical' Is One of Streaming's Best 80s-Set Shows — and Rose Byrne Is Phenomenal
Returning to Apple TV+ for a second season, this gem of a series follows an unhappy San Diego housewife who starts her own exercise empire.
Lycra-clad ladies of the 80s and 90s making their mark in a ruthless, consumer-driven and male-dominated world, all by getting active: as far as on-screen niches go, that's particularly niche. It's also growing, though. Back in 80s itself, Flashdance did it. Starring a fantastic Kirsten Dunst, the sadly cancelled-too-soon 2019 series On Becoming a God in Central Florida did as well. For three seasons from 2017–19, GLOW similarly stepped into the ring. And since 2021, Apple TV+'s Physical has, too. What a feeling indeed. 
Starring Rose Byrne in one of her best performances yet — slipping in smoothly alongside everything from Damages on the small screen to Two Hands, Bridesmaids, Bad Neighbours and Bad Neighbours 2 in cinemas — this 80s-set dark comedy series bends, stretches and struts through the world of aerobics. More than that, Physical uses getting physical in spandex as a flex, savvily examining the agency and control that women have over their lives, or don't, one squat and step at a time. That's a particular focus in the show's now-streaming second season, which is dropping new episodes weekly, and finds itself in the post-fairytale zone. What happens when your dreams actually seem to come true? That's season two's obsession.
Season one didn't quite see Sheila Rubin (Byrne, Irresistible) get everything she'd ever fantasised about. Rather, it followed the San Diego housewife as she pursued something she didn't even know she wanted until her endorphins kicked in at an aerobics class. The series' first batch of ten episodes established Sheila's routine existence, one that women in her situation were expected to just and breeze through in the early 80s. Married to professor and aspiring politician Danny (Rory Scovel, I Feel Pretty), and also a mother to Maya (Grace Kelly Quigley, Killing Time), she hid her bitter unhappiness with a focus on physical perfection — complete with an eating disorder and fraying mental health for her troubles. Then, exercise became her path forward.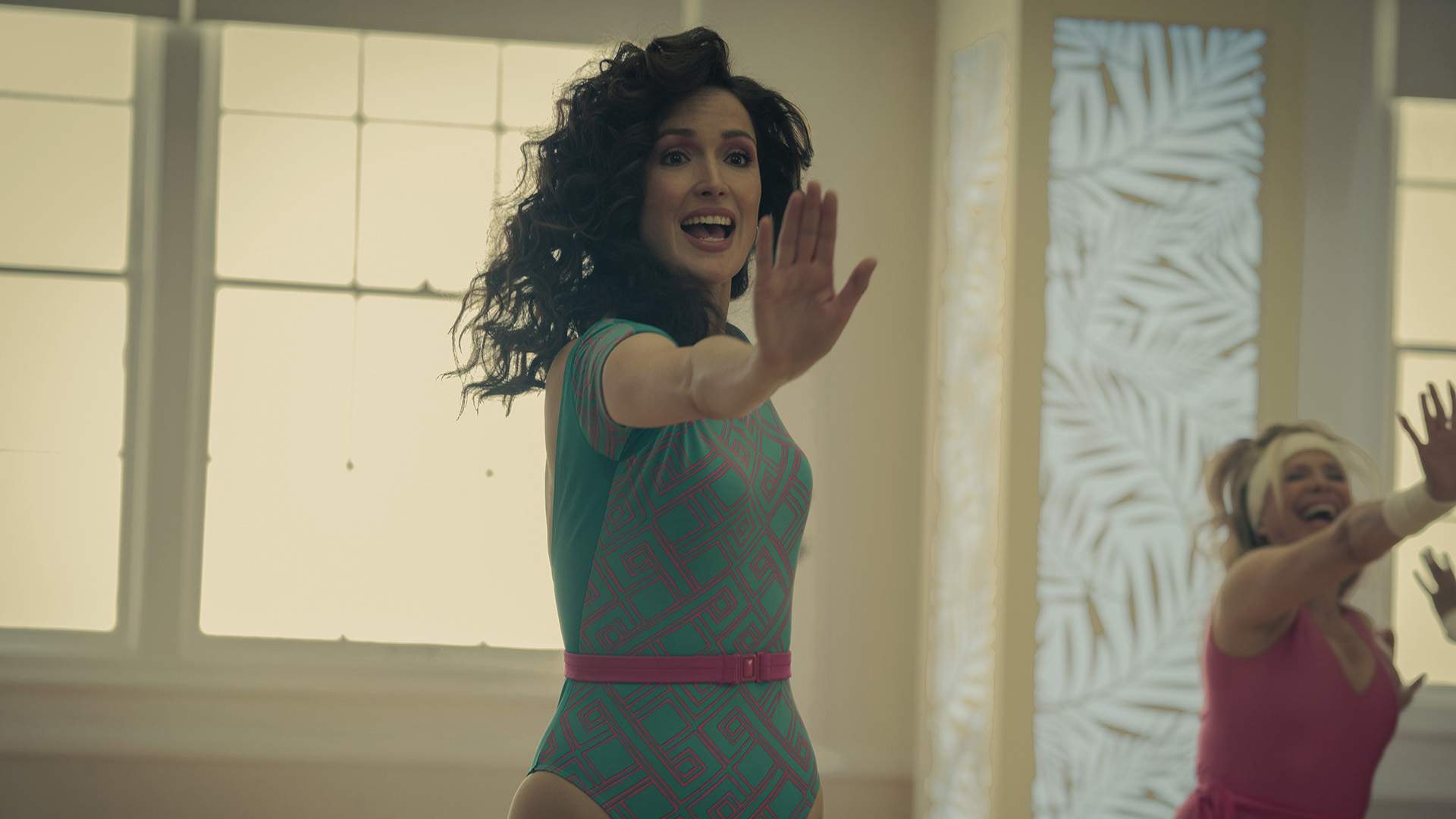 In season two, Sheila is the star of her own fitness tape — and spruiking it, be it in supermarkets or by hosting public aerobics classes, has become her life. But while she's in control of every exercise move she makes, earning the same power in her relationships, and in business, isn't as straightforward. She's still stuck in a rut with Danny, to put it mildly. He reinvents himself as a house husband while she focuses on her career, but he's also clearly uncomfortable about no longer being the centre of attention. Sheila is still caught in a torrid affair with grim Mormon business developer John Breem (Paul Sparks, Castle Rock), too. And while she starts leaning on her wealthy and supportive best friend Greta (Dierdre Friel, Second Act) more, she's also unable to shake the engrained notion that needing anyone's help is a sign of weakness.
Byrne plays Sheila with emotional dexterity to match the character's physical fitness. Her ability to segue from projecting strength and confidence in Sheila's efforts to establish her own lifestyle brand, to still grappling with the hurt and self-loathing that's long been festering inside, is masterful and phenomenal. And, while the internal monologue that tears its protagonist to shreds again and again isn't as prominent this time around, Physical's second season is deeply committed to understanding Sheila's complicated relationship with herself. It sees the solace she gains in her workouts, as well as the distress of her binge-purge cycle. It spies the inherent contradiction between the image she wants to project to the world, and monetise, and her real inner state. It doesn't shy away from how messy that contrast is, or the struggles of bulimia, or her unhealthily vicious mental tirades — and it doesn't judge, either, even if Sheila does still judge herself.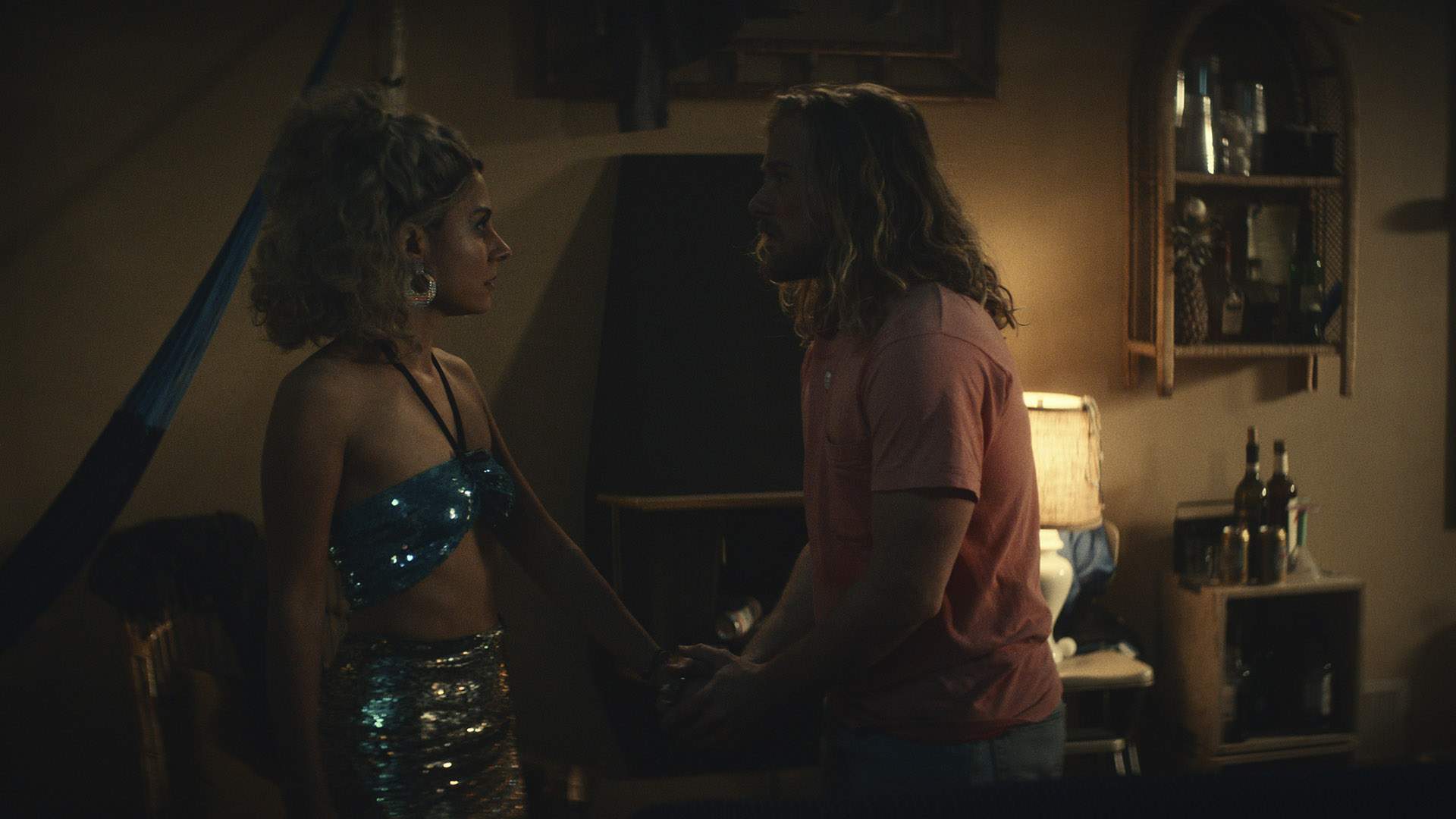 As marvellous as Byrne remains in her leading part — as attuned to the show's balance of sharp comedy and bristling tension, too, all while shot with a beachside, decade-appropriate and fitness-attire sheen — she's gifted also-excellent costars. The camera often lingers on Byrne's face and the whirlwind of feelings it is usually endeavouring not to betray, and moments where she's the sole focus of attention come often. Many, including multiple instances in season two where she's physically in pain but attempting to soldier on, are an acting masterclass. But she's also a sight to behold and a force to be reckoned with when she's bouncing off of Scovel, who plays his part with a relaxed sense of goofiness masking an insidious streak of selfishness. The same holds true about Byrne's scenes with Sparks and Friel. And, it's also accurate with Della Saba (Stillwater) and Lou Taylor Pucci (American Horror Story) as Bunny and Tyler — the aerobics instructor whose routine Sheila uses as inspiration for her own video and her surfer/stoner/videographer boyfriend.
Season two also pairs Byrne with another Australian actor currently doing big things in America: The White Lotus scene-stealer Murray Bartlett. In a glorious piece of casting, he joins Physical as fellow aerobics instructor Vinnie Green, who Sheila seeks out when she wants to learn how to push her burgeoning aerobics empire into merchandise and infomercials. While Bartlett doesn't crap in anyone's suitcase here, his character plays a pivotal part in examining one of the season's core ideas: that truly having your shit together is a myth, no matter how much we'd all like to pretend otherwise. Indeed, for a series that's both candid and piercing about how its central figure sees herself — and what she has to do to tussle with that, all while carving out her own place in the world — Physical also understands and embraces how fraught and flawed it is to pursue perfection at all costs. 
On-screen, though, this smart and entertaining series from creator/writer/producer Annie Weisman (Suburgatory, The Path) does indeed have it all. That includes a staggering lead performance, a superb supporting cast and a complex premise unpacked with precision, as well as a pitch-perfect vibe and a killer 80s soundtrack.
Check out the trailer for Physical season two below:
Physical is available to stream via Apple TV+.
Concrete Playground Trips
Book unique getaways and adventures dreamed up by our editors