ARTS & ENTERTAINMENT
Five World-Renowned Modern Artworks to See at the NGV's New MoMA Exhibition
This collaborative exhibition features a huge 200 works, many of which have never left the walls of MoMA before.
Five World-Renowned Modern Artworks to See at the NGV's New MoMA Exhibition
This collaborative exhibition features a huge 200 works, many of which have never left the walls of MoMA before.
---
Hot on the heels of the NGV's exciting announcement of a new gallery dedicated to contemporary art, the Melbourne gallery has launched its latest blockbuster: a collaborative exhibition with New York's revered Museum of Modern Art. MoMA at NGV: 130 Years of Modern and Contemporary Art takes a chronological look at art and design over the past century, from the late 1900s through to modern masterpieces.
MoMA at NGV features more than 200 works from all six of MoMA's curatorial departments: Photography, Film, Architecture and Design, Painting and Sculpture, Drawings and Prints, and Media and Performance Art. The exhibition might be one of your only chances to see some of these works outside of New York with 127 of the showcased artworks having never left MoMA's walls before.
You'll find masterful paintings that signalled a modern age with works from Vincent van Gogh and Paul Gauguin; art based on emerging technology with Cubism pioneers Pablo Picasso and Georges Braque; collections of post-war American culture that are "bursting with energy"; as well as participatory artworks, pop-art icons, Space Invaders, and many more.
The works are spread across eight expansive themed sections at NGV International, which, MoMA director Glenn Lowry calls 'mini villages'. "The spaces between them are alleyways and streets, so movement in this exhibition is always experiential," he said at the exhibition launch. "You go from one town to the next town and along the way you'll discover something."
While all the works on display are must-sees, below we've selected five works that you absolutely shouldn't miss.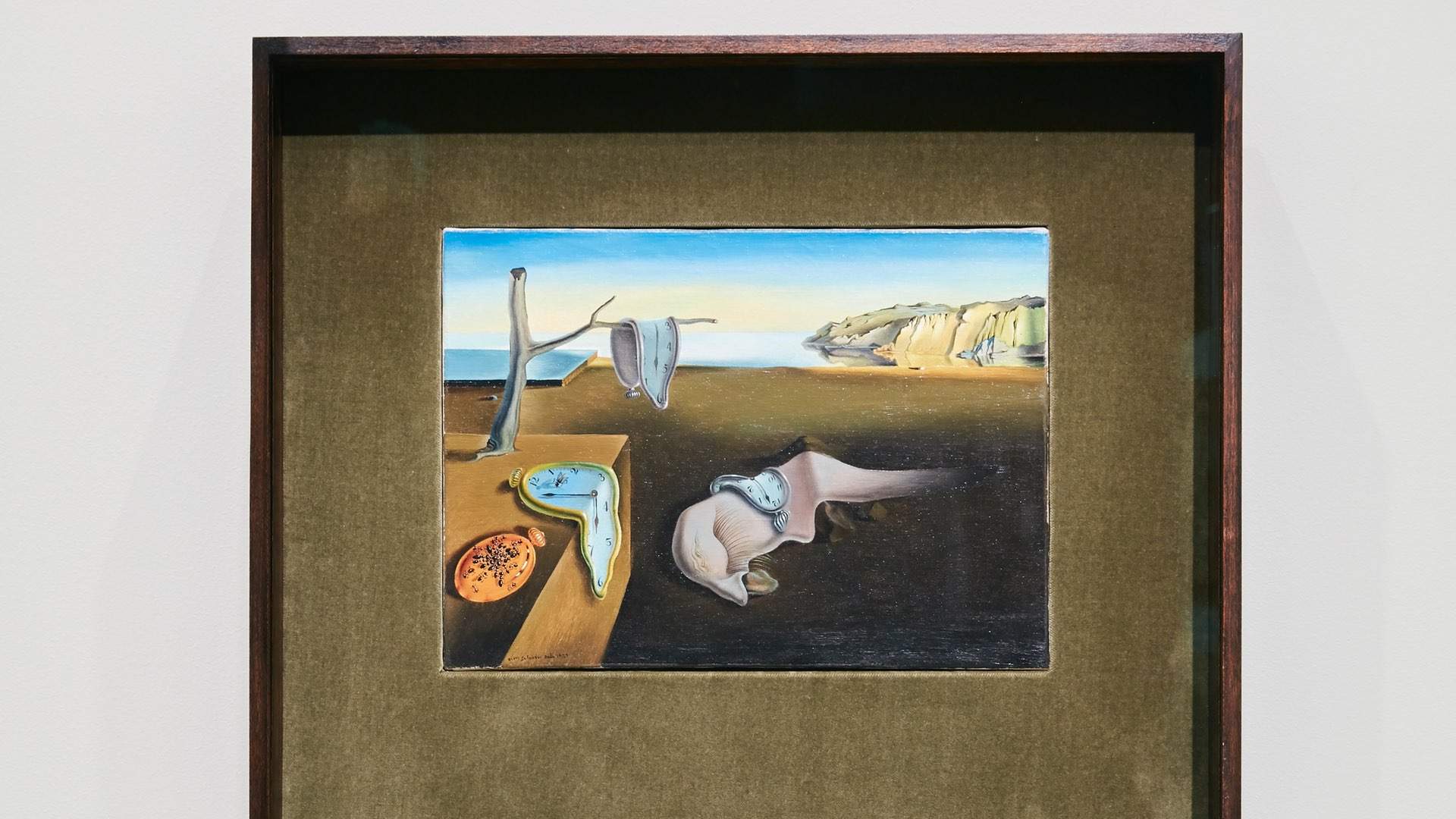 SALVADOR DALI: THE PERSISTENCE OF MEMORY (1931)
One of the most admired Salvador Dali paintings is The Persistence of Memory, which is based on the seaside landscape close to Dali's home in Catalonia, Spain. A master of warping time and space with his dream-like style, the painting can be found at the entrance to the Inner and Outer Worlds section of the exhibition.
The painting is one of MoMA's most prized possessions, and even Lowry seemed surprised that it had been loaned out to the NGV's ("What? We lent that one?"). Like the Mona Lisa, The Persistence of Memory proves that sometimes artworks big in stature come in small packages — the work is only 24 by 33 centimetres big. So get in early (or make use of your elbows) to get up close and take in all the magnificent details found throughout Dali's work.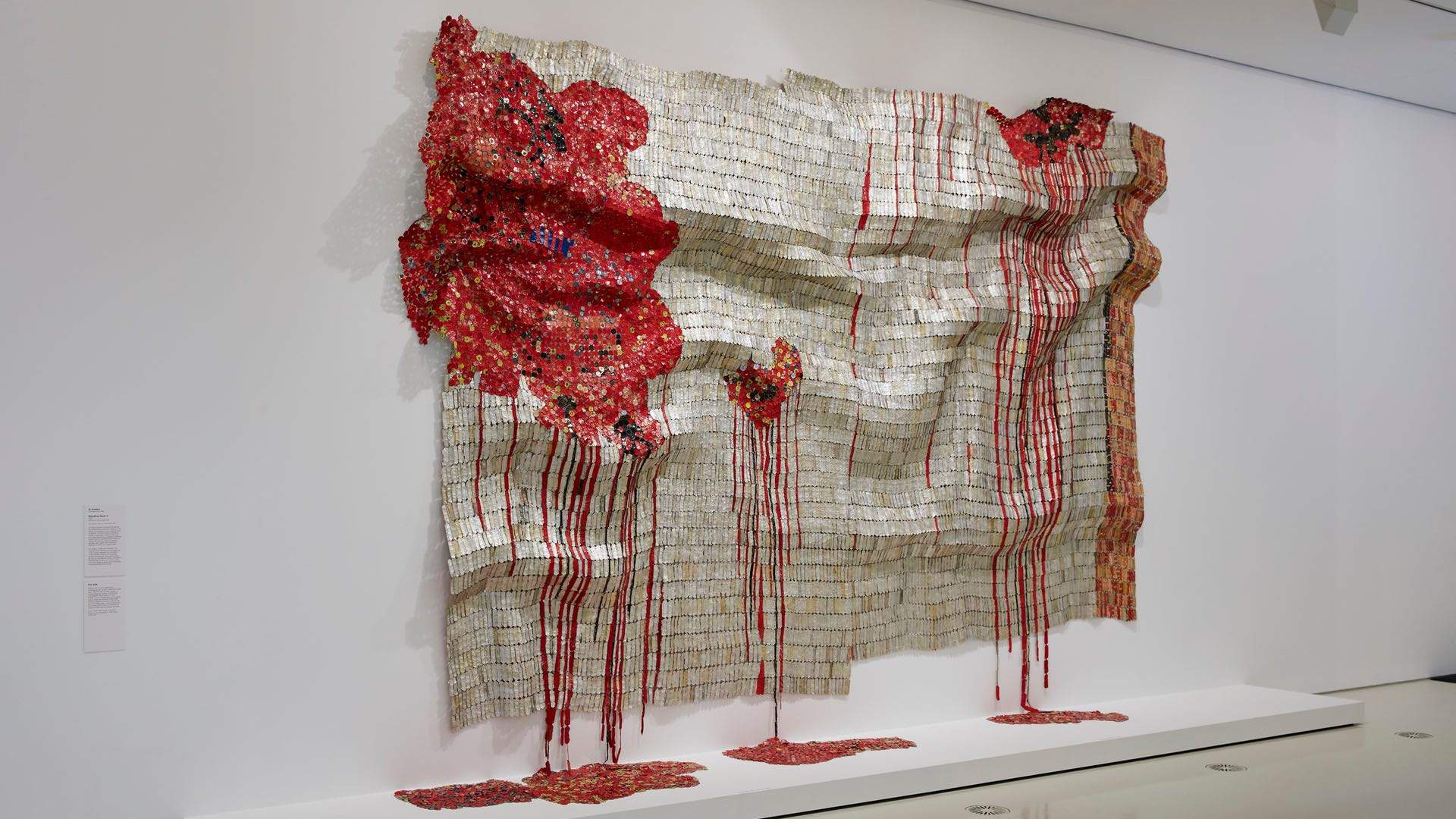 EL ANATSUI: BLEEDING TAKARI II (2007)
Using thousands of bottle caps that have been crushed and reshaped in many ways, Bleeding Takari II is made from materials collected by the Ghanaian artist El Anatsui. Linked together with carefully formed copper wiring, this large-scale work flexes and wrinkles in a different way each time it's installed. The work considers the trade of goods, and peoples, from West Africa to Europe.
NGV director Tony Ellwood is particularly excited about this work, which demonstrates the type of diverse global works that the NGV and MoMA hope to continue to champion. "This a beautiful example of El Anatsui's work, and I think, in many ways, it heralds the future of contemporary art collecting for major institutions," says Ellwood.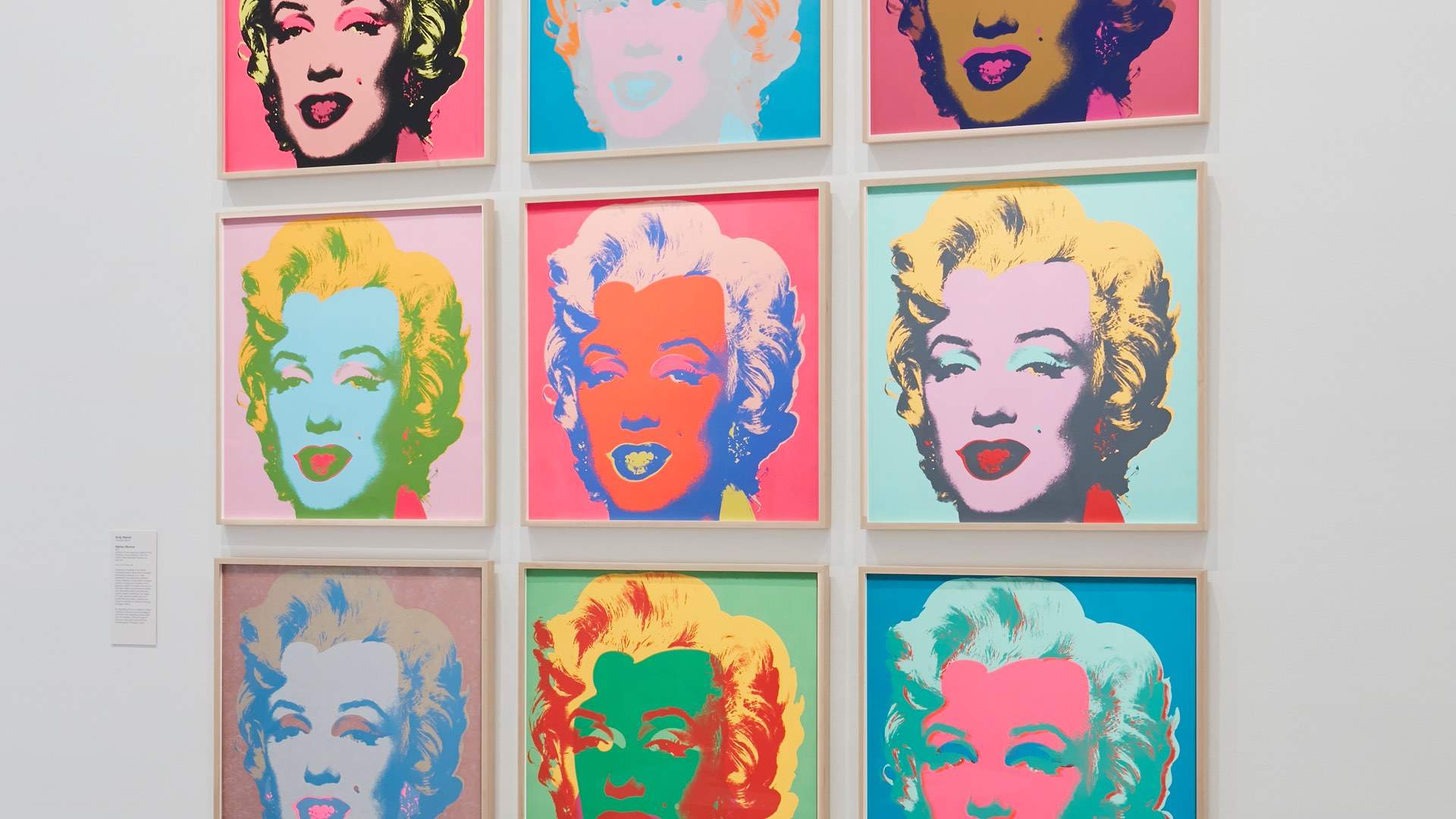 ANDY WARHOL: MARILYN MONROE (1967)
One of the quintessential works of pop art and a distillation of American culture, the NGV showcases Andy Warhol's famed Marilyn Monroe series. Throughout his career, Warhol would create more than 800 printed images, although almost none more famous than this one. Produced five years after the famous actress's death in 1962, this collection of ten vibrant prints, while colourful in nature, peel back the complexities of fame suggesting a darker perspective on celebrity culture.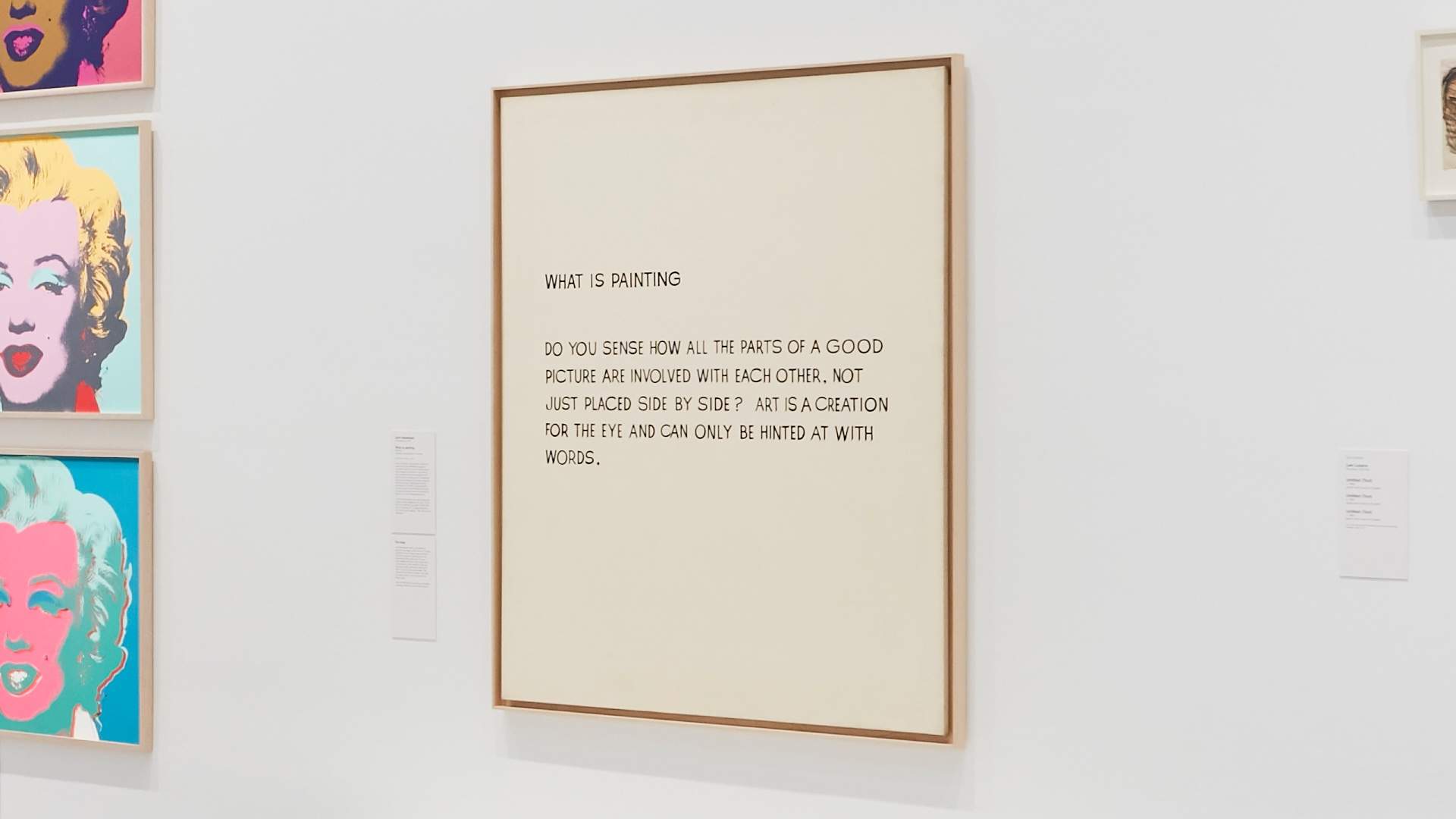 JOHN BALDESSARI: WHAT IS PAINTING (1968)
Displayed next to Warhol's prints, you'll find a vastly different kind of work in John Baldessari's What is painting. It's a self-referential question of genre — for this work, Baldessari hired a sign-painter to produce the lettering in careful detail. Exploring the definitions of art and painting, this 1968 work draws on a strong sense of irony as although this work fits the definition of paint on canvas, it defies our typical understanding of the format.
"This fantastic Baldessari is one of my favourite works of art," says MoMA's Lowry. "The painting is about painting — and it challenges us to think about the very act of art making."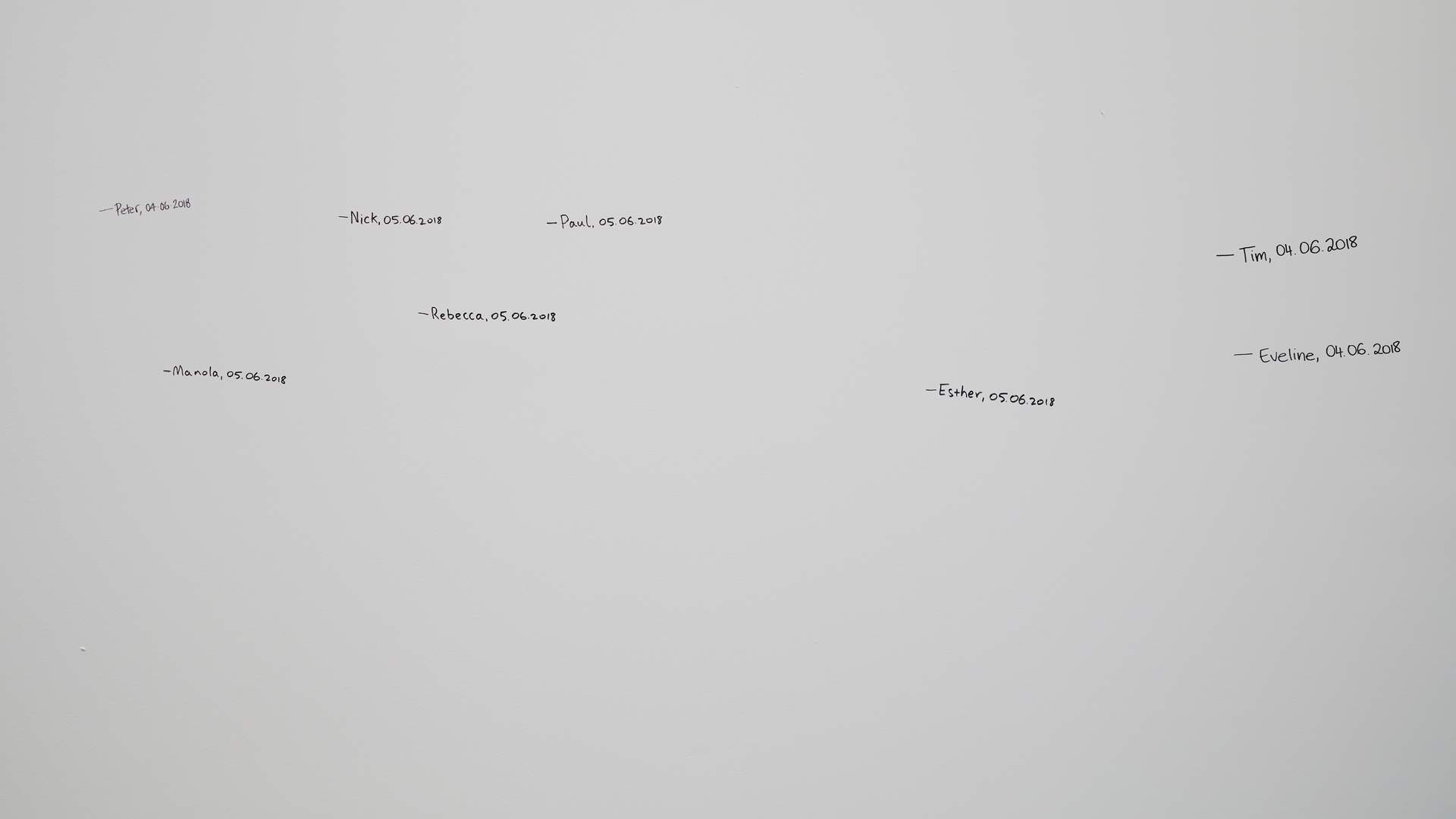 ROMAN ONDÁK: MEASURING THE UNIVERSE (2007)
Slovakian conceptual artist Roman Ondák is known for his large-scale works that often blur the boundaries between art and everyday life. Taking up an entire room of the NGV, Measuring the Universe is an artwork that relies on public participation to fill out what begins as an entirely blank space.
Recalling parents measuring their children's height as they grow taller, participants have their height, names and the birthdate scrawled around the room. Over the three months of MoMA at NGV, these engravings will become layered, eventually forming a whirling galaxy-like mass of names.
"It isn't art until you participate," explains Lowry. "In the end this work of art is about inscribing ourselves into the history of this institution."

MoMA at NGV: 130 Years of Modern and Contemporary Art is on display at NGV International, St Kilda Road, Melbourne until October 7. You can grab tickets here.
Images: NGV/Tom Ross.
Published on June 12, 2018 by Hudson Brown