Meet the Makers Behind the New and Improved Bondi Pavilion
From architects and art curators to hands-on creatives, it's time to meet the minds behind the reimagined Pav.
in partnership with

Rome wasn't built in a day, and neither was Bondi Pavilion. In fact, it has taken a two-year restoration for the beachside venue to reclaim its status as the star of Sydney's most-iconic seaside suburb.
Now, the building once known as The Castle has not simply been restored to its past glory, but made even better. With the restored institution now featuring an art gallery, pottery studio and theatre, there's a lot to discover in the latest version of Bondi Pavilion.
It took many minds (and hands) to realise this eclectic vision: from creatives to curators. In celebration of the arrival, we chatted to some of the people responsible to find out how it all came together.
THE CREATIVE
Wolfgang Ripberger has worked on some incredible projects during his career — the Reserve Bank of Australia's Martin Place headquarters, the historic Scots Church and Taronga Zoo's Savannah & Congo Project among them. And, together with Tonkin Zulaikha Greer (TZG), the company where he is a director of projects, he approached Waverley Council re taking on the project at hand — the conservation and restoration of Bondi Pav — and was successful.
Acting as project lead, the German-born architect set out with a focus on function as well as form, aiming to honour the building's history. "Working with heritage buildings offers you an opportunity to find inspiration for their redevelopment within the existing fabric," says Ripberger.
It was a journey that saw him uncover some interesting insights during the rebuild. "One of the surprises we came across was the original paintwork," he said. "We knew of one — a mural in the theatre that was slightly exposed. However, we came across two new artworks that existed underneath by removing layers during the restoration. The external façade revealed remnants of the original entrance sign, while the Turkish Baths sign and original tiles were also uncovered."
These discoveries all reinforced Ripberger's drive to undertake the restoration project in a way that balanced tradition with the need to update a complex that will soon celebrate its centenary anniversary. It is an intention he is hopeful to have executed. "Heritage landmarks are celebrated the most when they're well used and loved by everyone," he says. "So, we had to find a way to protect and carefully restore the building but also allow a few changes to address the new needs of the 21st century."
"A few of the ways we accomplished this was by bringing fresh life to the courtyards, by adding new colonnades which were both functional and beautiful," he continues. "We wanted to create a visual connection between the Pavilion and the sea, so that people using it could seek protection from the big southerly winds while still feeling close to the ocean. We also upgraded the atrium — the new central area in the double storey space of the Pavilion that is the interconnection point of all the pathways. It was designed to connect the sky and the sun and offer natural ventilation — I like to call it the lungs of the building."
TZG also put a focus on sustainability, with Ripberger incorporating a number of eco additions into the renovation. "From a sustainability point of view, the best thing you can do is keep as much as possible of an existing building, and we managed to retain about 80% of the original structure," he says. The project reduced landfill by recycling 90% of demolished materials, implemented solar panels through the courtyard to take advantage of the sun and focused on long-lasting materials designed to survive the harsh environment. "For example," says Ripberger, "we used copper for the downpipes to minimise rust and corrosion so we don't have to redo them in 10 years time."
The finished project is an achievement that Ripberger is rightly proud of: "Peeling back the Pavilion's layers helped me understand what it was made for almost 100 years ago, and gave me a chance to see what worked and what didn't so I could infuse it with new life and restore it properly to be enjoyed for the next 100 years."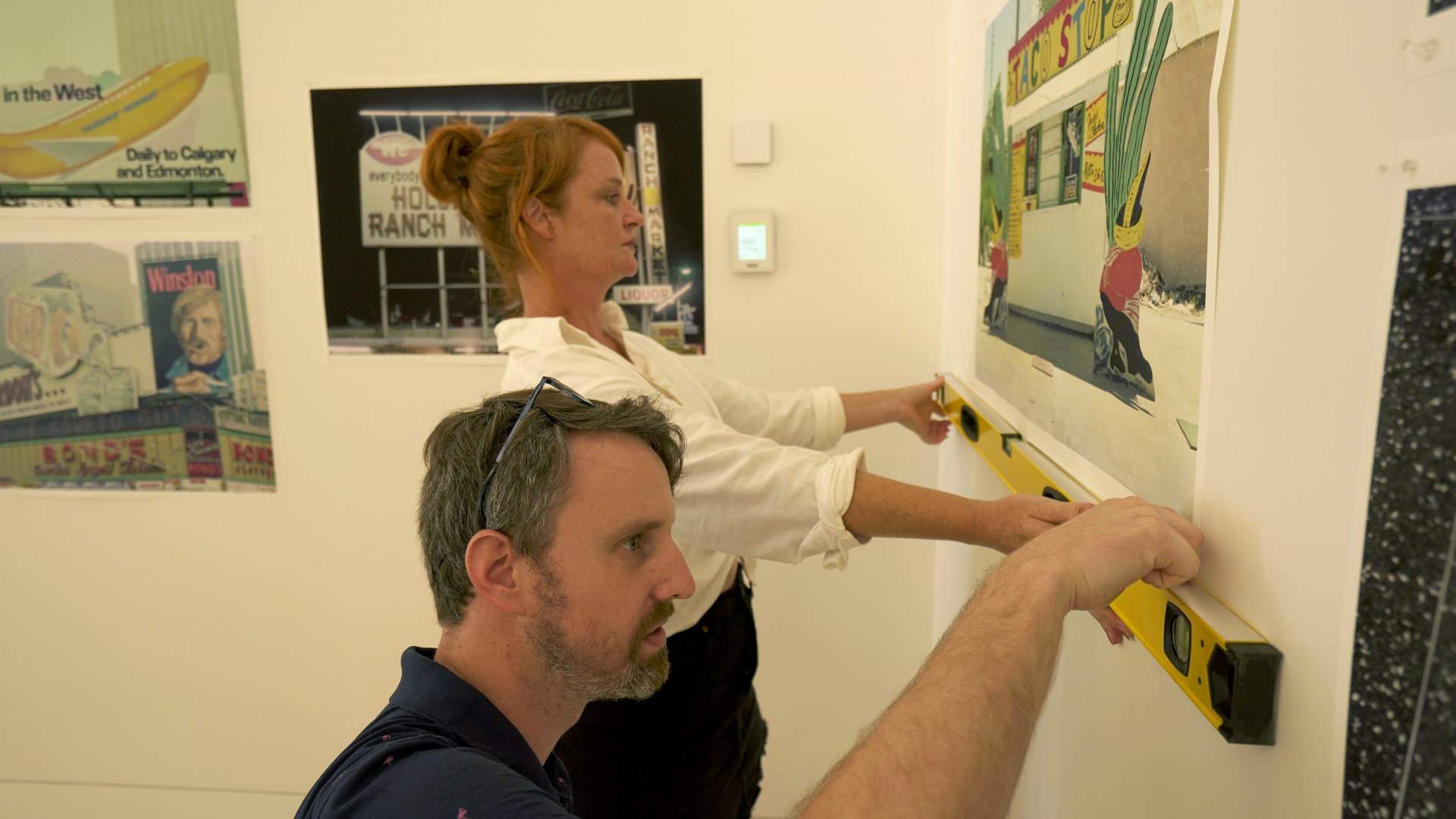 THE CURATORS
Set against the backdrop of one of the most photographed destinations in the world, Bondi Pavilion certainly has its work cut out for it luring visitors away from the vistas of the beach outside. But it has risen to the challenge, with multiple impressive exhibition spaces. "Bondi boasts an incredible group of local artists, an iconic brand and an unbelievably rich local history," share curators Elizabeth Reidy and Todd Fuller together. And for these two curators, the Art Gallery is where all of these elements meet.
It is an exciting exhibition space showcasing top-tier contemporary and local artists. "Exhibitions in this space are usually six weeks in duration and enhanced by a range of public programs including talks and workshops," the pair share, and they promise a number of exciting exhibits are on the sun-drenched horizon.
What's on currently? The Air Is Electric, a showcase of David McDiarmid's photographic work from his highly transformative 1977 trip to the United States, presented in partnership with the Australian Queer Archives and Sydney WorldPride. McDiarmid is widely recognised as a leading LGBTQIA+ artist and advocate, whose work raised awareness about the experiences of homosexual men with HIV/AIDS in the 1980s and 90s.
"These photos capture an America at the height of the gay rights movement," Elizabeth and Todd share together. "In these photographs, we see McDiarmid travelling to San Francisco, Los Angeles and New York in an inspiring and energising trip. The impact of this trip on his practice and politics would be profound."
The exhibition to follow is Rainbow, Mermaid, Fireworks. An explosion of colour by collaborators Emily Crockford and Rosie Deacon, the project will transform the gallery into a mermaid's garden to deliver a contemporary take on Bondi's historic Mermaid sculptures of the 1960s. "If you are lucky, you might even meet a real mermaid or two in this exhibition," hint Elizabeth and Todd.
And, while the temperature outside may be dropping mid-year, Elizabeth and Todd reveal that the gallery will continue to offer reasons to visit during the winter months and beyond. "July is also a big time for the Bondi Pavilion Gallery," they say. "It will host the Waverley Art Prize which awards a contemporary artist $15,000." The event will see the Pav become the epicentre of Bondi Festival — with performances, tours and activations filling the building — while also cementing the gallery's status as a year-round destination for lovers of all things art.
THE CLAY MAKERS
The Pav may not appear an obvious choice to practise your pottery making, but that's exactly what's on offer at the renovated complex's clay studio. And while the chance to get creative behind the (sculptor's) wheel may surprise many, it's a little-known fact that the Bondi Pavilion has actually been home to a pottery studio for over 40 years. The original incarnation began in 1976, when a kiln was first bought to fire tiles to make a mosaic floor for the Pavilion foyer. Today, over four decades later, the studio remains a hub of creativity for all ages and abilities.
"The clay studio is not an addition but has actually been part of the Pavilion community for many years," share Leanne Berelowitz and Agatha Pupaher, the pair that run the Pav's clay studio (co-directing, managing the studio and teaching). "In the past, it was open to the public for classes. We've had many adults who remember doing school holiday workshops here now bringing their children along to our programs."
Today, against an updated backdrop of beautiful arched windows featuring an ever-changing exhibition that showcases student works as well as pieces for sale, the studio continues to offer a range of classes. These include foundation pottery lessons in wheel throwing and hand building, and technique and decoration masterclasses by local artists. More offerings are also in the works, including open studio hours, special senior groups, classes for people with disabilities, exhibitions, writing and clay workshops, collaborations with festivals and more.
It is a personal passion for all things pottery that drives both women. "I started taking pottery classes while working as an ICU nurse in my twenties," says Berelowitz. "I loved the tactile therapeutic aspects of working with clay and connecting to my creativity. So, I went to art school at age 30 to study a Bachelor of Fine Arts and gradually transitioned to ceramics full time."
"My obsession with clay began about 19 years ago when I first joined a community class with my then-10-year-old daughter," admits Agatha. "When I retired from my career as a psychologist 10 years ago, I also began sharing my passion for clay by teaching kids and adults at my inner west studio Sydney Clay Studio," she adds.
However, it is a combined commitment by the duo to share the joy of creativity, community and clay with others that perfectly places them to lead the new-look Bondi Pavilion Clay Studio. "I met Leanne here at Bondi Pavilion six years ago where we discovered our mutual passion for teaching pottery and the beautiful Bondi community," says Agatha. "And here we are! Excited to be a part of Bondi Pavilion's new vibrant space where there's something for everybody."
Undersea inspiration is a common theme at the studio. Sunbathers, waves, rock pools, shells and sea creatures, as well as functional pieces like bowls, cups and vases in all shades of the ocean are common final creations. "But people can come to us with almost any idea and we'll help them make it a reality," the pair note.
And while the works are important, the memories are even more paramount. Both Agatha and Leanne fondly recall Roz, a long-term participant of their seniors class who passed away a few years ago in her mid-90s and who would often say, 'Sometimes a piece comes out well, and that's wonderful. But if it doesn't that's okay, because I've had such a good time.'
"Together, our focus is on teaching good foundation skills and technique in a relaxed and inclusive environment so your creativity can flourish," they finish. "We are excited to build new experiences with anyone interested in working in clay."
Ready to check out the Bondi Pavilion for yourself? To discover more of what it has to offer, head to the website.
Top image: Katherine Griffiths
Concrete Playground Trips
Book unique getaways and adventures dreamed up by our editors