ARTS & ENTERTAINMENT
Shepard Fairey-Inspired, Anti-Abbott Poster Installed in Chippendale
Sydney's new billboard compares the PM to the President, and not in a good way.
Shepard Fairey-Inspired, Anti-Abbott Poster Installed in Chippendale
Sydney's new billboard compares the PM to the President, and not in a good way.
---
One of the single most iconic pieces of political advertising in living memory, Shepard Fairey's Hope poster from Obama's 2008 Presidential campaign has inspired countless imitations. Now an Australian campaign group is getting in on the action, albeit with a slightly less positive spin.
Plastered on the side of a building on Regency Street in Chippendale, this 4.5 metre poster featuring Tony Abbott's face along with the word 'hopeless' was designed by Sydney-based graphic artist Michael Agzarian, who is the driving force behind the 'Abbottsolutely Hopeless' campaign. According to the campaign's website, the poster represents "the grim situation Australia finds itself in with Tony Abbott as Prime Minister leading an equally inept and uncaring ministry."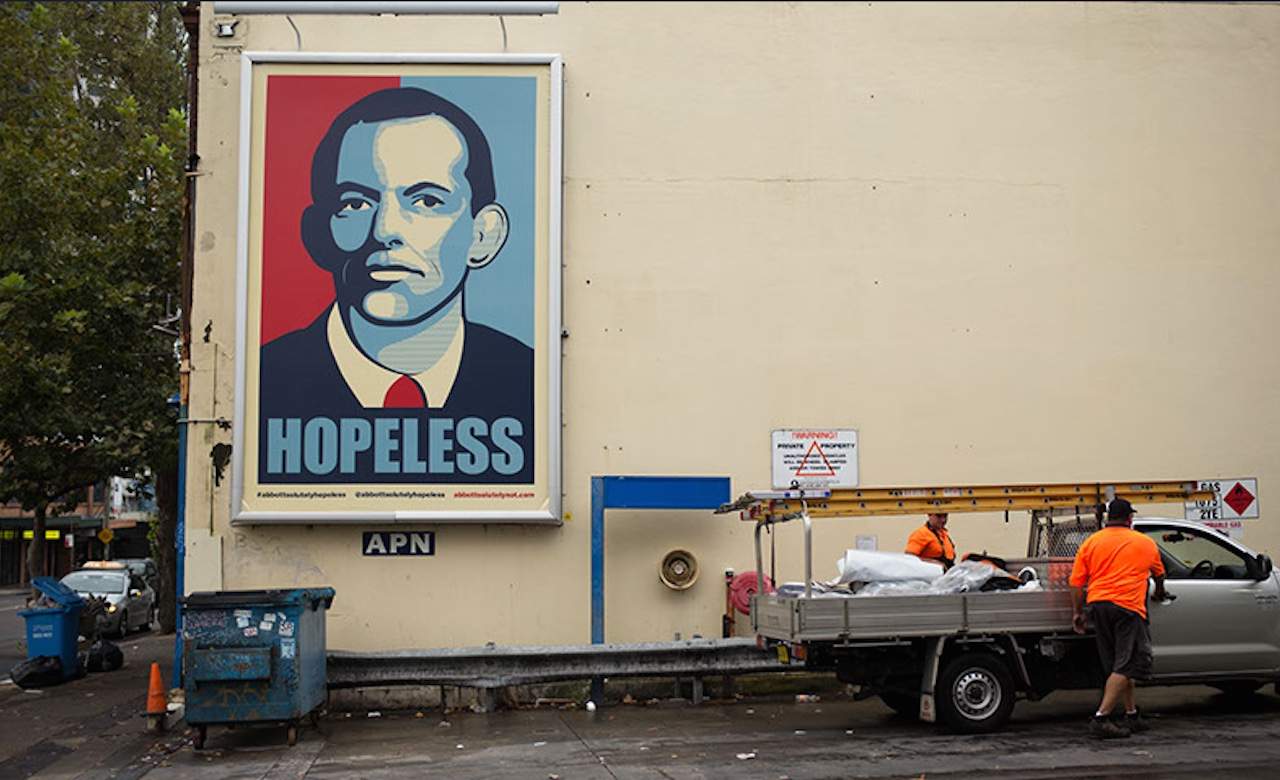 To be clear, this poster isn't graffiti or street art. Agzarian spent more than $3000 of his own money getting the billboard legally placed, and is now asking for donations to fund additional posters around Sydney, Canberra and Melbourne. He's even hoping to get some placed in Warringah, Abbott's own Northern Sydney seat. The current poster is payed up for the next four weeks.
The original Shepard Fairey Hope poster was subject to a legal battle, following revelations in 2009 that it was based on a picture taken by Associated Press photographer. The case was eventually settled out of court, while the street artist subsequently pleaded guilty to destroying documents related to the case.
Back at home, Abbott continues to lag in popularity, with the Sydney Morning Herald reporting on a recent Newspoll survey that indicated that two-thirds of participants believe the Prime Minister is out of touch, while more than three-quarters consider him to be arrogant.
Via SMH.
Images: Abottsolutely Not.
Published on February 26, 2015 by Tom Clift