Thank You, Thank You Very Much: The First Trailer for Baz Luhrmann's Elvis Presley Biopic Is Here
Here's one for the money: nine years after 'The Great Gatsby', the Australian director returns to the big screen with an Aussie-shot film about the king of rock 'n' roll.
The hair, the hips, a whole lotta shakin' and Tom Hanks in a far less friendly role than usual: they're all part of the just-dropped trailer for Baz Luhrmann's Elvis. After a nine-year absence from the silver screen following 2013's The Great Gatsby, the Australian filmmaker returns to cinemas with a biopic about the world's most famous blue suede shoe aficionado, with Once Upon a Time in Hollywood and The Dead Don't Die's Austin Butler sporting Presley's pompadour.
Shot in Australia with a cast that also spans a wealth of local talent — Olivia DeJonge (Better Watch Out) as Priscilla, Richard Roxburgh (Fires) as Presley's father Vernon, newly minted Oscar-nominee Kodi Smit-McPhee (The Power of the Dog) as singer Jimmie Rodgers, and David Wenham (The Furnace) as country artist Hank Snow, for starters — Elvis clearly has a big story to tell. Charting the king of rock 'n' roll's rise to fame, exploring the role that manager Colonel Tom Parker played in that success and examining how Presley became the enduring symbol of rock 'n' roll that he still remains now, 45 years after his death, as everything from touring exhibitions to his enduring status in popular culture keep showing: that's all in the movie's remit, too.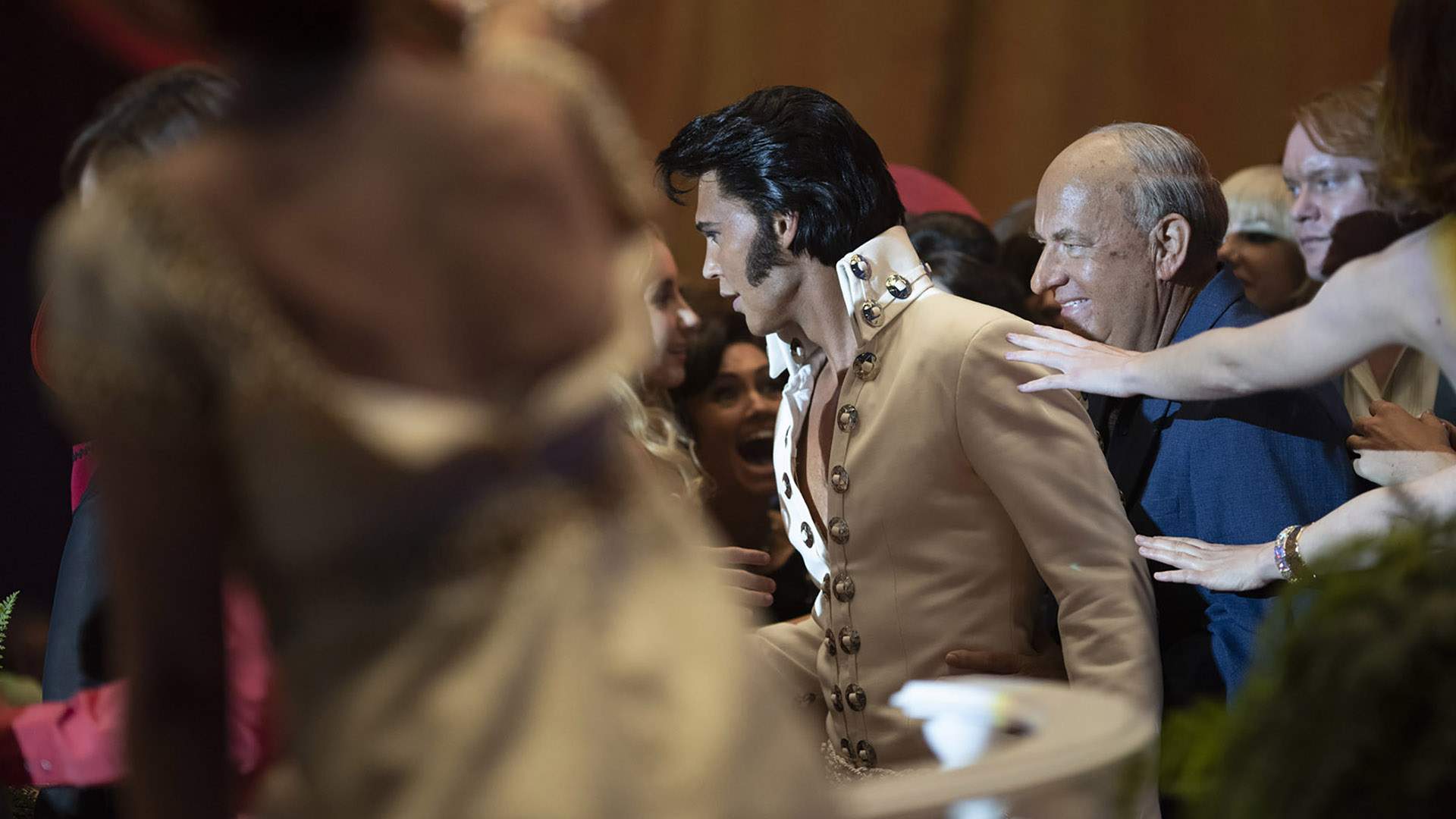 As Parker, Hanks also has a significant task. In the trailer, the News of the World and A Beautiful Day in the Neighbourhood star's first words set the mood for his character: "there are some who make me out to be the villain of this story".
Launching Elvis' initial sneak peek, Luhrmann explained that Hanks' role obviously isn't quite that simple. "He ran towards that. It's interesting because 'villain' is too easy to wrap it up," the filmmaker advises. "He tells the story, [but] he doesn't go on to tell the story that says 'and they're right'... It's a device, because when it comes to a historical character, there's only ever someone's telling of that story. Even in life, if you lived with an Elvis, it's your memory — your version of their life."
From its first trailer, Elvis is unmistakably a Luhrmann movie. As everything from Strictly Ballroom and Romeo + Juliet to Moulin Rouge! and his Netflix series The Get Down have already shown, the Aussie director doesn't hold back when it comes to style, flair, and embracing the look and feel of whichever world he's diving into.
Describing his process, Luhrmann goes a step further. "I am the ultimate outsider. I come from a very small country town, not dissimilar to Tupelo [Mississippi, where Presley was born] — where I come from, Tupelo would've been called the big smoke or a city because my town was so small, like five houses. But I'm the ultimate outsider, so when I go and do Moulin Rouge! and it's in Paris, I come as an outsider and live it. If I do The Get Down, I come as an outsider and live it. If I do The Great Gatsby, I come as an outsider and I live like [author F Scott] Fitzgerald —  I probably got a little bit too much into some of the things that Fitzgerald did — but I do live it, it's a real truth."
"That's why I make films so infrequently. So the greatest joy for me is to make films and to live it," he explains.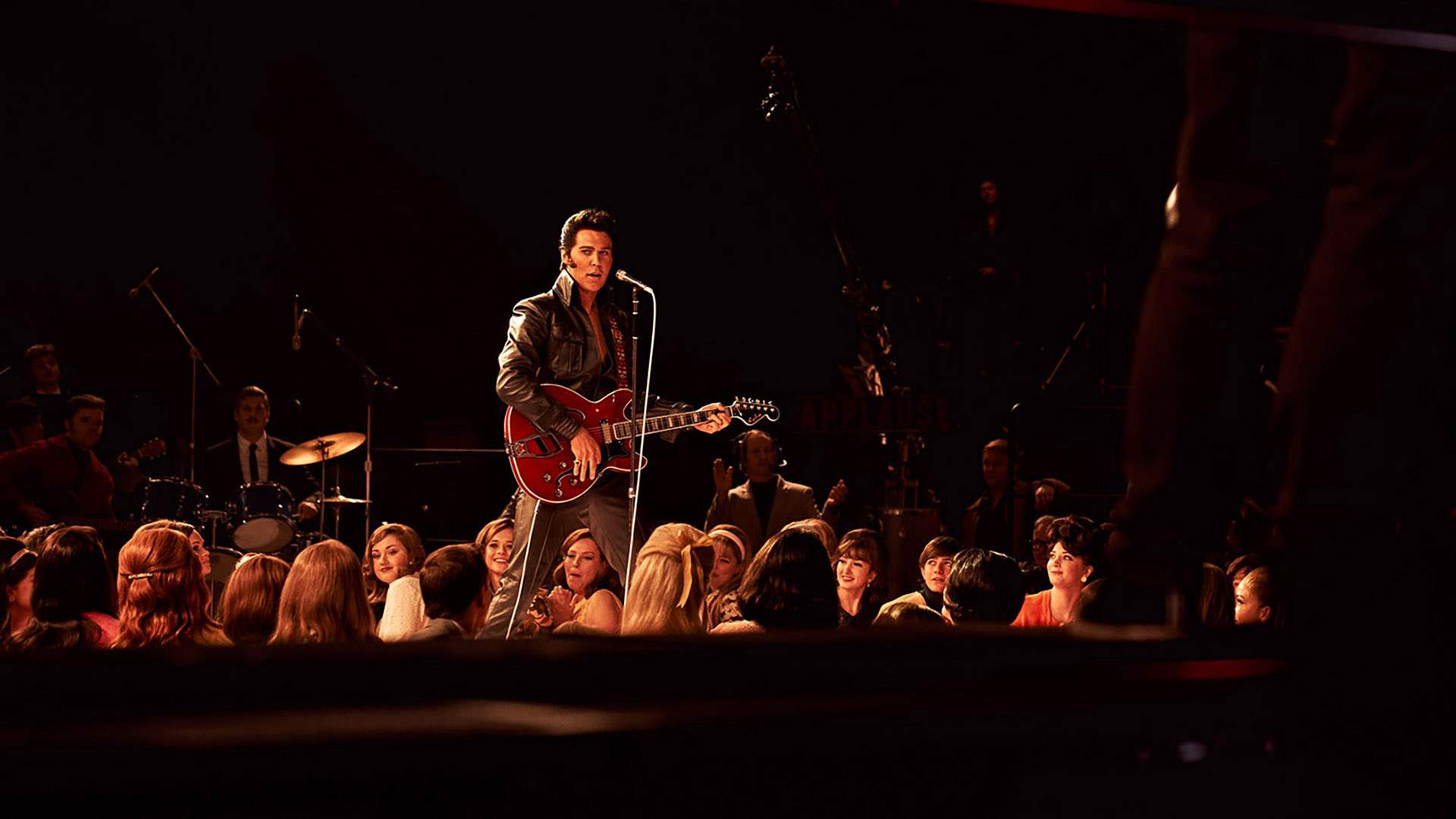 For the writer/director, who works here with a script also credited to his regular co-screenwriter Craig Pearce, plus The Get Down's Sam Bromell and The Killing's Jeremy Doner, Elvis isn't just about its namesake. "A great biopic is terrific, but something like Amadeus, for example, it's not really about Mozart — it's about jealousy. And the truth is is that in this modern era, the life of Elvis Presley could not be a better canvas on which to explore America in the 50s, the 60s and the 70s," Luhrmann notes.
"It's a mythical life that he lived' very young, 42 years. But that 42 years is is three great lives put into a short period of time. And what's extraordinary about it is that that life is culturally at the centre of the 50s, and socially the 60s and actually the 70s. And it's a great canvas on which to us explore America. So that's what drew me in — that and a guy called Colonel Tom Parker, who I always like to say was never a Colonel, never a Tom and and never a Parker."
Check out the trailer for Elvis below:
Elvis releases in cinemas Down Under on June 23, 2022.
Images: Hugh Stewart.
Introducing Concrete Playground Trips
Book unique getaways and adventures dreamed up by our editors