ARTS & ENTERTAINMENT
How to Make a Pop-Up Film Festival with Freshflix Founders Jess Hamilton and Claudia Pickering
We asked Australia's newest pop-up cinema how to make movie magic in unexpected places.
How to Make a Pop-Up Film Festival with Freshflix Founders Jess Hamilton and Claudia Pickering
We asked Australia's newest pop-up cinema how to make movie magic in unexpected places.
---
in partnership with

Is there anything better than getting together with friends to watch a film? How about getting together with friends to watch a bunch of international and local films at a casual pop-up film festival in, say a backyard or a secret warehouse or a brewery. Alright, alright you might be wondering why on earth one would bother arranging screens, projectors, and fiddling around with all that palaver when you can just pop down to the local cinema and catch Bridget Jones's Baby if you're keen. But what if you're after more of a party? More of a shindig, some live music, art and some of the best new short films from international and local directors?
Australia's newest pop-up film event Freshflix do just that. We caught up with co-founders Jess Hamilton and Claudia Pickering for a chat about how these two local Sydney ladies started a sold-out event from scratch. After taking over unconventional spaces like a secret warehouse in Redfern and a Sydney brewery, their homegrown film festival is now gearing up for its fourth season over summer. We've teamed up with Rekorderlig Cider, and we're digging into just how to make a pop-up film festival in your own backyard.
DON'T KNOW WHERE TO START? JUST GIVE IT A CRACK
It sounds cliche, but often the biggest barrier for getting something done is, you guessed it, yourself. But enough of that self-doubt, you've got to start somewhere. Hamilton and Pickering's own project, Freshflix, grew quite innocently from wanting to screen a film that Pickering had made. From there, things snowballed in the best possible way. "We hand-built a screen for the event, figured things out there, and then borrowed a projector from a mate. As we went, we realised we were planning a party and kind of got carried away. Before we knew it we had opened up the event for submissions from other people and we soon had 300 films submitted."
From there, the ambitious pair roped in a band, made a website and the requisite Facebook page, got themselves a local brewery on board, and launched their own film festival – they created a 'media wall' for mad paparazzi shots from a red plastic table cloth, complete with handpainted branding. Yep, handpainted. Handmade awards gave an official flavour to the evening. For decoration, there was nothing like fairy lights, and the team set out cushions and rugs for lounging on — turning your regular cinema setting into a friendly hangout. To begin with, Pickering and Hamilton point out that they got by with a little (or a lot of) help from their friends, who came on board to help plan the event, but once their idea was unleashed, new people were very willing to get involved. So, if you're willing to put on a great party, creative, supportive people are usually (if not always) keen to get on board — especially if there's a cheeky bev in it for them.
SORT OUT THE ENTERTAINMENT
Most film buffs will happily come along to a film festival and sit through three-plus hours of screenings. Alternatively, there are people who are pretty into films but also don't mind having a bit of a boogie. The solution? Combine music and film, like Freshflix does. At their most recent festival in Sydney, Freshflix guests were treated to local artists creating live artworks throughout the evening, combined with live bands and music, as well as the cornerstone lineup of Aussie and international films. The end result? One unique, memorable night with a highly diverse crowd — not your stock standard screening indeed.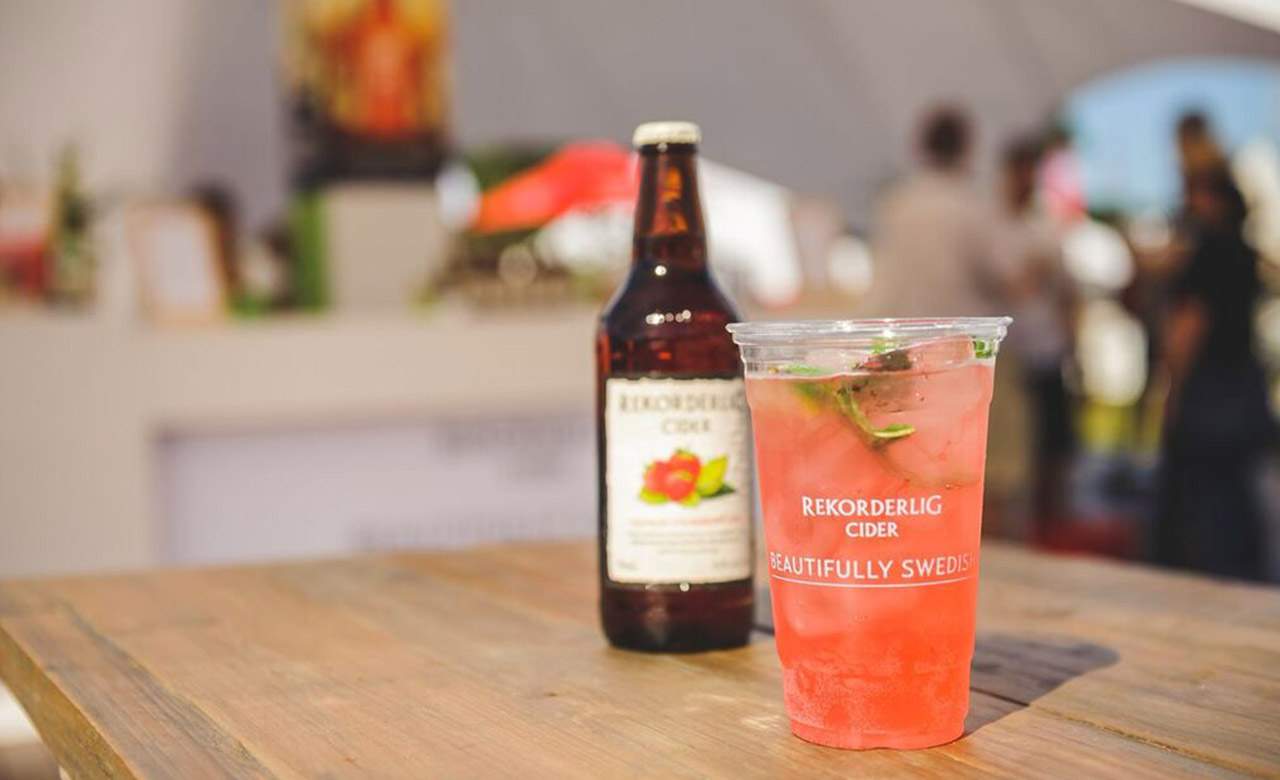 GET FOOD AND DRINKS SORTED
Movies = snacks. We know this, and the choc-top lovers of the world certainly know this. Freshflix, like all great pop-up cinema events, doesn't scrimp on the snacks and neither should you. Why not hire an industrial popcorn machine and make a truly elephantine amount of popcorn? Freshflix hand-stamped their own bags. Or better yet, call up some local food trucks to feed the masses. Know anyone who's a dab hand at brewing their own beer? Sure you do! Get them on board, they might just to create a special brew for your event. Otherwise stock the fridge full of refreshing bevs like Rekorderlig Cider and keep the good times flowing into the night. If there are a bunch of people coming along, you might coordinate with a few culinary-minded mates to get on board with baking treats or supplying snacks. Just put the word out there — people might come out of the woodwork with snackery.
MANAGE LOGISTICS (AND HAVE A RAINY DAY PLAN)
It might seem like a colossal undertaking to organise a huge lineup of films, to coordinate the drinks and bands, to manage the people, and you're right — it bloody well is. But this juice is definitely worth the squeeze. Plus, you don't have to be too gung-ho about it — anything can happen on the night. Hamilton and Pickering admitted to fine-tuning their events mere hours before — they even managed to pull off postponing one showing due to bad weather. "Even though we first planned it for one weekend we had to push it back, and it was fine." So, even if rain does interrupt your plans you can get creative. Rig up a tarp, change the venue or move the date. Stay flexible and remember your end goal is one helluva party.
"We did [Freshflix] because it was something we wished that other people were doing for us: putting on a great party. So, instead, we just did it ourselves." Well played, ladies.
Published on October 20, 2016 by Laura Dawson