ARTS & ENTERTAINMENT
Five Spectacular Artworks You Can Experience Online in the Telstra NATSIAA Virtual Gallery
Stay right where you are to explore this online exhibition of works by 65 First Nations artists.
in partnership with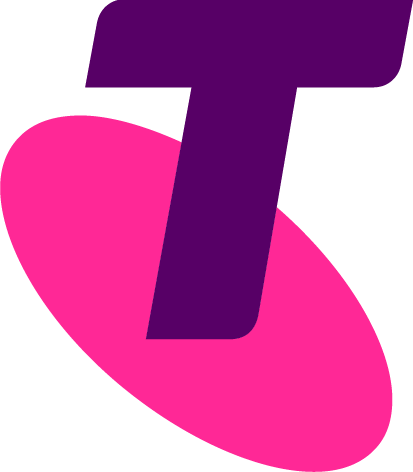 When you can't venture to an art gallery, let the exhibition come to you. It's been a challenging year for artists and art institutions across the nation, but one of the good things to come out of this global pandemic has been the number of ways Australians have been able to access art without leaving their homes. Whether it's through online talks, tours or filmed performances, galleries have found alternative ways to share art with us.
One of the institutions leading the way is the Museum and Art Gallery of the Northern Territory (MAGNT), which is the host of 2020's Telstra National Aboriginal & Torres Strait Islander Art Awards exhibition. For the first time this year, the gallery in Darwin is accessible no matter where you live, as you can explore all 65 artworks on display via its virtual gallery. To give you a taste of what you can expect, we've picked out five artworks that drew our attention — and some of the stories behind them.

'NGALYOD AND KOLNG (PALM TREE)' BY PAUL NAMARINJMAK NABULUMO
One of the first works you'll see when you enter the virtual gallery is a hollow log burial pole painted with the image of a serpent. That's Ngalyod, the Rainbow Serpent, who is an important ancestral being for the Kuninjku people. Northern Territory painter and sculptor Paul Namarinjmak Nabulumo, who lives and works in Yikkarrakkal Outstation, created 'Ngalyod and kolng (palm tree)' in 2020. He only paints depictions of his ancestral country, as, he says if he painted other people's "it would kill us". The 49 year old is the son of acclaimed artist Mick Kubarrku (who passed away in 2008), and Nabulumo says his father's art practice had a huge influence on his work. In this artwork, you can see Nabulumo's fine, elegant rarrk (cross-hatching) work and the Rainbow Serpent emerging from a palm tree (kolng) at an important site called Dilebang. It's believed that Ngalyod supports the growth of water lilies, vines and palms that grow around freshwater sources.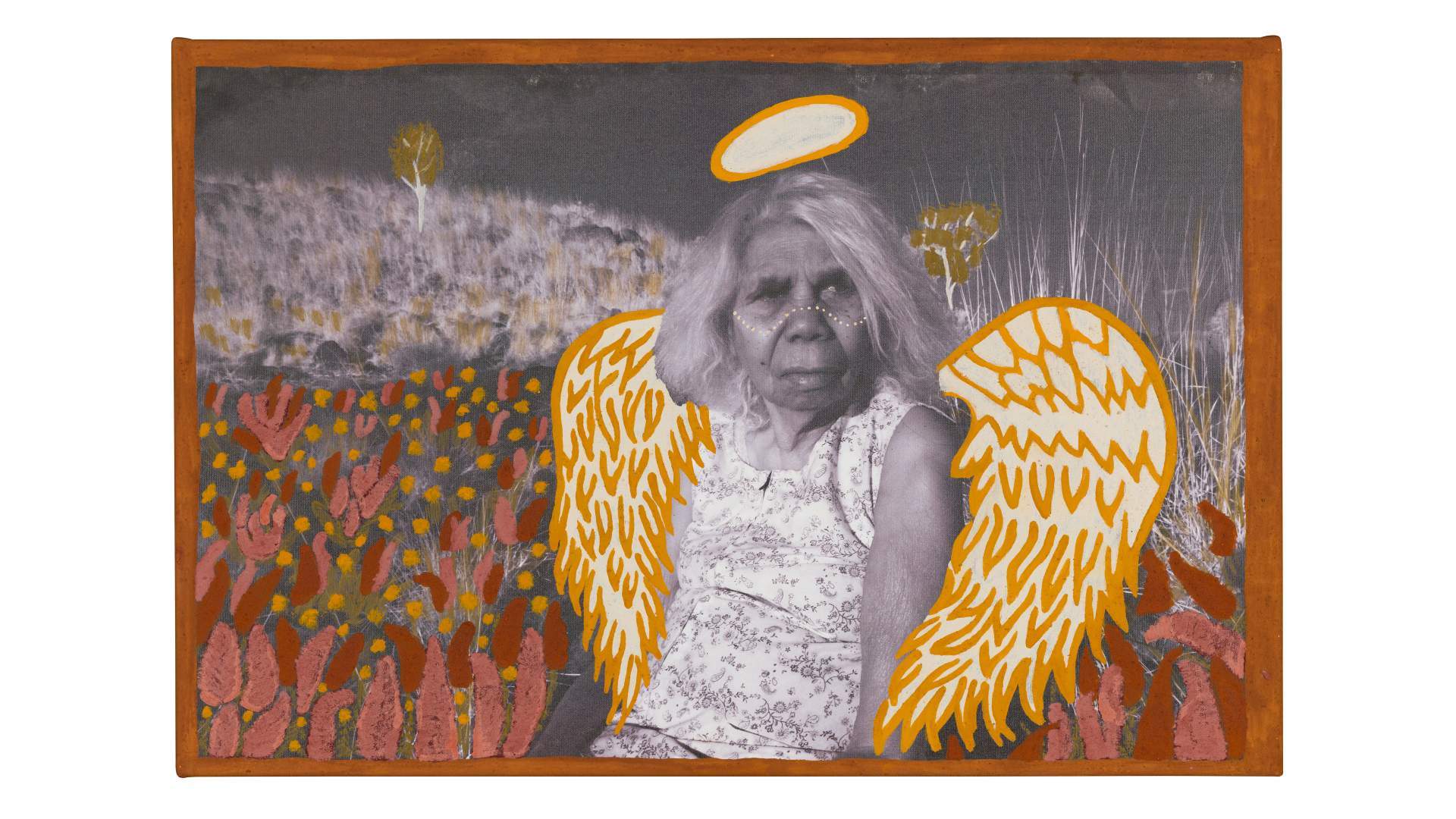 'MUM BETTY' BY BESSIE DAYLIGHT
In the same gallery space, point your cursor to a picture on the wall of a woman with angel wings. Western Australian artist Bessie Daylight has adorned a digital print of her mother Betty Carrington (also an artist) with a halo and wings to show just how precious our mothers are. "She worked all her life supporting us children," says the 53-year-old artist from Warmun Aboriginal Community. "Mothers are angels in disguise and we don't appreciate what our mothers do." Daylight says she painted Joonba dots on her mother's face as when Bessie was growing up, Betty was always singing and speaking in language. She grew up with traditional lore and culture and, along with other senior women, taught Daylight how to collect, grind and paint with natural ochre. "She is a mother, a grandmother, a friend. She is a councillor, a support person to many who come in contact with her, and she's an artist in her own right," says Daylight.

'EUM NORR (DYING REEF)' BY JIMMY K THAIDAY
Digital metres away from 'Mum Betty' is a display unit, on top of which is Torres Strait Islander artist Jimmy K Thaiday's work 'Eum Noor (Dying reef)'. Thaiday has used clay and reclaimed ocean rope to make a statement about our ongoing environmental impact on the Great Barrier Reef. The 32-year-old artist says the balls represent the isolated bleaching incidents on the coral reef as the sea temperatures rise. They "bloom like flowers". The artwork is a timely reminder of the importance to care for our planet, and especially our waters. For the artist, whose clan is Peiudu, one of four tribes on Erub (Darnley Island), the waterways and the reef play a vital part in his daily life and culture. "We do not want to see our reefs suffer the fate of other coral reefs," he says. The netting used in his art has drifted into the water where he lives. "I feel that by combining clay with reclaimed rope, I can highlight an important message: look after the sea and the sea will look after you."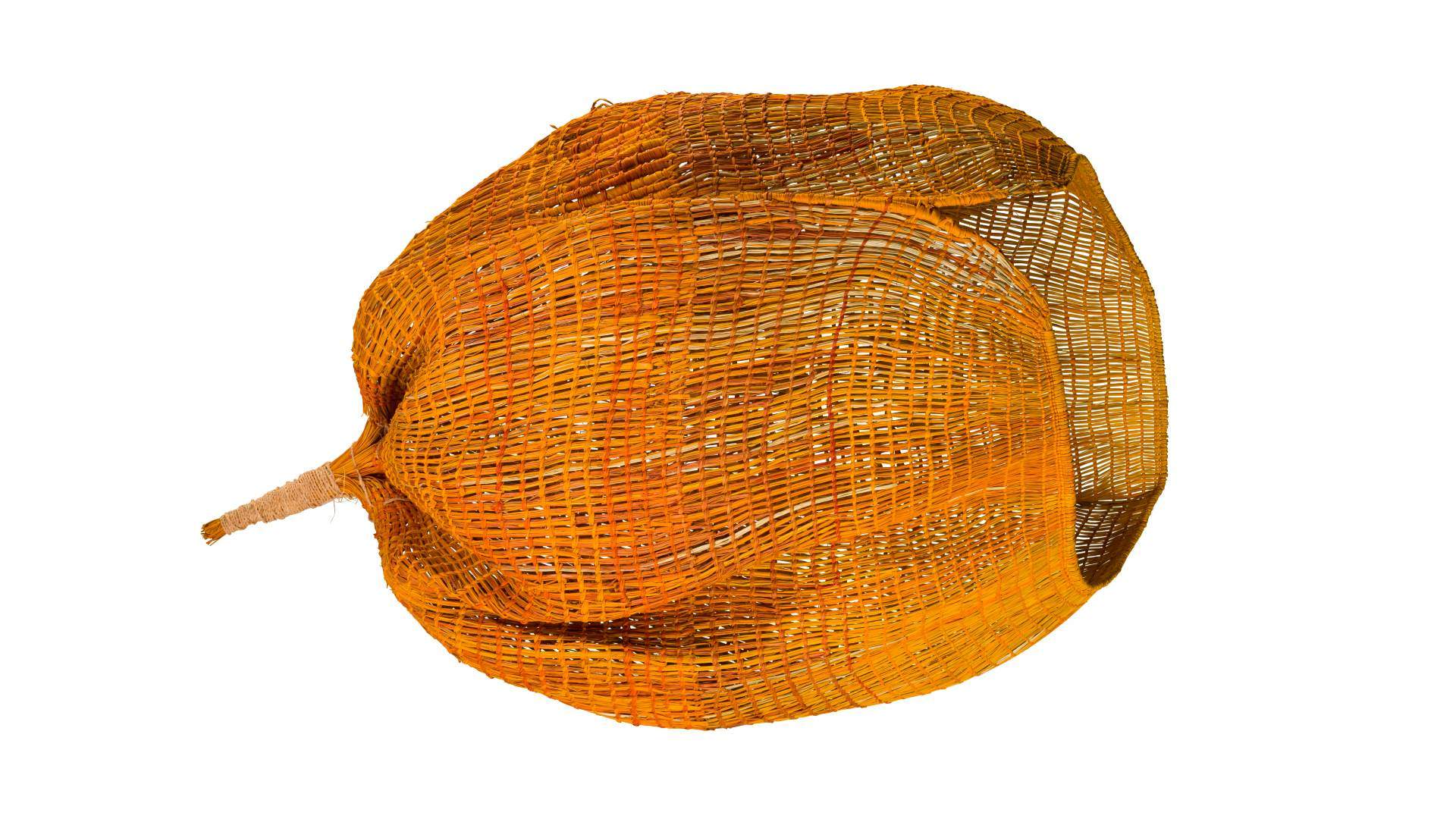 'BATJBARRA' BY MARY DHAPALANY
Click through to the second exhibition room to find Mary Dhapalany's 'Batjbarra' (2019), seemingly suspended from the gallery ceiling. The Northern Territory artist and Mandhalpuy woman has been a practicing artist for four decades, and her weaving artwork is representative of traditional craft passed down through generations of women weavers in her family. The 70-year-old artist uses natural dyes, extracted from earth pigment or plant roots, to colour the pandanus leaf (gunga) used in her work. Batjbarra is the name of a scooping object that's used to gather water chestnuts (rarrgi/rakayi), and the artist has honoured the traditional object with her choices of colour, size and perspective. You can take a 360-degree view of the work in the virtual gallery.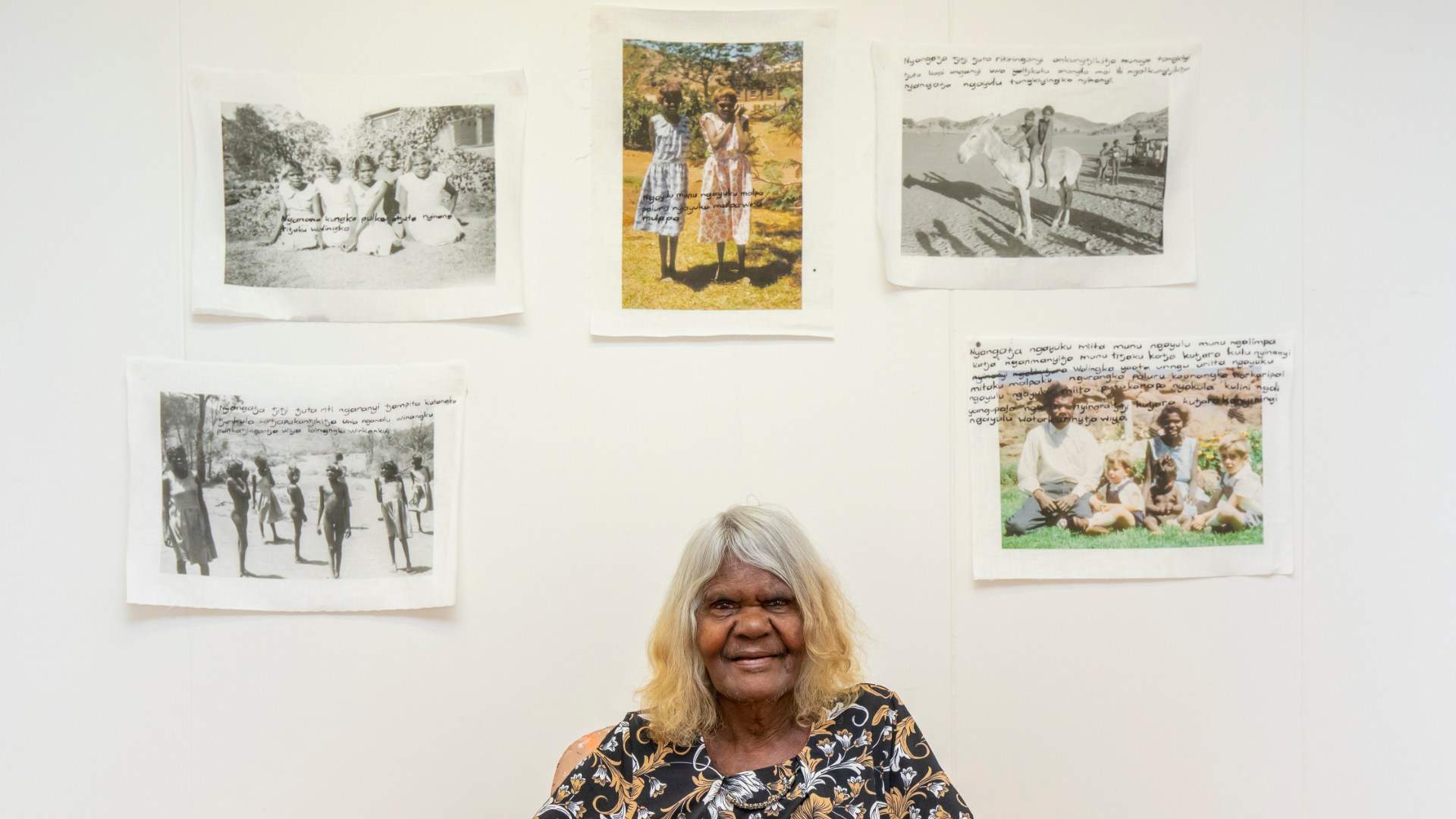 'MY STORIES FROM ERNABELLA MISSION' BY NYURPAYA KAIKA BURTON
Found in the far exhibition room, to the right of 'Batjbarra', is a photographic work by South Australian multidisciplinary artist Nyurpaya Kaika Burton. Three black and white photos printed on Belgium linen are covered in writing, in Pitjantjatjara language. Burton, who is a longstanding director of Tjala Arts in Amata Community and chairwoman of the APY Art Centre Collective, wants to share the stories of her time growing up at Ernabella Mission. The now published author, singer, weaver and former teacher, says she started going to school there without any clothes. The 71 year old says, "We lived the traditional way, in a wiltja (shelter), no house with no clothes, a long way from the mission." Burton says she walked to school every day, hungry to learn. "We'd get water from the hose to shower, and after the shower we'd wait for the bell to ring and we'd line up ready to go in." Burton's images are of her and her brother on a donkey's back looking for wild figs, of children and teachers playing games, and of teenagers sitting in front of a teacher's house. "I loved learning to read and write and still do today."

Discover more artworks in the Telstra NATSIAA exhibition, here.
Top image: Charlie Bliss
Published on September 09, 2020 by Emma Joyce