ARTS & ENTERTAINMENT
Inside the Wonderful World of Girl Asleep Designer Jonathon Oxlade
Meet the Wes Anderson-like brains behind Belvoir's current onstage production (and the film it inspired).
in partnership with

"The worlds that we create are heightened and slightly larger than life," says artist, designer and maker Jonathon Oxlade. It's a credo he's carried across multiple stage productions, including Faustus with Bell Shakespeare and Wizard of Oz with the Windmill Theatre Company. Helpmann-nominated for his work on School Dance and Pinocchio, he's been covered in design gongs, notably the prestigious Sidney Myer Creative Fellowship this December and an AACTA award for Best Costume Design.
Oxlade's most high profile project is Windmill Theatre's production of Girl Asleep, the coming of age story of Greta, 14, very shy and starting life at a new school. On her first day there she meets the geeky Elliott and they develop an unlikely friendship. Her life and all its inherent confusion stays private until her parents throw her a massive 15th birthday party and all her internal chaos spills over. Together with writer Matthew Whittet and director Rosemary Myers, Oxlade helped bring the stage play to life in Adelaide in 2014 before translating the play into a widely celebrated feature film. Currently, the trio are masterminding a run of the play at Belvoir.
We caught up with Oxlade to talk film, design and what this renaissance man has planned for the future.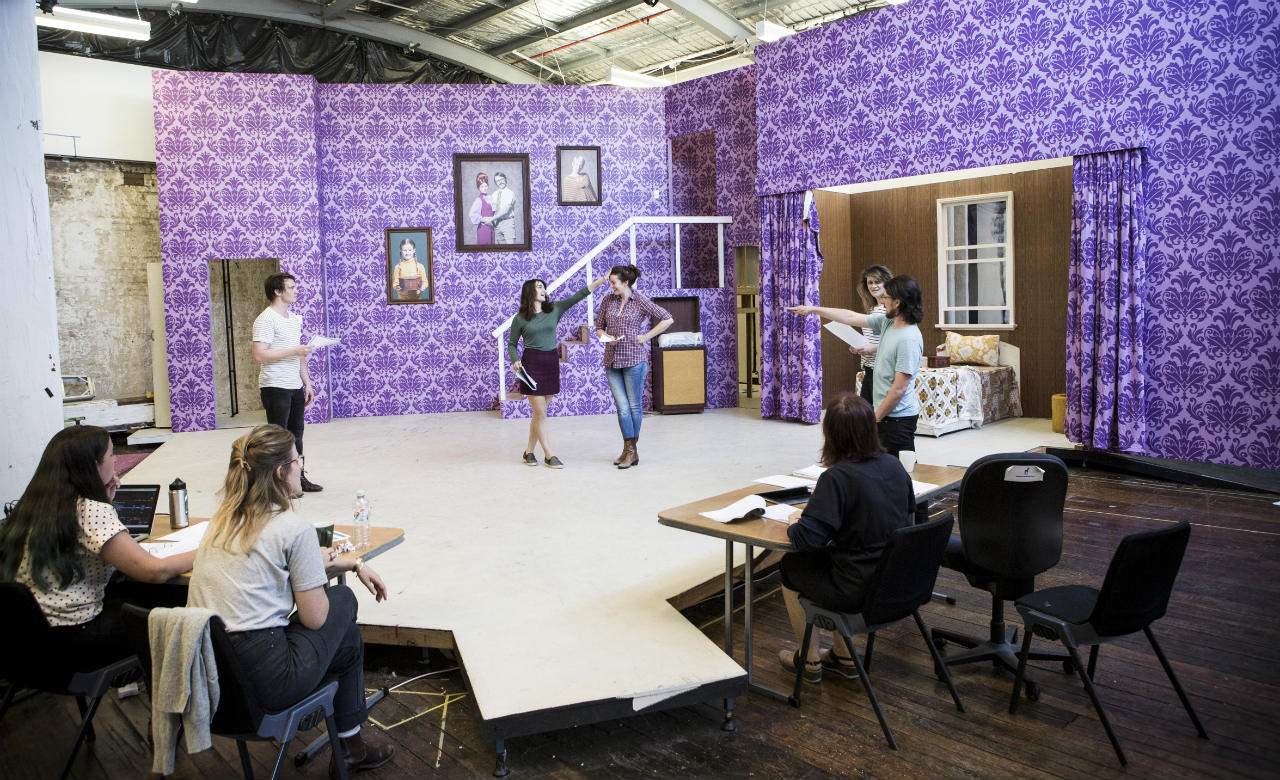 ON WAKING UP GIRL ASLEEP
Without a doubt, Oxlade is one of Australia's most whimsical theatre designers, having studied illustration and sculpture at the Queensland College of Art. "A lot of my work is in magical realism and fantasy," he says, listing Jean-Luc Godard, Japanese film and even Bjork as creative minds that ignite his own. Each of Oxlade's projects exudes a certain nostalgic eccentricity, almost lending a living, breathing personality to the set itself. "With most of the shows that we make at the Windmill Theatre, the scripts or the ideas treat the sets and design like a character," he says, and you can see what he means with the set of Belvoir's current run of Girl Asleep, a bold, playful personality dressed in the bright, phantasmagoric garb of the 1970s — just look at that bright purple wallpaper. Oxlade is quick to stress, however, that, "it's our version of the '70s — it's not an historic piece."
The play's script lends itself to a vivid reimagining on stage. "Matt [Whittet] writes, very visually," he says, and a whole swathe of unexpected influences combine to create evocative aesthetic of the play. "The whole team is heavily influenced by a lot of different genres," he says, "including film. A lot of our references when we make theatre are film references, and a lot of the other references are photography and graphic novels." The design of the play shares a stylised composition that's heightened in colour, illuminating shared influences with legendary director, Wes Anderson. "They're his signatures," Oxlade says, "but people have been doing that for a really long time."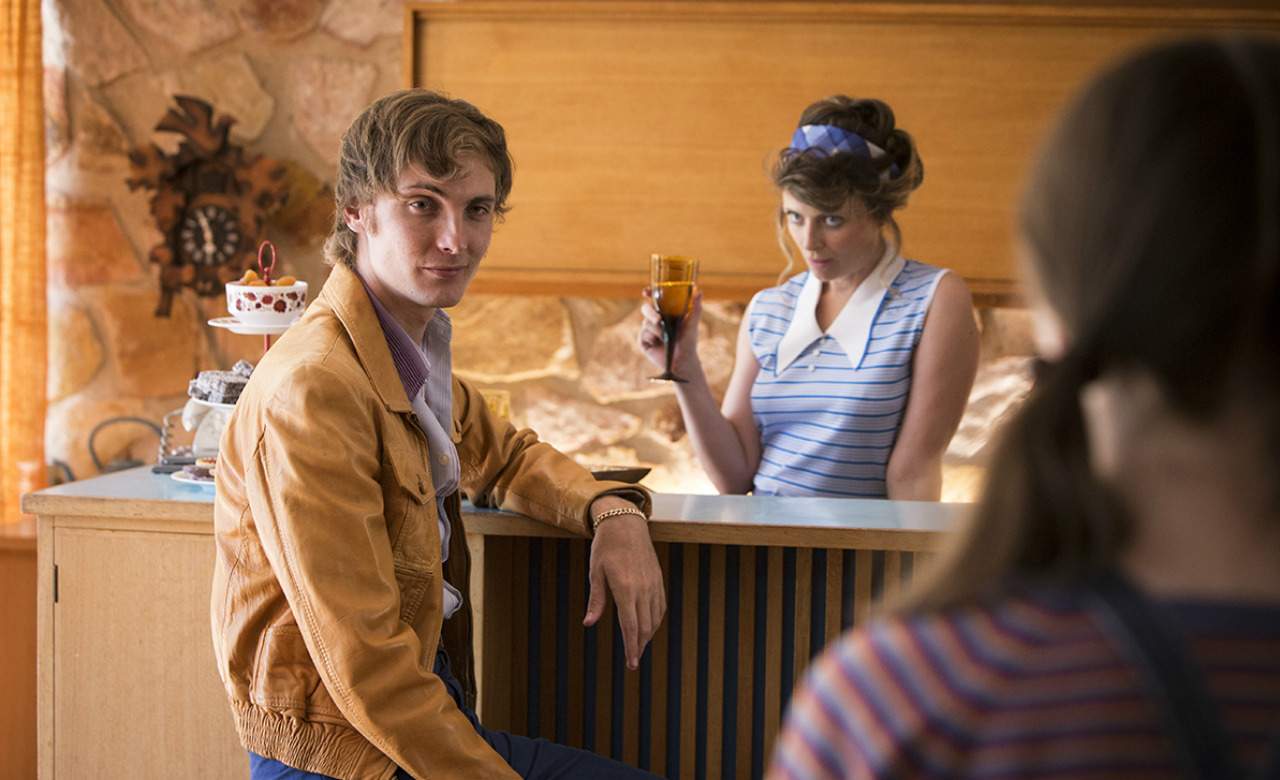 ON TRANSLATING STAGE TO SCREEN
Onstage, Oxlade's bright, Wes Anderson-like designs physically frame lead character Greta's world, a whimsical but recognisable landscape sitting on the cusp of adulthood. Moving this kind of set into a cinematic situation was a welcome challenge for Oxlade. A success with critics and audiences alike in 2016, Girl Asleep was Oxlade's first foray into the world of film, allowing his stage design to develop into new, free territory. "The film has a really obvious, kind of fractured space that works for the psychology of what Greta is going through," he says. "Visually, we could do so much more, so we did so much more!" Not bound by the need to create a space on stage that "forms a metaphor for every space in the script", Oxlade found a certain freedom in bringing the play to the big screen. "In terms of the design, it grew a lot more," he says. "In theatre, there's an abbreviated design world, but in film we have the opportunity to make some really special places."
ON WHAT'S NEXT
In early December, Oxlade was awarded the prestigious Sidney Myer Creative Fellowship — a peer reviewed fellowship granted for outstanding talent and exceptional courage. "It's an amazing privilege," he says, though Oxlade is clearly not a man to rest on his laurels. Instead, the plan is to keep on keeping on. "It's a compulsion for me to make things," he says. "So I'm just going to keep on doing it and hopefully people like it." And, with a work ethic and a creative eye that sees more than the Eye of Sauron, it's hard to see how people won't.
Girl Asleep runs at Belvoir Theatre until December 24. Book tickets and find more info on Belvoir's website.
By James Whitton with Imogen Baker.
Published on December 13, 2016 by James Whitton