Ten Must-See Films at the 2021 Alliance Francaise French Film Festival
This year's standout features will take you to the busy streets of Paris, France's greenery-filled countryside or the country's scenic coastline back in the 80s.
Long before we were all forced to indulge our international wanderlust through a screen — and only though a screen — the Alliance Francaise French Film Festival was projecting France's wonders into Australian cinemas. For the past 31 years, the annual event has let Aussie movie buffs see the European nation's newest, best and brightest flicks. And when you're watching French features, you're often watching films set against Paris' busy streets, the country's greenery-filled countryside or along its scenic coastline.
As it always does, the 2021 festival traverses plenty of France through its big-screen lineup. City-set dramas, suburban comedies, beachside romances: they're all on this year's bill. In total, 37 films are hitting cinemas Down Under throughout March and April, in a touring program that's making its way around the nation. Wondering what to check out? We've planned your movie-watching itinerary for you, all thanks to our ten must-see picks.
SUMMER OF 85
Nothing is ever simple in a film by François Ozon, as the likes of 8 Women, Swimming Pool, In the House and By the Grace of God has already made plain across his 19-feature resume. So, when Summer of 85 makes viewers swoon over its blossoming seaside love story — and makes teenager Alexis (Félix Lefebvre, School's Out) fall for the slightly older David (Benjamin Voisin, Moving On) when the latter rescues the former after capsizing in a sailboat — no one should get comfortable or cosy, or think that a complication-free romance will float easily and effortlessly across the screen. Alexis falls hard for his new friend, who is one of the only people he has connected with since moving to Normandy. But, unfolding across two timelines as the 16-year-old looks back on his time with David, this becomes a knotty tale of love, heartbreak and forging one's identity out of defining moments. Writing as well as directing, Ozon adapts Aidan Chambers' 1982 novel Dance on My Grave with his usual swelling mood and command of detail — and from the pitch-perfect period fashions to the coastal setting, Summer of 85 catches the eye as much as it demands the audience's emotional investment.
SKIES OF LEBANON
Heartfelt and hauntingly evocative, Skies of Lebanon starts its story in the 50s, when Alice (Alba Rohrwacher, Happy as Lazzaro) departs Switzerland for Beirut. Never feeling as if she belongs in her homeland, she jumps at the chance to work abroad, where she quickly meets, falls for and starts a family with astrophysicist Joseph (Wajdi Mouawad, Still Burning). That part of the tale happens quickly, because this isn't the kind of romance where a couple simply lives happily ever after. Indeed, once the Lebanese Civil War begins, the ebbs and flows of Alice and Joseph's existence are wholly dictated by the combat, which instantly changes the mood of the entire city. Making a stunningly affecting feature debut, writer/director Chloé Mazlo plunges into the reality of having everything you hold dear touched by conflict, with her narrative drawn from her grandmother's recollections from the time. The always-exceptional Rohrwacher conveys Alice's internal struggle in a quietly expressive performance, while Mazlo's jumps into playful animation and striking use of stylised sets gives the film the air of a memory, helping an already moving feature to keep landing stirring blows.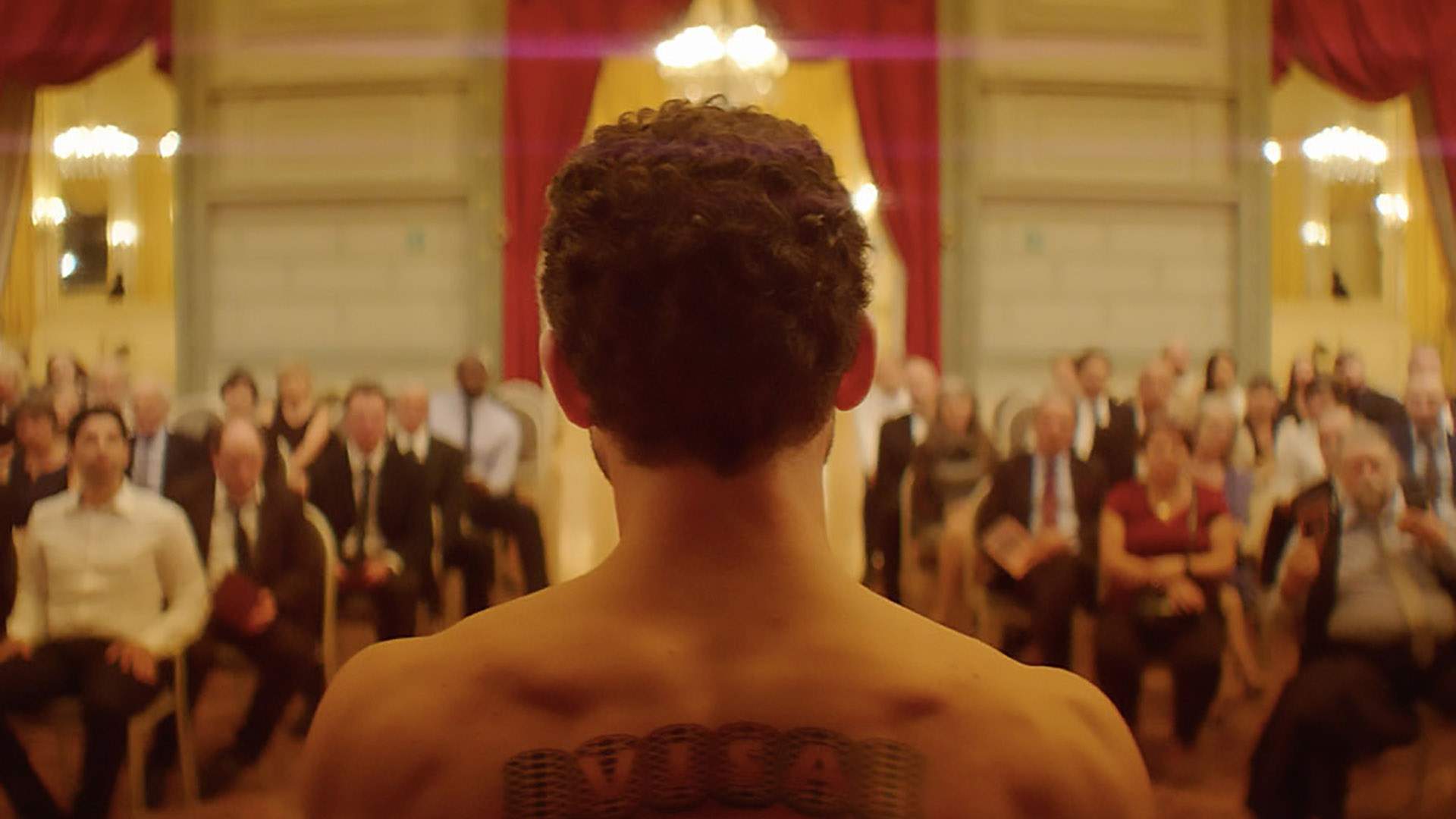 THE MAN WHO SOLD HIS SKIN
Back in 2017, when The Square clawed through the commercialisation and commodification of the art world, it won the Cannes Film Festival's coveted Palme d'Or for its efforts. Fellow satire The Man Who Sold His Skin doesn't have the same accolade to its name, but it's just as savagely entertaining as it rips into the same topic. The man of the movie's title is Sam Ali (Yahya Mahayni, Opium). A Syrian refugee in Lebanon, he accepts a strange offer from an acclaimed, controversy-provoking artist (Koen De Bouw, Torpedo) to have Europe's Schengen visa tattooed on his back. He'll also receive assistance to obtain the real thing, as long as he agrees to sit in art galleries as a living exhibition whenever he's asked. If that last part sounds familiar, Wim Delvoye's Tim, which is live-streaming at Hobart's Museum of Old and New Art, provided writer/director Kaouther Ben Hania (Beauty And The Dogs) with inspiration for The Man Who Sold His Skin. That said, this whip-smart and wild movie takes its own ride. The great Monica Bellucci (Twin Peaks) also pops up, but a film this vivid, clever and ferocious about art, money, freedom, borders and the way the world treats asylum seekers doesn't need a star to stand out.
THE GODMOTHER
With the inimitable Isabelle Huppert at its centre, and a premise that owes a debt to Weeds and Breaking Bad, The Godmother strikes a crafty balance between comedy, drama and thrills. The Greta and Happy End star (and Elle Oscar-nominee) plays Patience Portefeux, a translator who works with the Paris police on narcotics cases. During a routine job listening to wiretapped phones, she decides to prevent the big bust that'd make her boyfriend Philippe's (Hippolyte Girardot, Marseille) career, steal the enormous stash of hash after redirecting the cops' attention and take up a side hustle as a wholesaler to street-level dealers. Her motivation: money, with the long-widowed mother of two attempting to secure her financial future in a world that's hardly accommodating to single, middle-aged women. Adapted from Hannelore Cayre's book of the same name by the author with director Jean-Paul Salomé (Playing Dead, Female Agents), The Godmother is unsurprisingly lifted by Huppert, as everything she stars in is. Still, this lively and engaging crime caper is helmed with a light touch, as well as a keen awareness of the material's deeper moments.
DELETE HISTORY
Following three French suburbanites who are each intensely unimpressed with today's always-online times, Delete History is a satire for anyone that's ever felt tired of social media's hold on their lives; of the likes, favourites and ratings that now dictate much of human interaction; and of the fact that every word, text, video and action can last forever in the digital world. All residents of the same masterplanned community, the recently separated Marie (Blanche Gardin, #Iamhere) is being blackmailed over a sex tape she can't remember starring in, widower Bertrand (Denis Podalydes, La Belle Époque) keeps writing letters to Facebook over his teenage daughter's cyberbullying, and ride share driver Christine (Corinne Masiero, Invisibles) can't seem to amass more than a single star from her customers. Banding together in a film that's always purposefully odd and absurd, and yet also clearly grounded in relatable situations and emotions as well, this trio decide to take matters into their own hands in increasingly offbeat ways. Writer/director duo Benoit Delepine and Gustave Kervern (I Feel Good) don't deliver an earth-shattering insights about modern-day life, but in a quickly memorable movie, they do serve up a wealth of wry laughs.
IBRAHIM
An on-screen presence in everything from TV's Spiral and The Returned to films such as In the Name of the Land and The Transporter Refuelled, actor Samir Guesmi makes his feature directing and screenwriting debut with the sensitive and moving Ibrahim. He also co-stars, playing waiter and single father Ahmed Bougaoui; however, the movie's real point of focus is the titular teenager (Abdel Bendaher, How to Make Out), his character's son. After sliding into shoplifting with his friend Achille (Rabah Nait Oufella, Nocturama), getting caught and leaving his dad with a sizeable debt, Ibrahim is torn in two directions. He's determined to make things right for his already-struggling father, even if that means further flirting with crime. With Ahmed sternly condemning of Ibrahim's new direction, the latter is also a ball of pain, uncertainty and unhappiness. Both Guesmi and Bendaher turn in exquisitely layered performances as a father and son weighed down by life's disappointments but, despite their hurt and heated feelings, always tied together. And, as a filmmaker, Guesmi tackles the coming-of-age genre with naturalistic flair — visually, and in exploring his intricate characters.
CALAMITY, A CHILDHOOD OF MARTHA JANE CANNARY
If you've ever watched Deadwood, as everyone should've, then you've already seen one version of Martha Jane Cannary on-screen. The American frontierswoman better known as Calamity Jane has been immortalised on television and in film many times, including in the 1950s Doris Day-starring musical that shares her nickname — but Calamity, A Childhood of  Martha Jane Cannary steps back to the real-life figure's formative years. While telling her tale through gorgeous minimalistic animation filled with deep and vibrant blues, greens and purples (and with breathtaking renderings of America's sprawling landscape, too), this all-ages gem does't pretend to stick to the facts. Instead, it spins Cannary's youth into an 1860s-era adventure set on and around the Oregon Trail. Director and co-writer Rémi Chayé already has 2015's Long Way North to his name, and also worked on 2009's The Secret Life Of Kells, so he's no stranger to eye-catching animation. Here, he teams spectacular imagery with a spirited narrative, and the delightful end result won him the Best Feature Film award at the 2020 Annecy International Animation Film Festival.
NIGHT SHIFT
In Lupin, playing the titular master thief, Omar Sy continually skirts the law. In Night Shift, he stands on the other side, as one of three cops assigned to escort asylum-seeker Tohirov (Payman Maadi, The Night Of) to the airport — to be deported back to Tajikistan, where further torture and worse likely await. A tense drama that delves into topical subject matter, Night Shift splits its attention between Sy's Aristide and his fellow officers Virginie (Virginie Efira, Bye Bye Morons) and Erik (Grégory Gadebois, An Officer and a Spy). Each has their own story, took their own path to their present situation and deals with the demands of the job in their own fashion. With their current task, and the fate their prisoner is expected to face, each copes in their own way as well. Adapting Hugo Boris' novel Police, it's a testament to director and co-writer Anne Fontaine (The Innocents) that little here feels as straightforward as it sounds, even if it primarily remains in familiar territory. The top-notch cast assist considerably, with Efira pushed to the fore in a rare cop movie that noticeably values a female perspective.
MISS
When Misbehaviour thrust beauty pageants into the cinematic spotlight in 2020, it recreated real-life events from 1970 to call attention to the fight for equality — a battle that became worldwide news half a century ago, as covered in the film, but still hasn't been won in the 21st century. Because movies on similar themes often arrive in pairs, Miss also explores the industry, this time pondering gender identity and the norms that society has long ascribed to femininity. Since childhood, Alex (Alexandre Wetter, Emily in Paris) has dreamed of becoming Miss France. Uttering that goal as a boy earned laughs, and pursuing it as a twentysomething requires navigating a wealth of expectations, preconceptions and judgement. Playing a character that's confident in their heart but still learning to show the same assurance externally, Wetter brings grace, poise, texture and complexity to the central part, while filmmaker Ruben Alves (The Gilded Cage) ensures that Miss is rousing, charming and never as by-the-numbers as its feel-good premise signals.
MANDIBLES
In Mandibles, friends Manu (Grégoire Ludig, Bye Bye Morons) and Jean-Gab (David Marsais, The Nobodies) stumble across a giant fly. Freeing it from a car boot, they decide that they can train it, then profit. Yes, that's what this OTT film is about. Yes, it comes straight from the mind of Quentin Dupieux, because it really couldn't spring from anywhere else. The French filmmaker has already made movies about psychotic tyres and alluring jackets — in 2010's Rubber and 2019's Deerskin, respectively — so adding a big insect flick to his resume hardly comes as a surprise. His sense of humour is that absurd and distinctive and, if the film-viewing world is lucky, he'll keep reminding us of that fact with every new movie he makes. Dupieux's work isn't to everyone's taste, as you've either gathered by watching or just by reading the above right now; however, if you're on his out-there, surreal and often incredibly silly yet also disarmingly astute wavelength, it's a delight. And sure, multiple versions of The Fly already exist, but they're bound to look positively sensible compared to this.
The Alliance Française French Film Festival tours Australia from March 2–April 22, screening at Sydney's Palace Central, Palace Verona, Palace Norton Street, Chauvel Cinema and Hayden Orpheum Cremorne from March 2–April 5; Melbourne's Palace Cinema Como, Palace Balwyn, Palace Brighton Bay, Palace Westgarth, Astor Theatre, The Kino and Pentridge Cinema from March 3–April 5; Palace Raine Square, Luna Leederville, Windsor Cinema, Luna on SX and Camelot Outdoor Cinema from March 10–April 11; Brisbane's Palace Barracks and Palace James Street from March 17–April 15; and Adelaide's Palace Nova Eastend Cinemas and Palace Nova Prospect Cinemas from March 23–April 22. For more information and to buy tickets, visit the AFFFF website.
Concrete Playground Trips
Book unique getaways and adventures dreamed up by our editors