ARTS & ENTERTAINMENT
The Sugar Republic Team Is Bringing a Heart-Filled Pop-Up Museum of Love to Sydney
It'll feature a confetti shower, a Las Vegas-style Chapel O' Love, a mirrored room so you can adore your own reflection and a heart-shaped ball pit.
Usually, February is the month that gets hearts all aflutter. But if you're in the mood for romance this March and April, Sydney is about to welcome a new pop-up museum on that very topic. Called The Museum of Love, it's the latest venture from the folks behind the sweet-themed Sugar Republic. Expect the same kind of photogenic setup, but this time swapping out lollies galore for pink hues and oh-so-many hearts.
Remember the cartoon way of representing romance, where animated figures see hearts in front of their eyes as they go weak at the knees? That's what you'll be seeing, too, if you head along to the three-level installation. Open from Thursday–Sunday each week during its seven-week season, The Museum of Love will fill a warehouse with words about love, tokens of love, neon signs to fit the theme, rosy-coloured streamers, teddy bears and more. Yes, there'll be a heart-shaped ball pit that you can hop into, because of course there will be.
Among the pieces of art and lovestruck backdrops, plenty of different facets of types of love will be covered — including first crushes, weddings, platonic relationships with your mates, family bonds, self-love and heartbreak. From the 'rose-tinted glasses room' to the life-sized wedding cake, it has all been developed by Creative Nation, the aforementioned team behind Sugar Republic, in conjunction with emerging Sydney artists Jade Goodwin and Madeleine Golden.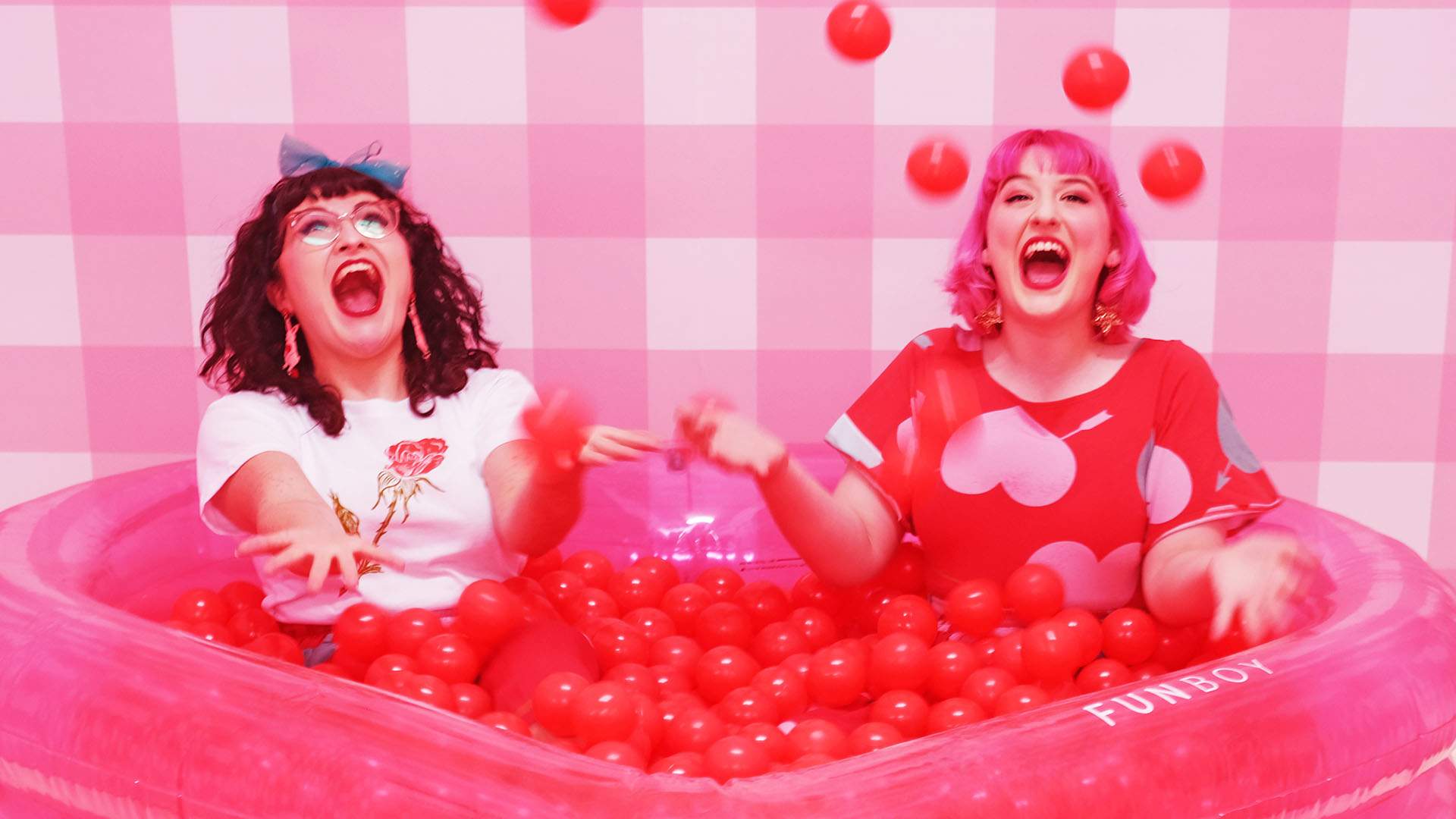 Other highlights span a wall filled with scents of romance, a mirrored room so you can adore your own reflection, a confetti shower, and a swing surrounded by flowers that's designed for attendees and their best mates. There's also a Las Vegas-style Chapel O' Love, and you can play the 'Perfect Pair' TV game show as well. Or, walk through the Teddy Bear Tunnel, take an awkward family portrait, then settle in at the Heartbreak Cafe.
If you're keen to fall head over heels for the pop-up, each ticket gets you an hour inside the museum, and costs $35.
Also, The Museum of Love is the first attraction as part a year-long Sydney program — so it seems that you can look forward to other yet-to-be-revealed Instagram-worthy pop-ups to follow.
Find The Museum of Love at at 47 George Street, Sydney from Friday, March 5–Sunday, April 18, open Thursday–Sunday each week. For further details, head to the pop-up's website.
Published on March 03, 2021 by Sarah Ward