ARTS & ENTERTAINMENT
These Are the Sydney Artisans Keeping Things Local, Ethical and Well-Designed
They're supplying the city with everything from stunning ceramics to completely original custom-made jumpers.
in partnership with

If your design tastes run towards the unique, the locally made and the sustainable, you should make a swift beeline towards Darlinghurst's Foley Street. An all-too-easy to miss laneway off Crown Street, this small pocket of Sydney is a veritable promised land of gorgeous homewares, fashion and accessories. Whether you're hunting for the perfect porcelain ceramic vase, in the market for a pair of handmade shoes or craving some artful cushions to festoon your sofa (and prop you up during your Netflix binging), odds are you'll find it in on Foley. We spoke to the passionate artisans and creative minds currently occupying the curated spaces about their origins, what makes their brand tick, and what they do to ensure their business is as ethical as it is aesthetically appealing. Have a read, and then go check it out for yourself.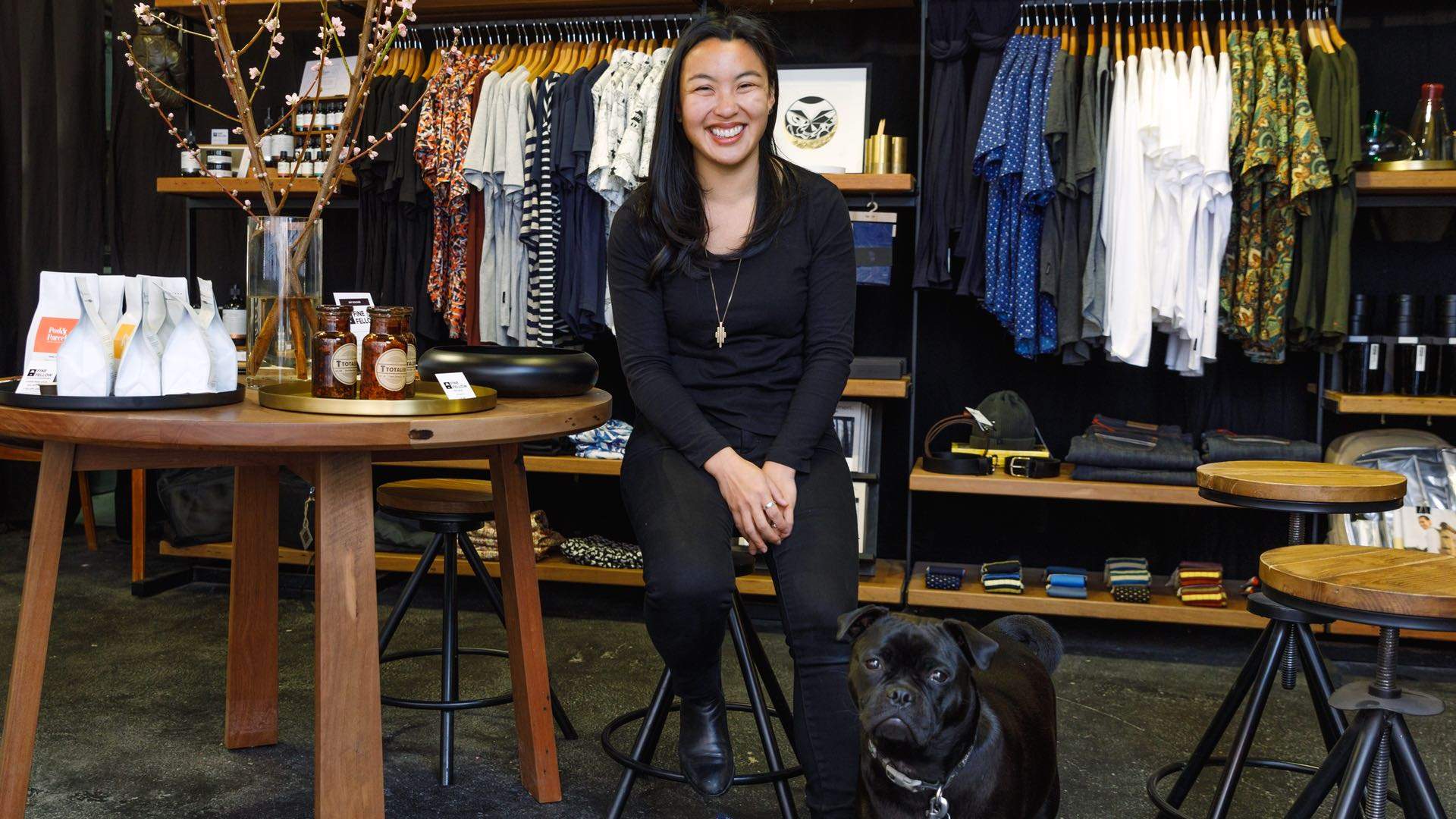 CLARA HO: FINE FELLOW
For Clara Ho, the ebullient founder of men's lifestyle store Fine Fellow, it's all about "buying less, but buying better". Stocking a luxurious array of carefully curated, exclusively Australian designs, style-savvy blokes — or anyone whose sense of style favours the sleek and masculine — can find everything here from accessories to fashion to homewares to grooming (fancy beard oil alert!). Whether she's discovered their wares at a market, spied them on Instagram or been introduced through mutual friends in the industry, Ho works closely with the designers she stocks, actively seeking those that share her values and aesthetic, which revolve around high quality design and sustainability. "The styles we stock are timeless and the quality is really impeccable. It's not going to fall apart after one summer," she says. Her favourite recent addition to the store? Handmade, gold-rimmed whiskey glasses and decanters from KAH, aka Sydney-trained, Adelaide-based glass artist Katie Ann Houghton.
Fine Fellow is open Monday, Wednesday and Friday 12–5.30pm, Thursday 12–7pm, Saturday 10am–4pm and Sunday 12–4pm. 


MARINA ROORDA: BERMUDA BLACK
Founded in 2016 by former graphic designer Marina Roorda, Bermuda Black is a label that seduces fans of refined, minimalist fashion incorporating subtle detailing and an avant-garde twist. Think elegant black leather brogues with hot pink lining (they exist here). From shoes to clothing to handbags, Roorda's aesthetic manages to strike a balance "between rawness and precision", combining her love of the conceptual with the practicalities inherent to hand-made design. Which, FYI, requires stamina: a single pair of shoes takes a minimum of 15 hours.
The brand takes care to source ethically produced materials, and minimises scraps by refashioning or donating smaller pieces — if you drop by, you'll most likely be able to catch a glimpse of Marina at work at the in-store atelier. Self-described "behind-the-scenes guy" Adrian Roorda says their inspiration to position the atelier in the rear of the store came from wanting people to "be able to experience first-hand what goes into making a pair of shoes, as well as the design process — that's not something you see very often".
Bermuda Black is open Monday, Wednesday, Thursday and Friday 11am–6pm, Saturday 11am–5pm and Sunday 12–4pm. 

NAOMI TAPLIN: STUDIO ENTI
Ceramicist Naomi Taplin grew up with clay. Her mother was a potter, and after studying fine arts, she made an instinctive journey towards ceramics. Since moving into her first shared studio space five years ago to her recent move into the spacious store on Foley Street, Taplin's elegant porcelain tableware, lighting and accessories have garnered a loyal following. Studio Enti's designs are beautiful, but they're also sturdy. They last. And like her neighbours, Taplin is diligent about working with local materials (Australian porcelain, to be exact) and embracing sustainability via a classic design aesthetic. "Once something's fired, it's permanent," she says. "If it's something faddy, it's a waste of material."
Moving into Foley St was a thrill for the designer, who relishes the interaction it permits. "Ceramics are something people want to touch, pick up and hold in their hands before they invest in it. I feel really lucky to get to talk to people and have a real conversation about the process."
Studio Enti is open Tuesday to Friday 10am–6pm and Saturday 10am–4pm.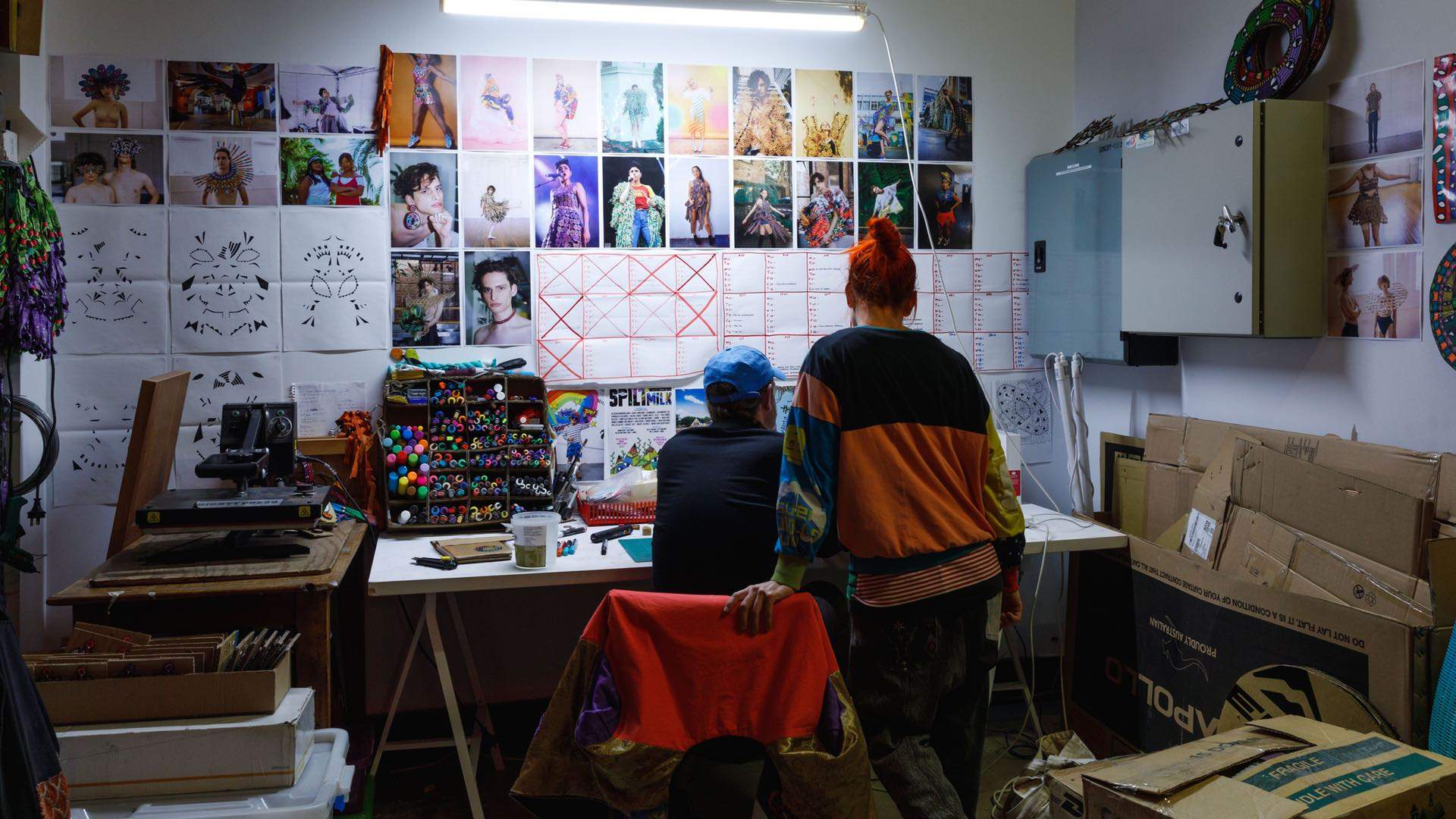 BEX FROST AND CHRISTIAN OLEA: SPUNKY BRUISER
For those not already familiar with fashion and accessories moniker Spunky Bruiser, its founders Bex Frost and Christian Olea sum up the brand's aesthetic as "distinctive, lusciously gritty and unapologetic". Celebrating sustainable design, the duo use recycled and reclaimed materials to hand-make one-off garments for men, women and kids, taking a firm anti-mass production stance and proudly turning the usual shopping experience on its head. Trends are ignored ("Our designs are made to be eternally relevant," say the couple), as is standard sizing (garments come in "you size").
Instead, the pair specialises in custom making pieces to suit not only a person's frame, but their personality too. This often means incorporating sentimental materials belonging to the client into the work — they're particularly known for re-working tapestries into eclectic, eye-catching jackets. They even offer to patch up any wear and tear for the lifetime of the garment! As Bex and Christian say, there's nothing quite like it out there.
Spunky Bruiser is open daily 11am–6pm.

Images: Steven Woodburn. 
Published on August 24, 2018 by Lucy McNabb