ARTS & ENTERTAINMENT
Amazing Bars Around the World
When it comes to mind-boggling designs, wacky themes and unique going-out experiences then these ten bars are a cut above the rest.
Amazing Bars Around the World
When it comes to mind-boggling designs, wacky themes and unique going-out experiences then these ten bars are a cut above the rest.
Sure, the animal heads adorning the walls of Shady Pines are pretty cool. And I like the faux Andy Warhol studio decor of the Oxford Art Factory as much as the next person. But when it comes to mind-boggling designs, wacky themes and unique going-out experiences then these ten bars are a cut above the rest.
For many bar-owners, the humble "pub" is not simply a local watering hole or after work hideaway but a sanctuary for unreal creative expression and a place where your most bizarre and bewildering fantasies can become a reality.
Here we present ten of the weirdest and most wonderful bars from across the globe with themes ranging from a mental asylum to under the sea and unbelievable locations such as inside a 6,000 year-old tree to a giant coffin.
Check out the photos below to see what a little bit of imagination, an incredible locality and a whole lot of money can do to transform your average bar into something straight out of a Stanley-Kubrick-on-LSD dream.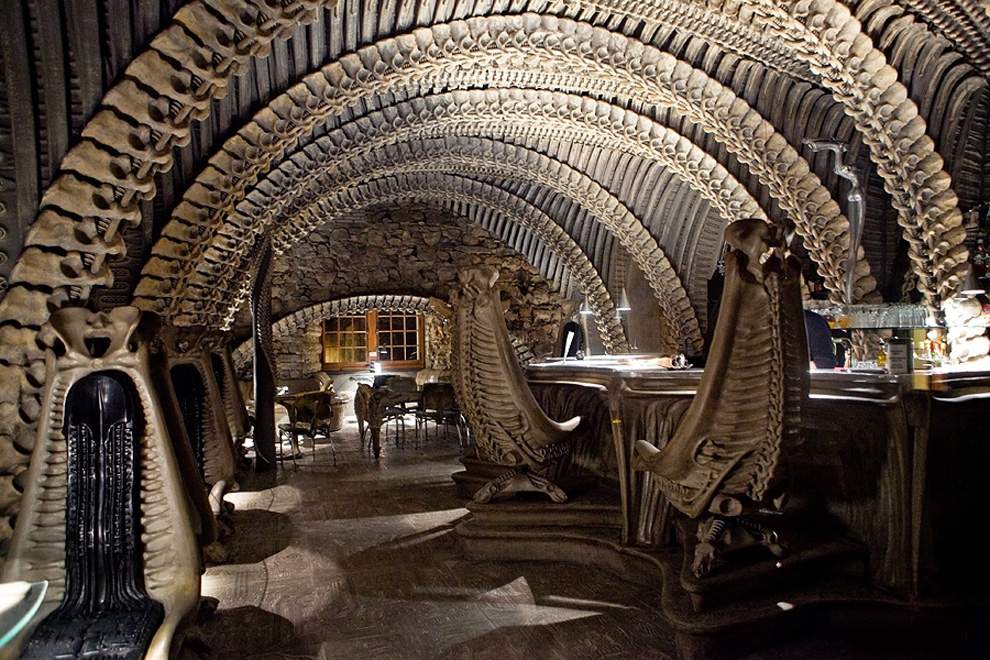 HR Giger Bar
Where: Chur, Switzerland
Designed by the manic genius that is Swiss artist H.R. Giger, Switzerland's two Giger bars are modeled on the artist's most famous creation: the nightmarish, intergalactic creatures in Ridley Scott's sci-fi masterpiece Alien. With its giant skeletal arches and torture device chairs, a trip to the Giger bars is an eerie and unnerving experience and provides customers with the distinct feeling that they have been transported into the belly of one of Giger's grotesque alien creatures.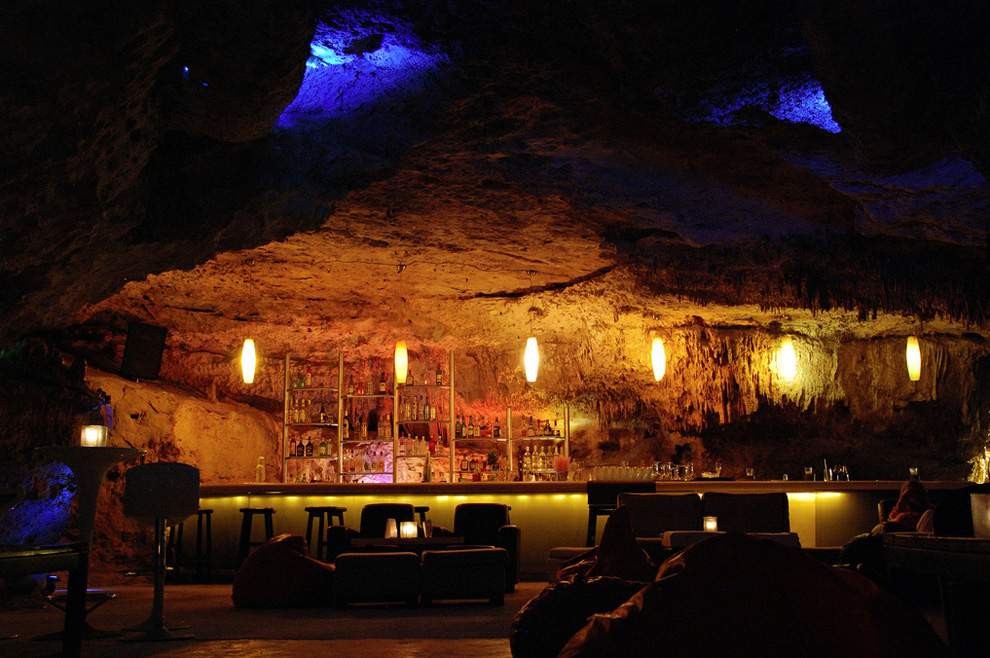 Alux Lounge
Where: Playa del Carmen, Mexico
If descending into the belly of the beast is not your idea of a good time then perhaps descending into a bar carved into an underground cave is more tempting. The bar is not one but a whole system of interlocking caves, with each cave playing host to a different form of nocturnal entertainment, and every room filled with an arresting array of stalactites and stalagmites that surround you on all sides.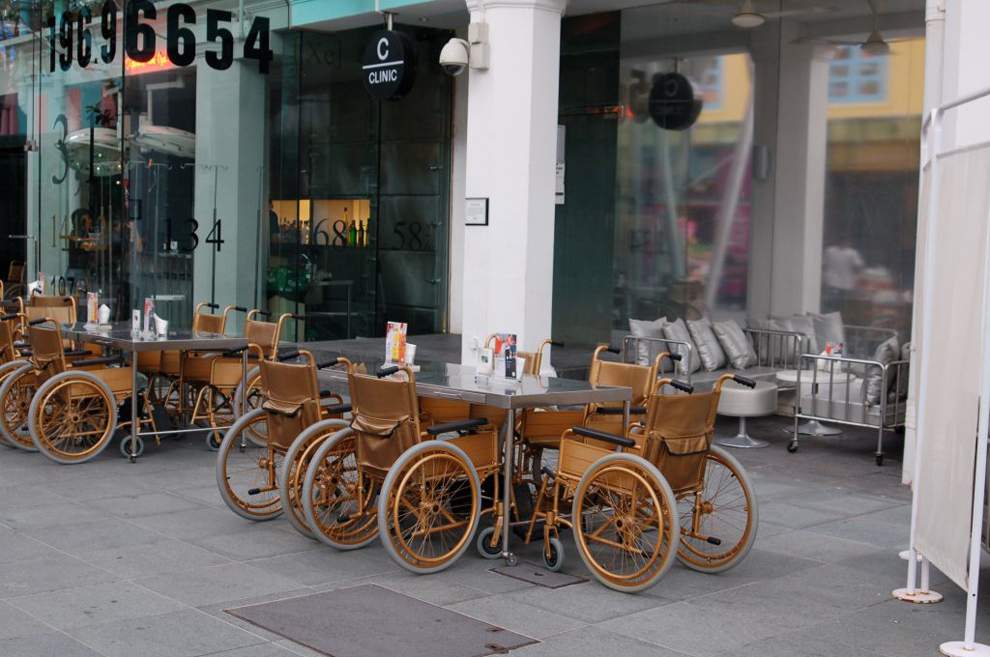 The Clinic Bar
Where: Singapore
As the name suggests, the Clinic Bar is a hospital-themed pub that pushes the boundaries of the imagination almost as much as it pushes the boundaries of taste. Some of the medical-themed highlights of this strange establishment include gilded wheelchair seats, hospital bed booths, operating room light fixtures and most peculiarly, drinks served in IV bags and test tubes.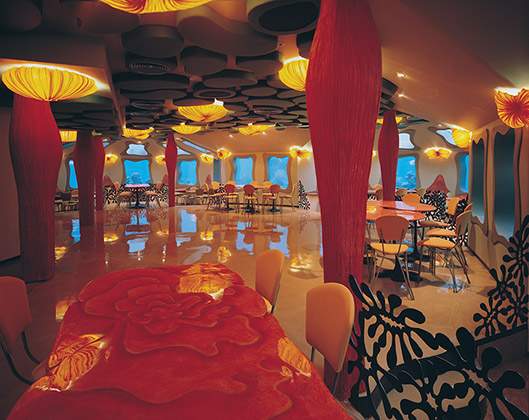 Red Sea Star Bar
Where: Eliat, Israel
While oceanic themed bars and restaurants can be found in just about every seaside town, the Red Sea Star Bar not only resembles an underwater palace but it is in fact located six metres under the Red Sea. Although it may sound camp and kitsch, the combined effect of the sand and sea urchin decor along with the panoramic views of the Red Sea's beautiful coral and sealife provides for an enchanting and fantastical experience unlike any other bar in the world.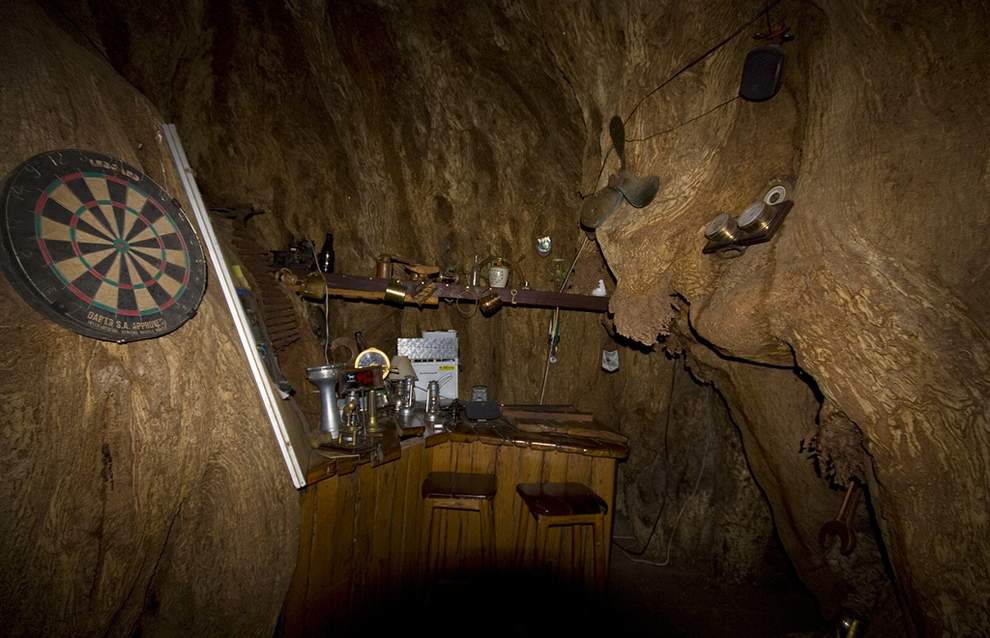 The Sunland Pub
Where: Limpopo Province, South Africa
The pub itself is really not much to look at. Consisting of a dusty old dart board, a collection of rusted knick-knacks and the tiniest of bar tables, the Sunland Pub resembles nothing more than a derelict family bar. Yet travelers and locals alike have been known to line up for hours at a time to get a peak of The Sunland Pub thanks to the fact that this remarkable pub is located in a giant Baobab tree. The tree is estimated at being more than 6,000 years old making it one of the world's oldest living trees.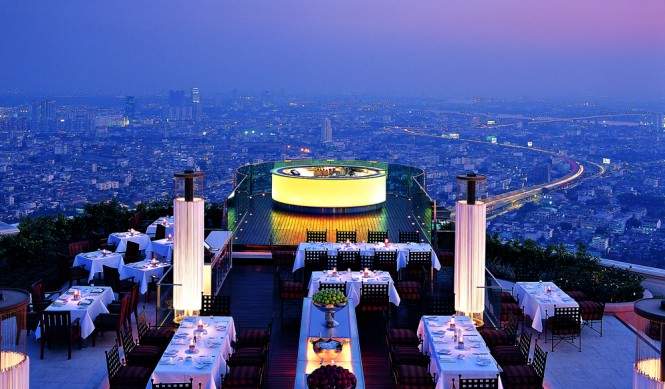 Sky Bar
Where: Bangkok, Thailand
Bangkok has become globally renowned for its beautiful collection of rooftop bars scattered across its sprawling metropolis. None of these bars however bare any comparison to the most famous of them all: the super-ritzy and unbelievably spectacular Sky Bar. Suspended above the city at a staggering 63 floors, the Sky Bar provides visitors with 360 degree views of the city and the majestic Chao Phraya River.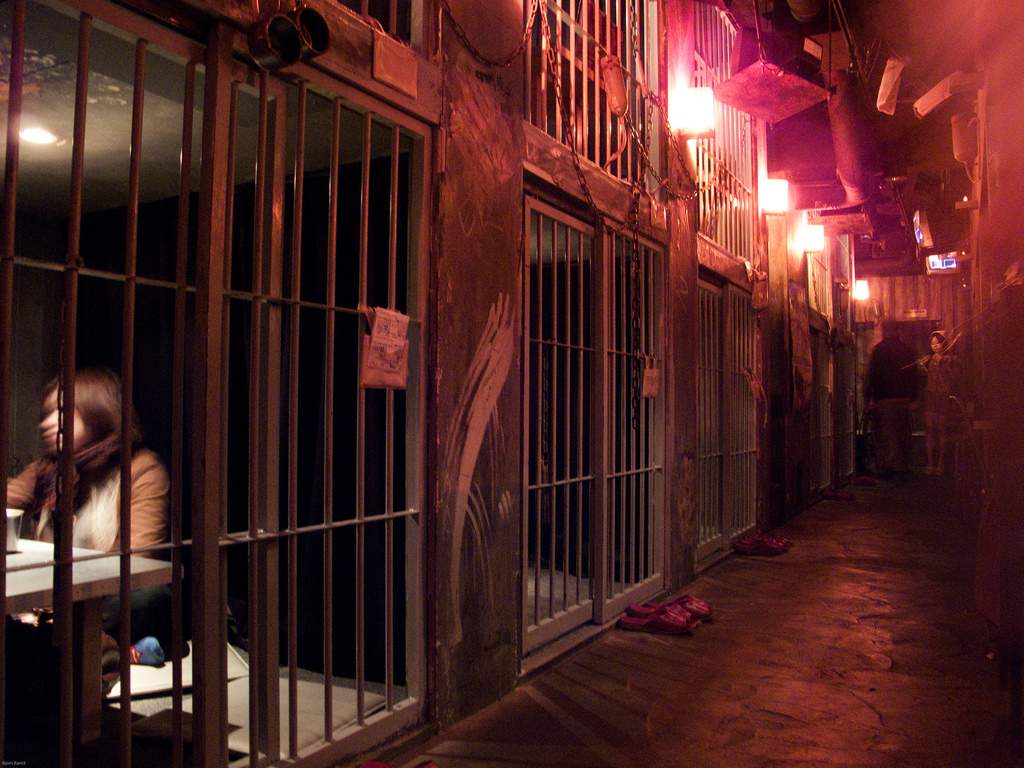 Alcatraz ER
Where: Tokyo, Japan
The weird and wacky tastes of Japanese party-goers has meant that Tokyo has become a hotbed for some truly bizarre themed bars. One of the city's oldest and undoubtedly one of its most deranged is Alcatraz ER, which provides visitors with an experience somewhere between a One Flew Over the Cuckoo's Nest style mental asylum and a medieval dungeon (no, actually). Customers are locked and chained up in prison cells, while waitresses dressed as nurses serve cocktails with names like "Acute Mental Stabilizer" and men with giant syringes terrorise the unsuspecting visitors. A class act through and through.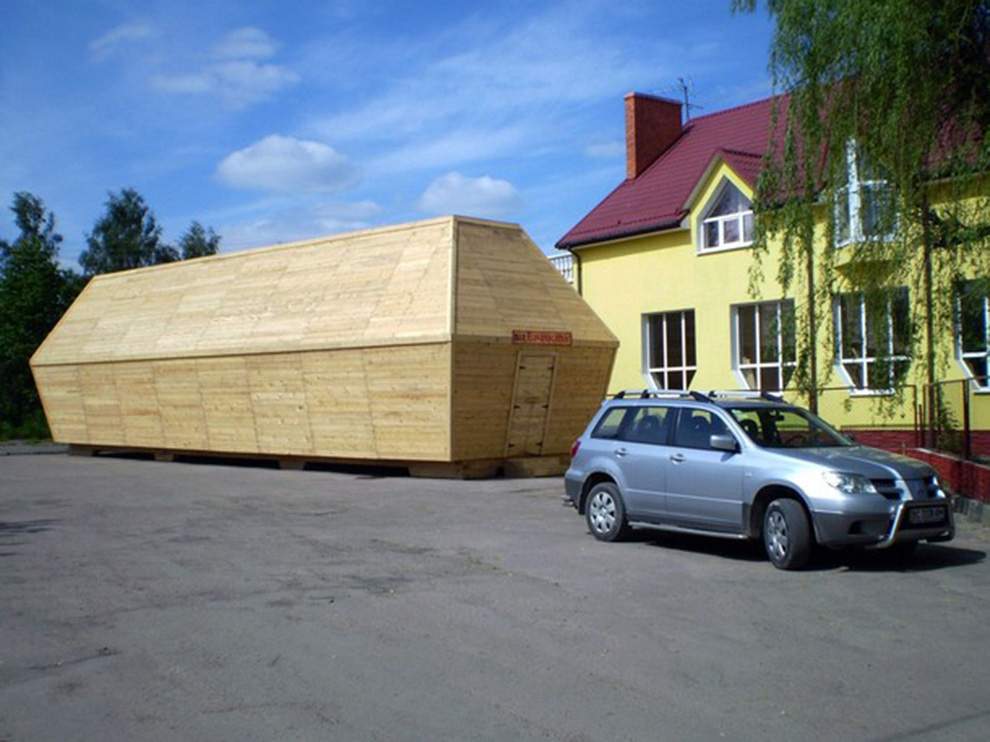 Eternity, The Coffin Bar
Where: Truskavets, Ukraine
On the theme of politically incorrect bars is the Ukraine's disturbing and aptly named "Eternity", which was designed to resemble a giant coffin. If the thought of drinking away your sorrows in the world's largest coffin doesn't scare you off then perhaps its equally chilling interior might, with the bar decked out with a highly tasteful collection of small coffin tables, novelty sized wreaths and cathedral-like lighting.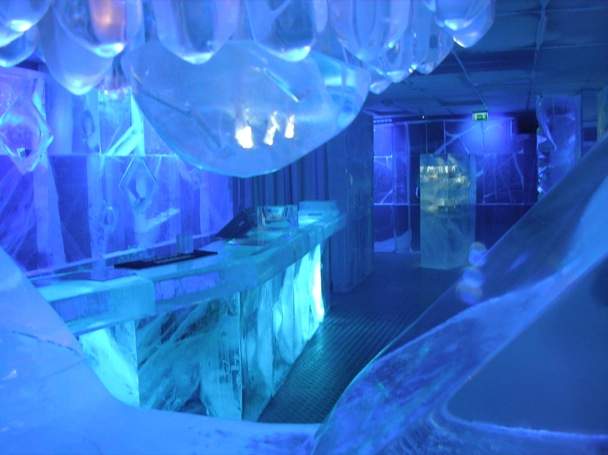 Ice Bar
Where: Stockholm, Sweden
The thought of an ice cold drink in an ice cold bar has taken the world by storm with ice bars popping up in major cities all over the world (including Sydney's very own Ice Bar and Minus5). The original, however, was Stockholm's Ice Bar, in which everything from the bar stools to the glasses you drink from are made from ice harvested from Sweden's Torne River. With the bar set at a frosty -5 degrees celsius and surrounded in Stockholm's stunning winter wonderland, this bar is the perfect place to chill out and grab a couple of cold ones.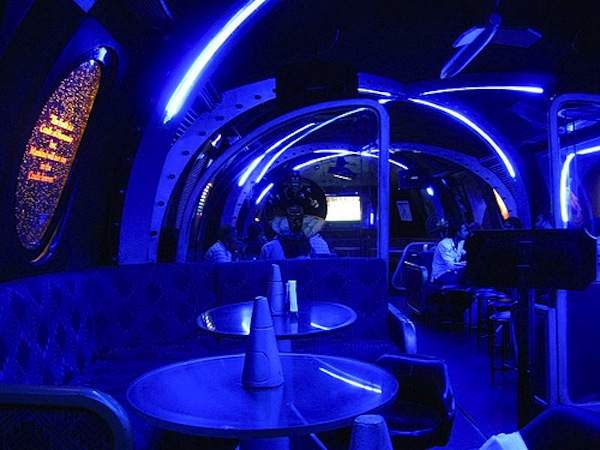 NASA Pub
Where: Bangalore, India
With waiters and bartenders that wear spacesuits, spectacular laser shows and all exits and entries shaped like space shuttle doors it is hard not to love Bangalore's most famous novelty pub. While most of us will unfortunately never get to experience what it is like to live aboard a NASA spaceship, this remarkable bar will take you on a celestial and otherworldly experience faster than you can say "open the pod bay doors, HAL".

Published on December 18, 2012 by Sean Robertson