Summer is here and with it the holy trinity of sun, sand and surf — and conveniently long days to enjoy them. But before you book your annual leave and leg it to the beach, plan your suncation. Now is the time to invest in sun safe essentials so you don't come out the other side of summer looking like a shrivelled raisin. And one of the most overlooked sun-safe accessories is a beach tent.
"A beach tent?" you shriek. "Good grief, I'm not 85!" Well, hold up now. Yes, beach tents may have started as a gaudy, fluorescent nightmare dotting the shore but the logic behind them is sound. And they've evolved way past the beach tents we remember as kids and they're the best way to keep the sun off. We've found some super cute ones that won't ruin your beach cred while you avoid the UV.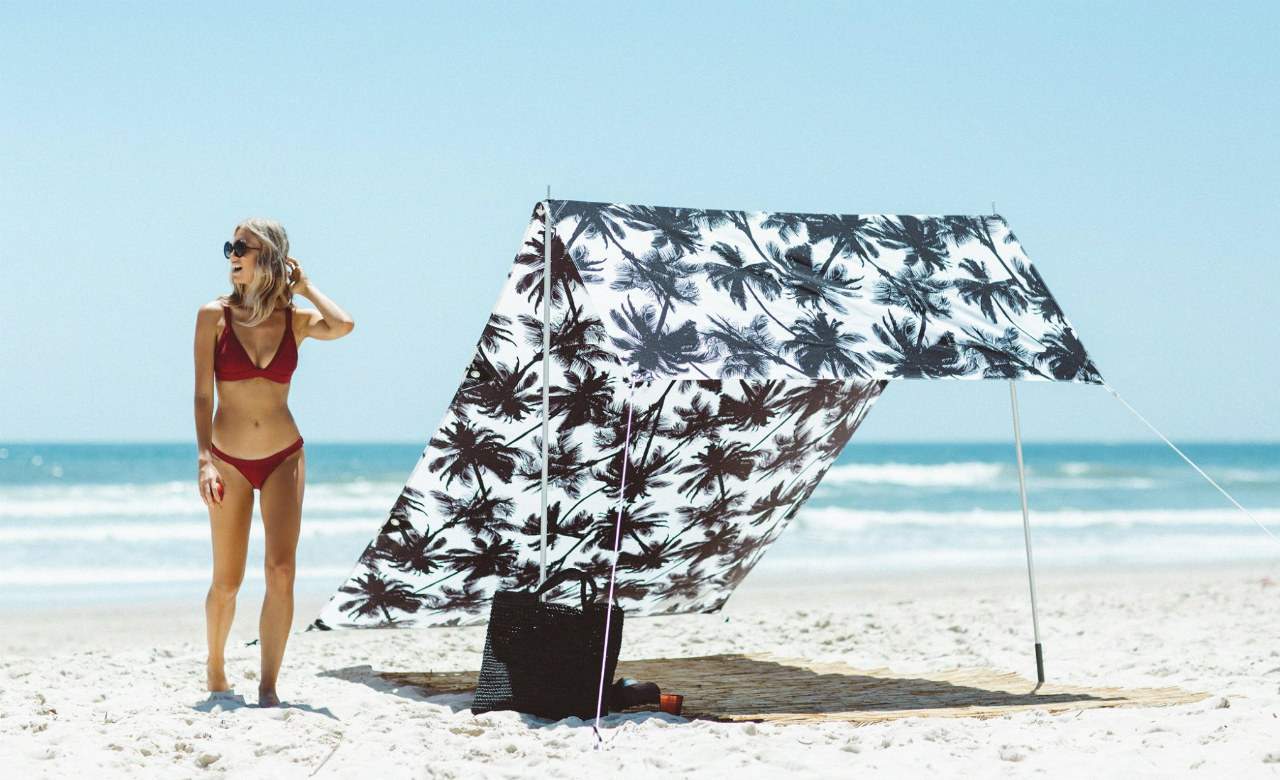 As if those gorgeous, vintage tropical prints weren't sweet enough, these tents by Byron Bay Beachlife have clearly been designed by someone who spends a lot of time on the beach. How can we tell? They're designed to cast shade but also give you a clear, 360-degree view of the beach so you can stay out of the sun but keep track of any fire hotties that wander past. And isn't that the whole point of lazing on the beach? They've been designed to be assembled in a few different ways too, so you can customise your set-up.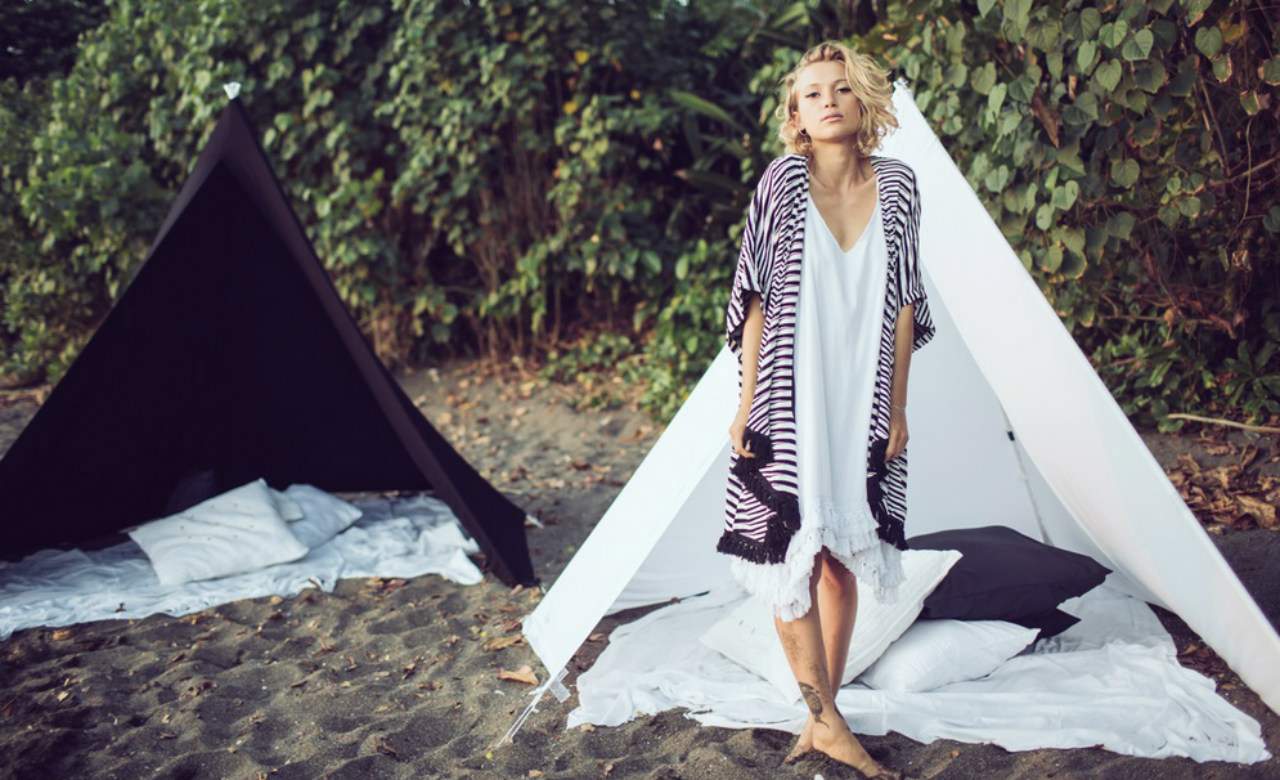 If you're looking to spend big bucks on your beach swag (we're talking $249 each) and be voted 'Most Opulent Beach Goer 2016', look no further than Ginger and Gilligan. We recommend their tie-dyed beach tipi because it's just so damn pretty. It's also a bit more contained than most beach tents, giving you some privacy while ocean-side, just in case you need to change. Each tent is hand-dyed so you can guarantee no one else on the beach will have a tent like yours.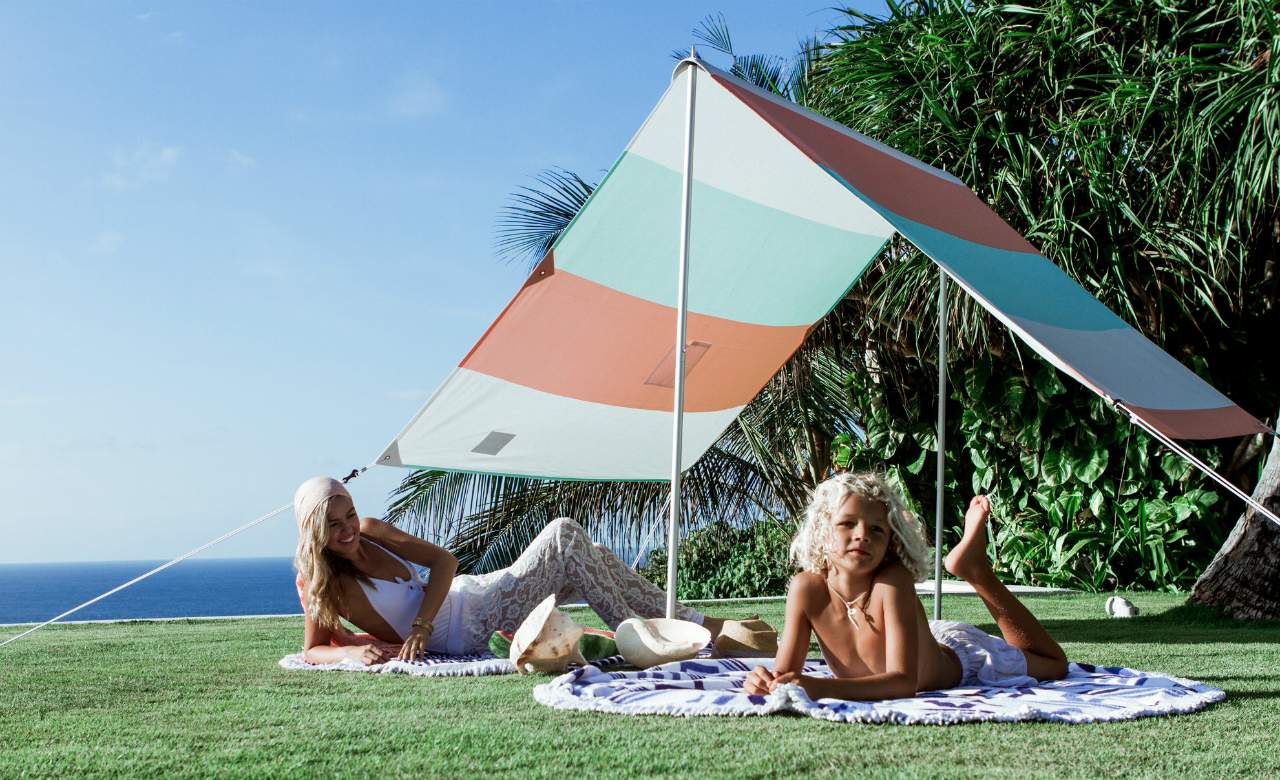 Minimalist beach tents look incredible. You can rig your beach set-up to look like it's straight out of a photoshoot. But how do minimalist beach tents hold up against the elements? Pretty well apparently. The gorgeous tents from Lovin' Summer are only minimalist in look. They block out 99 percent of UV protection and come with specially-made pegs that anchor deep in the sand. They've also been designed to be easily assembled by a solo beachgoer, making them genuinely 'pop-up'.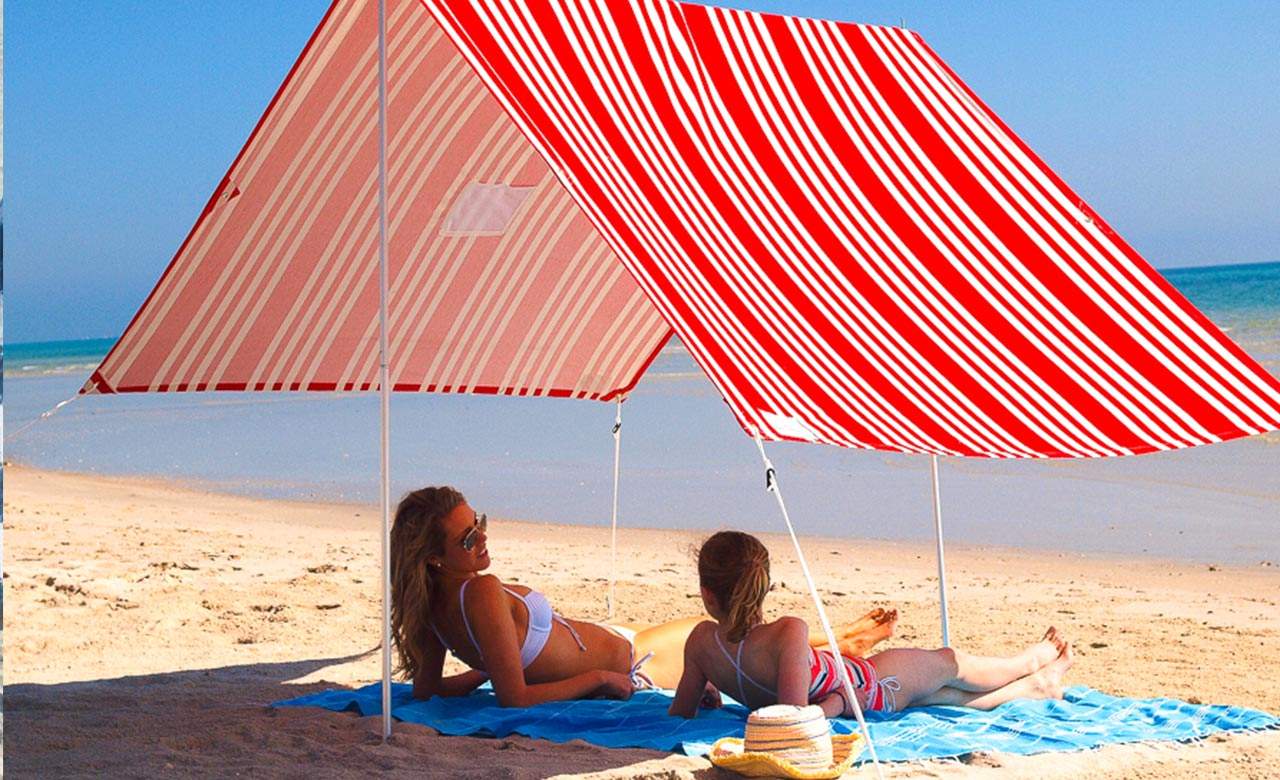 The Sombrilla tent by Hollie and Harrie, similar to the Byron Bay Beach Life design, lets you gaze over the whole beach while staying in the shade. They come in a variety of pop colours and designs, bringing to mind the famous beach boxes of Brighton Beach. And best of all, they're versatile — you can put it up in the standard symmetrical formation for shade coverage or set it up more like a windbreaker for when the sun dips low. They also sell windbreakers, for those days when you just can't have the wind up in your business.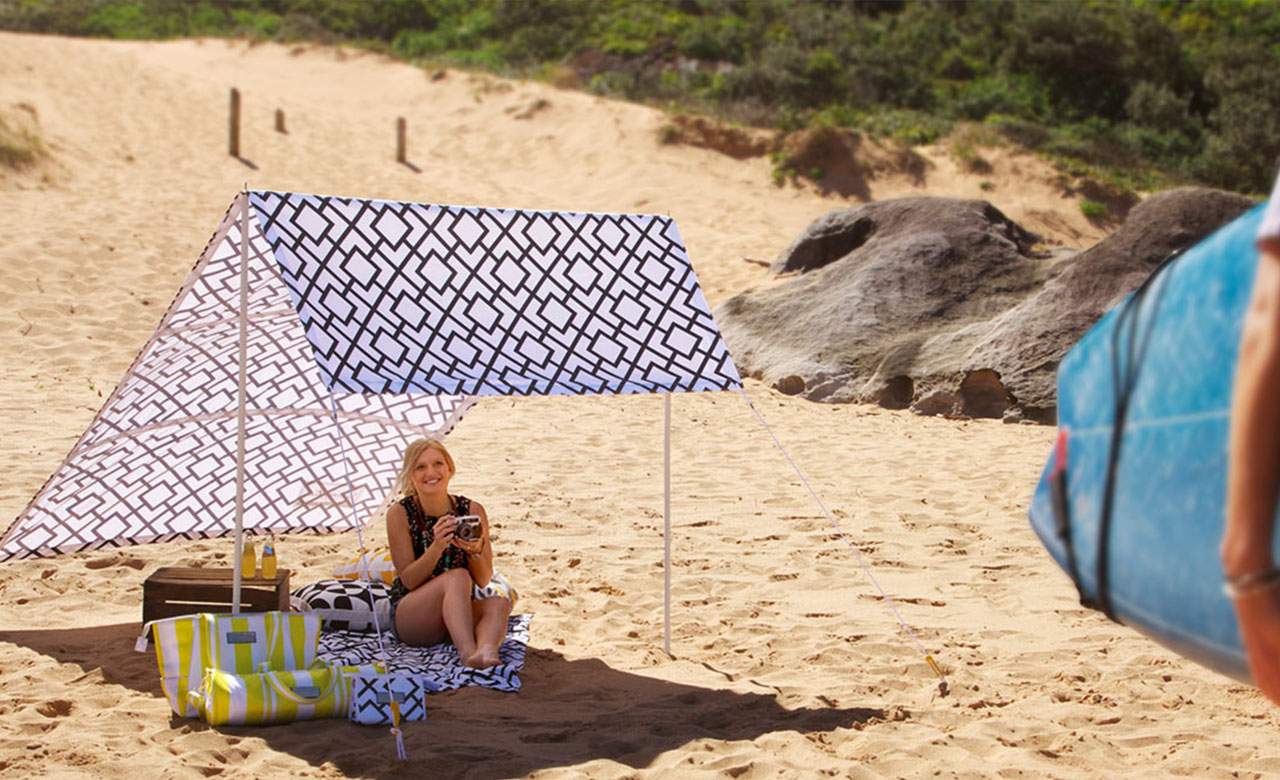 When we say Sunny Jim tents are designed to make #beachlife easy, we really mean it. They've thought of everything you could possibly need to execute the perfect beach tent seamlessly. The cute tents fold away into an easy yoga bag and/or handbag and they come with a mallet. A mallet! Useful not only for banging in pegs but also for passing official judgements on your friends. Best of all, the shade material is made from UPF50+, the highest shade rating available. The Sunny Jim really isn't messing around here.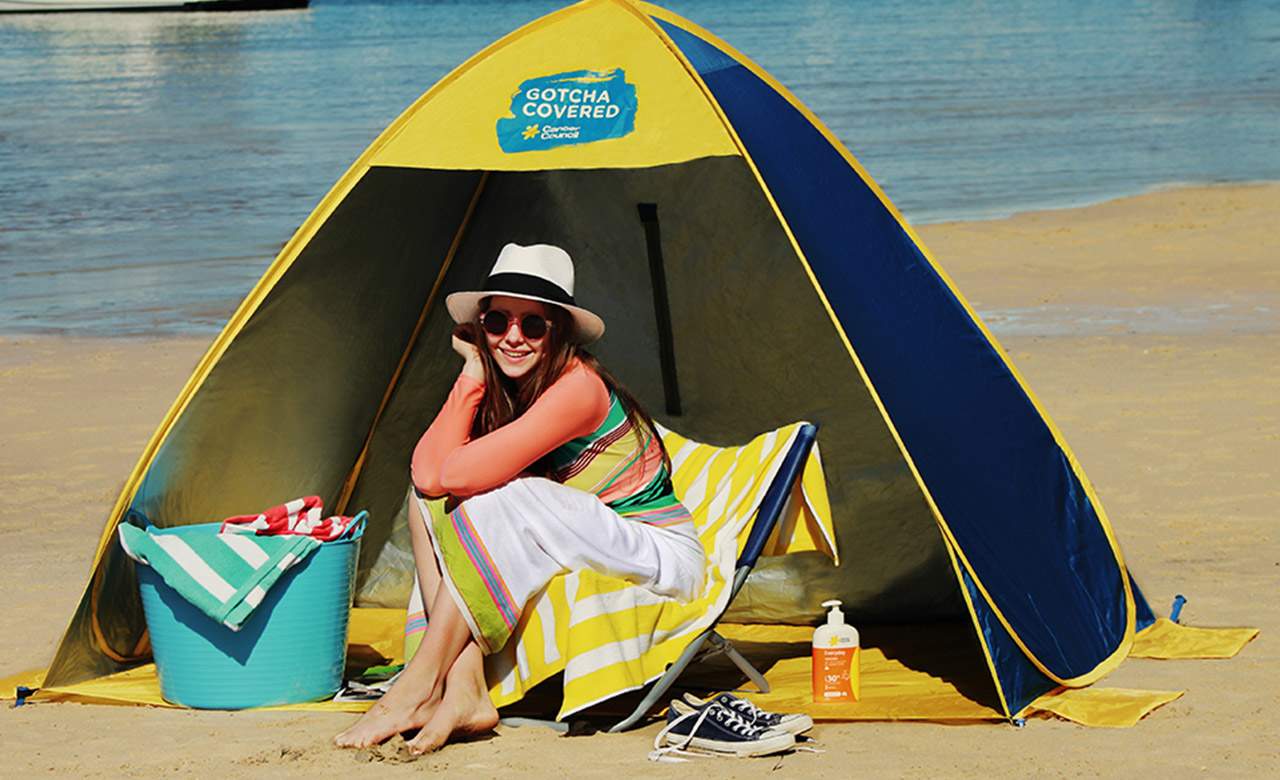 The range of tents available from the Cancer Council might be a bit more in line with your original ideas about beach tents. They're the classic beach pod, closed in on three sides (no sunlight getting in here, no sir) in bright blues and yellows. They each boast the highest UPF rating (50+) and very high nostalgia factor. We'd also like to give an honourable mention to the 'Sunshade Chair', a fully shaded chair, with a drink holder included. Now that's how you stay sun safe with raditude.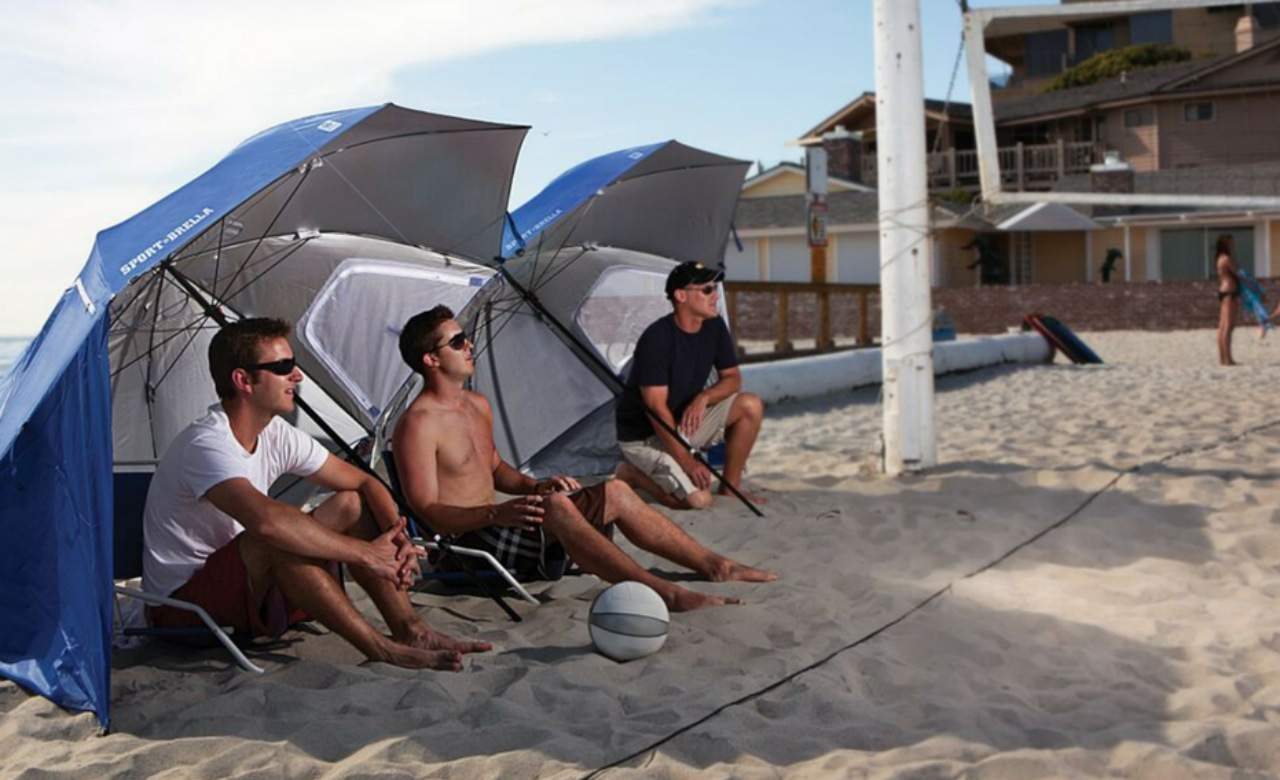 Now, here us out on this one. The Sportbrella might look a bit whack, being a Frankenstein combo of beach tent and beach umbrella, but it's actually pretty useful. It's rocking that UPF 50+ rating, so you know no UV is getting in. The Sportbrella (but feel free to use it for leisure) combines the sturdiness of the umbrella staked into the sand with the privacy of an enclosed beach tent. Plus they're huge, at 2.45 metres wide and perfect for big groups.
Stay tuned for our wrap-up of the summer's best beach umbrellas, coming soon.
Published on December 19, 2016 by Imogen Baker