The Ten Best Designer Beach Towels for Summer Lounging Sessions
Time to throw out your ratty bath towel.
Ever had that feeling of rustling around in a cupboard on the hunt for a beach towel, only to uncover something that looks suspiciously like a bath mat? Or maybe you're flush with beach towels but just feel like a fancy new one this summer. Whether you're in need of a new towel, are looking to buy one as a Christmas gift or have seen lots of snazzy ones at the beach and simply want to see what's out there, our list will help you out. From geometric shapes, to luxurious linen, towel with hoods and those roundies everyone seems to have nowadays, here's our favourite Australian and New Zealand-made towels and where to get 'em.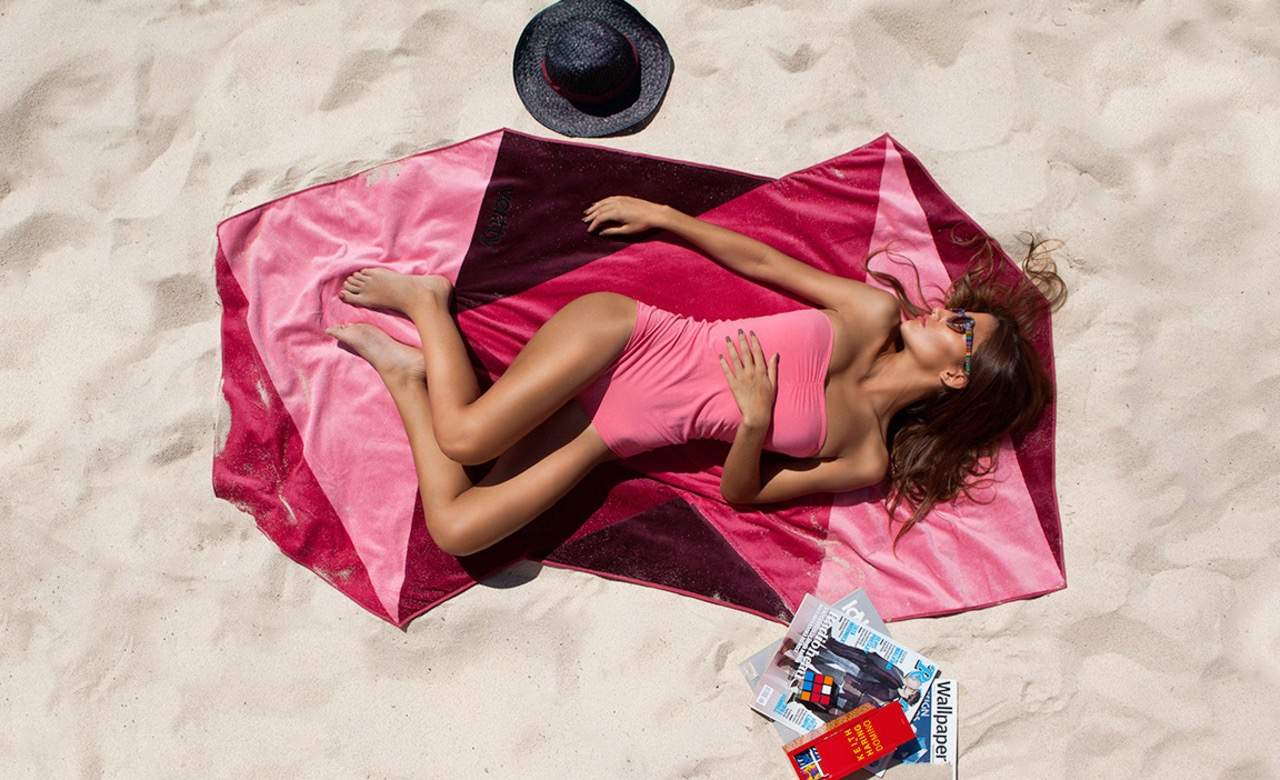 Nope, that's not an artfully folded stack of towels. That's Vertty's reinvention of the humble beach towel into a geometric design object. Not only does their unique design show that you can think outside the box (or, er, rectangle) for even the most everyday beach object, they've incorporated other handy design features like a waterproof pocket, and quick-drying, lighter weight fabric. Plus, it comes in a range of eye-popping colours to make sure summer is just the way you like it. Check out their matching geometric swimwear, too. $79.

Round towels. They're a thing. According to The Beach People, they dreamt-up "the original roundie" in the lush Northern Rivers region of NSW. That was back in 2013, and their first collection sold out in weeks. Current towels on offer include this hand-drawn black and white design, as well as other spiffy prints like The Paradis. Others have jumped on the round towel bandwagon — including Basil Bangs, whose round 'Love Rugs' also feature a waterproof pocket and fold down into a carry case with built-in shoulder strap. $110.

It's no secret, we love Sunny Life's beach towels just as much as we love their umbrellas. And for tropical colours that pop on an unmissable beach towel, it's hard to go past this velour-finished number. You'll never lose sight of your spot on a packed summer beach again. Pair it with one of their beach pillows and we reckon you're onto a winning combination. Or, if you're looking for something floating to stretch out on, these guys also do some pretty mean inflatables. Luxe lie-on floating cactus, anyone? $69.95.

Here's an unusual one for you. Möve's towels feature lifelike digital prints, like this stone design. They also have one with a print of weathered wooden boards, rippled water, and even landmarks like the Eiffel Tower and Brandenburg Gate. Those ones are a bit cheesy, but the pebble print is mint. Although it might look like you're lying on stones, you'll be a lot comfier — the 100 percent cotton velour towel has a snuggly weight and is soft and absorbent. Their bath towels are worth checking out while you're there, too – they even have a line of towels inspired by architecture, namely the drawings of renaissance master builder Andrea Palladio. Möve ships their towels worldwide. EUR €39.90. 

Step aside, Turkish towels, because we just discovered linen towels — and can't get enough of them. Well, maybe we won't do away with them entirely, but linen is pretty great. Incredibly fast drying, versatile and lightweight in your beach bag, we reckon they might be the next big thing. This towel from Coast New Zealand is available in a range of fetching stripes, and comes all the way from an 100-year-old family mill in Lithuania. There are also these guys in the US who make a plainer linen towel which comes with a compression strap, or the House of Baltic Linen closer to home. NZD $149. 

This is one hella pretty linen towel. Yes, we're still on about how great linen towels are — and, yep, this throw counts as a towel. Its name is a nod to this multi-functional rectangle's nature. When you're not using it on the sand, it's equally as useful as a lightweight blanket, picnic rug, shawl, tablecloth, throw for your sun-drenched daybed… you get the drift. Designed to fade, they come in a stack of designs including a couple with some pretty nice bronze and metallic details. $159. 

Well, this was the first time we've come across a beach towel that folds out into the shape of a tiger hide (don't worry, it's 100 percent cotton). Manufactured by Maslin & Co, who take their name from Australia's first nude beach, these guys say they're inspired by nature, the surreal, and beach vagabond culture. You can choose which one's your jam from their collection of different-coloured animal-shaped towels. Plus, they come with either a classic leather short or longer cross-body strap holder, so it's easy to carry your new towel with you wherever you wander. $195-250. 

Somewhere along the line we're sure our grandmas had a towel like this, brought out for summer beach picnics or to dry off after running through the sprinklers on the lawn. Now our retro towel memories have come back to life (albeit with a little upgrade) thanks to the clever people at I Love Linen. Designed in Melbourne, their towels are hand-woven in Turkey's central region, famous for the quality of its textiles. Retro pom poms, 100 percent cotton, and that distinctive Turkish towel edging. It's comfy, super-absorbent and big enough to be a picnic rug as well as a beach towel. $89.95.
A towel wide enough for two — now that's the recipe for a comfy beach session. Whether you've got a beach buddy or just want the extra room to stretch out yourself, this luxurious 100 percent combed cotton number from Pendleton has you sorted. Based in the States' beautiful Pacific Northwest, as well as making a range of other spa and beach towels (and their iconic woollen blankets) the sixth-generation family-owned business has a focus on social responsibility — community, country and planet. USD $79.50.

A towel and hooded wrap? Why didn't we think of that before? This handy number brings the best of Turkish towels and beachwear together in a classic striped print. Each batch of towels are dyed and loomed by artisans in Turkey. The end product? A modern shape you can wear as well as lie on, served up in a fast-drying blend of bamboo and Buldan cotton from the inner Aegean region of southwest Turkey. $99.95.
Top image: The Beach People. 
Introducing Concrete Playground Trips
Book unique getaways and adventures dreamed up by our editors