DESIGN & STYLE
Forget Texting: Miranda July Has Released a New Messaging App
"Texting is tacky. Calling is awkward. Email is old."
"Texting is tacky," proclaims filmmaker/artist/writer Miranda July. "Calling is awkward. Email is old." So she's come up with a brand new way to communicate in the 21st century: an app called Somebody.
Here's how it works. You send your friend a message, but rather than going directly to their phone, it goes to the Somebody user in closest proximity. This individual delivers the message, in person. Hence, the app facilitates all the instantaneity of modern digital communication, as well as a dose of good, old-fashioned face-to-face contact. As the Somebody site quips, it's 'half-app/half-human'.
It's also a public art project. July first came up with the concept in March 2014 and developed it with the help of designer Thea Lorentzen and a team from StinkDigital, along with support from Miu Miu. The app and an accompanying film — the eighth commission in Miu Miu's Women's Tales series — premiered on August 28.
"Somebody is a far-reaching public art project that incites performance and twists our love of avatars and outsourcing — every relationship becomes a three-way," states the official site. "The antithesis of the utilitarian efficiency that tech promises, here, finally, is an app that makes us nervous, giddy and alert to the people around us."
Your messages don't have to be restricted to words — your messenger can also follow actions and directions (i.e. dance, hug, cry and so on) — as long as they're game. If the timing isn't right, the recipient can decline involvement. Plus, the sender can select from a variety of potential messengers by previewing photos and performance ratings. When there's a lack of users in the vicinity, the message can be floated until someone turns up.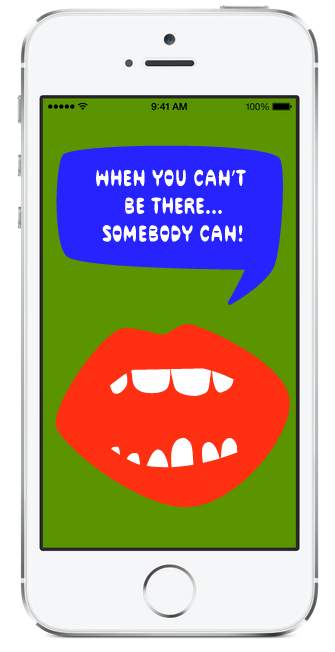 July will speak publicly about Somebody at New York City's New Museum on October 9, and the app will be progressively launched throughout the Northern Hemisphere over Spring. Right now, hotspots are in action at the Los Angeles Country Museum of Art; Yerba Buena Center for the Arts, San Francisco; the Portland Institute of Contemporary Art; the Walker Art Center, Minneapolis; and Museo Jumex, Mexico City. It's in these places that you're likely to find a high concentration of Somebody users.
If you want get the trend happening here in Australia, get the ball rolling and download the app for free from the Apple store.
Image: Miranda July and Miu Miu.
Published on August 29, 2014 by Jasmine Crittenden