Your workday is about to get a whole lot more bearable, courtesy of the marketing department at Uber. Starting from midday today, the ridesharing service is teaming up with Purina's Pets at Work mission to deliver puppies to offices around Australia. We'll give you a minute to process that information.
UberPUPPIES will be available in the Sydney, Melbourne, Brisbane, Adelaide, Perth, Canberra, Sunshine Coast and Gold Coast CBDs. All you need to do is log into the Uber app at noon, hit the 'puppies' button (squee!), and a four-legged friend will be whisked to your place of work for 15 minutes of quality cuddle time. It'll run you up a bill of $40, so you might want to go in with a few of your co-workers. Either that, or try and convince your boss it'll be good for employee morale. Which, to be fair, it most definitely will be.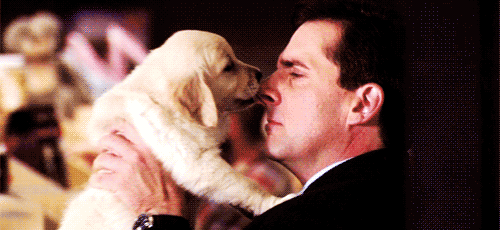 Money raised will be used to support local animal shelters. Each puppy will also be accompanied by a shelter representative, who'll be all too happy to accept any additional cash donations. And in case you form an extra special connection, all UberPUPPIES are available for permanent adoption.
UberPUPPIES is the latest in a string of awesome Uber promotions, with the company having previously delivered everything from kittens to ice cream to backyard cricket umpires. Fair warning though: these things tend to generate a lot of demand, so make sure you're hovering over the Uber app come 11.59am. The puppies will be cruising around town until 4pm.
Published on February 25, 2016 by Tom Clift