Sydney Contemporary Opening Night 2019
Kicking off one of the city's most popular art parties.
in partnership with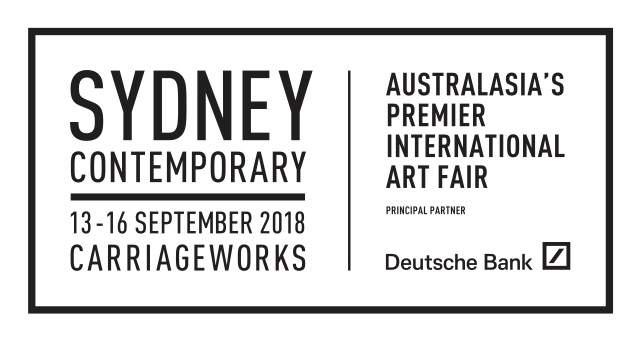 Live performers, dancers, musicians, artists and chefs will all converge at Carriageworks on Thursday, September 12 for the opening night of this year's Sydney Contemporary — Sydney's biggest contemporary art fair. For one glorious evening, you can celebrate a world of art, music and food (is anything else even necessary?).
So what can you expect? There'll be a confession booth, for one. Confessions, first conceived for Dark Mofo, is a performance piece by Tony Albert and is appearing for opening night only. Enter the booth, and you'll be invited in to participate in a non-verbal, abstract conversation with the artist. How? You'll confess your secrets (or anything you'd like to share) with pen and paper, and you'll walk away with your contribution to the performance art.
Also, appearing as a one-off, will be Nell's ROCK GATE: an ambitious sculptural and sonic structure, made up of amplifiers assembled into a traditional Japanese torii gate, with music by a guitarist.
You'll hear a panel discussion made up of speakers from Paddington gallery Saint Cloche, with Ken Done (artist), Rachel Burke (artist/stylist), Taline Gabriel (food stylist, blogger and author), Yasmine Ghoniem (interior designer), Linda Jackson (designer) and Evi O (artist) discussing the power of colour.
Also on the agenda is a weitou (Chinese dialect) lullaby led through a veil of 144 smoked latex flowers by Sydney-based artist and musician Chun Yin Rainbow Chan. Then, hit up Imogen Jade's Creamy Bar for a fruity and playful cocktail. With names like Baby Koala Broke-Umbilical-Cord glazed blue cocktail, Nesting Spider Rat Palm tree cocktail and Bloody Mary Bunk-Bed Blue-Tongue-Lizard, these will not be your average tipple.
Sydney Contemporary's Opening Night is one of the most popular arty parties on the city's calendar. And, if you're keen to kick on post-opening night, you'll want to check out the afterparty hosted by Concrete Playground and Campari at Earl's Juke Joint.
We've also secured a 20 percent discount on the opening night and the Sydney Contemporary Afterparty for Concrete Playground readers. Just be sure to use this link to book and use the code 'CONCRETE'. The offer expires at 11.30pm on Wednesday, September 11.
Images: Jacquie Manning, Zan Wimberly and Rèmi Chauvin/ Dark Mofo.