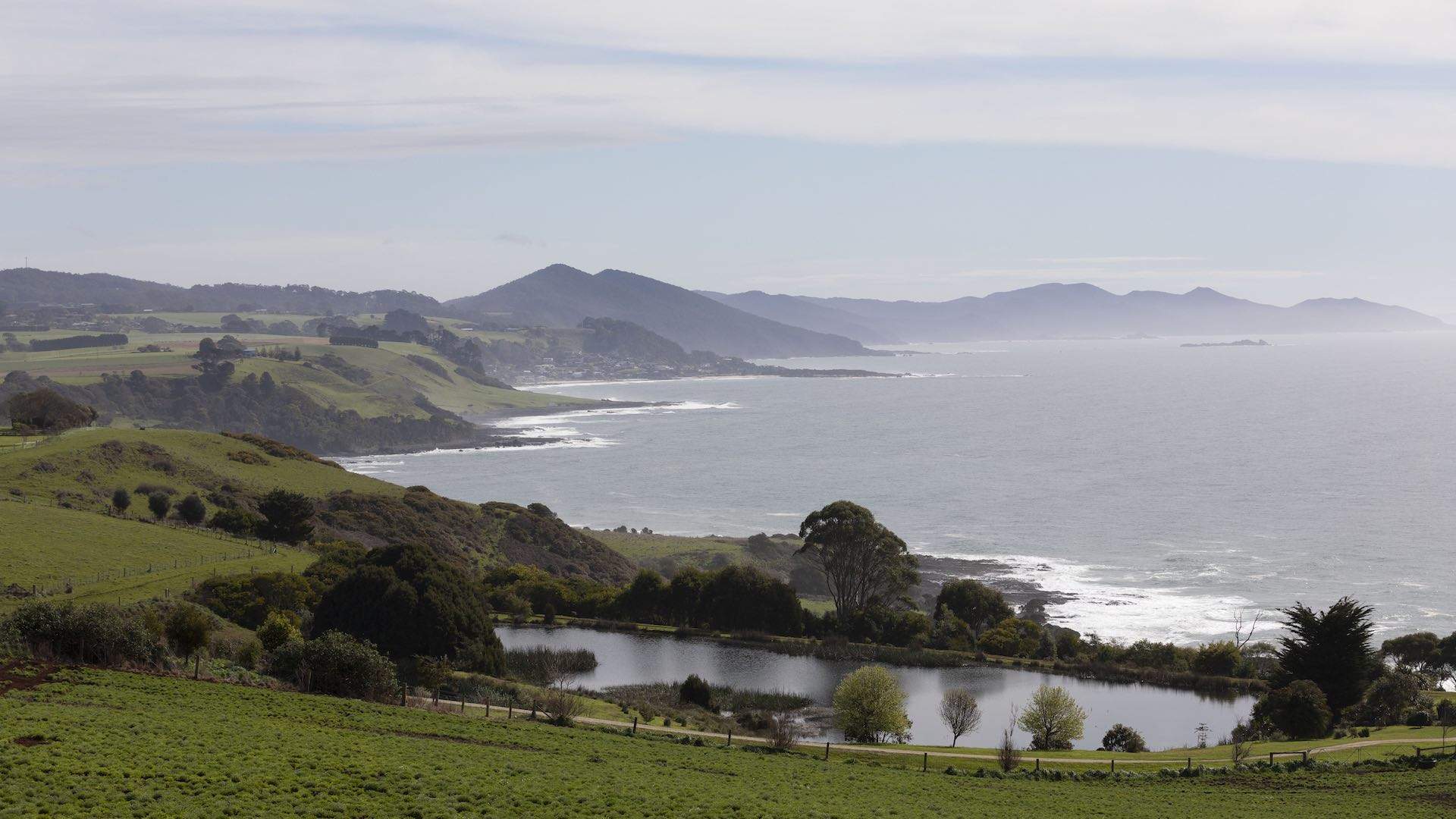 "
A Northern Forage Road Trip:
Follow a CP Writer's Tasting Tour Across Tasmania's North
Proceed with an empty stomach, an open mind and a readiness to build a more meaningful relationship with what's on your plate.
Anyone that visits Tasmania will tell you that the state boasts some of the freshest food, most award-winning wines and stunning landscapes that the country has to offer.
So with high expectations — and the support of Tourism Tasmania — I spent four days roaming the state's north and north-west region, stumbling upon farmers markets, sipping on sparkling cider by candlelight and having breakfast with miniature goats. I have to admit, it was everything people said it would be and more.
Let me take you on my short-but-sweet solo Northern Forage road trip, exploring Tassie's renowned Tasting Trail. Proceed with an empty stomach, an open mind and a readiness to build a more meaningful relationship with what's on your plate.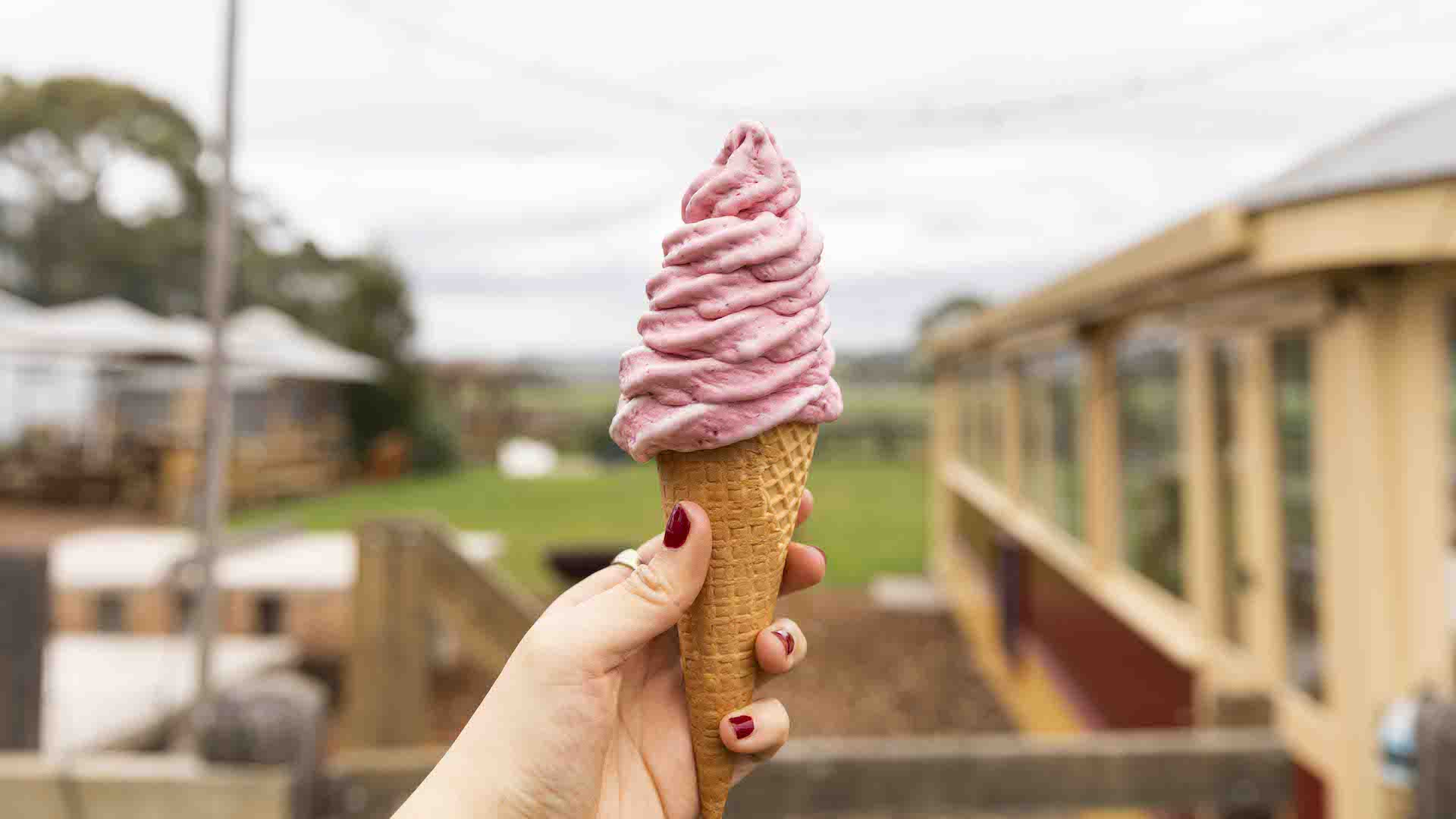 "
Landing into Launceston, it became immediately apparent why this region is an epicentre for fresh produce. Marvelling at the surrounding greenery and vibrant red soil of the land from the sky, it was a perfect first impression.
With a rumbling stomach I wasted no time and headed west, making my first pit stop at the Ashgrove Cheese Dairy Door. This proudly Tassie grown, owned and made business has an amazing array of produce to pick up or enjoy on site. With five different types of gourmet cheese toasties on the menu, I couldn't believe I was already peckish again. The dairy farm's commitment to transparency and ethical treatment of their cows was incredibly apparent as I strolled around the property and breathed in the fresh farm air.
Ashgrove Cheese Dairy Door, 6173 Bass Highway, Elizabeth Town
Next up, The Berry Patch. At the right time of year, this farm and cafe offers tabletop pickings of strawberries, raspberries, blueberries, gooseberries and more. My visit was not complete without a swirling soft serve made fresh with vanilla ice cream and strawberries. I also picked up a jar of jam from their cafe pantry, made with fruits from the most recent season. In their courtyard you'll find a tram carriage that was in operation in Launceston until the '50s. It has been converted into a dining area to sit, snack and enjoy the surroundings.
The Berry Patch, 4 Blackburn Drive, Turners Beach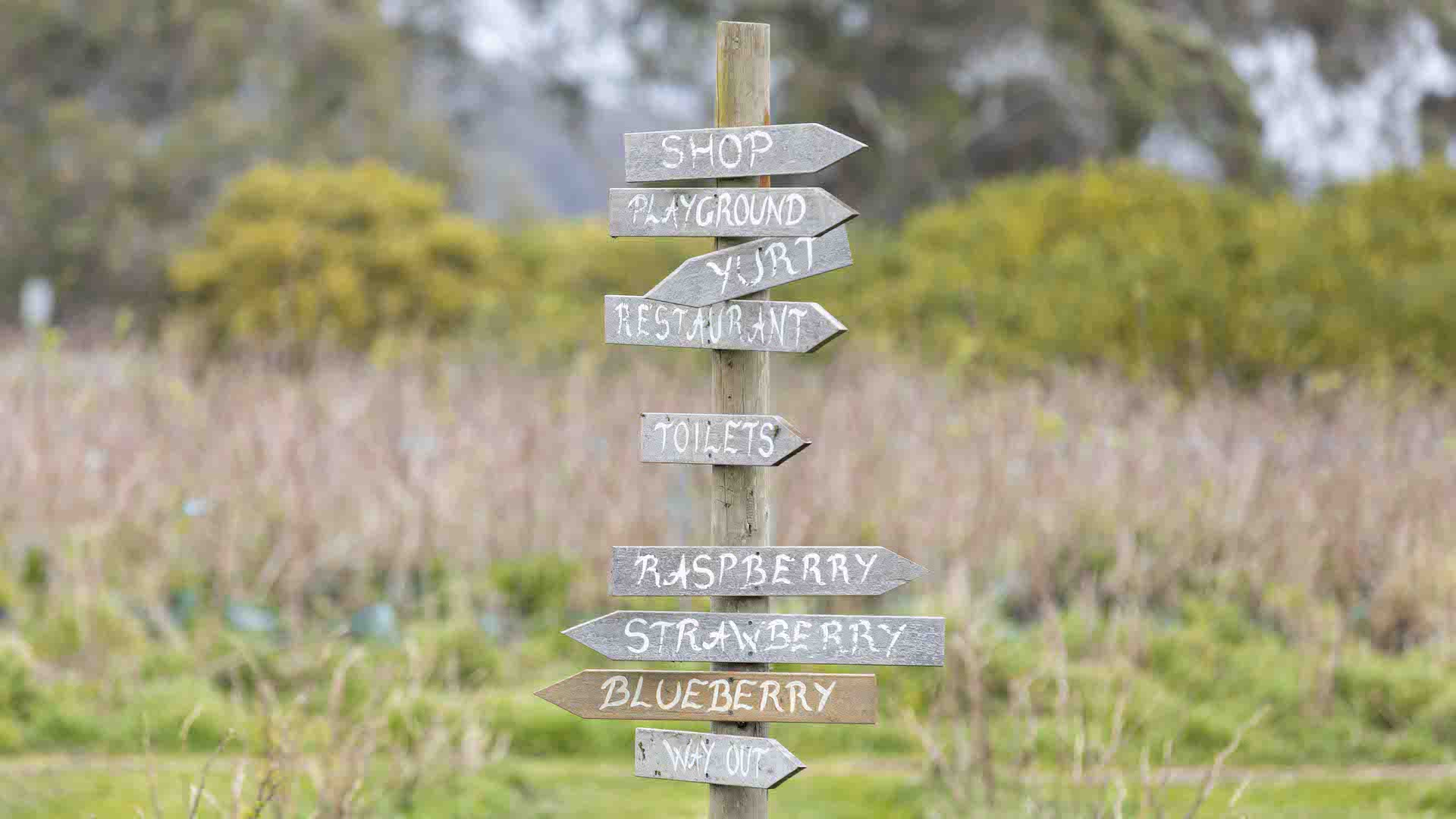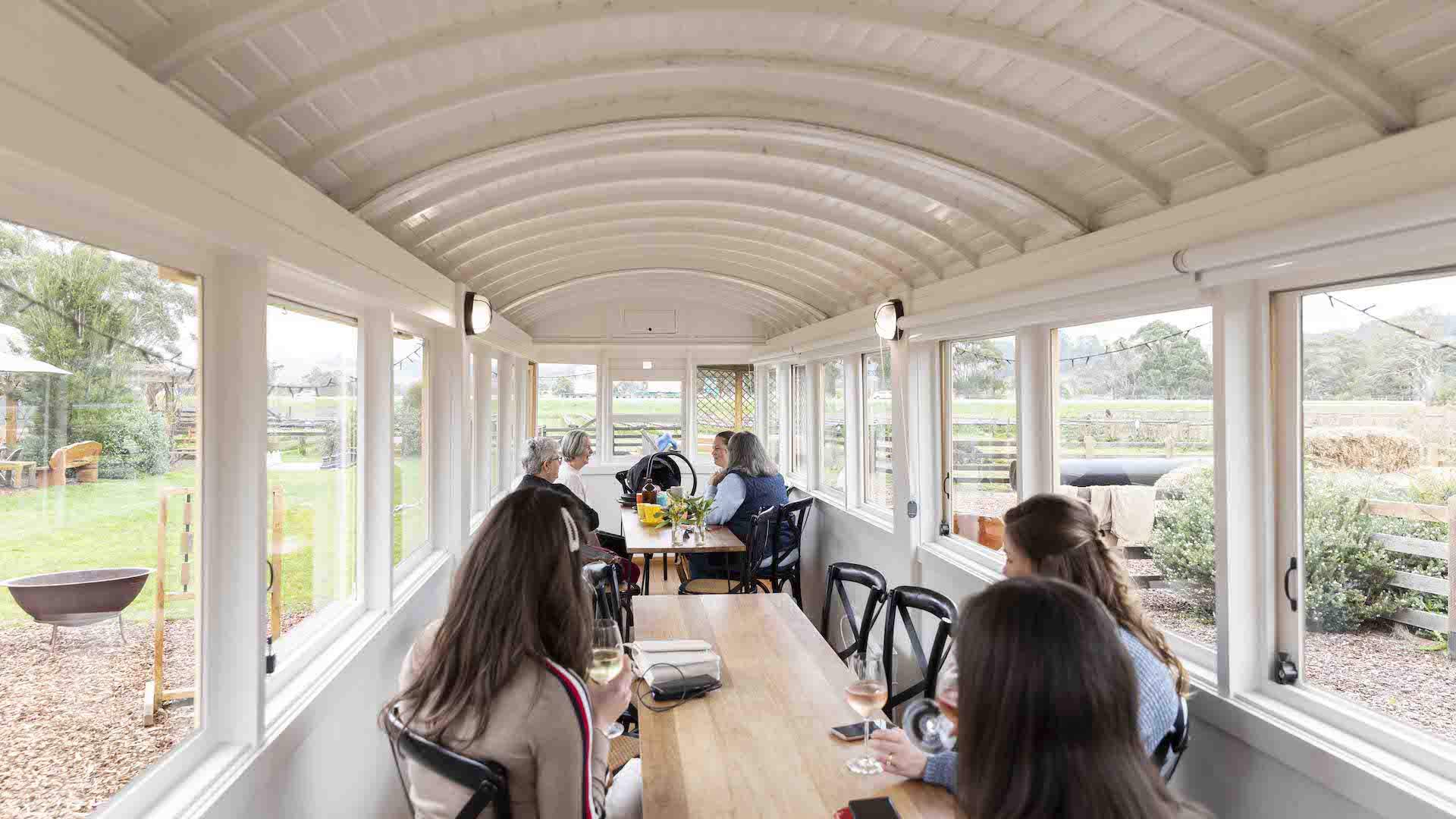 With my sugar fix now sorted, I made my way over to Guide Falls Farm. This small-scale working farm offers amazing opportunities to learn about the day-to-day of running a farm as well as getting up close and personal with the animals that reside there. Seeing the paddock to plate journey is truly rewarding when you sit down at the restaurant on site, Grazings, and enjoy seasonal dishes straight from the property.
Guide Falls Farm, 309 W Ridgley Road, West Ridgley

It was time to make my way to Penguin Hideaway Farmlet a few moments out of Penguin – a charming seaside town home to colonies of little penguins, as the name suggests. Situated on a gorgeous small-scale regenerative farm, the cottage from 1948 used to be a sorting barn for chicken eggs. As it stands now, the interior is lovingly furnished with old family photos, vintage decor and gifts from friends. The shelves were stocked with books, snacks and card games which was the perfect respite from the rain. 
Guests who stay on the farmlet are invited to a 'goat experience' which got me up close and personal with chickens, sheep and adorable miniature goats. They're not just for petting purposes, so I learned, but they're an important step in the livelihood of the property, grazing on invasive weeds and overgrown bushland.
Before settling in for the night I headed into Penguin for a browse at the town centre, stumbling across Village Wine Store (pictured below). Having only been open shy of a month, the shop showcases local, independent alcohol producers — some batches so local they're not sold out of the region. I chatted all things wine to the incredibly knowledgeable owner, Linda, who offers tastings of different pours each day. After a bit of shopping and a whole lot of knowledge, I found myself on the deck at Penguin Beer Co with a burger and brew in hand watching the waves crash over Penguin beach.
Penguin Hideaway Farmlet, 18 Lester Rd, Penguin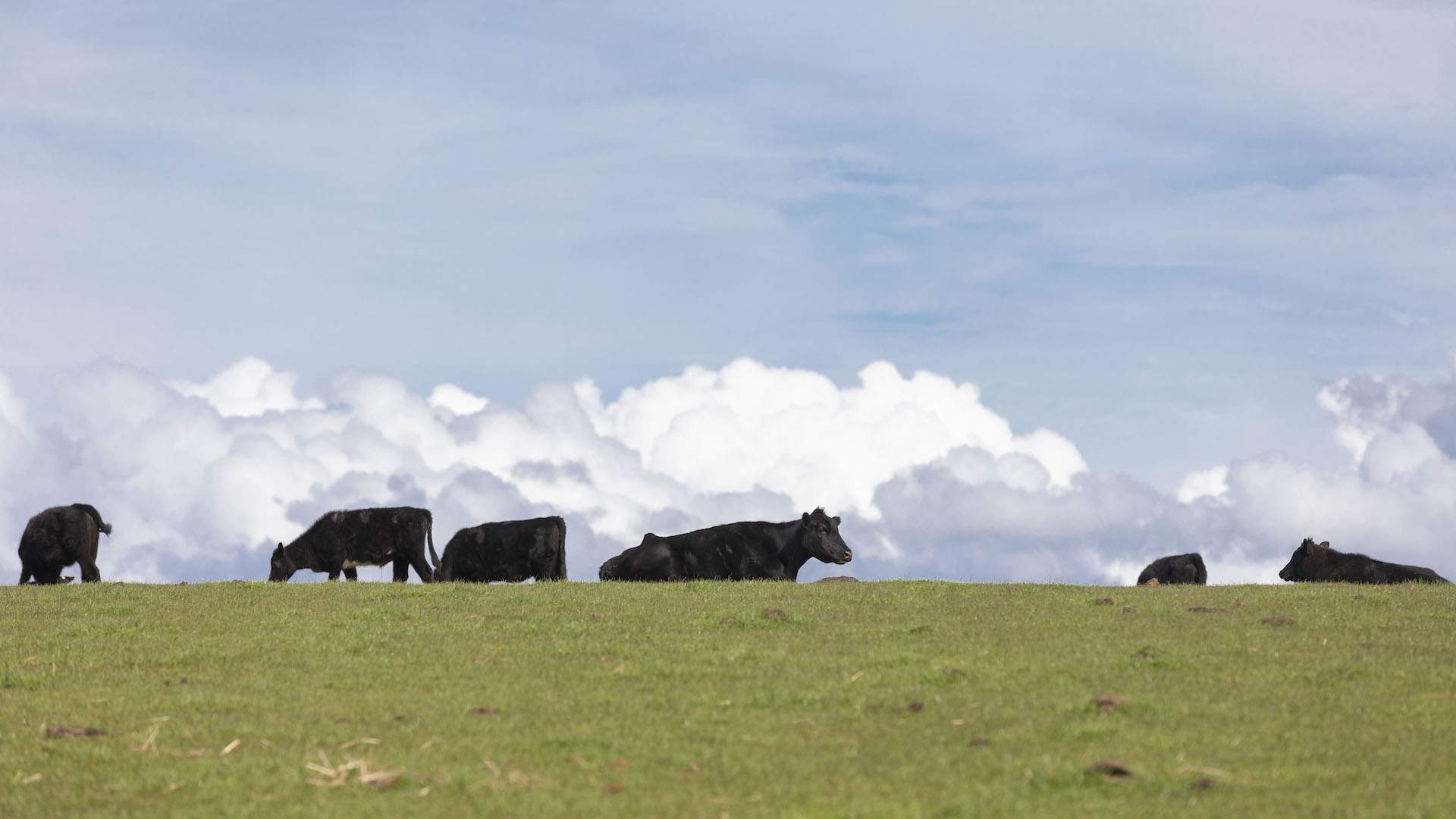 "
Day Two
Foggy start to Friday
Waking up to the fog in the mountains was incredible as I enjoyed a dewy morning breakfast on the peak of the hill. I vowed to owners Lisa and Brad I would come back to visit in the warmer months for a 'goat soirée' — an experience where accomodation guests can enjoy a picnic of local Tassie produce and wine among the animals on the property.

I set off on a coastal drive over to Duck River Farm Tours, but not without stopping at Blue Hills Honey along the way — a perfect place to stretch your legs and pick up some produce to take back to the mainland. The staff pick of the day was the Manuka leatherwood honey blend — equal parts earthy and spicy. The views along this part of the coast were spectacular. There were some moments where the highway was so close to the shore it almost felt like the waves were going to kiss the curb. It was such a sight to see the morning sunlight glisten on the horizon and contrast against the cliffs.
Blue Hills Honey, 1858 Mawbanna Road, Mawbanna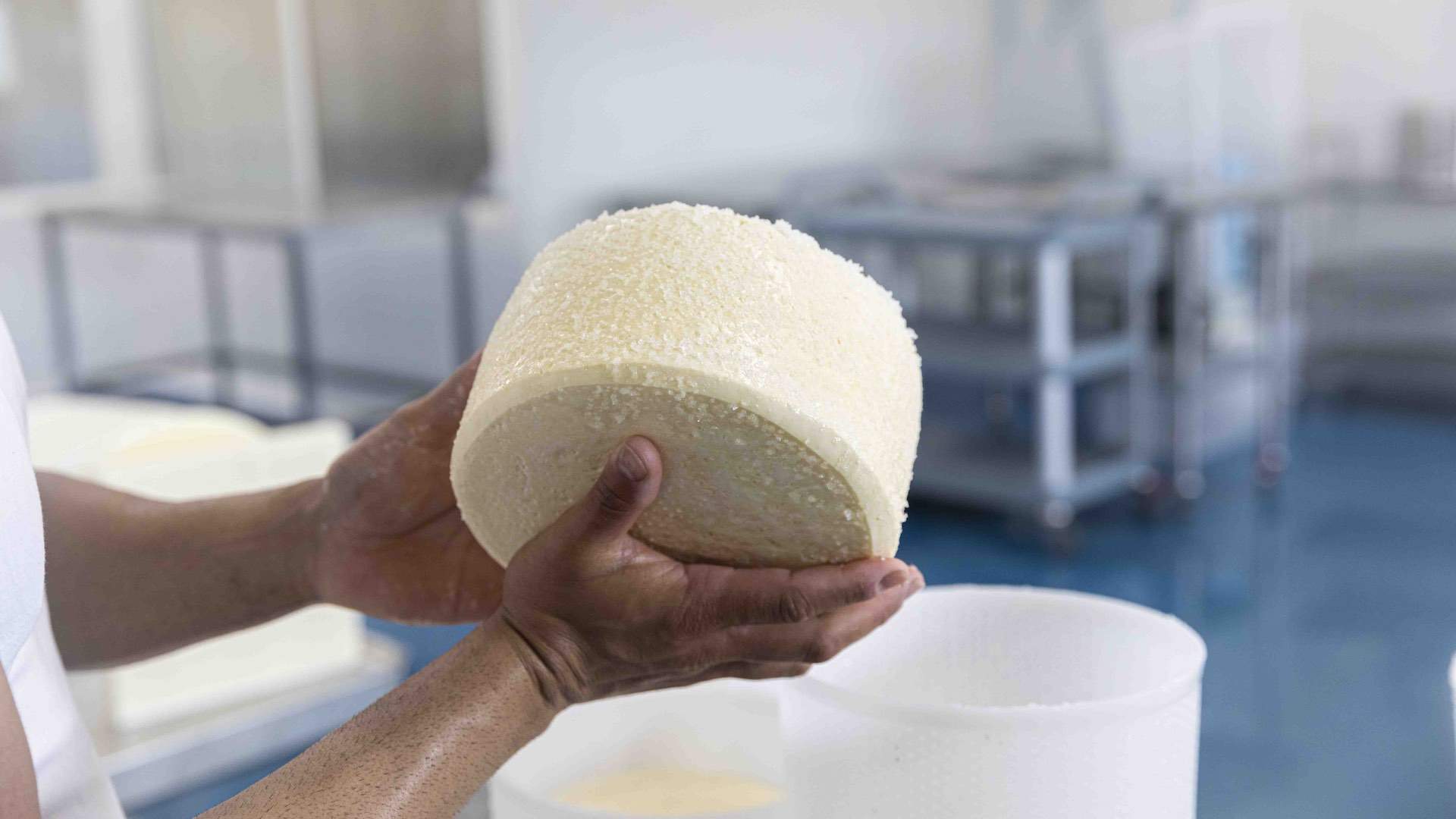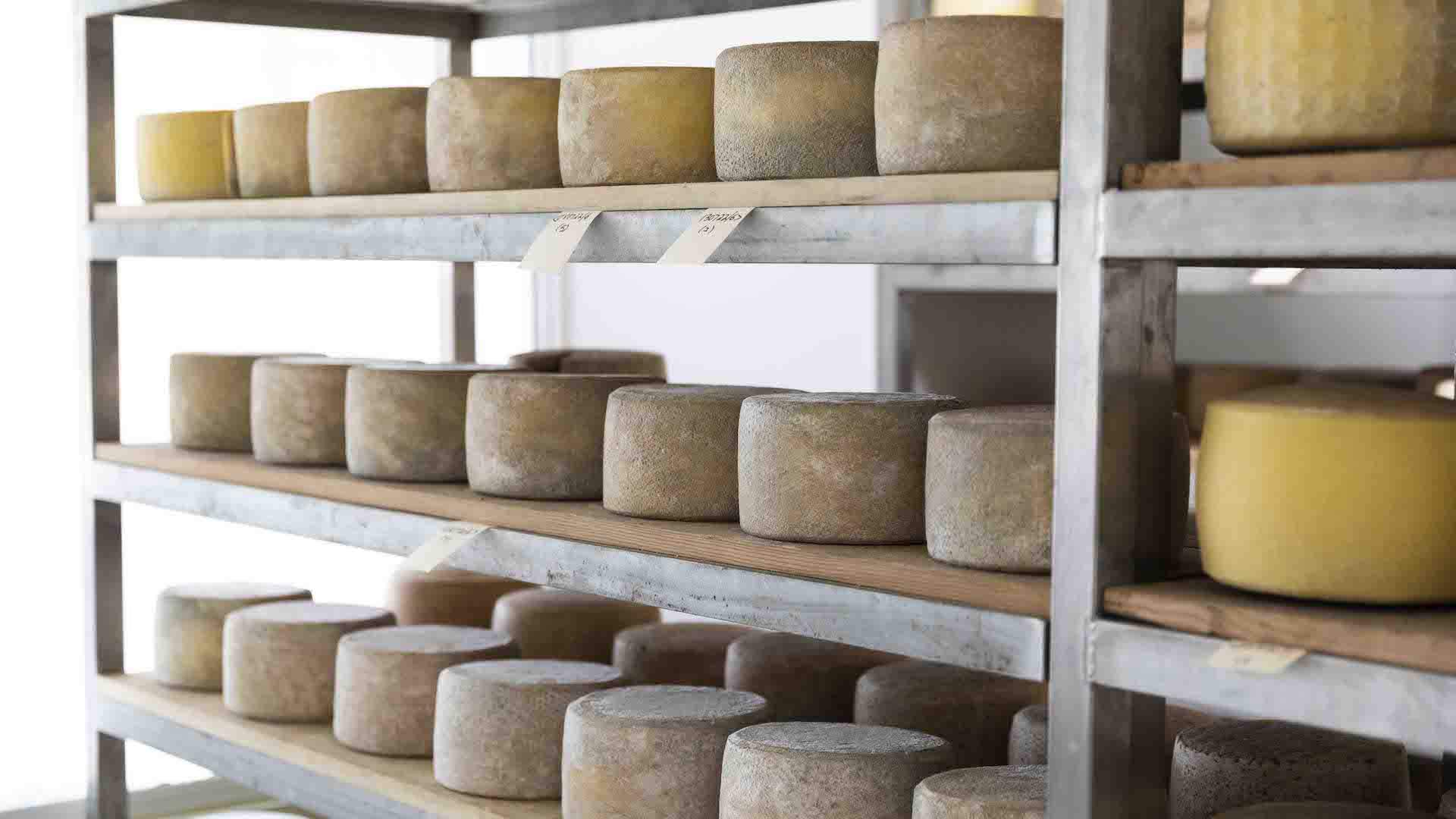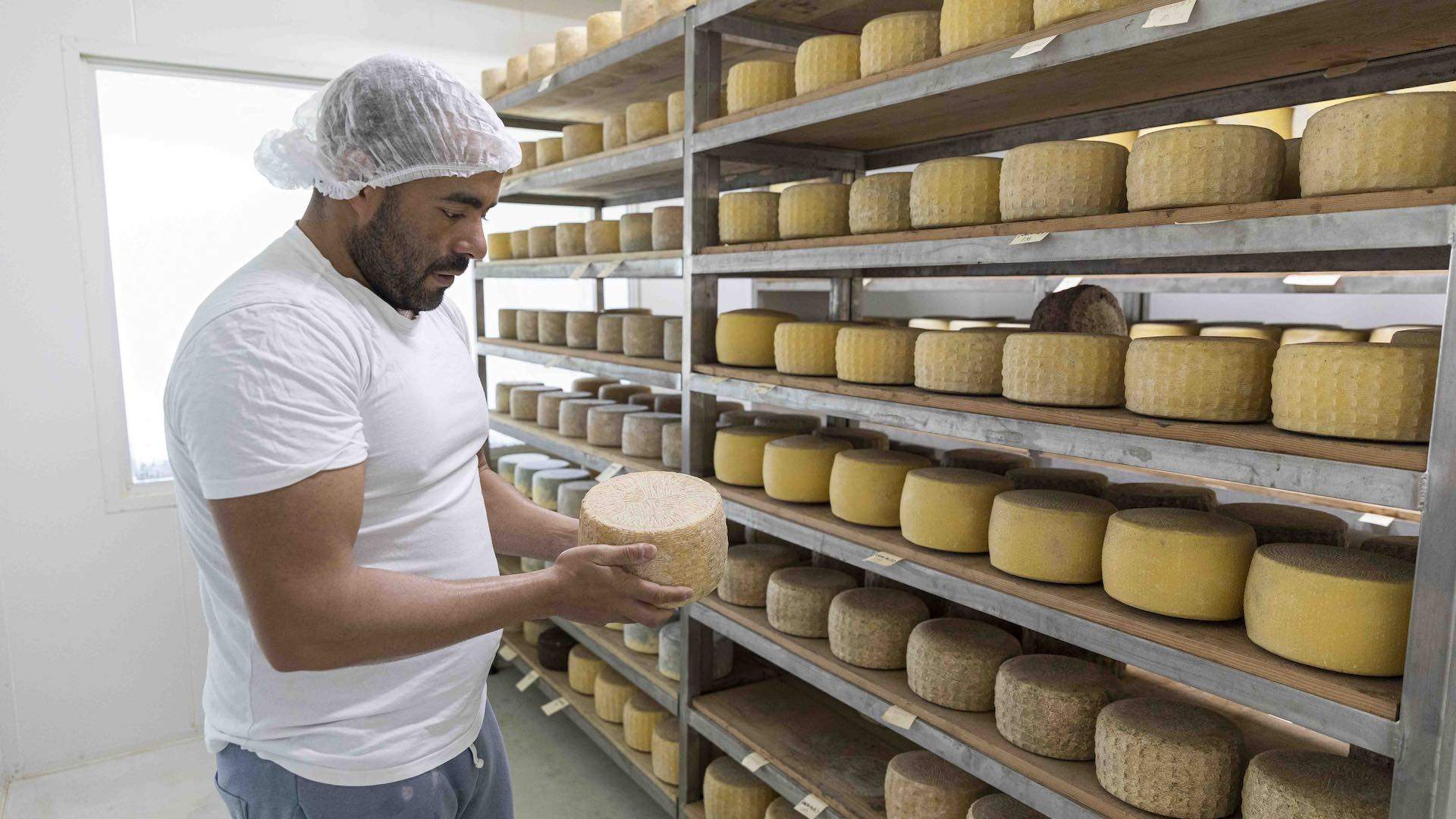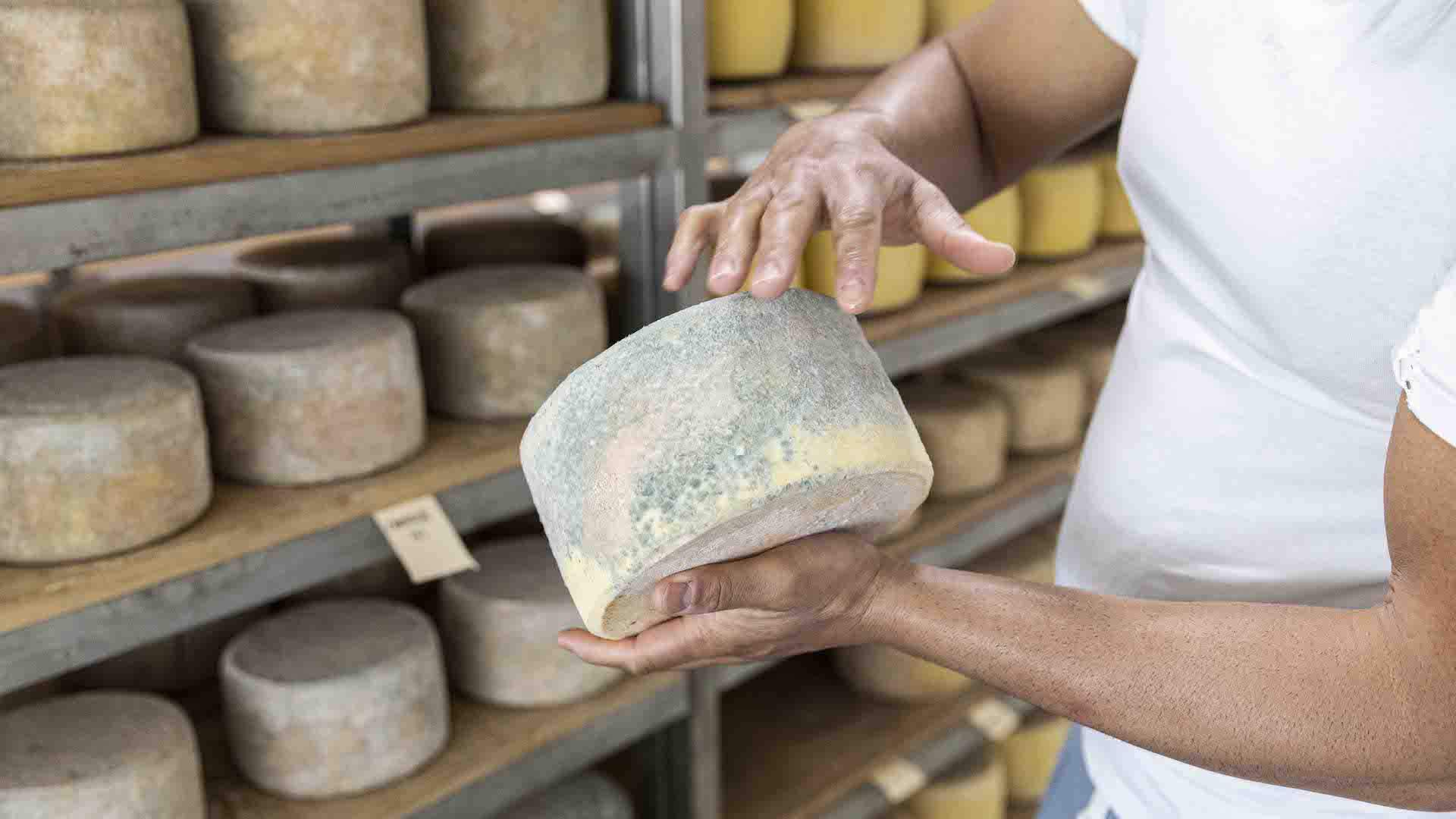 I arrived at Duck River Meadows Dairy for a farm tour and to meet the incredibly talented cheesemaker, Genaro Velasquez, who produces European- and South American-style cheeses on site. On the tour you can witness the process almost from end to end — seeing the free roaming cows make their way into the milking site, and on certain days you can see Genaro and his wife making a range of experimental cheeses like 'café co leche', a hard cheese wrapped with ground coffee beans. On the day I visited the duo were preparing tequeños – a Venezuelan fried breaded cheese stick with queso blanco stuffed in the middle. It's deep fried to create an oozy, stringy snack and sold at markets around Tasmania.
Duck River Meadows Dairy, 12 Nelson Street, Smithton
If you're a lover of fresh seafood produce, it only makes sense to make the trip to Tarkine Fresh Oysters afterwards. At this pit stop you can shuck live oysters or try some of the cafe's specials – try oysters topped with creme fraiche, salsa, or baked with bacon and breadcrumbs.
Tarkine Fresh Oysters, 21/25 West Esplanade, Smithton
Before the sun goes down for the day, I recommend squeezing in a drive to Alchymia Distillery (images below) for a tasting and journey through the process of making whisky, gin and vodka – with zero waste leaving the site. If you're really committed to the process (and returning to Tassie) you can make your own barrel of whisky, guided by alchemist Matt.
If you're lucky you'll get to sample some of their experimental batches like blueberry or truffle gin. It was amazing to learn about how this small-batch distillery's waste is repurposed into things like pizza flour, feed for neighbouring cows and (pesticide free) weed killer. Circularity at its finest.
Hot tip: Make sure you check the open dates before going, as opening hours are just Fridays to Sundays with private bookings available for Thursdays.
Alchymia Distillery, 599 Tollymore Road, Table Cape
As the end of the day approaches, it's the perfect time to make your way up the road from the distillery to the Table Cape Lookout to see a breathtaking view of the sunset. On a clear day you'll be able to see mountain ranges over 175km away.
This area, which was once a volcano 12 million years ago, is now home to pristine green hills and a tulip farm boasting rows of vibrant blooms. I quickly became a budding wildlife photographer, stopping frequently to capture some of the photogenic farm life grazing on the land around me and the pink hues setting across the sky.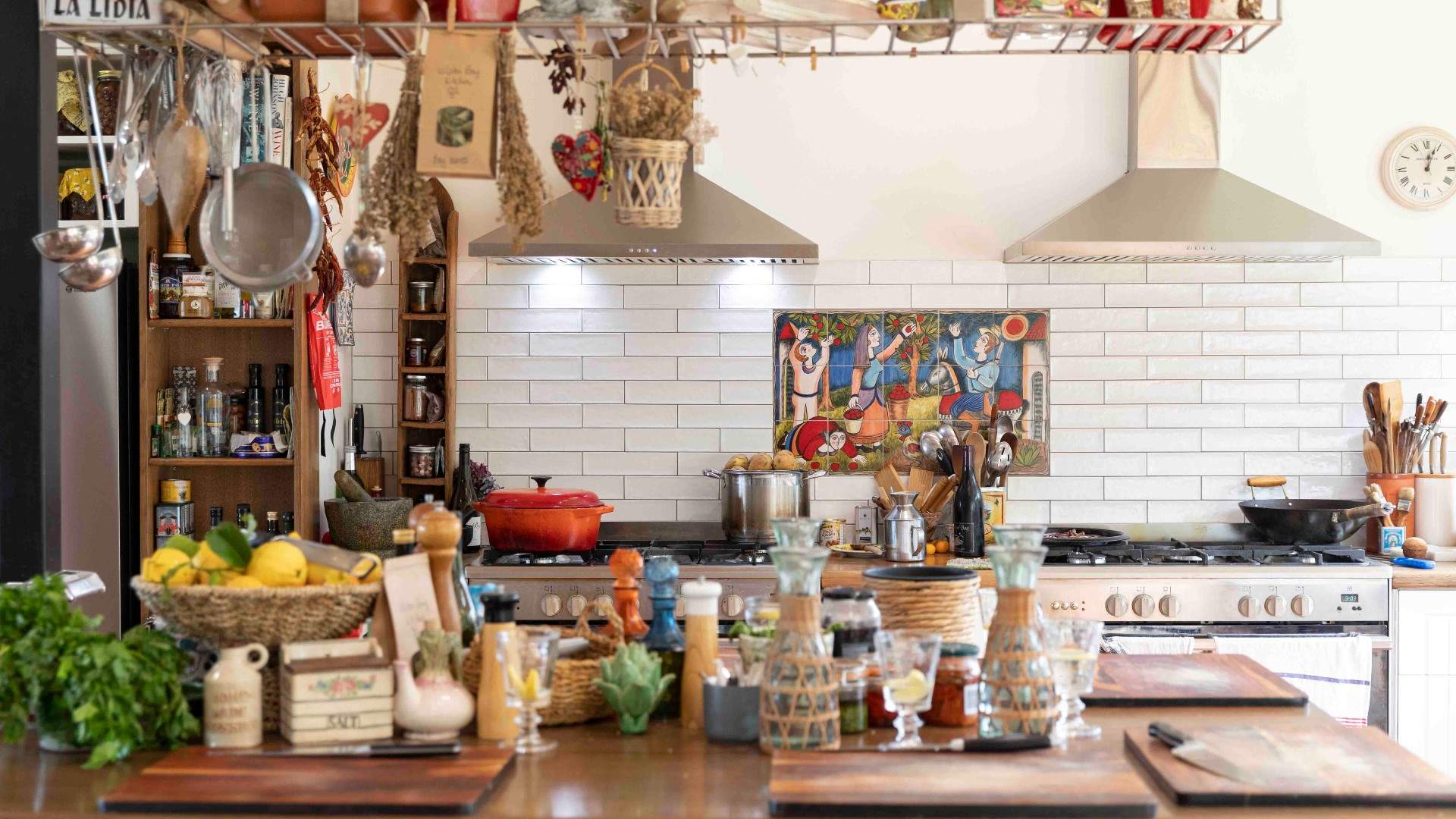 "
Day Three
Food-led Saturdays
As I headed into Launceston on a rainy Saturday morning, I saw the sign for a Harvest Market and had to stop in my tracks. Despite having breakfast plans in an hour, I had to let my stomach lead the way. I was greeted with a community of local fruit growers, makers and food vendors. I picked up a medley of field mushrooms and watched hungry punters line up for things like birria tacos, freshly baked croissants and piping hot gozleme.
Harvest Market Launceston, 71 Cimitiere Street, Launceston
With a sensible amount of room in my stomach and excited anticipation I went to enjoy a waterside breakfast at Stillwater Restaurant. This historical flour mill turned casual fine dining restaurant is a hot spot among locals and tourists alike for beautiful views over the River Tamar.
The menu had such an enticing selection of classics like eggs Benedict and granola with fresh fruits, but I opted for the Green Bowl with perfectly poached eggs, greens and a nutty 'sun butter' which made the dish a trip highlight. I was recommended the waffle special served with banana, strawberry, malt ice-cream and milo. It was childhood nostalgia on a plate — a perfectly balanced and the perfect indulgent treat to finish off my morning. If you're planning to visit for dinner, they have an incredible menu showcasing local, seasonal produce and a cellar door in the restaurant to explore.
Stillwater Restaurant, 2 Bridge Road, Launceston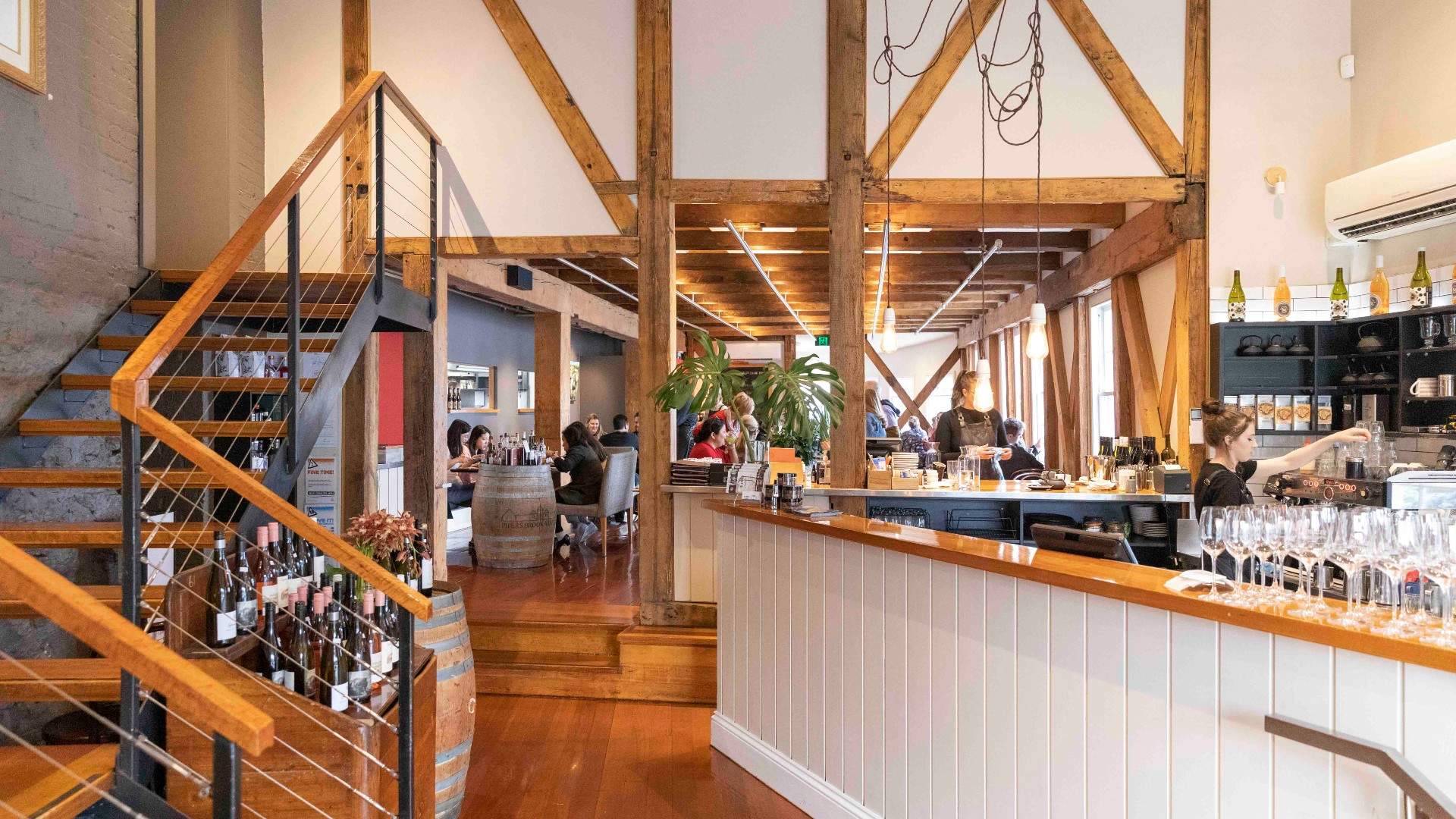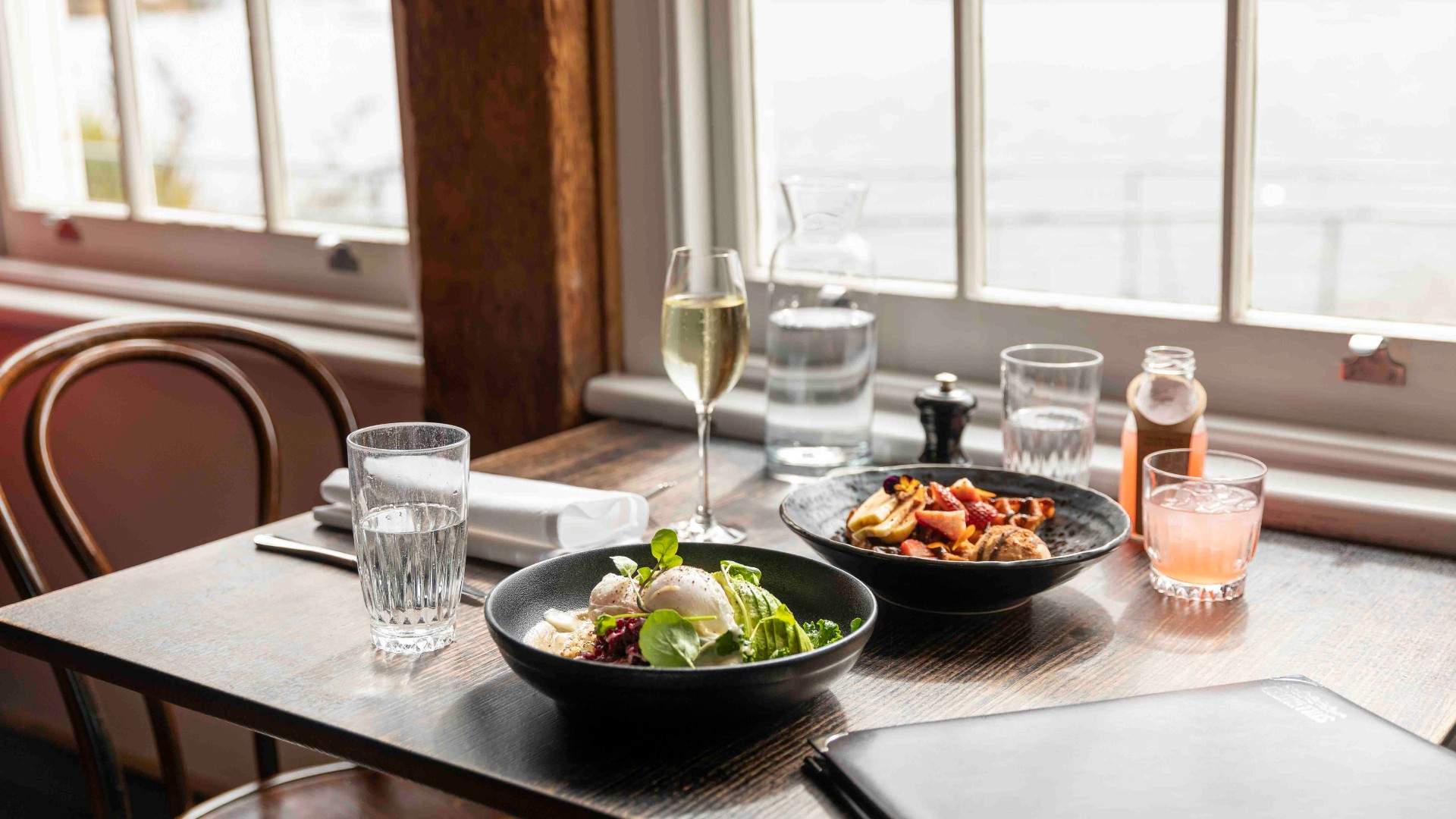 I headed up the road to Hinton Bay Kitchen — an intimate cooking class experience situated on beautiful Tuscan-inspired property and vineyard overlooking the Tamar Valley. I joined a group of friendly locals, learning how to make smoked salmon paté, arancini, focaccia and potato gnocchi slathered in a rich lamb ragu — all paired with chardonnay and pinot noir.
The vineyard is run and operated by Jane and her husband in a style similar to a small French chateau, which values quality over quantity. I definitely understand now why the Tamar Valley's cooler climate produces some of the best wine in the industry. The rest of the day was full of laughs, learnings and stories around a beautiful kitchen enveloped by glass windows overlooking the water.
Hinton Bay Kitchen, 119 Leam Road, Hillwood
Back at my accommodation at Fork It Farm — a family-run farmstay crafting artisanal meat and charcuterie — the fridge was stocked with garden vegetables, freshly made bread, local eggs and milk in a glass bottle with cream on top — something I've heard my Dad tell me about from when he was young. With a perfect breakfast plan carved out, I tucked in for an early night.
Fork It Farm, 311 Adams Road, Lebrina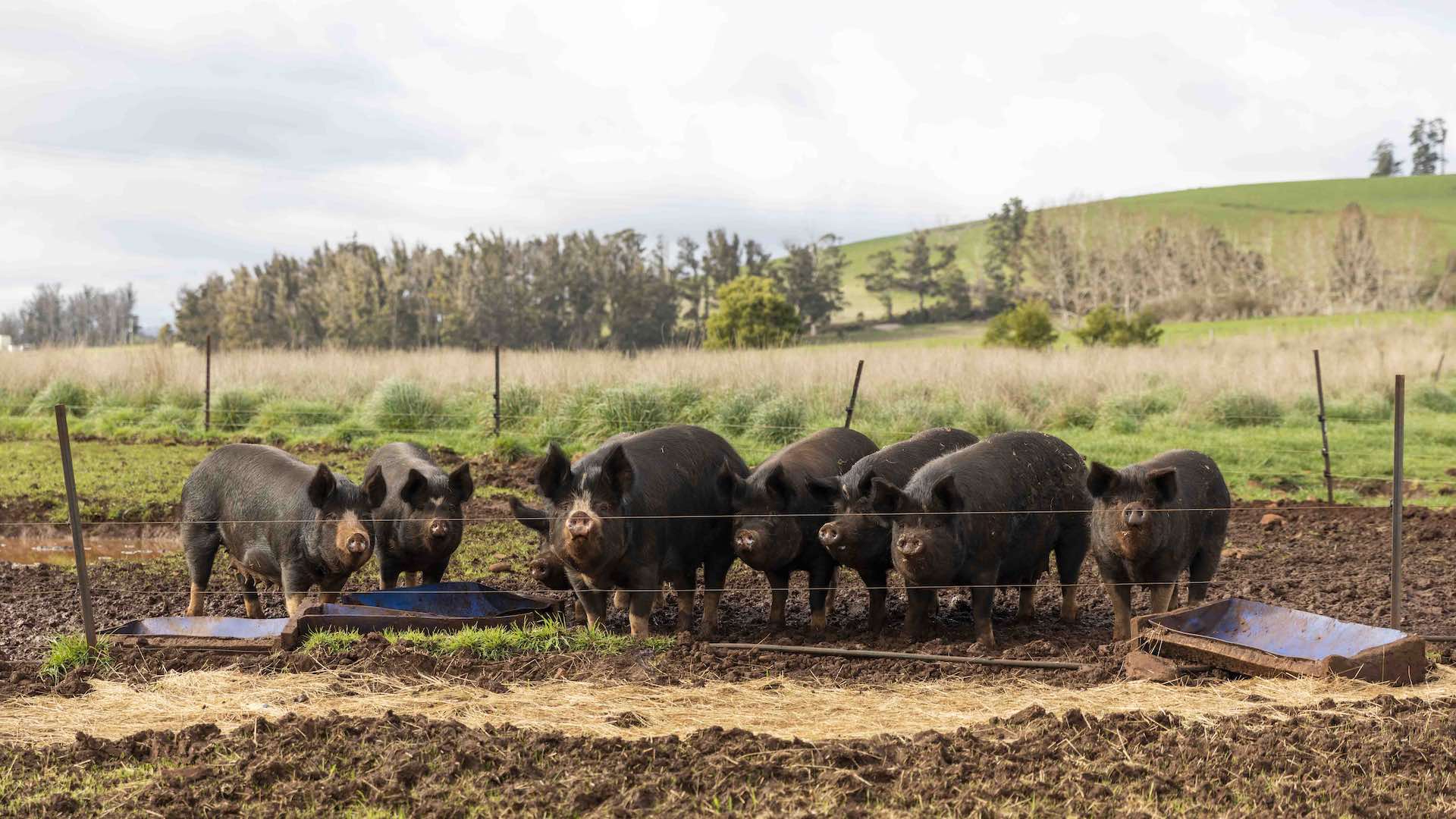 "
The Final Day
Sunday sunrise
I decided to seize every moment of my last day in Tassie and caught the sunrise. The farm was flooded with the first light of the day as I sat out on the deck, overlooking the sprawling valley property, before heading down to meet the pigs of Fork It Farm.
These heritage breed pigs are raised naturally on pasture where they are free to root, graze, wallow and play. It was incredible to get up and close with these intelligent animals and see what a daily feed on the farm looks like. Back at the meat shop, I learnt about how all the meat is butchered and cured on-farm using traditional techniques without artificial preservatives.
Guests are welcome to visit the property and shop at the meat shed on site, which is packed with produce as well as pickles, jams and dairy delicacies. Monthly table feast experiences are on offer too, where visitors can enjoy five courses of different cuts of meat paired with local wines.
Charcuterie and picnic platters are available too, showcasing the meticulous hand crafted cuts created from using every part of the animal. It was an eye-opening and rewarding experience to spend two nights on this farm, landscaped beautifully with sculptures, flower gardens and native wildlife roaming freely.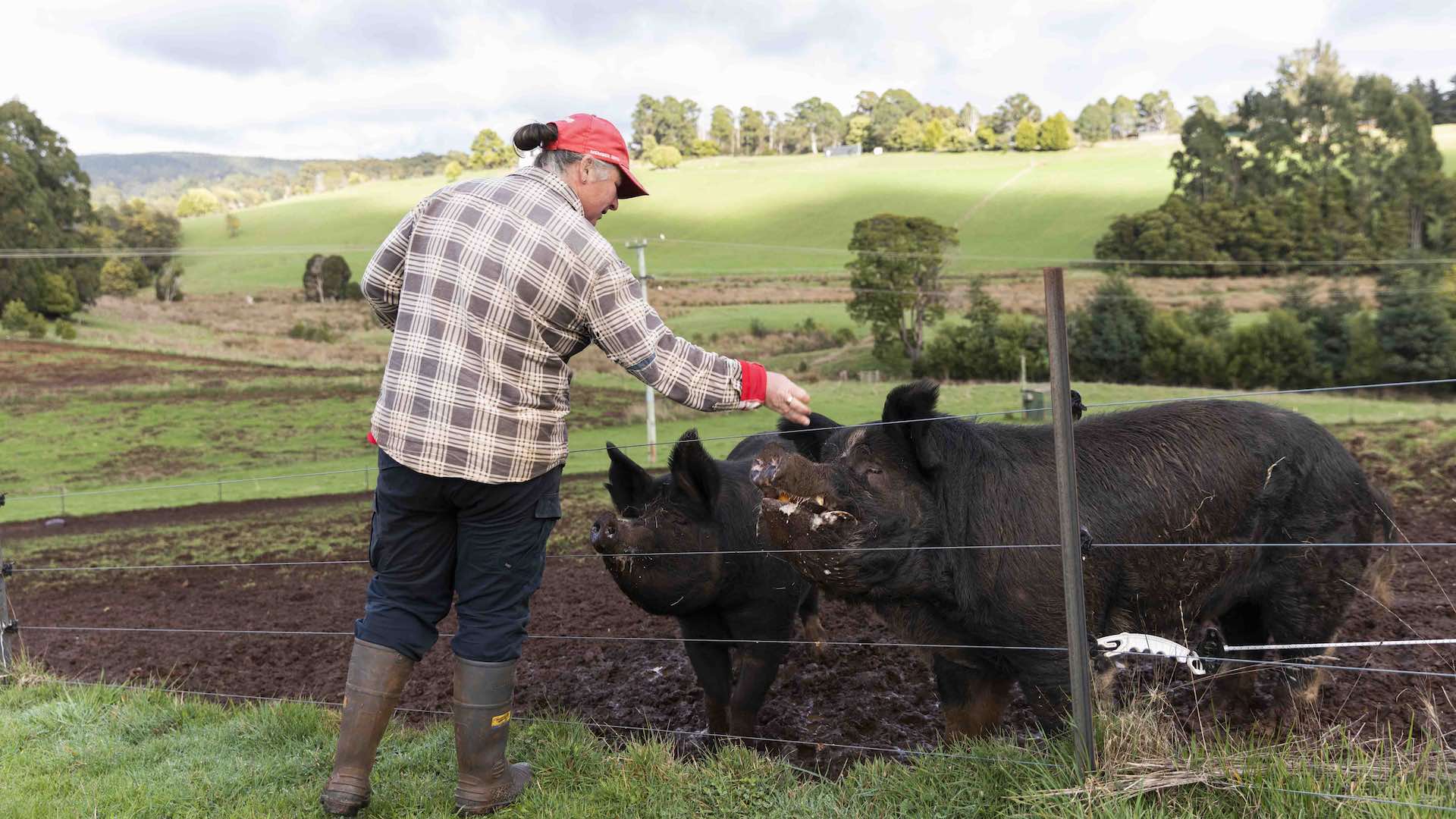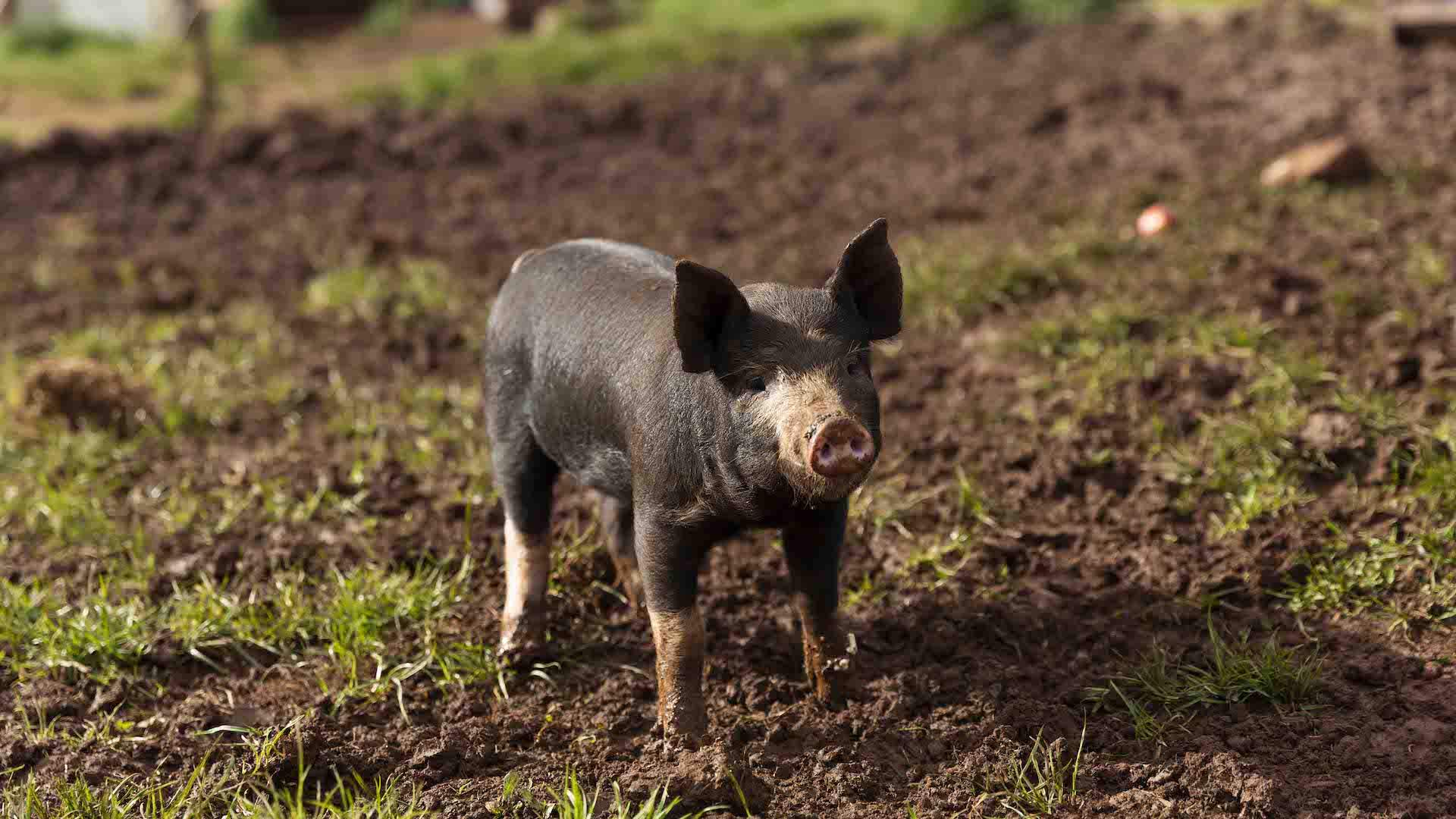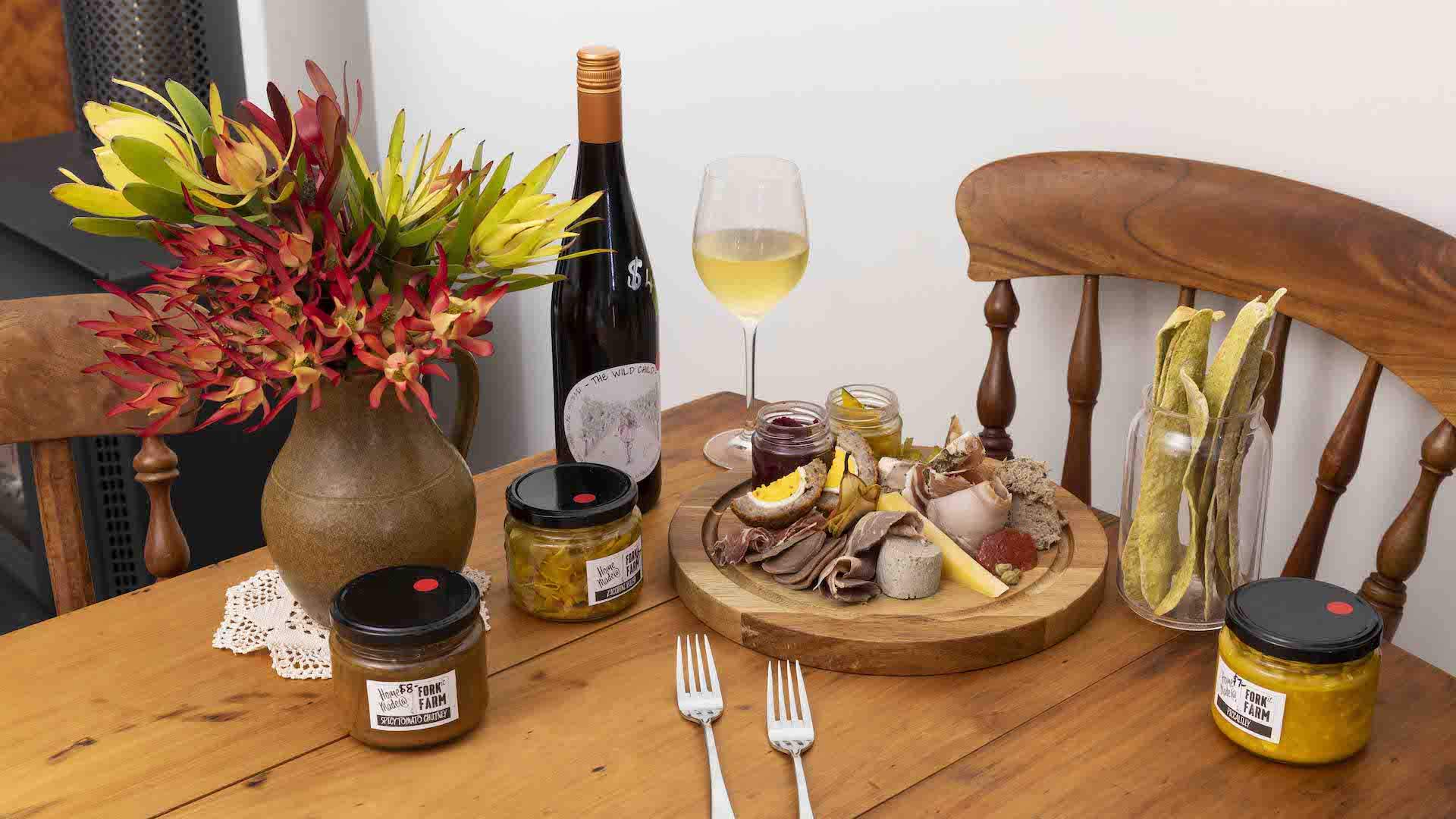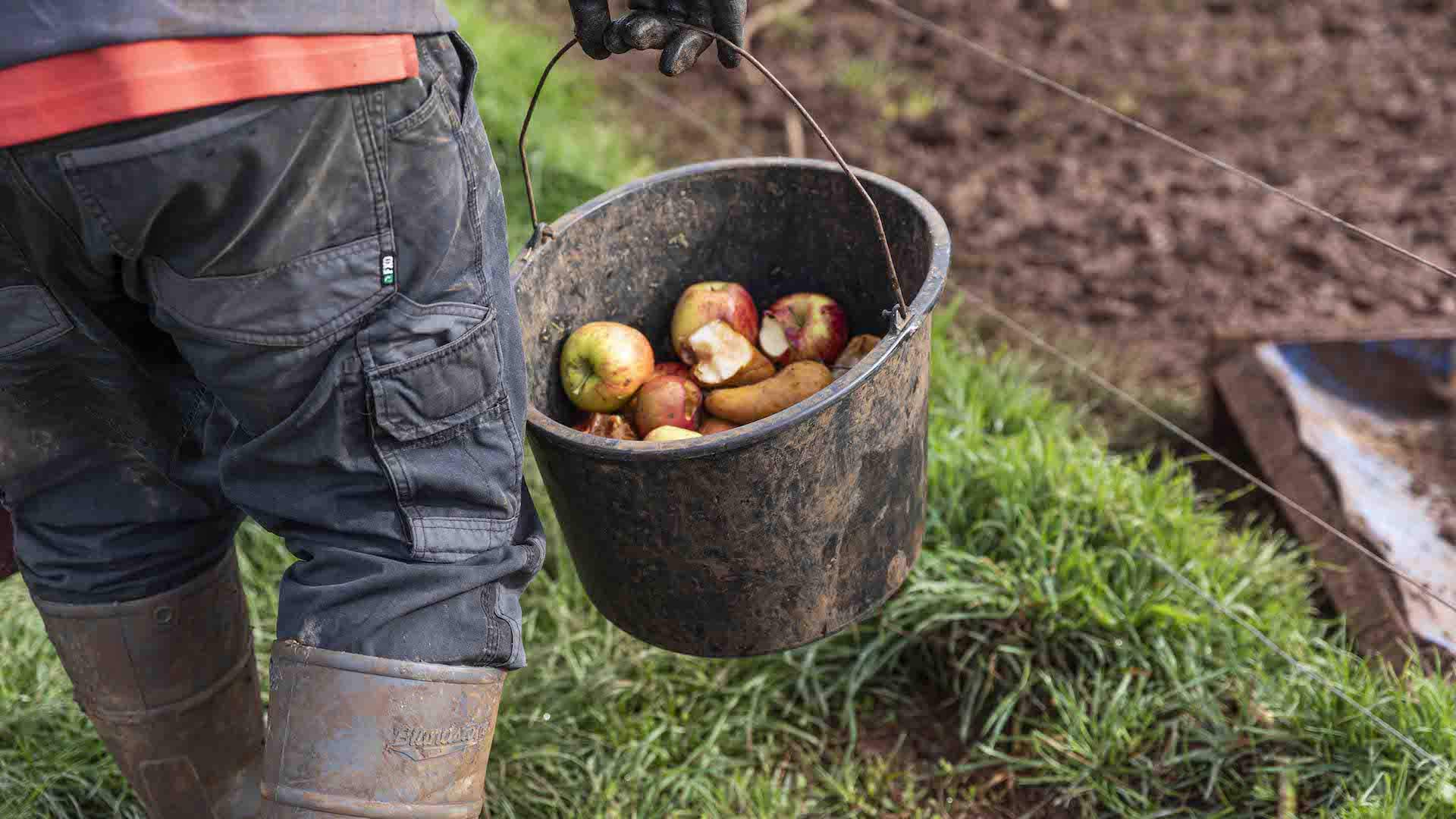 On my way back into the city centre, I made one last stop for a chocolate and cider tasting experience at Brady's Lookout Cider. I ended up spending hours chatting to owners and third-generation orchardists Caro and Chris about methode traditionelle — the 'champagne method' of crafting cider. It's a style that combines the sweet tartness of apple cider with the dry, bubbly sparkling wines that the Tamar Valley is well known for. With people as passionate about their craft as this husband and wife duo, I too became engrossed in their passion (and a history lesson).
Lit by candlelight in one of their cellar rooms, it was a brilliant, refreshing way to do a tasting. Vintage cider posters and palettes of bottles lined the space and, so impressed by this unique experience, I even picked up a bottle or two to take home with me.
Brady's Lookout Cider, Unit 7/9 Craythorne Rd, Rosevears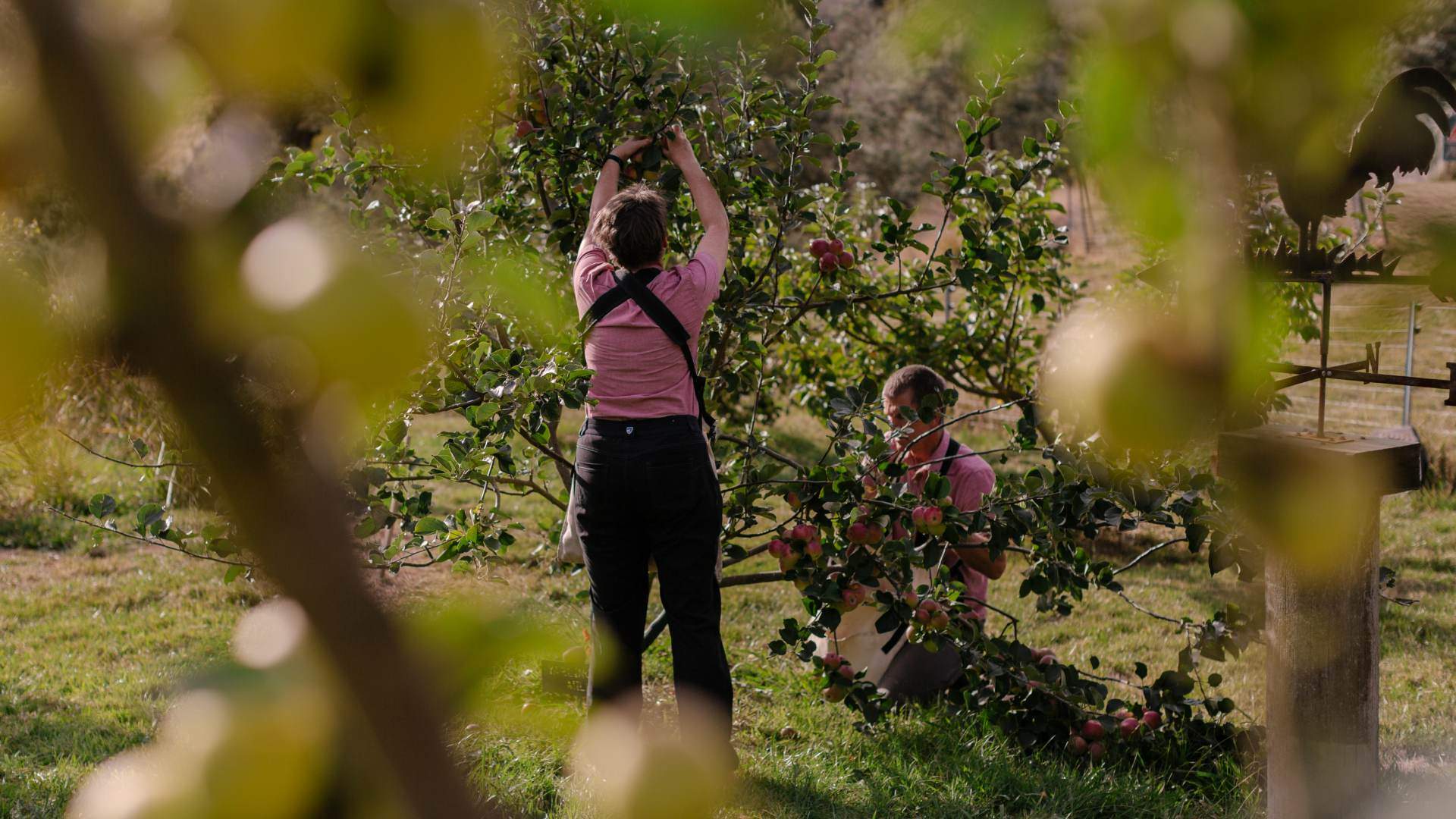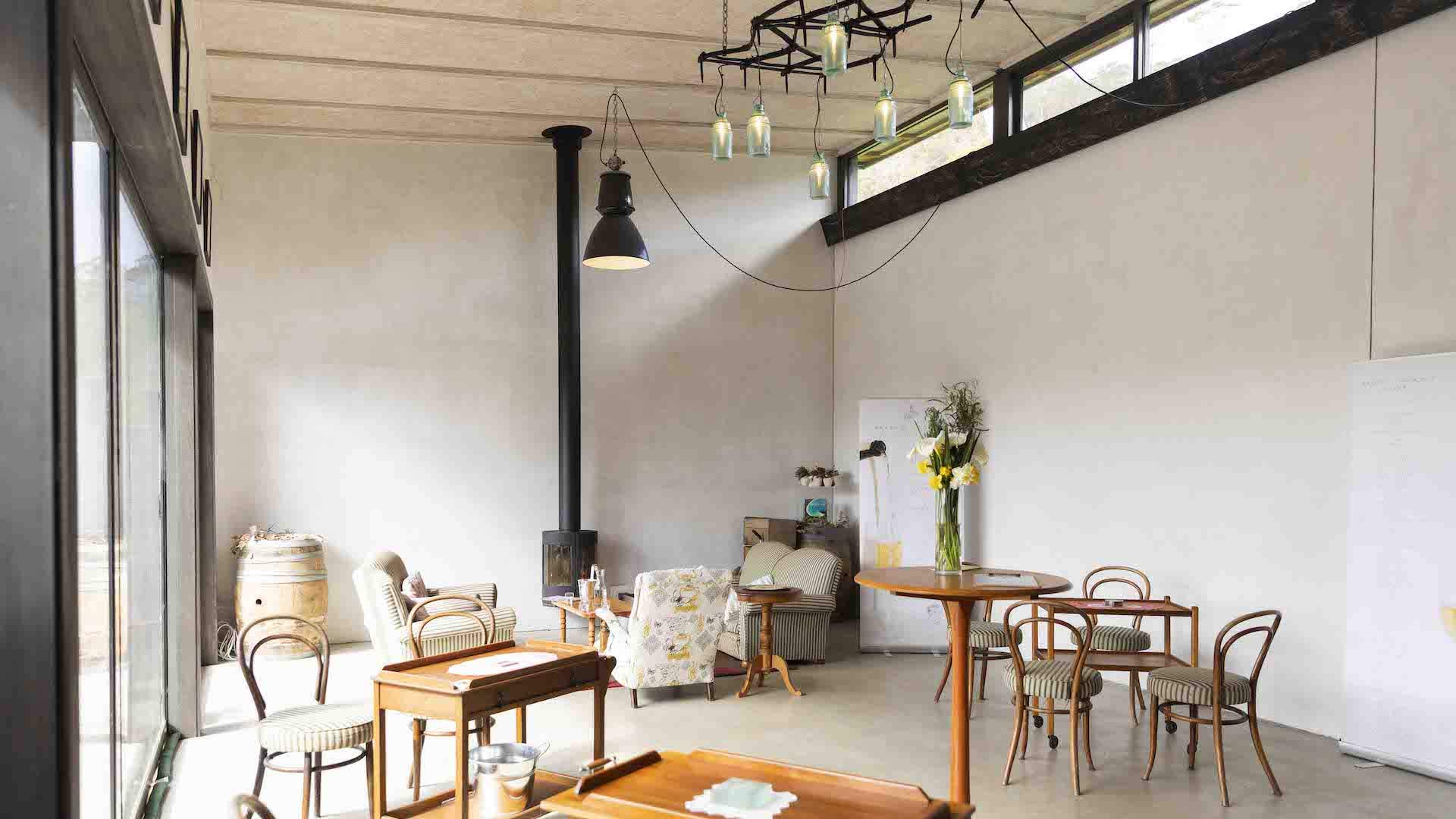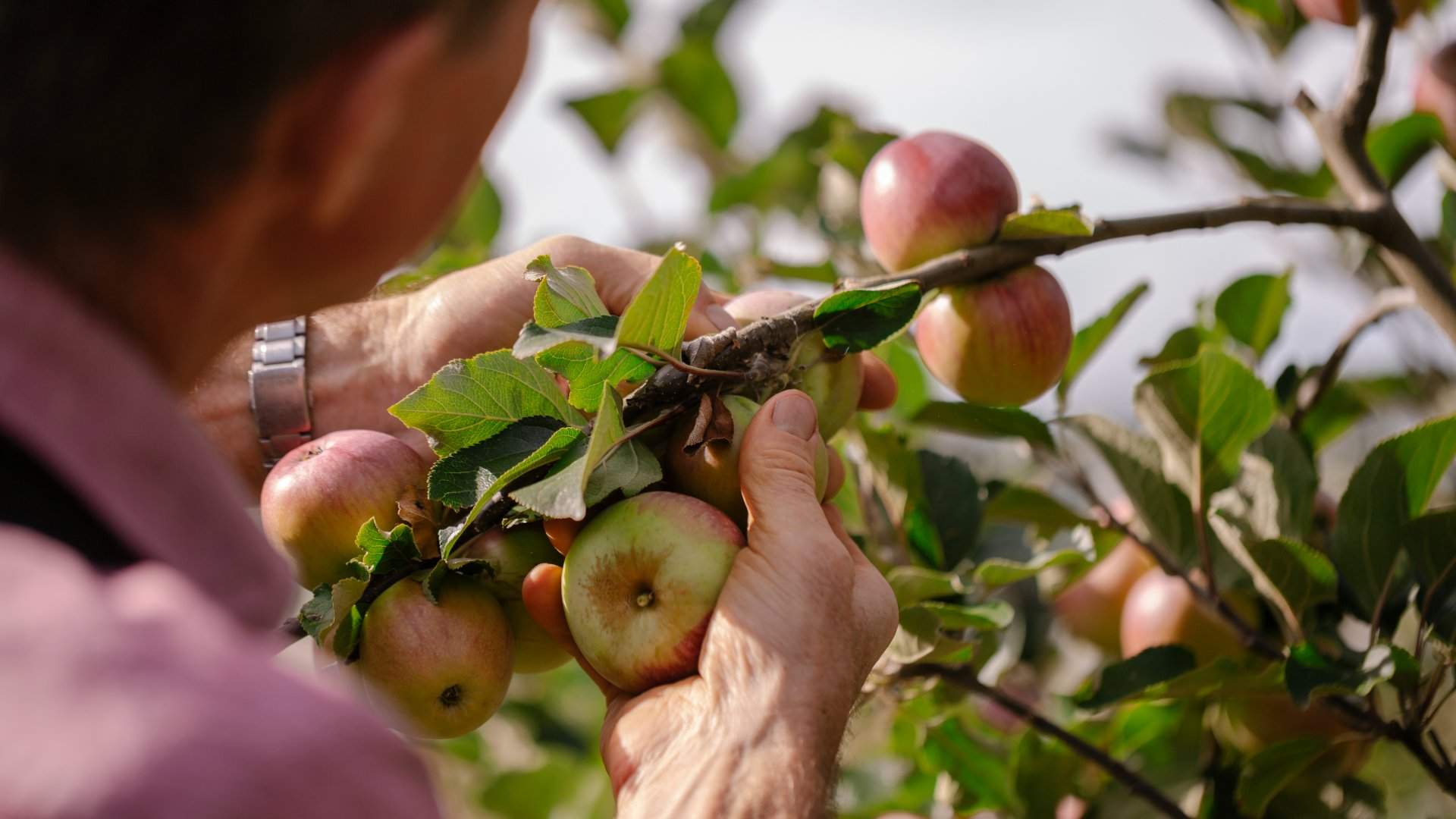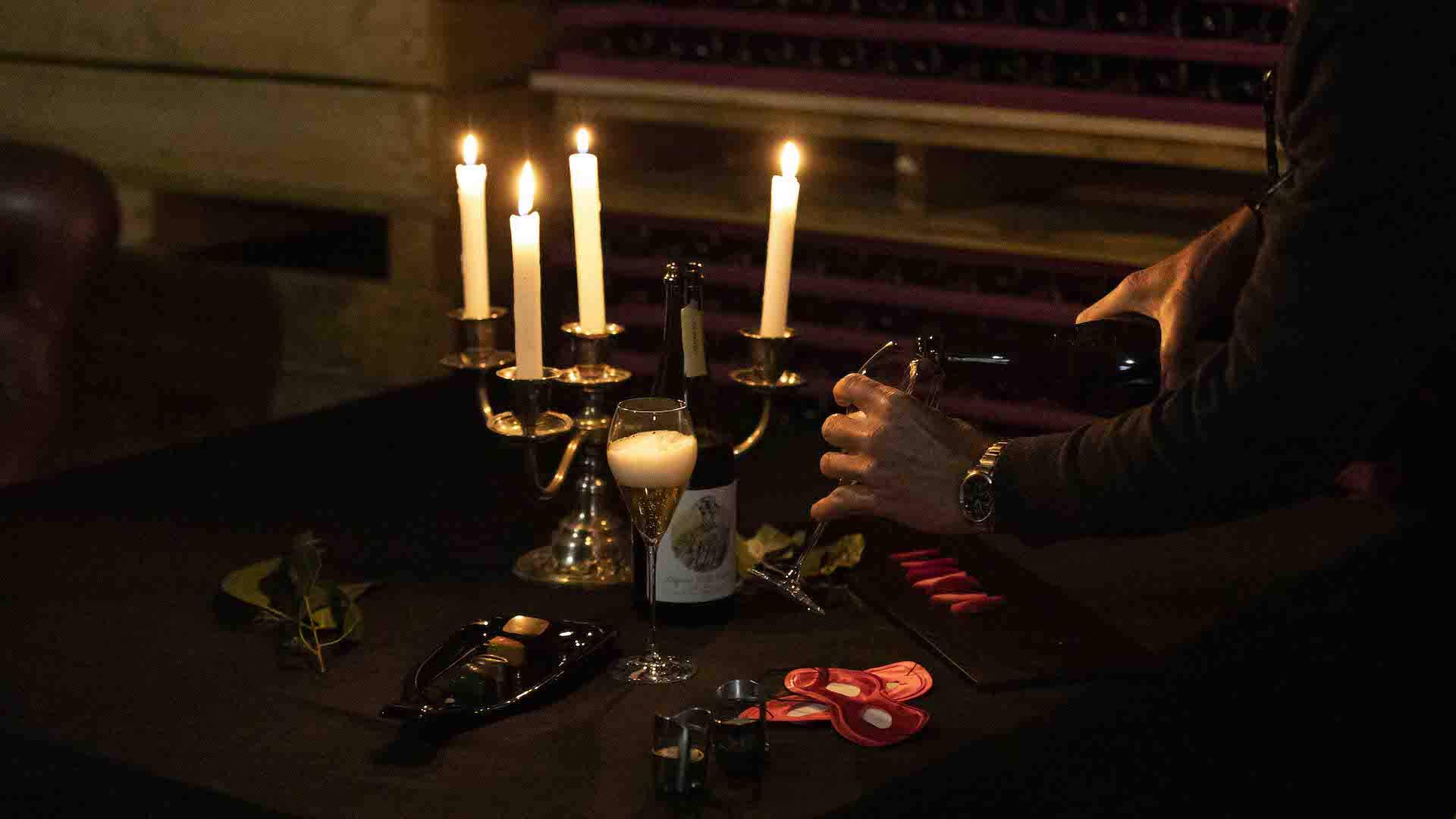 Then it was time to go back to the mainland.
As my plane back to Melbourne disappeared into the clouds on Sunday afternoon, I couldn't wait to get back to tell anyone who would listen about my special trip. My four day journey was as educational as it was enjoyable. From permaculture farming to potato focaccia and pig photography – this trip across Tasmania's north enriched my understanding and appreciation of produce and the people that work passionately to create it.
To start planning your own Northern Forage road trip, head to the website.