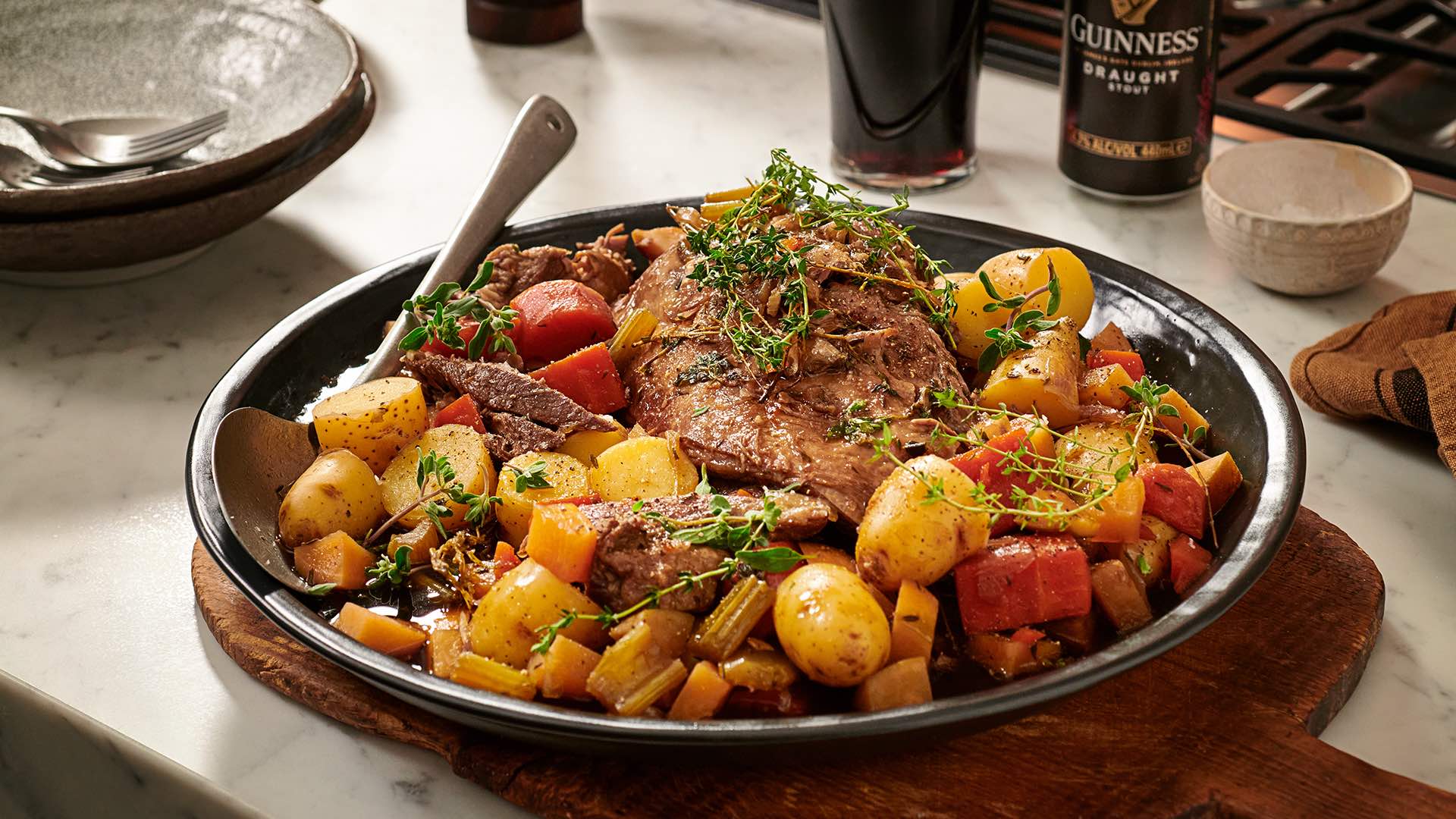 Cosy up to these warming dishes this winter.
COLIN FASSNIDGE'S WINTER RECIPES
Stay warm — and well-fed — with these hearty winter recipes.
There's no denying that hearty, comfort foods reign supreme in the mid-year months in Australia. To stay warm this chilly season, we've linked up with Dublin-born, Sydney-based chef Colin Fassnidge, who's shared some Guinness-inspired winter warmers. So, crank up the oven and call your mates around to tuck into these hearty winter feeds.
Growing up around the corner from Guinness' home at St James Gate — and as a self-proclaimed fan of the black stuff — Fassnidge is just the man to show you how to make showstopping winter dishes that with a splash of our favourite winter brew.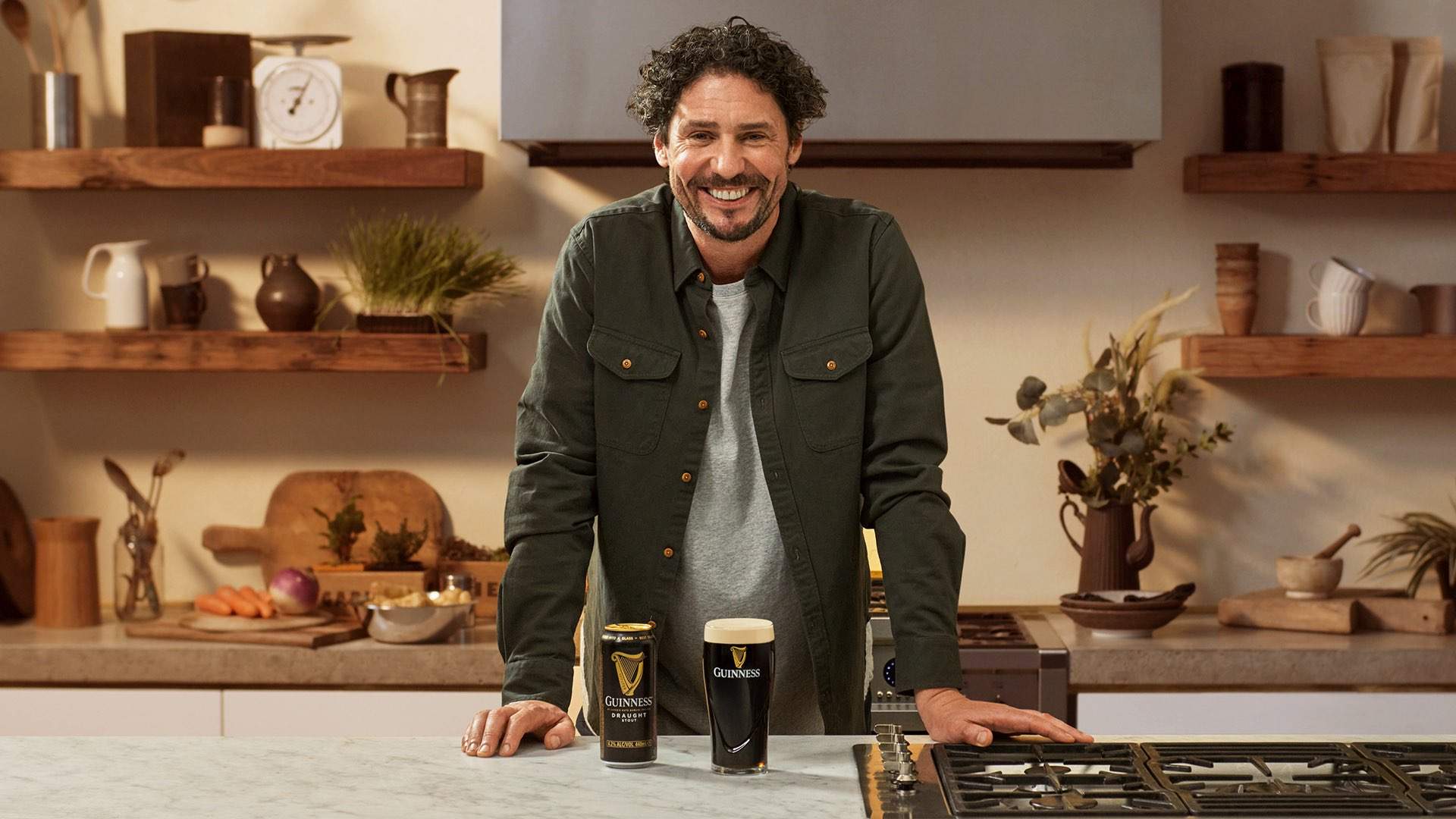 Whether you're cooking up Fassnidge's hearty Irish stew with fall-off-the-bone, melt-in-your-mouth lamb shoulder, or tucking into the saucy goodness of his sweet & sticky short ribs, these recipes are sure to make your winter get-togethers ones you'll remember.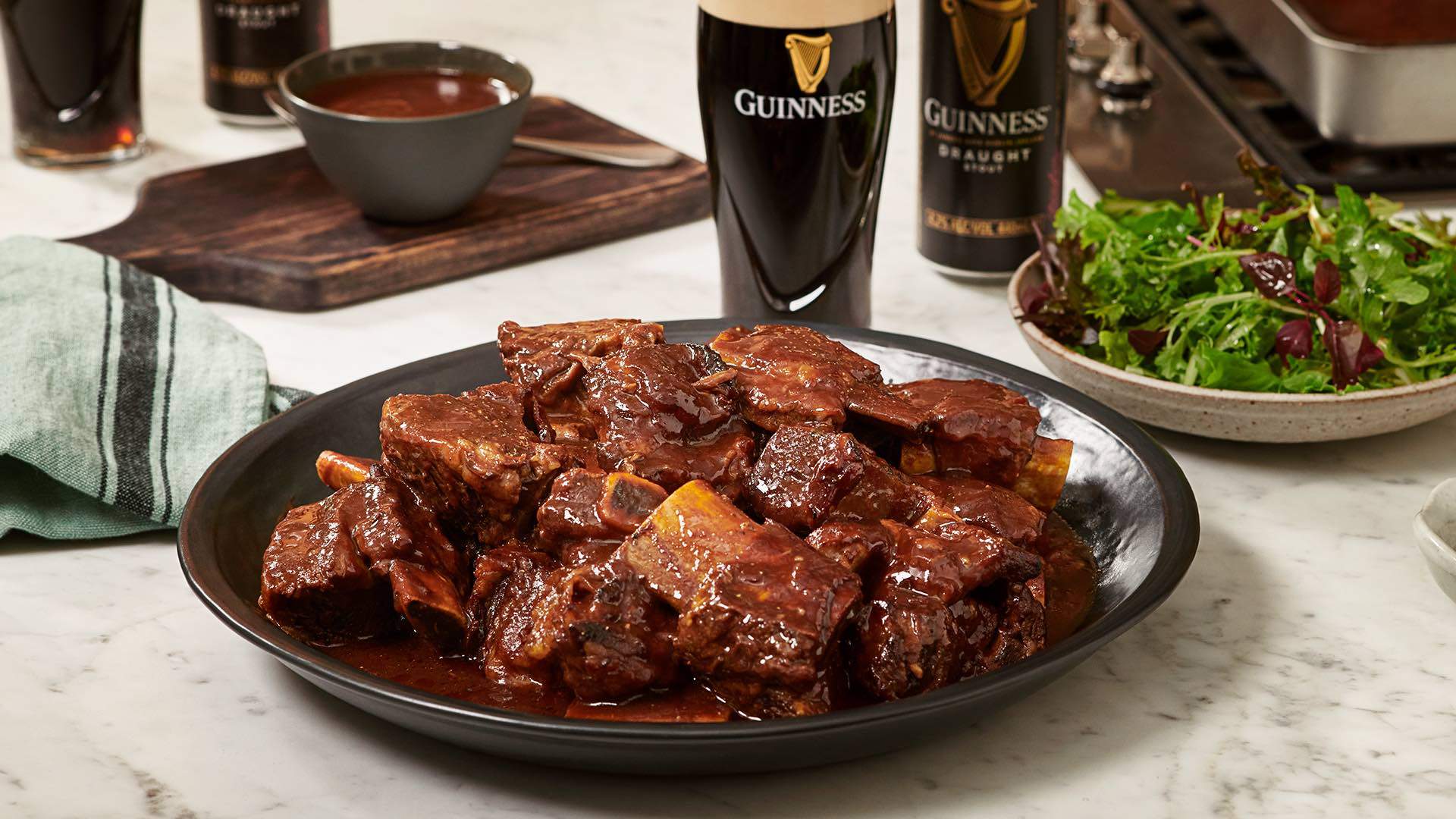 Lip-smacking morsels of meaty goodness.
Sweet and Sticky Beef Short Ribs
These sticky and sweet ribs are ideal for sharing — a "one-pot wonder" that's "truly a winter warmer winner", according to Fassnidge. "This is going to leave your house smelling like happiness and goodness."
INGREDIENTS:
6 beef short ribs, cut into thirds (about 5cm lengths)
For cooking sauce and glaze:
1 litre sugar-free cola
2 large cans of Guinness
2 cups (500ml) barbecue sauce
1/2 cup (125ml) sriracha
1 2/3 cups (410ml) apple cider vinegar
5 whole star anise
2 cinnamon sticks
2 cups (500ml) passata
1 tbsp garlic powder
1 tbsp onion powder
METHOD:
1. Preheat oven to 140 degrees celsius or 120 degrees fan-forced.
2. Combine the cola, Guinness, barbecue sauce, sriracha, apple cider vinegar, star anise, cinnamon sticks, passata, garlic powder and onion powder into a large ovenproof saucepan. Bring to the boil over high heat.
3. Add the beef ribs to the pan. Cover with a tight-fitting lid. Bake for 2 hours or until beef is coming away from the bone.
4. Transfer beef ribs to a large roasting pan. Ladle over some of the cooking sauce. Cover tightly with foil. Bake for 40 minutes.
5. Meanwhile to make the glaze, place half of the remaining cooking sauce in a saucepan. Bring to the boil over high heat. Boil, for 10 minutes or until sauce reduces by half, thickens forms a glaze.
6. Remove beef ribs from oven. Increase oven temperature to 220 degrees celsius or 200 degrees fan-forced. Ladle some of the glaze over the beef ribs. Bake, uncovered, for a further 10 minutes or until beef is sticky and glaze caramelises. Serve beef ribs drizzled with remaining glaze.
Want to see the pro in action? Check out the video below to watch Colin Fassnidge create this hearty dish from scratch.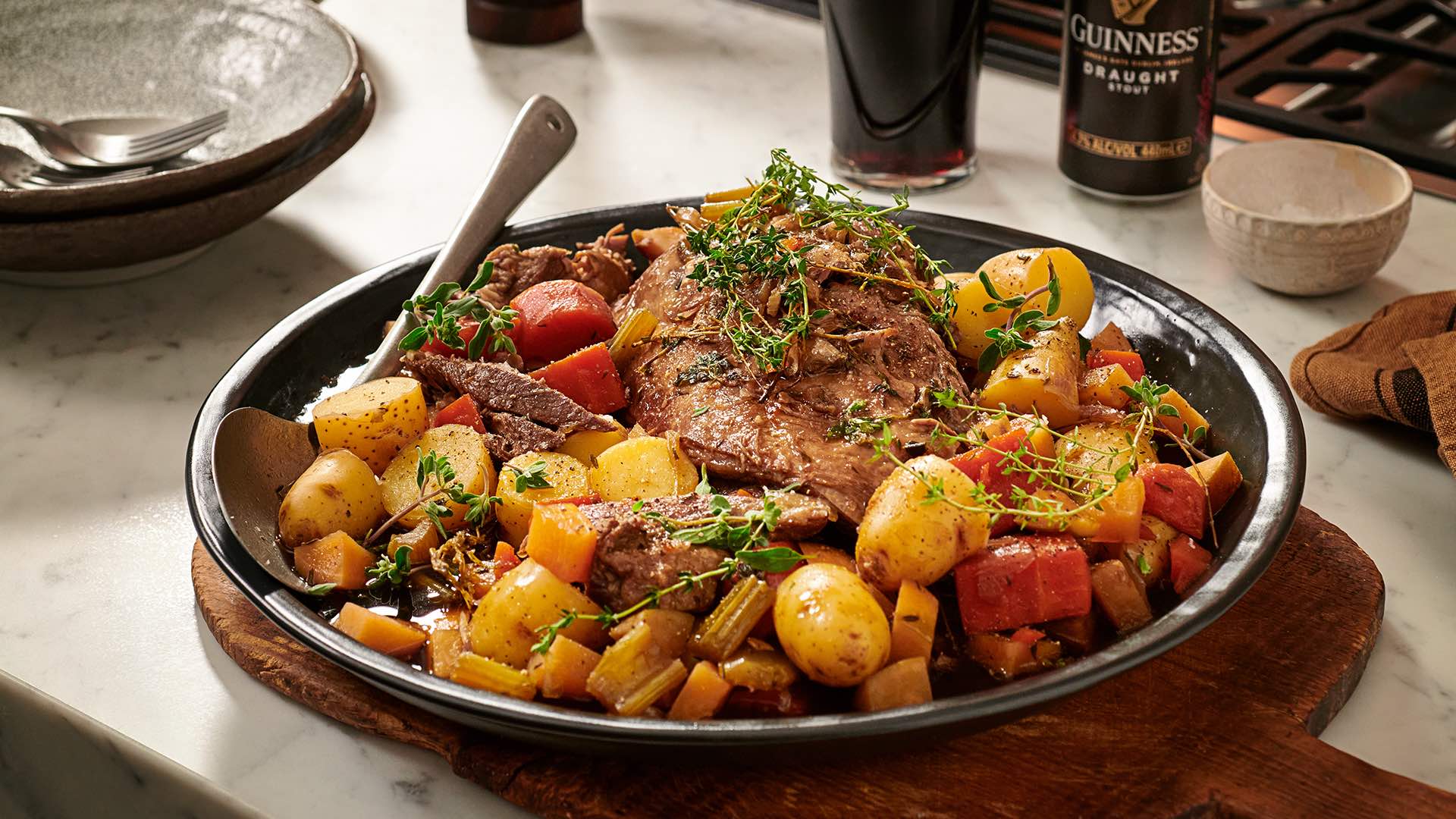 The quintessential winter comfort food.
Hearty Irish Lamb, Potato & Veggie Stew
"Irish stew is something I grew up on," says Fassnidge of this heart-warming classic, which is anchored by its rich, malty and sweet sauce and lifted with fresh herbs. "Irish stew is all about sharing a warm meal with your family, and that's what Guinness is all about."
INGREDIENTS:
2 tablespoons olive oil
1 large brown onion, coarsely chopped
2 celery sticks, coarsely chopped
2 carrots, coarsely chopped
2 bulbs garlic, cut in half
1/2 small bunch marjoram
1/2 small bunch thyme
3 dried bay leaves
2 cups (500ml) Guinness
1.6kg lamb shoulder (on the bone)
Pinch of white sugar
Cold water, to cover
8 kipfler potatoes, scrubbed, coarsely chopped
1 large turnip, coarsely chopped
Herbs, to serve
Serves 4
METHOD:
1. Preheat oven to 140 degrees celsius or 120 degrees fan-forced.
2. Heat oil in a large deep heavy-based saucepan (large enough to fit the lamb shoulder) over medium-high heat. Add the onion, celery, carrot, garlic, marjoram, thyme and bay leaves. Pour Guinness over the vegetables and bring to the boil.
3. Place the lamb, meat-side down, on vegetables. Sprinkle with sugar, season with pepper, cover with cold water and season with salt.
4. Cover with a tight-fitting lid. Bake for 1.5 hours or until lamb is almost tender and just beginning to come away from the bone.
5. Remove lamb from oven. Add the turnip and potato. Cover with lid. Bake for a further 40 minutes or until lamb and vegetables are very tender. Serve sprinkled with herbs.
COLIN FASSNIDGE'S WINTER RECIPES
Concrete Playground Trips
Book unique getaways and adventures dreamed up by our editors