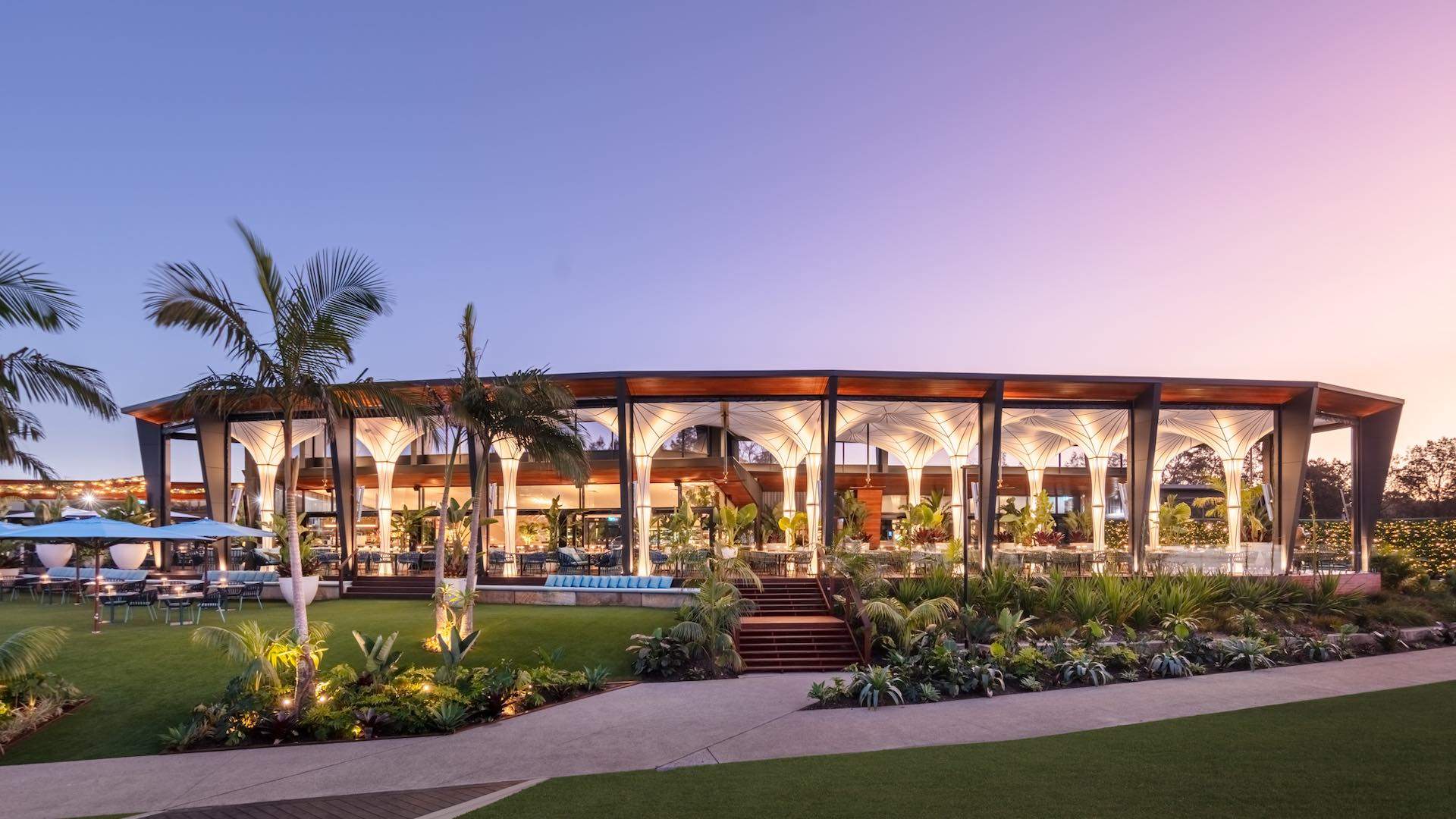 Destination Dining
8 at Trinity
This waterside spot is well worth taking the breezy 80-minute drive from Sydney.
We highly doubt you've seen a pop-up restaurant quite like this one. 8 at Trinity is the just-north-of-Sydney spot giving us five-star resort vibes in an unexpected area. There's a luxe 350-seat dining area, large terrace and sprawling lawn — all overlooking Lake Macquarie's Trinity Point Marina.
What went into the mega build? A whopping $8-million, with the team including stacks of luxury fittings and unique design elements.
Deliciously, from Thursday to Sunday each week, 8 at Trinity serves up contemporary Australian cuisine — with plenty of global influences — in incredibly stylish surrounds. Much of the produce will also come from the Lake Macquarie region, celebrating the local food and drinks industry in all its delicious glory.
Expect to feast on a premium offering, full to the brim with the likes of an ocean-fresh seafood feasting platter and a deliciously-marbled wagyu tomahawk steak. Though, there are all the classic favourites alongside too; think homemade pastas, wood-fired pizzas and an impressive sugar-sweet selection of desserts.
Pair all this with theatrical cocktails, wines and beers and you are sorted for one extra-special day or night out in the Lake Macquarie region. We're calling it: this buzzy dining destination is worth travelling for. If you want to make the most out of the trip, we're giving away $800 in dining credit for the restaurant and two nights of accommodation on-site for you and up to seven mates.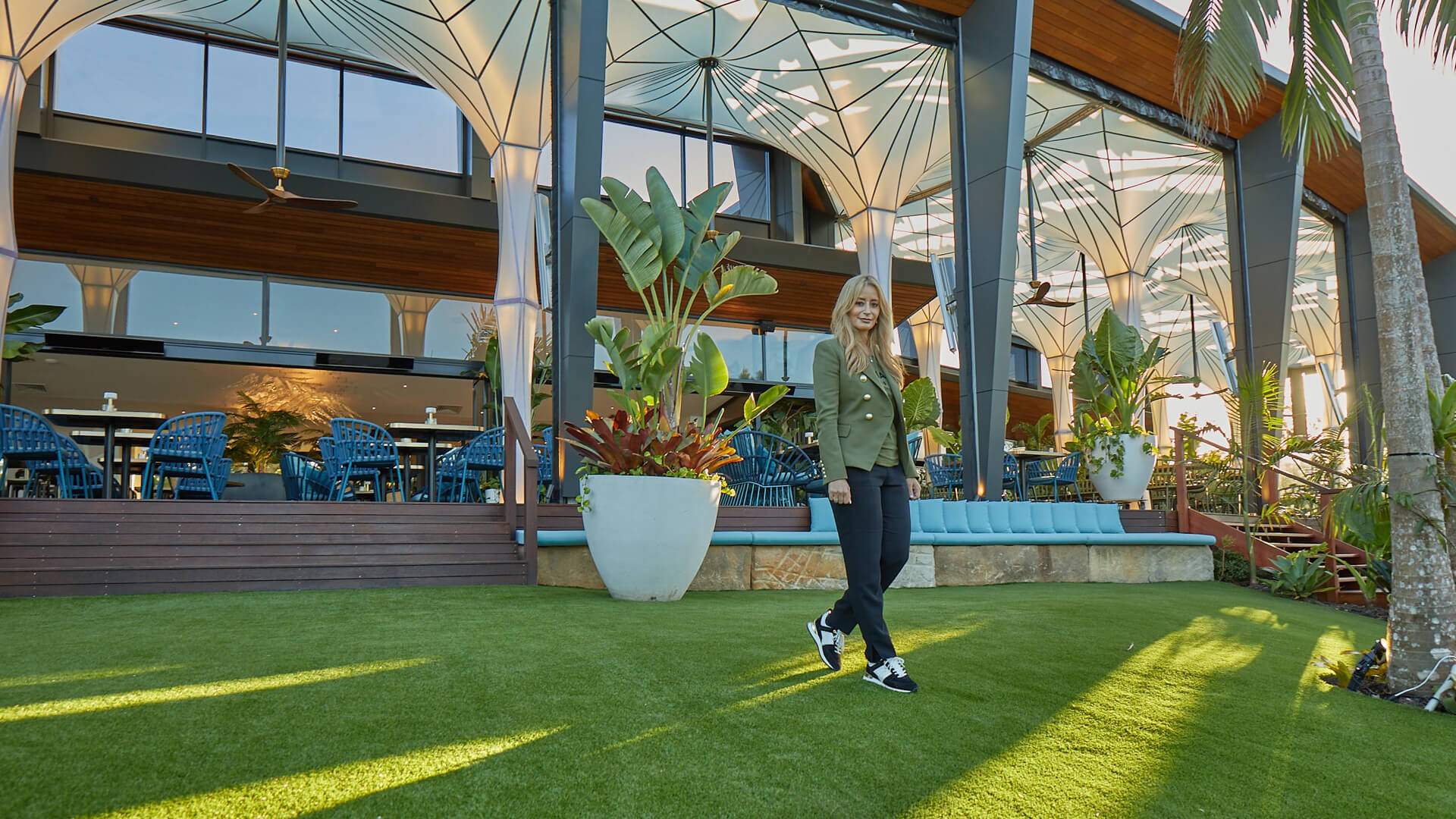 The Design
Natalie Johnson (pictured above), the owner of 8 at Trinity, is personally responsible for much of the pop-up restaurant's design. She has quite the resume of venue ownership — beginning at age 19 and extending to owning three restaurants, a luxury confectionary shop chain and spending a decade working in Sydney property management. When coupled with her travels around the globe, dining at luxury restaurants and resorts,  she found the inspiration to create a dining destination that Australia's regional areas lacked — but deserved.
Johnson wished to make a real statement with the lavish lakes spot, not wanting to spare a single expense. And that she did — especially with the striking marquee. She saw a similar design overseas and instantly fell for it. Inspired, she commissioned an architect to create a bespoke version especially for 8 at Trinity.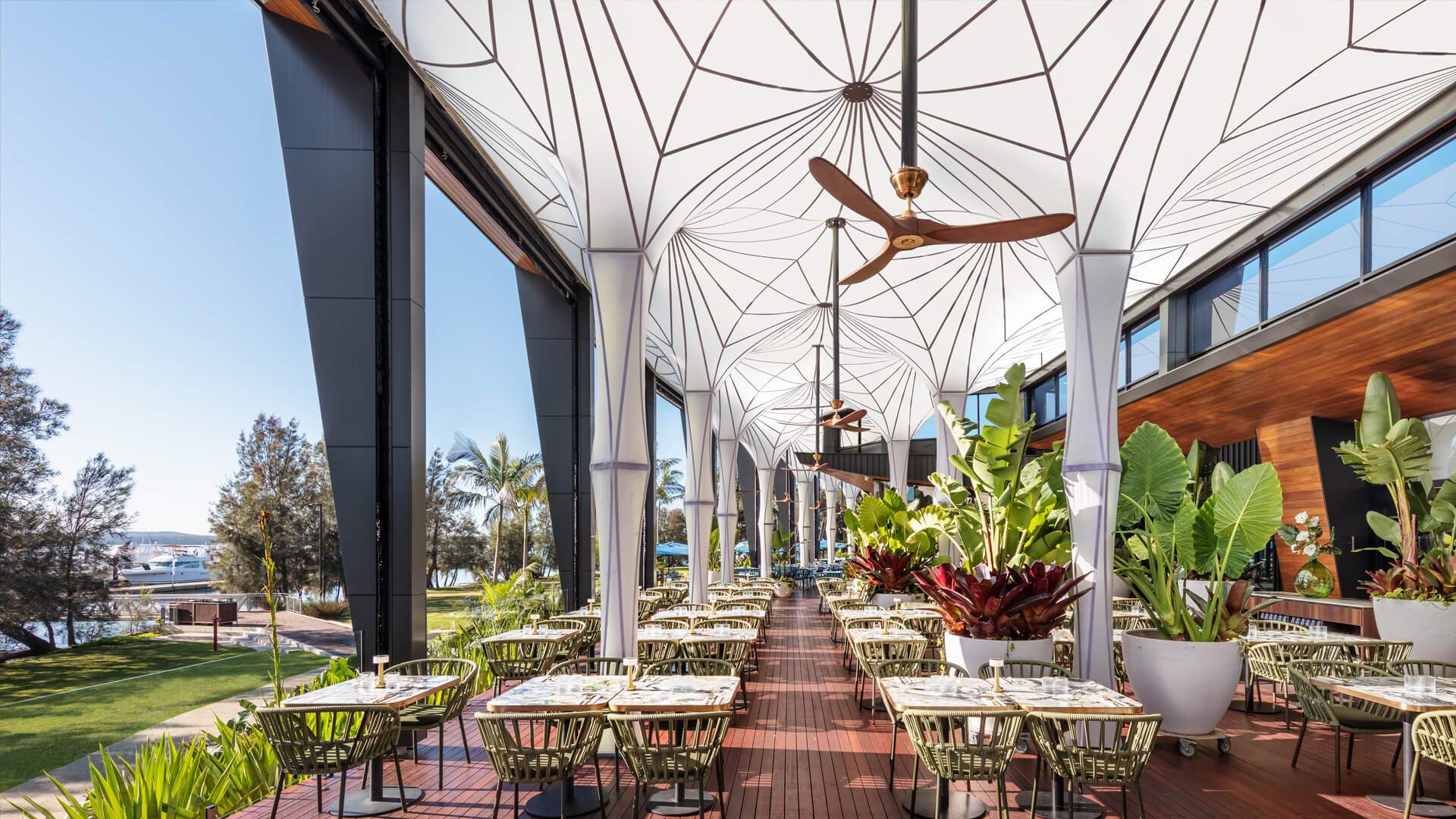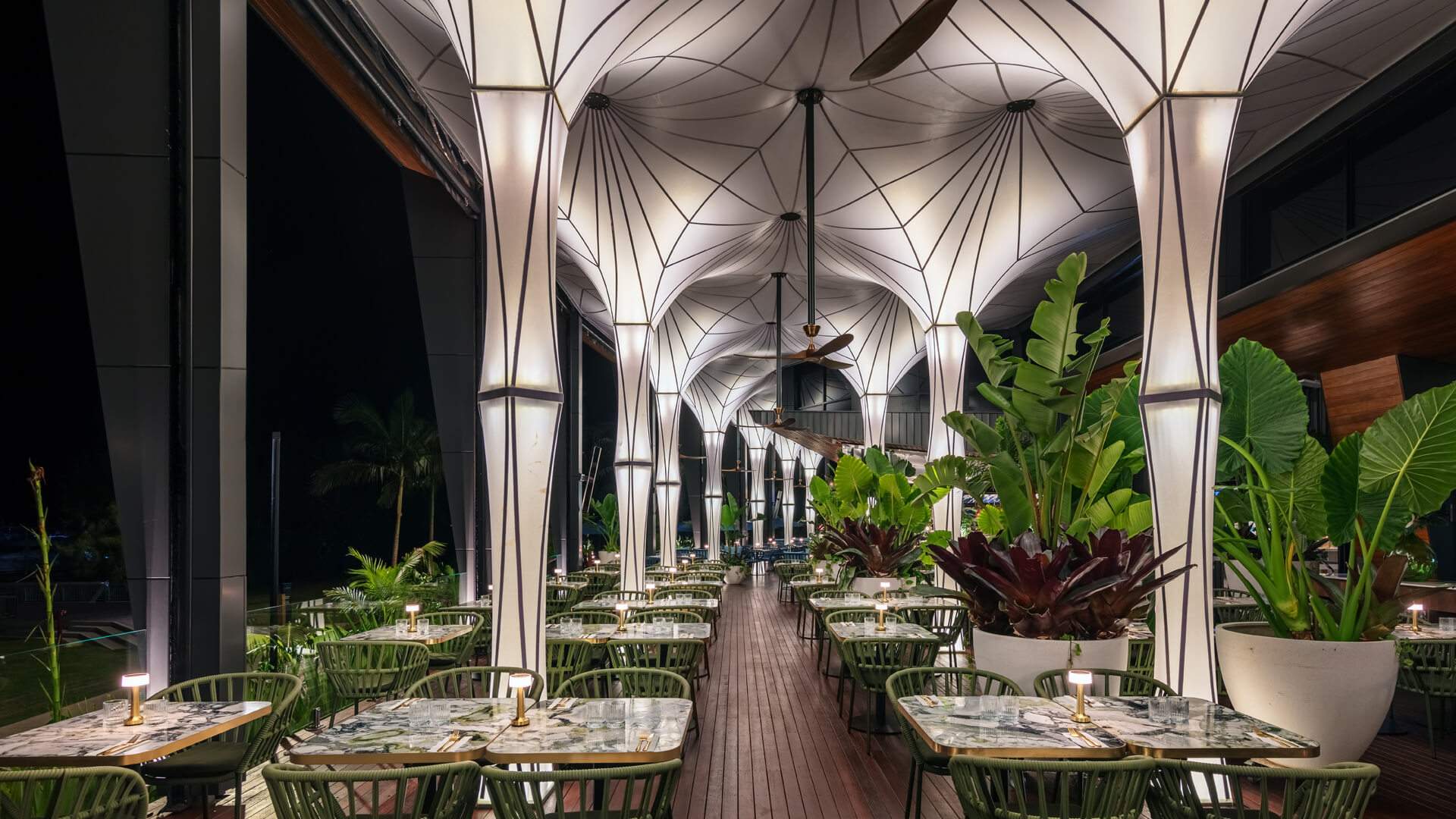 Beyond this element, Johnson designed much of the other spaces herself. The bar is inspired from those she visited in Paris, the jungle of reflective of travels in Singapore — and the rest of the features come from her own keen eye for luxury and design.
Because the location is so remote — you certainly won't find it by accident — she knew the offering had to be unique and grand in scale. To catch the eye of in-the-know travellers, it had to be big. And it's certainly worked. And despite people telling her she was foolish to spend $8-million on the venture, the business of destination dining at 8 at Trinity is booming — inviting in crowds of hungry customers each day, most of whom drive up from Sydney.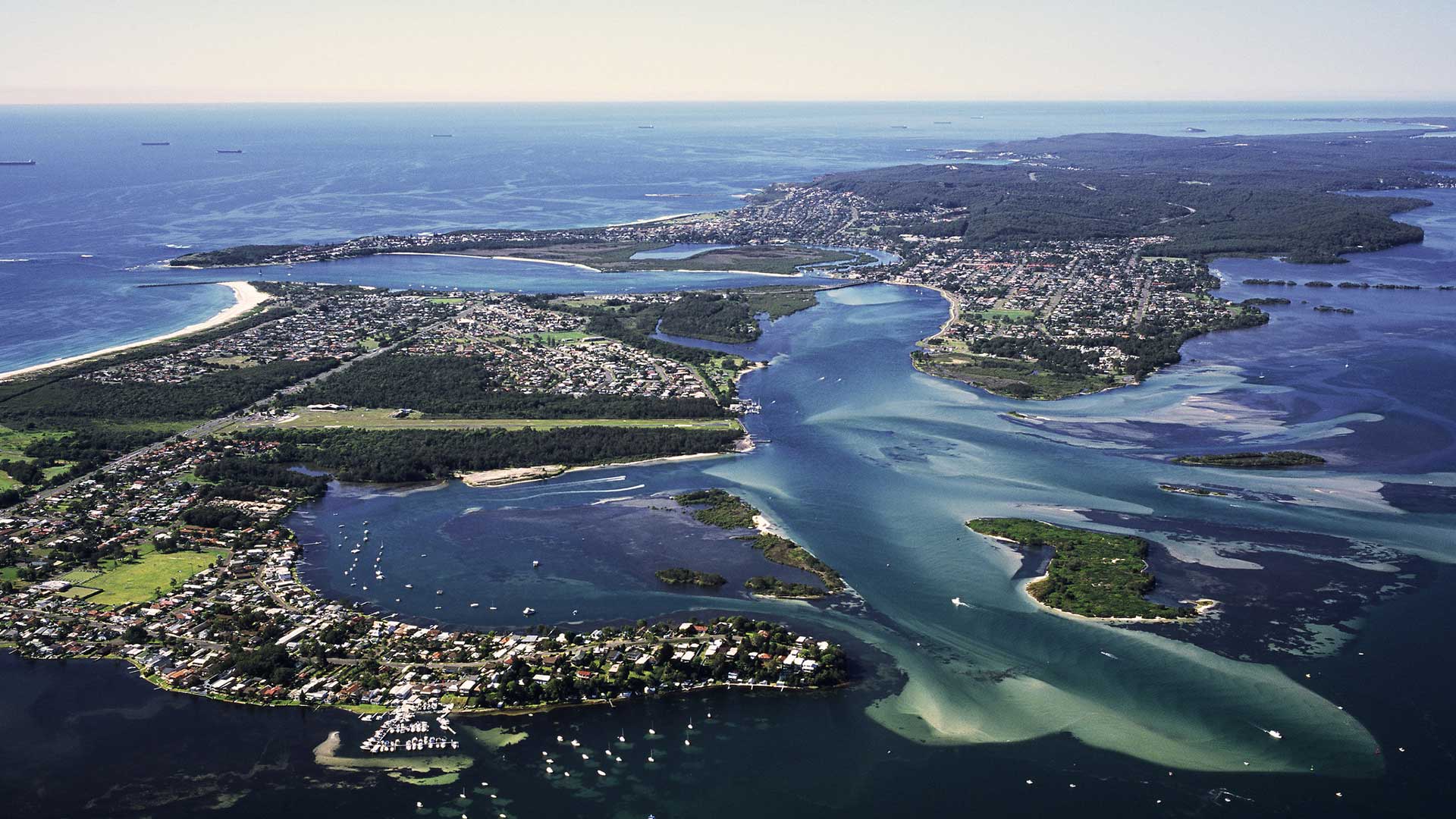 The Local Area
Sitting prettily at Trinity Point in Lake Macquarie, the pop-up restaurant is a breezy 80-minute drive from Sydney, and only half an hour south of Newcastle. This small rural locale in Lake Macquarie isn't top of everyone's to-travel lists, but it is set for one hell of a glow up.
8 at Trinity is but a taste of what is coming to the area — the team here have plans set to totally redevelop Trinity Point. Keith Johnson, the husband of Natalie, is the Managing Director of the Johnson Property Group, which owns the expansive 23-hectare development on the Lake Macquarie shoreline.
Within the coming years, it will become home to a lavish 220 room hotel, two 300-seat restaurants (one of which will be a newly designed 8 at Trinity), a wellness and day spa, multiple bars, pools and 218 waterfront apartments. And if the current pop-up restaurant is anything to go by, it's all going to be mighty glam.
Looking at the past work of this power couple, the final developments on Trinity Point will mark the area as a standout destination for any NSW road trip. The works will also inject a hefty $588 million into the local economy and create hundreds of direct and indirect jobs throughout the construction and, upon completion, servicing the final product and showcasing the local area.
But in the meantime, you can explore the rest of the stunning Lake Macquarie region. To the east, you've got 167 kilometres of jagged photogenic shoreline and a bunch of cosy coastal towns. And out west, you'll find dramatic mountains, rolling fern gullies and waterfalls within Watagans National Park. It truly is the ultimate spot for a quick weekender from Sydney.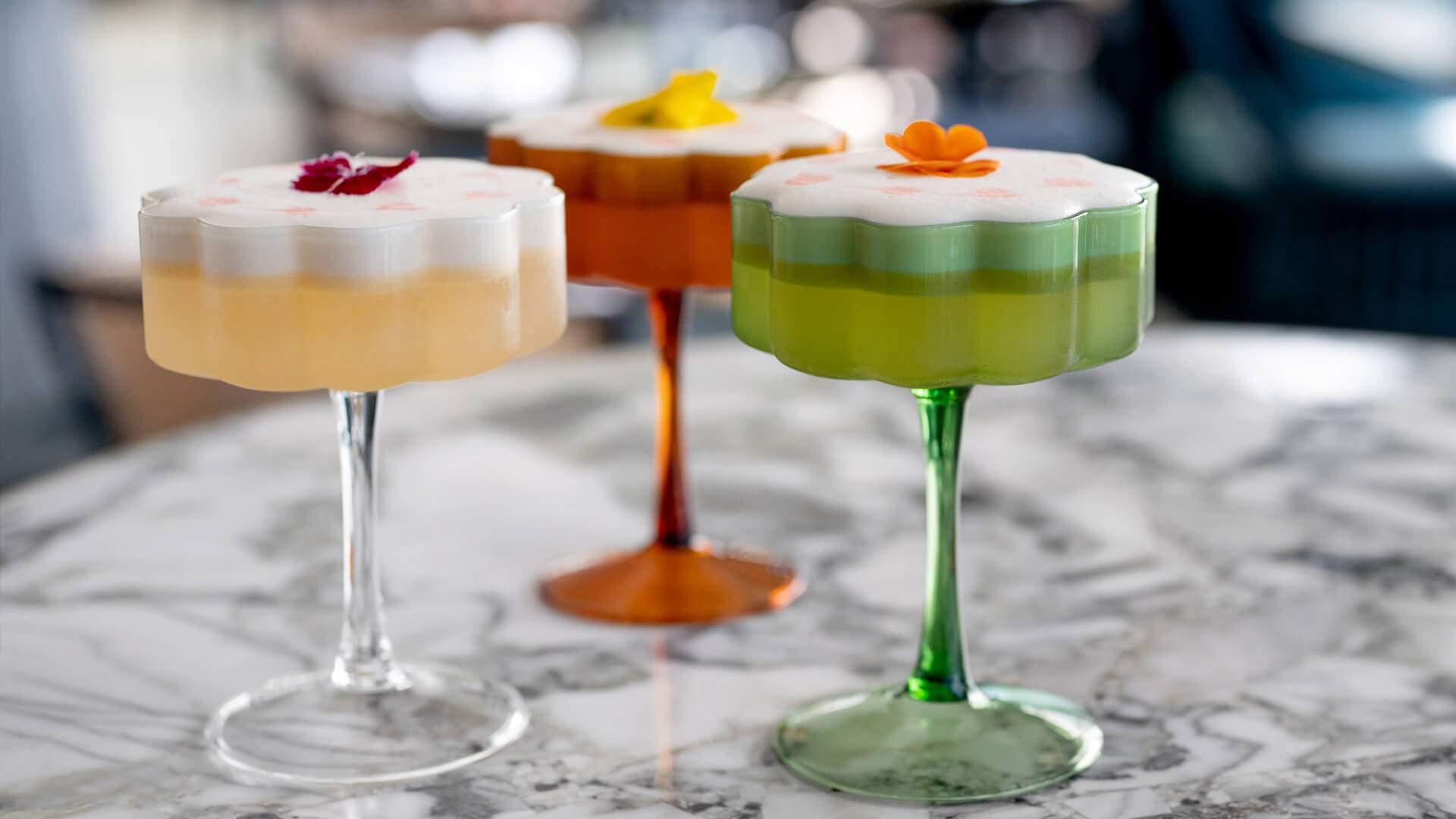 The Menu
Like much of the building's design elements, Johnson has played a great role in creating 8 at Trinity's luxe menu. An element that's been strongly influenced by her travels, too.
The generous portions of Singaporean chilli prawns and long list of Japanese wagyu steaks were inspired by her trips around Asia. And the extensive menu of pizzas and pastas from food-fuelled trips through Italy.
But, there are strong local influences too. The team celebrates the world-class seafood caught around the Lake Macquarie locale, offering up one of the most decadent seafood platters we've seen. The multi-level art piece comes piled high with Sydney Rock Oysters, Moreton Bay bugs, kingfish ceviche, scallops, a half lobster, tiger prawns, Murray cod, fried calamari and a generous portion of chips.
Other lavish specials include a 1.2-kilogram Hong Kong-style whole lobster with accompanying egg noodles and buttery ginger sauce, and the enormous Tajima Wagyu tomahawk steak (that's as marbled as can be) that's made to be shared between three to four people — served with picante, chimichurri and green peppercorn sauce. So, steak lovers best choose this beast of a dish.
It also must be noted that you won't have to break the bank here — more approachable dishes also abound. Try the golden saffron arancini balls, fried burrata (a fresh take on the cheese on every menu at the moment), gnocchi with stracciatella or the classic beer battered Murray cod and chips.
Dessert-wise, you've got Med classics like a Frangelico-laced affogato topped with toasted macadamias and an apple tarte tatin served straight out of the oven. This place is made for feasting — and any time you really feel like treating yourself to something special.
To get a better idea of what this luxe spot is all about, watch the 8 at Trinity video or skip straight to booking a table via the website. And to enter our giveaway for dining credit and accommodation, check out the competition here.
Images: Paul Foley, Lake Macquarie Tourism (bird's eye shot).
Concrete Playground Trips
Book unique getaways and adventures dreamed up by our editors