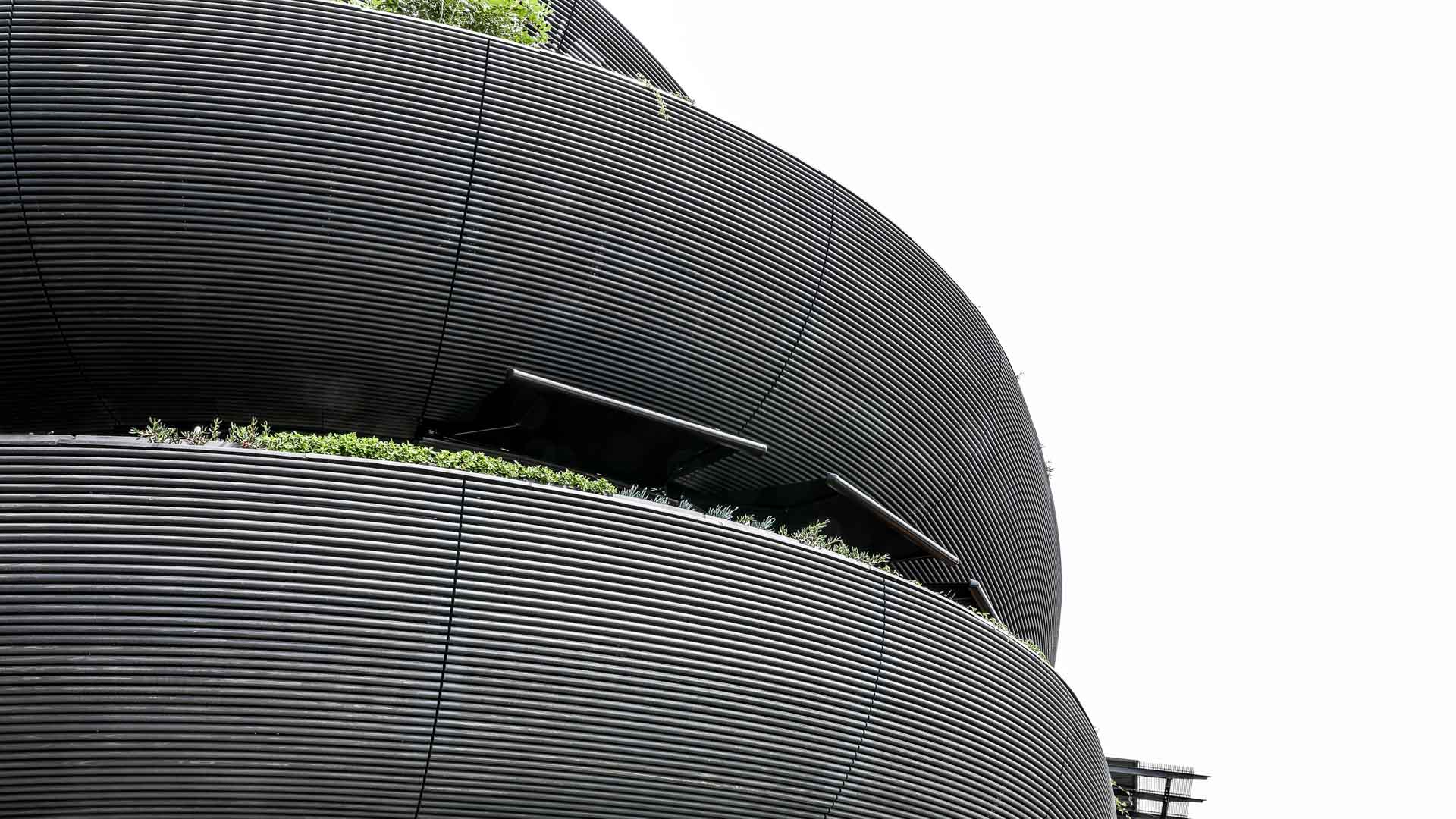 New in Town
Barangaroo House
Matt Moran's ambitious three-tiered venue features a public bar, a fine diner and rooftop bar overlooking the harbour.
Restaurants began sprouting in the waterfront mega precinct of Barangaroo in 2015, and there have been some impressive openings since. Hot ticket food faves from across the city — from Lotus to Efendy and Bar H to Bentley — have come in to create a sleek new food scene that has left diners perplexed as to where to place their dinner pennies. But few have been as anticipated as the curved, architectural wonder that is the multi-level Barangaroo House, headed up by Aria's Matt Moran.
With an ex-Noma chef ready to play wizard with native ingredients, an intrepid sommelier sourcing soon-to-be iconic wines, and a young designer bringing fresh eyes and local craftsman into the visual story of the venue, Barangaroo House is shaping up to be worthy of the hungry hype. 
At water level is House Bar, which spills onto the walkway via a green terrace and offers a casual waterside vibe and drool-inducing vertical spit. The middle floor houses the sophisticated Bea, where Head Chef Cory Campbell brings his unique style to a menu led by homegrown ingredients. At the apex where the building and sky meet is Smoke, a sleek bar featuring — yup — smoke-infused ingredients, garnishes from the hanging garden, and a 400-bin wine list with greats from Australia and beyond.
Barangaroo House opened its doors last week, and we've got an inside look. In partnership with Zantac we're uncovering the best new restaurants and bars around Australia as they open. We've got the lowdown on the team, the design and — most importantly — the menu so that you can head in educated, excited and ready to take it all in — with a few dishes recommended by the chef, no less.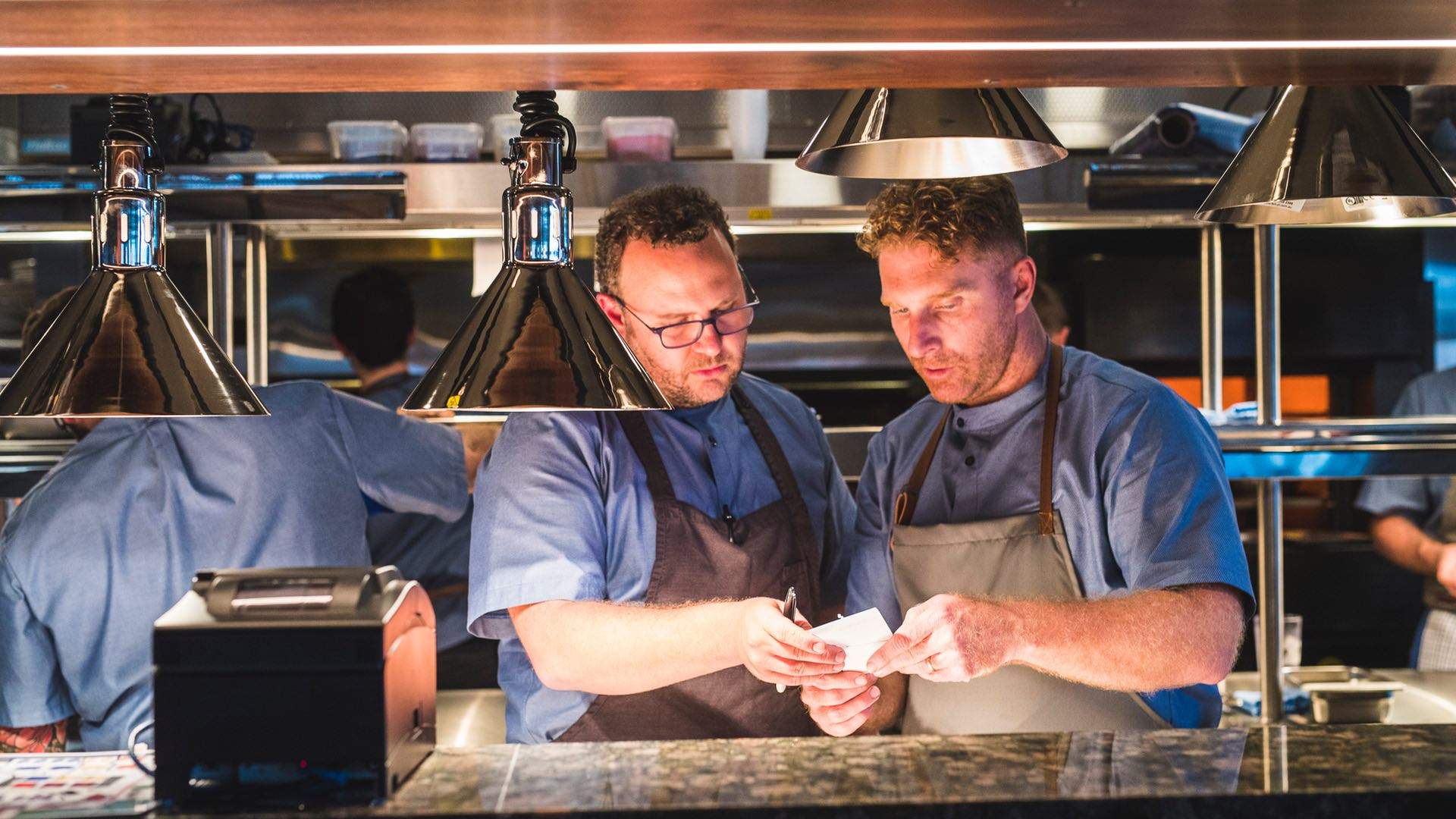 The Team
Matt Moran and the team at hospitality group Solotel have built an army of killer talent to oversee the three-tiered venture. Head Chef Cory Campbell brings a no-rules approach to dining that draws on his experience working under Rene Redzepi at Copenhagen's Noma. After returning to Australia and leading the kitchen at Vue de Monde in Melbourne, Campbell was looking to open a small venue of his own before being approached by Moran. "When I saw that building, it was stunning," says Campbell. "It absolutely took my breath away. I thought: I'd be stupid not to."
Joining Campbell in the field of flavour will be head sommelier and New York native John Paul (JP) Wilkinson, whose professional wine journey began in Australia at Jonah's on Whale Beach, before seeking out restaurant cellars and sommeliers from Rockpool to Glass, and also honing his pairing skills in New York, Abu Dhabi and in the vines of South America.
"This many years in the business has taught me a venue is nothing without its people," says Moran. "And I consider myself pretty lucky to be opening our venue at Barangaroo with Cory and JP, who are both incredibly talented and hard-working. And of course beyond the team in the spotlight there are countless others working tirelessly behind the scenes. It takes an army to bring venues like this to life."
One of the missions of the Solotel group is to entrust young, emerging creatives to fire up a flare into their projects, so they approached Emilie Delalande, founder of design firm Etic, to join the army and come up with an interiors battle plan that would work in three distinct, but linked spaces. Having spent five years at Akin Creative and having Merivale projects in her list of arsenal, she enlisted local craftsman and artists to bring the Barangaroo House vision to life.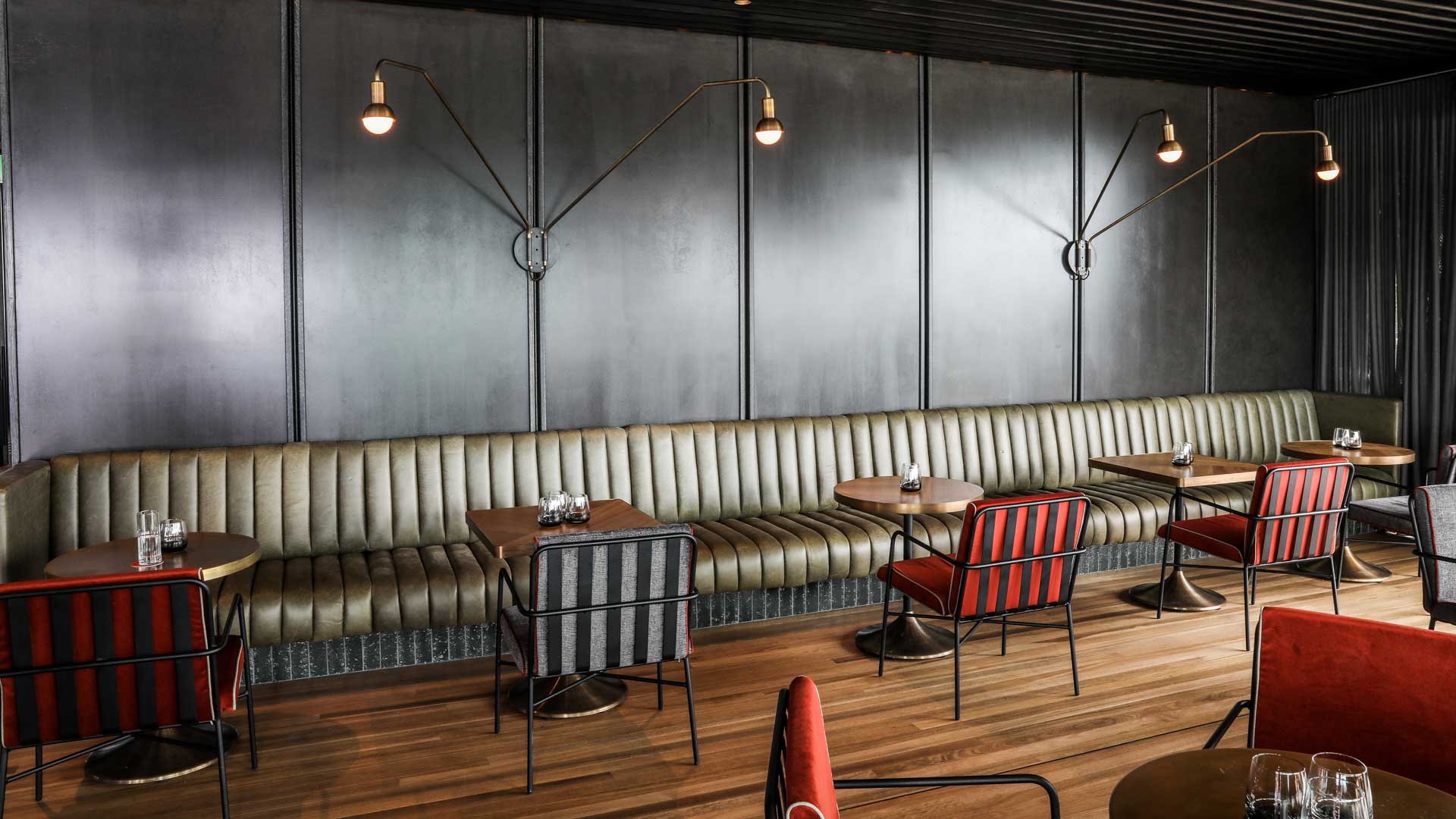 The Design
Expanding on the elemental concept of H & E Architects, who are responsible for Sydney venues such as Chiswick and China Diner, young designer Emilie Delalande from Etic brought a fresh set of peepers to the Barangaroo House project to create both a seamless narrative throughout and a unique visual personality to each level.
"Timber was definitely a big starting point in terms of the interiors," says Delalande. "It was really important to have a common colour and finishes palette, so that as you go up into the different venues you see that it's part of the same form, but each one has a very distinctive identity."
House Bar, that stretches into the public space of Barangaroo via a landscaped terrace, has drawn on the waterfront location by bringing in shades of deep blue. A sculptural 12-seat table made of solid timber and brass is a focal point, but all the interiors are designed to reflect the casual and comfortable nature of the space.
"House Bar on the ground floor is more accessible and more playful, but, as you go up, it's kind of a crescendo – something way more sophisticated and unusual," she says.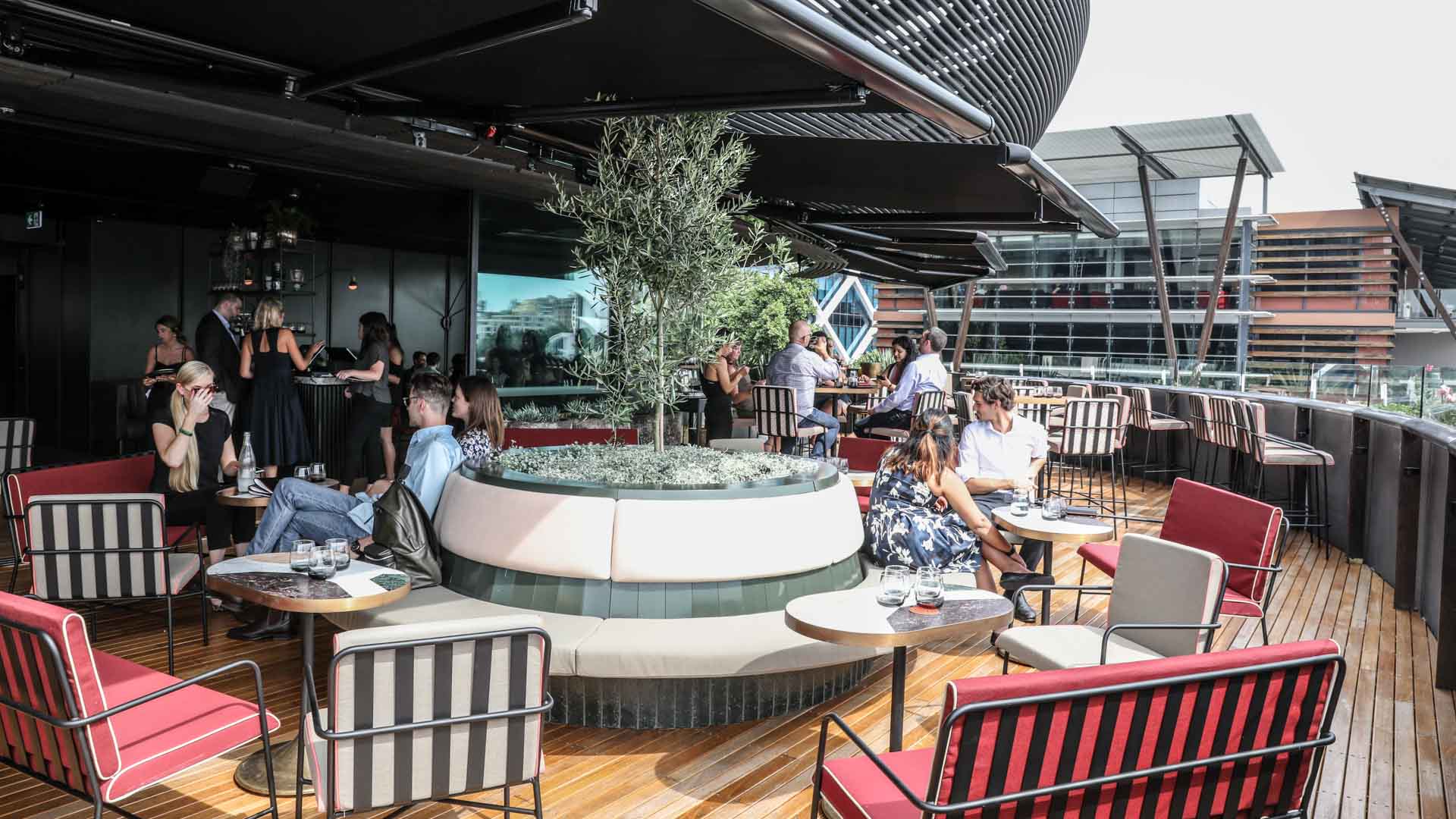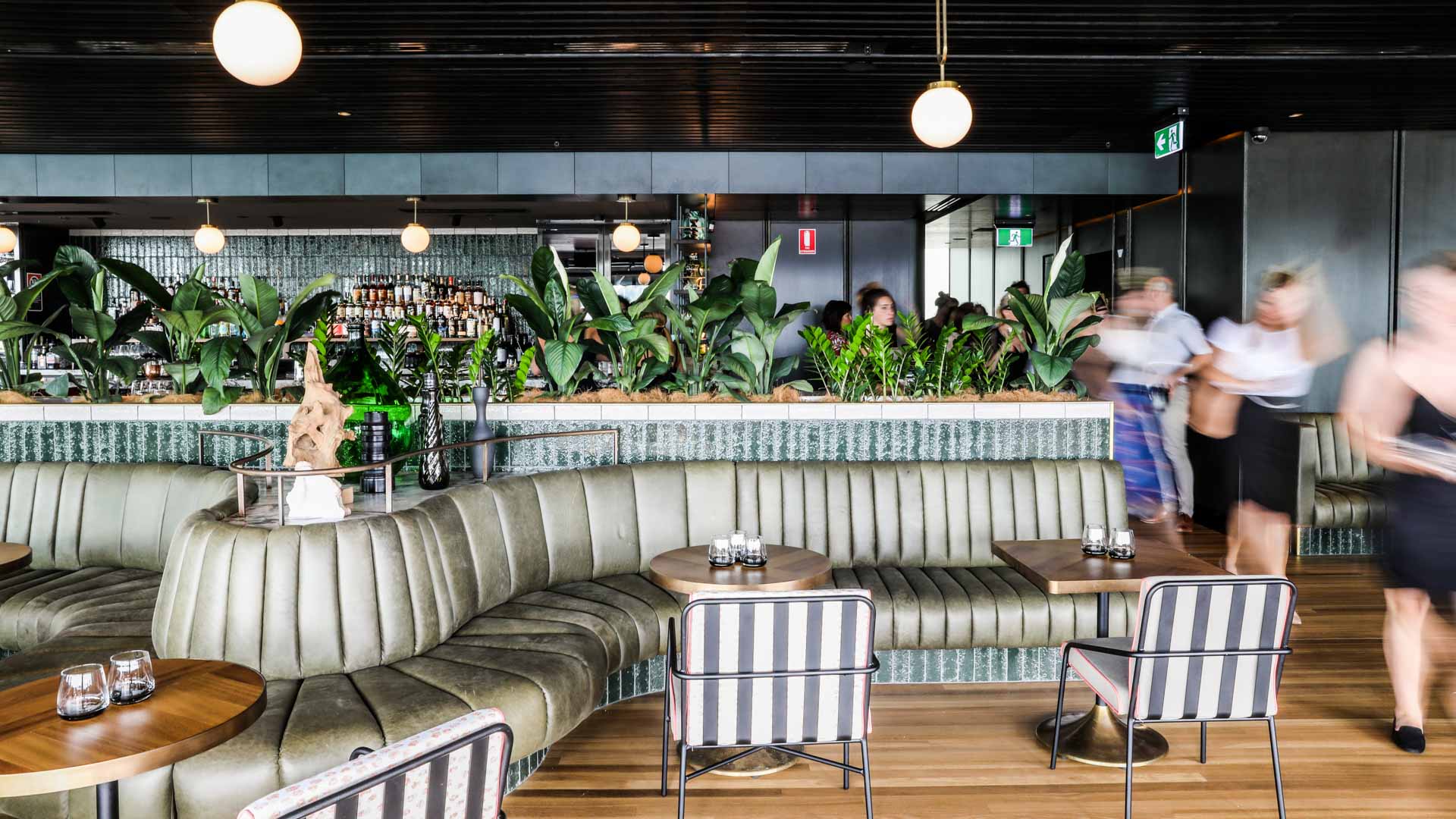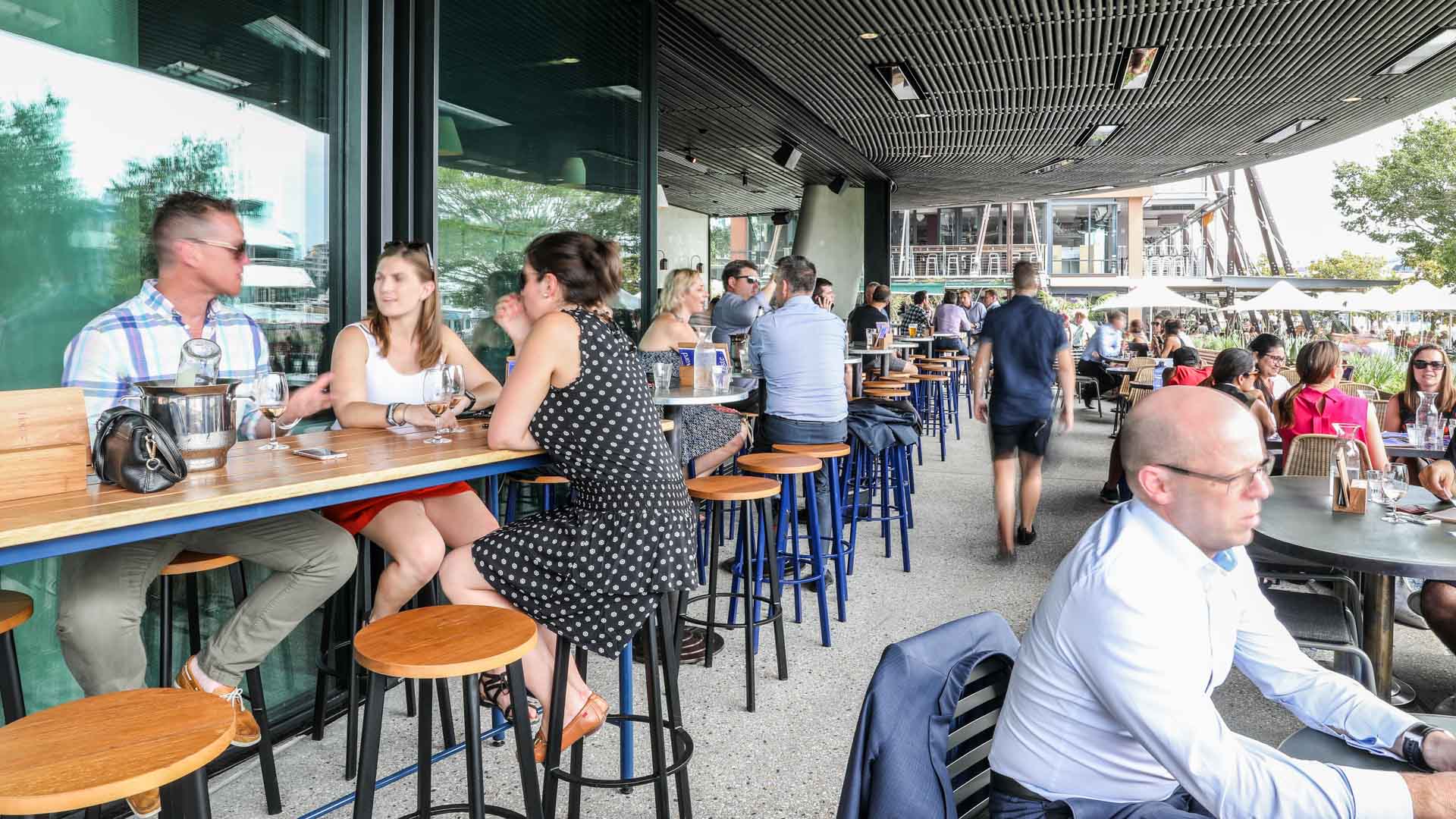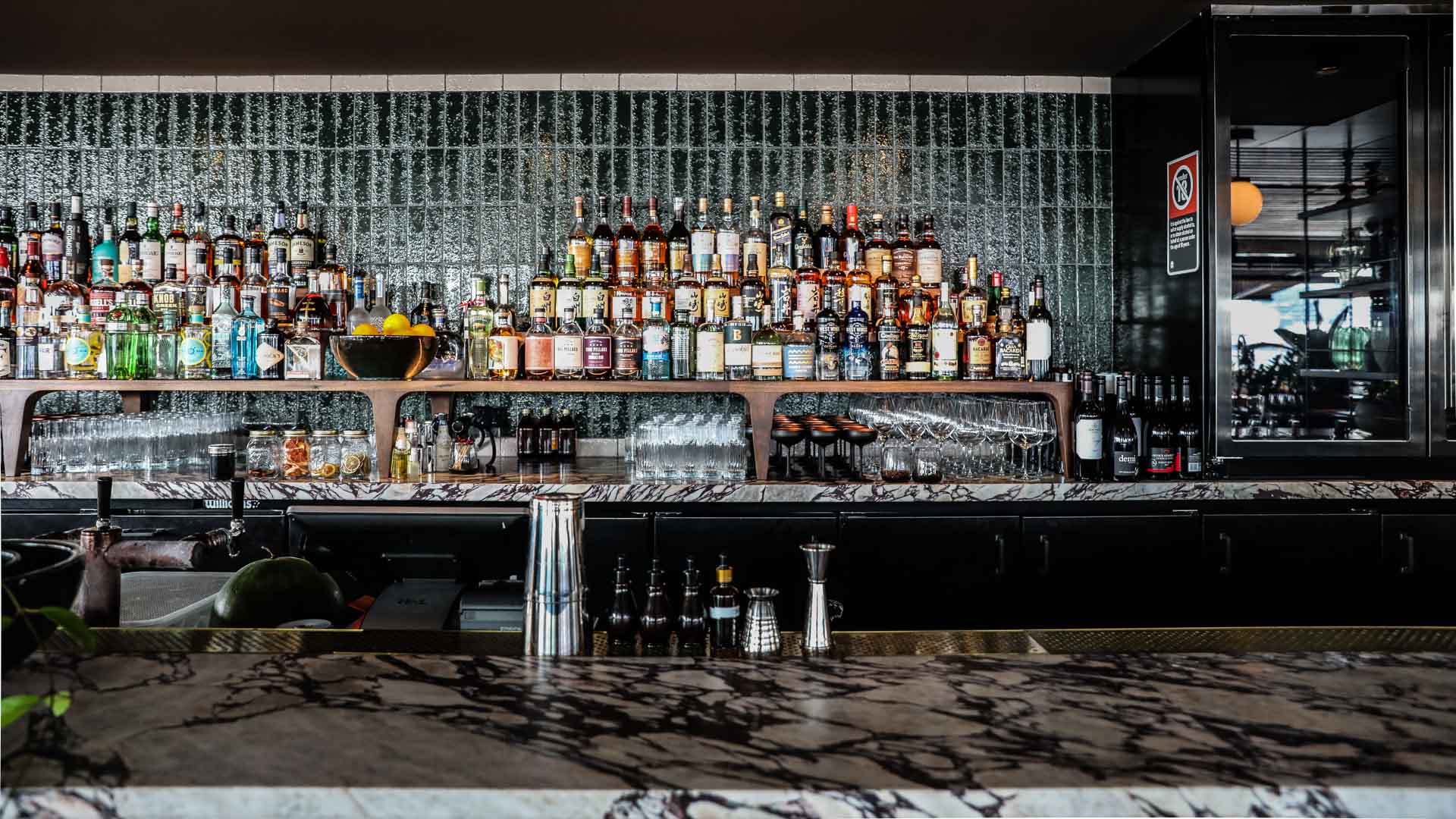 Where the entry to House Bar is a seamless transition from Wulugul Walk along the water, Bea Restaurant on the second floor, and Smoke Bar on the rooftop are both accessed from a separate entrance on Barangaroo Avenue. A "dark and moody" staircase takes you between the two.
Bea restaurant continues the use of timbers and has a "grown-up version" of the brass table from House Bar, that sits below pendant lights created by a local ceramacist. This mid level has taken its colour cues from a rare marble called verde palladio, that Delalande said was difficult to source in Sydney. "It's this beautiful kind of green-based marble, but then you've got these little bits of pink and reds and it's very colourful, but in a subtle way…the branding and menus will also have this similar language."
Continuing the sophistication of Bea, Smoke uses dark timbers and a reflective bar, that Delalande says "feels like a place where anything could happen", but it has a lighter fun side as well. On entering the floor past a sculpture by Sydney artist Luke Storrier, there's a large planter surrounded by a low-slung banquette and "crazy, marble paving". Before long you stumble on this little feature that is the sparkling views of Sydney, as seen over the greenery that tumbles off the side.
"It's got this rooftop garden vibe. You kind of feel that you are in the canopy of the tree so there will be lots of greenery inside and outside."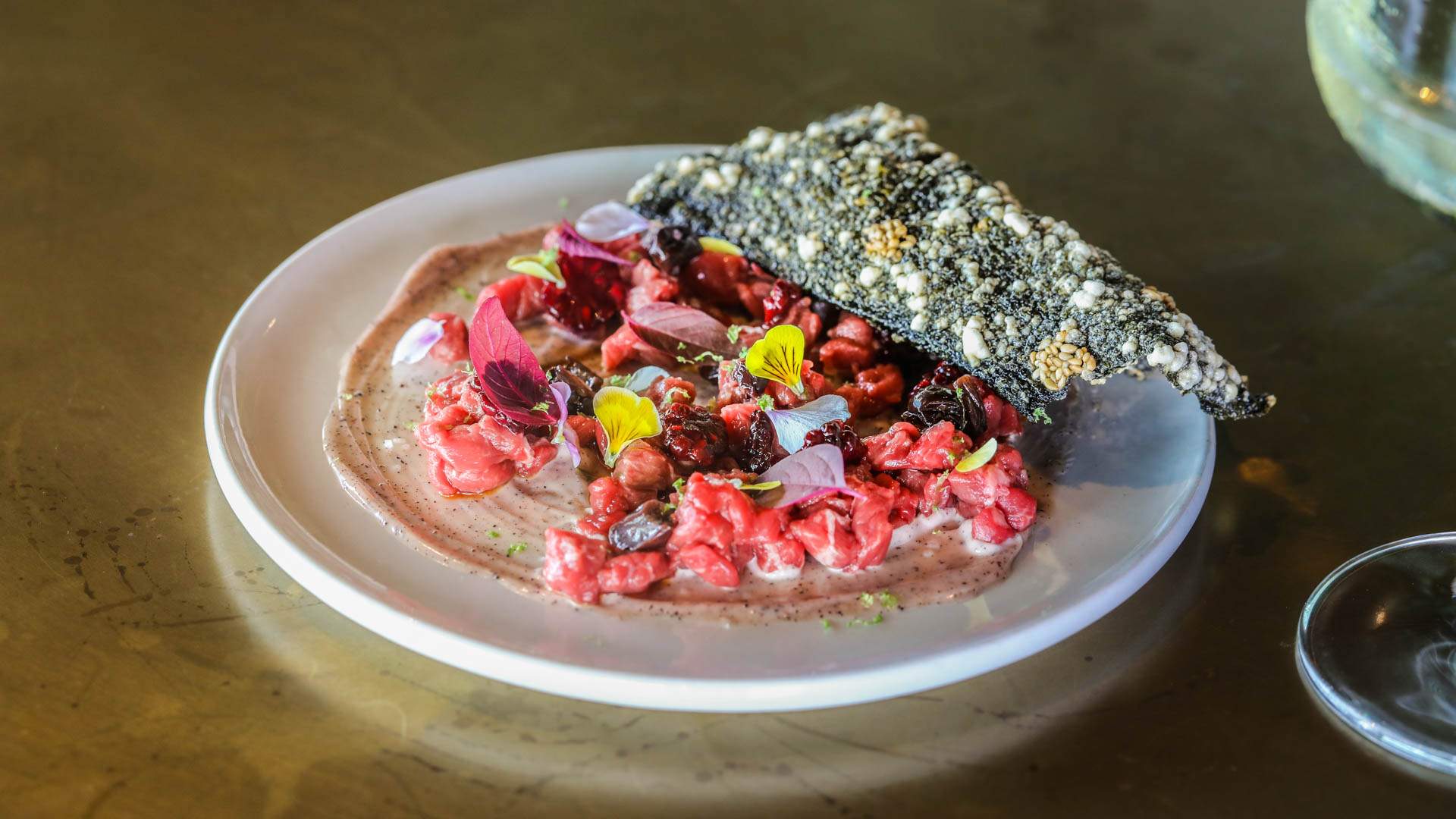 The Menu
Campbell seems at ease with the challenges of a three-level venue, where he admits he needed to create "from approachable to sophisticated food" — but with his background with experimental cuisine (he says "there are no rules when it comes to cooking"), he's pumped for the task.
He describes the menu at Smoke as super sexy and elegant finger food. His take includes the likes of fried smoked brisket doughnuts, caviar and a sea urchin and orange jam toastie – inspired by "just a little snack" he did many moons ago at Vue du Monde with live sea urchin and orange powder on ice.
At Bea, Campbell puts a fun spin on the use of seasonal produce, offering a changing 'feed me' option, and playing with the idea of 'survival foods' that he learnt from Noma. Dishes like a barramundi take on brandade he calls 'barradade' is just one example of his twists on Aussie ingredients, as he will also serve up tyrant ants on asparagus, and use native berries "to give a little freshness, a little zing to the menu".
Campbell admits that the casual, destination nature of House Bar was his biggest challenge, but he still gets adventurous beyond the chicken and lamb vertical spit and bucket of prawns, with snacks like crisp fried fish wings. "I'm putting a twist on my cuisine using native ingredients with techniques that I've learnt around the world."
"He comes from almost another planet," said head sommelier John Paul (JP) Wilkinson of Campbell. "He turns ideas on its head and it's amazing what he comes up with, without even trying."
Campbell has worked closely with Wilkinson on the food and wine pairing, who has curated a 400-bin wine list that draws on producers like Hardys, Wynns Coonawarra Estate, Cullen Wines and Bannockburn Vineyards. Add to that an extensive selection of vintage, ready to drink champagnes and those from smaller, grower producers. For the novice who knows not where to begin, he suggests champagne flights are a good place to start.
"If your only interest up until that point is in the bubbles and how cold it was, this is going to be a great opportunity to get a little bit of a peek into what some of the differences are and some of the great wines that we've selected…so it allows us to invite you to do a little trip."
Bea Restaurant will focus more on the icons and influencers, but also the soon-to-be icons from here and overseas. For the fun focus of House Bar, it will be light wines, some with a bit of herb and spice to compliment the food and, of course, rosé. "There are some striking rosés coming out of Australia that people need to taste," says Wilkinson.
"We're throwing a party and we just want you to come in and relax. Once you relax with us, we can have a great chat about the menu and we can have a great chat about the wine. We're not trying to get you in and out."
"We've been working on this project for a long time," says Moran, "so it's pretty surreal, but such a great feeling to finally get the chance to show it off! No matter how many restaurant openings you do, and I've done a few, they're just as exciting and nerve-wracking as the first time around. It's the culmination of so much hard work by so many great people and I couldn't be prouder."
"Everyone thinks of Matt Moran and they think of Aria," says Wilkinson, "and that's a great connection to have, but this is nothing like Aria."
"With Barangaroo we wanted to create something unlike anything we'd done before as a group and unlike anything Australia had seen before," says Moran.
"The result is a world-class waterfront venue with three very different but inherently linked offerings. It's evolved so much since the day we began, but we haven't lost the essence of what we wanted it to be – a real showpiece of Sydney dining."
CHEF'S PICK: FOUR DISHES TO ORDER
So what should you order? Campbell has spent months on the menu, so we thought he'd be the best person to ask. Here are four of his favourite dishes on the menu at Bea.
Barangaroo House is now open at 35 Barangaroo Avenue, Barangaroo. For more info visit barangaroohouse.com.au.
Keen to check out more newbies? Have a sift through the newest crop of Sydney openings.
To find out more about Zantac, visit the website. Zantac relieves heartburn. Always read the label. Use only as directed. If symptoms persist consult your health professional. 
Words: Katie Mayor. Images: Kitti Smallbone (team image by Cole Bennetts). 
Concrete Playground Trips
Book unique getaways and adventures dreamed up by our editors