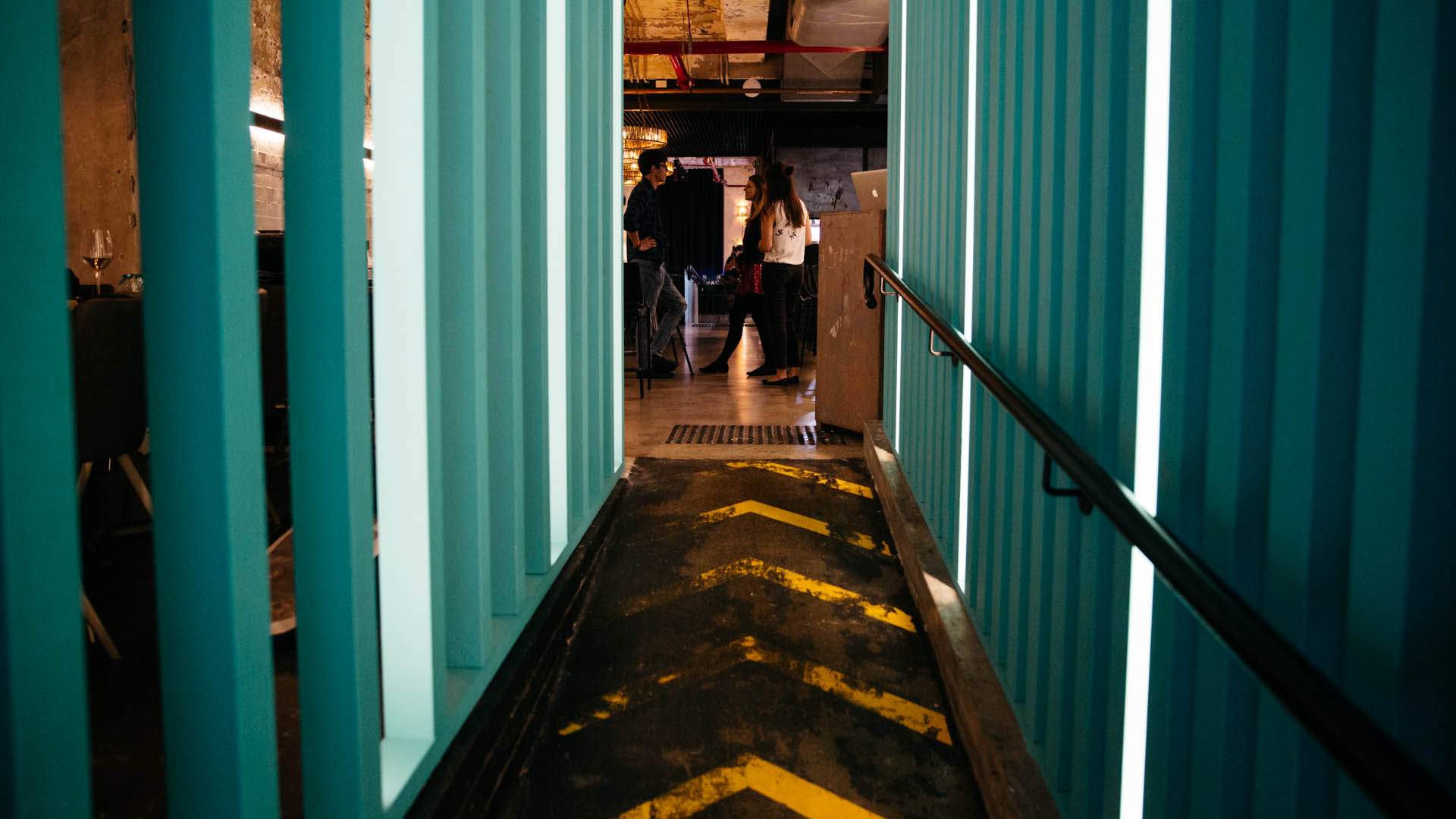 The '90s are back on the menu at this neon-lit izakaya serving up "Japanese with a sprinkle of Nine Inch Nails on top".
There are more Japanese restaurants in Sydney than you can poke a chopstick at, but newcomer Kid Kyoto stands out from the crowd. Set against the backdrop of the alternative music scene of the '90s — with a generous dash of the '80s — this place is making its own rules and turning up the volume.
The Bridge Street venue is the third CBD offering from the culinary guns behind Indu and Méjico, the Sam Prince Hospitality Group. True to form, it's ambitious in both scale and execution. This time around music — grunge, specifically (and lots of Nirvana) — is the headliner. It may not be the conventional way to approach a restaurant but owner Sam Prince is excited by the direction they're taking. "We're not just flirting with the idea of being music-led — it permeates through everything. I want diners to experience the songs and the lyrics almost as ingredients they're eating."
The nostalgia extends to the building itself, a heritage listed site that backs onto the cobbled Bridge Lane in the city. The design evokes a slightly moody izakaya, stripped back walls contrast with hits of neon and burnished Japanese timber.
Kid Kyoto opens its doors this week, and we've got a first look. In partnership with Zantac we're uncovering the best new restaurants and bars around Australia as they open. We've got the lowdown on the team, the design and — most importantly — the menu so that you can head in educated, excited and ready to take it all in — with a few dishes recommended by the chef, no less.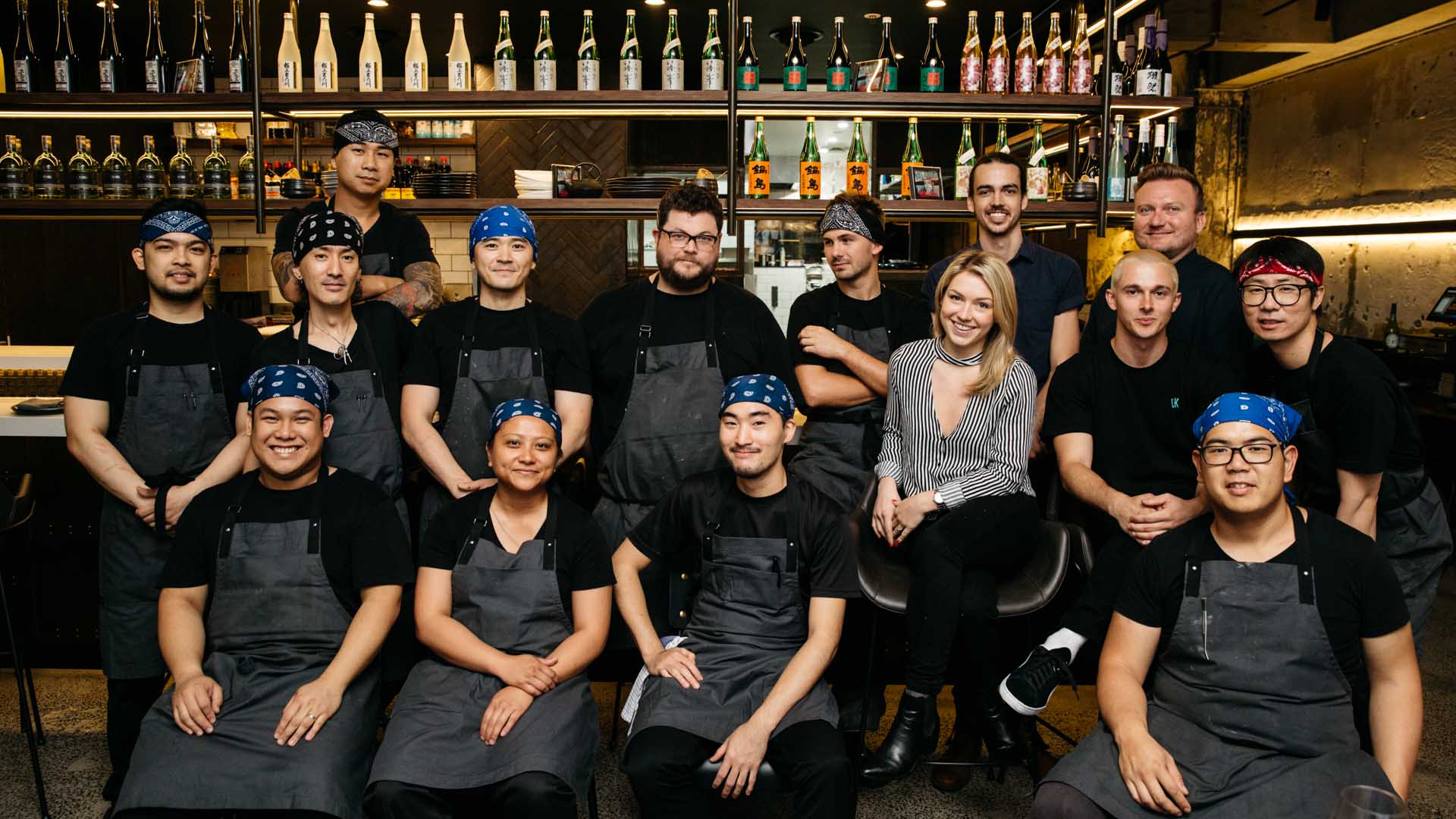 The Team
Given that he's opened two successful restaurants in the last few years while maintaining his admirable humanitarian work, you could forgive Sam Prince for resting on his laurels, but his latest project was born of passion that's typical of the doctor-turned-entrepreneur.
Prince cooked up the idea for the restaurant while on a research trip to Kyoto. His experiences there infused with the music that he was listening to at the time, Nirvana's Unplugged album. On repeat. It occurred to Prince that Kurt and his contemporaries would match perfectly with his alternate take on Japanese dining in Australia. "This was the beginning of the idea," he explains. "We started to think about it like creating an album, where the music wrote the menu."
Fine tuning this music-led concept into reality might be a stretch for most but not head chef, Seb Gee. You could say his partnering on Kid Kyoto was serendipitous — fate even — given Gee was listening to Rage Against the Machine as he made his way to his trial. "I'm a child of the '90s so when Sam told me the idea for the restaurant, I was like, 'done — that's perfect'." After stints at China Lane and China Diner, he was also keen to expand his Asian cooking credentials and take on a new challenge. "It's been great to learn more and refine my Japanese cooking while also having the freedom to play around with it a bit. We were excited to see what we could come up with."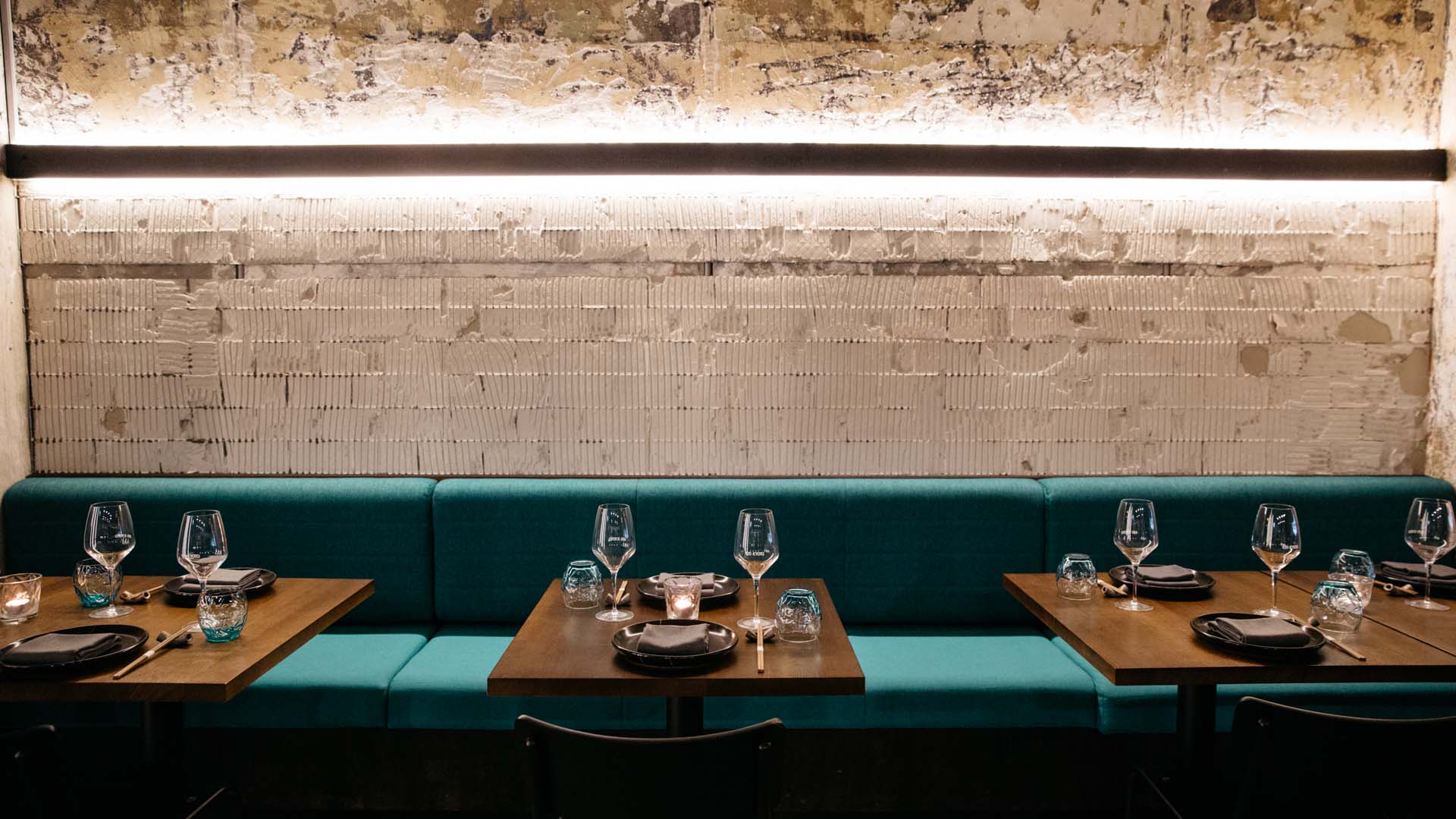 The Design
The challenge for the design team was to capture the spirit of grunge in an izakaya setting. "Part of it is celebrating that rawness of the time. It's not buttoned up and polished, it's a bit broken," says Prince.
To achieve this pared-back look, the group's designer Matilda Forbes paid respect to the original design of the heritage building. "I tried to keep as much as I could as is because it's a really beautiful site, " she says. "Where possible we used what was there and just brought our own touch to it." To this end, ceilings have been left exposed and etch lines are still visible on parts of the walls. These earthier elements are combined with pops of colour throughout — teal is featured in the paintwork, tiling and upholstery to bring vibrancy to the room.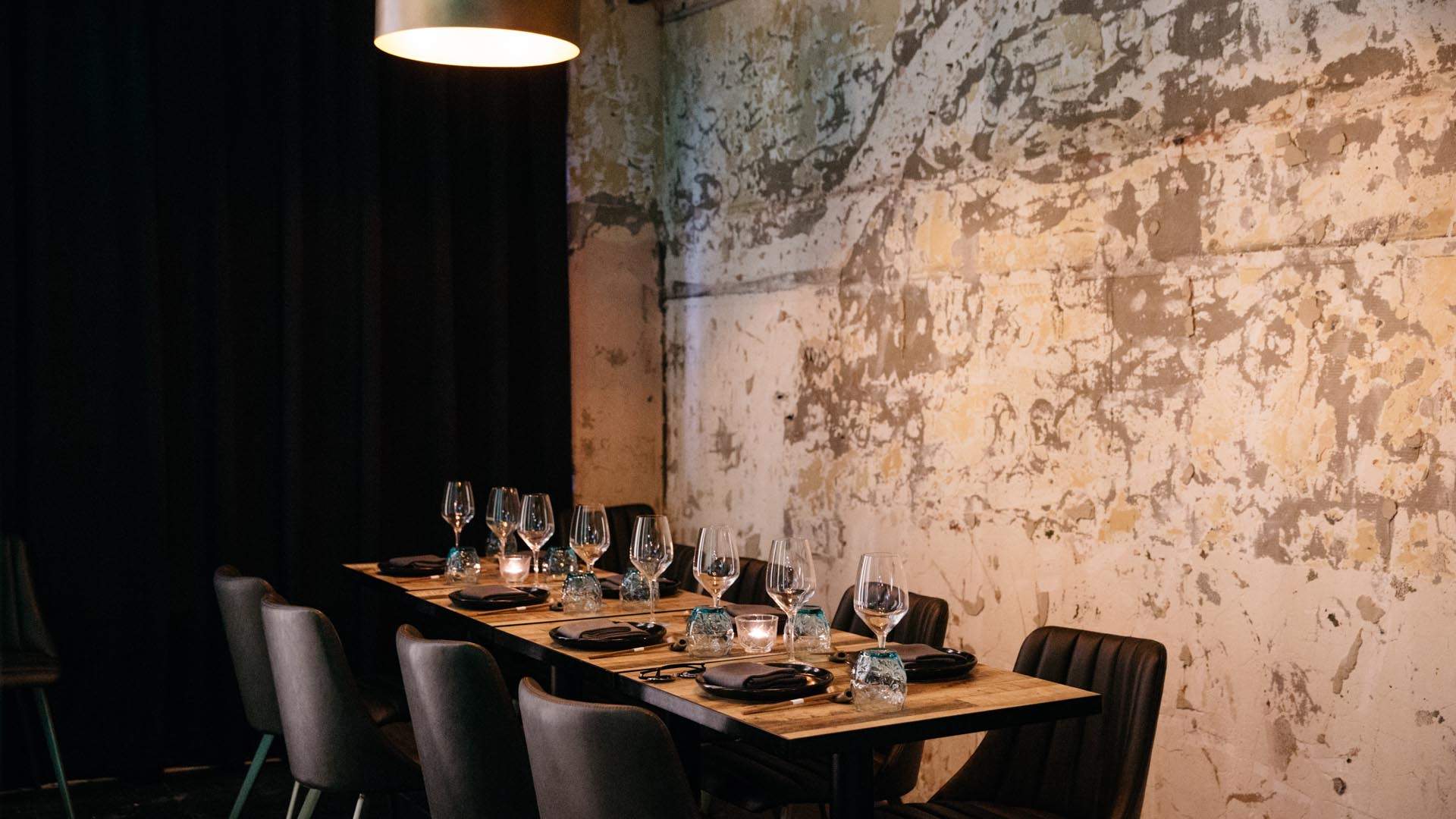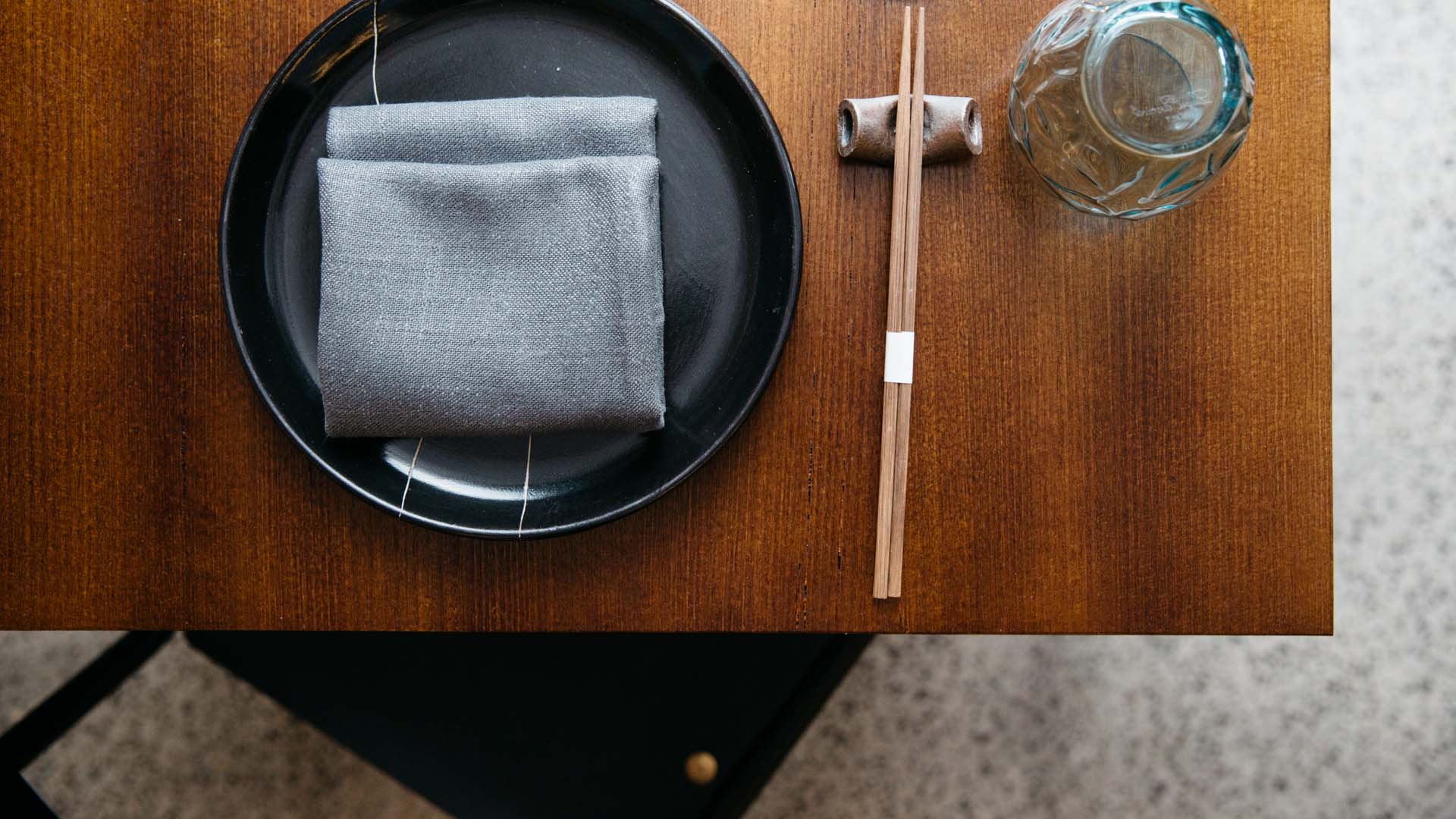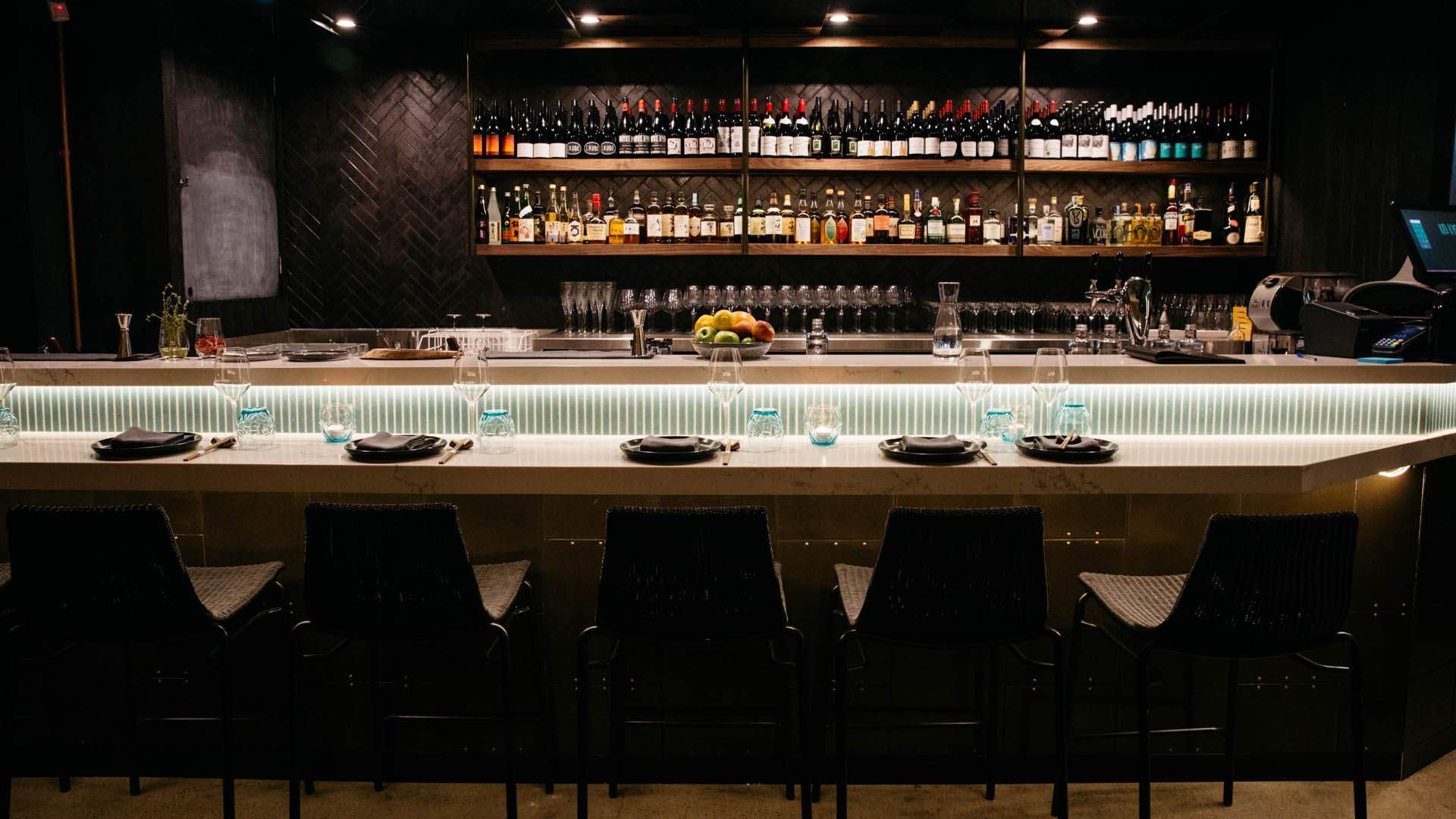 From the Bridge Street side of the building, an LED light installation by Grant Cooks acts as a beacon for hungry passersby. Layers of acrylic, inscribed into the feature windows, light up in overlapping bright hues, reminiscent of the streetscapes of Japan. Forbes describes the effect as "mesmerising".
Music references are evident throughout, from a sign with the lyrics to 'Come as You Are' in Japanese script, right down to the bill, which comes in a CD case (remember those?) and includes a playlist of the tracks played throughout the meal.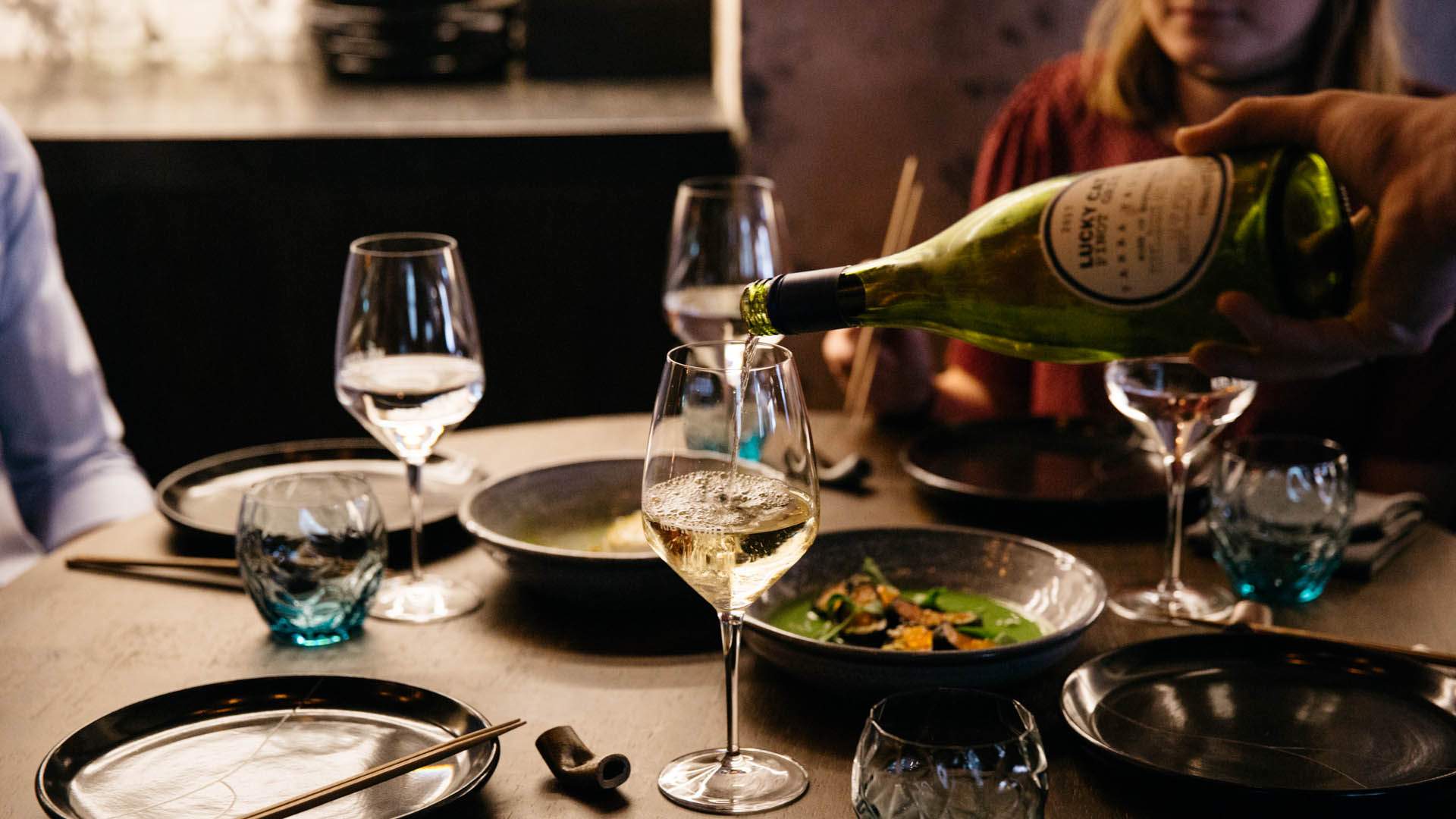 The Menu
Inspired by the alternative music scene that underpins it, Prince wants to give diners a taste of the unexpected at Kid Kyoto. "While I think that Japanese food in Australia is very good, we can do more," he says. "One of the most important things for us was thinking of ways we could innovate and really bring something different to the Australian palate."
Gee worked with his team of chefs to develop a menu that pays homage to classic Japanese flavours while toying with surprising ingredients and textures. "People aren't going to be getting the usual takes, like sushi, sashimi," he says.  A lot of time was spent looking at the fundamentals of Japanese cuisine before "flipping it on its side". Gee describes the cooking at Kid Kyoto as "Japanese with a sprinkle of Nine Inch Nails on top". This rock 'n' roll approach comes through in Black Hole Sun, a dish of slow-cooked pork belly with nori jam, apple and pickled radish.
There's a strong seafood bent too, raw dishes like smoking salmon sashimi and cold squid 'udon' salad pique the taste buds. Meanwhile, the Cloudy Bay clams with bonito schmaltz and roast tomato miso is a nod to Gee's New Zealand and Jewish heritage.
To quench your thirst there's a selection of sakes and Japanese whiskeys fit for an emperor.  For those more cocktail inclined, the folks from Archie Rose have teamed with Kid Kyoto to develop a bespoke gin, which combines with Noilly Prat and junmai daiginjo sake in the Kid Kyo-tini. The Ama-tonic is a magic muddle of shiso sake, yuzu marmalade and a house-made cherry tonic.
CHEF'S PICK: FOUR DISHES TO ORDER
So what should you order? Gee has spent months on this menu, so we thought he'd be the best person to ask. Here's five of his favourite dishes on the menu at Kid Kyoto.
Kid Kyoto opens today — Monday, November 20 — at 17–19 Bridge Street (entry via Bridge Lane), Sydney CBD. For more info visit kidkyoto.com.au.
Keen to check out more newbies? Have a sift through the newest crop of Sydney openings.
To find out more about Zantac, visit the website. Zantac relieves heartburn. Always read the label. Use only as directed. If symptoms persist consult your health professional. 
Words: Tamar Cranswick. Images: Letícia Almeida.
Concrete Playground Trips
Book unique getaways and adventures dreamed up by our editors