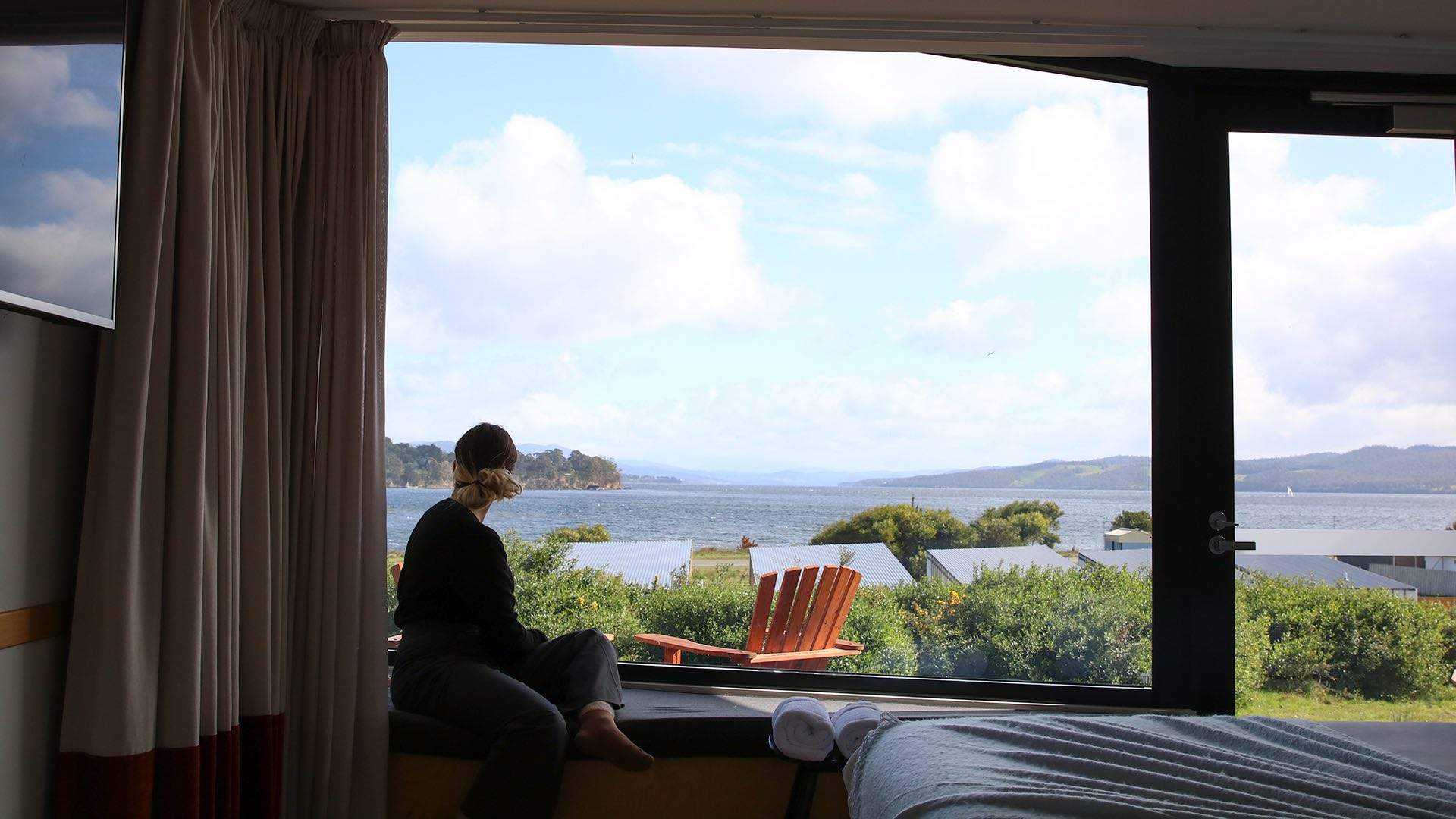 A Southern Edge Road Trip:
Follow a CP Writer's Ambling Foodie Adventure in Tasmania's South
"While I love a scenic road trip with good company as much as the next person, this road trip truly rivalled almost every journey I can recall."
When you think of a country that excels at paddock-to-plate dining, Australia is one of the first places that comes to mind. From our wagyu to our wine, we're known across the world for our produce. So you can only imagine my surprise when — with such a high benchmark to begin with — I was completely and utterly blown away by the quality and innovation of food that awaited me in southern Tasmania. And that isn't even mentioning the incredible humans, picturesque backdrops and stories I encountered on my three-day Southern Edge road trip.
I was lucky enough to experience one of the best spring-time road trips the country has to offer, as part of Concrete Playground's partnership with Tourism Tasmania. Here's how it went.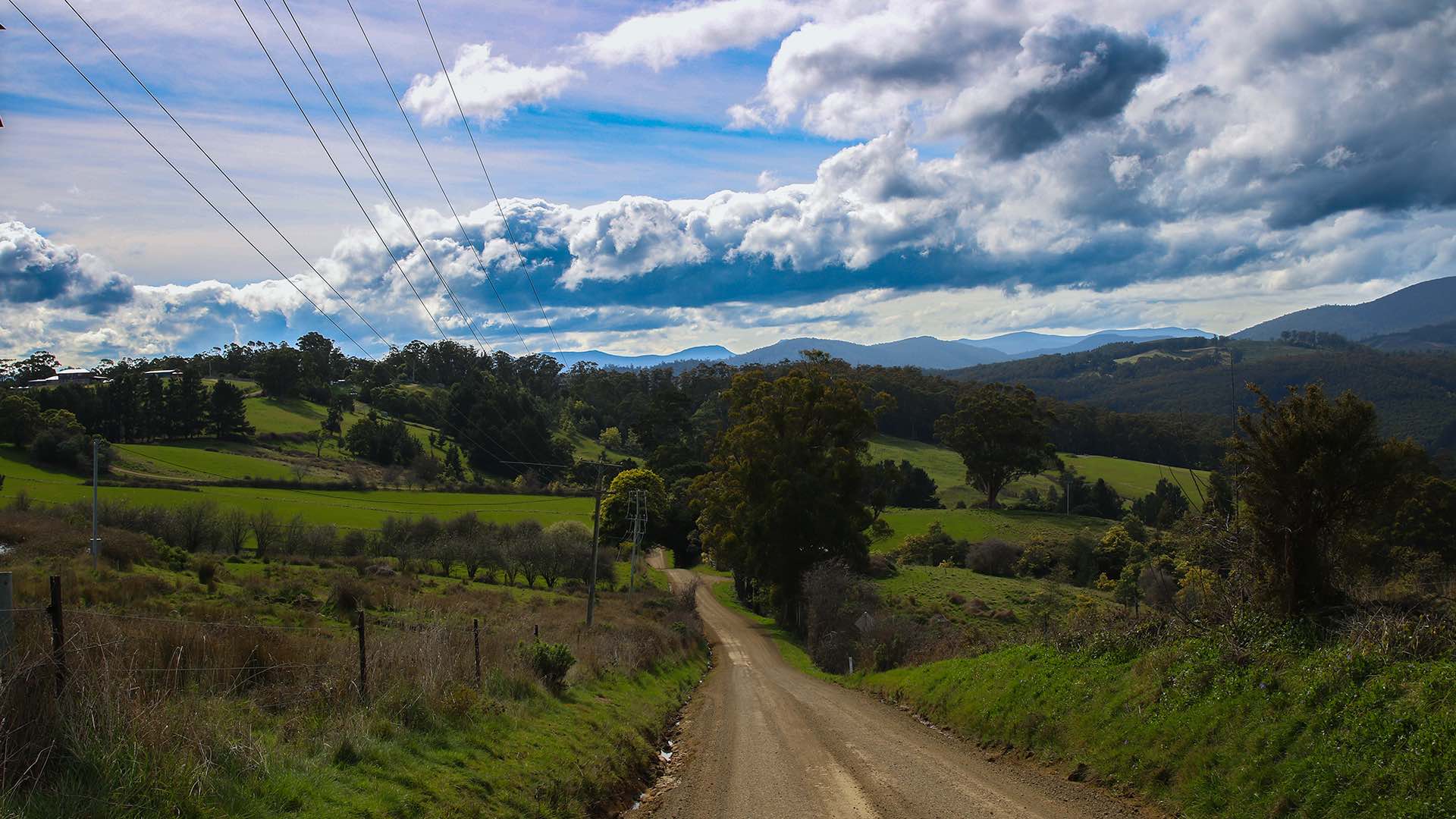 TAS-SAFF FARM
After landing in Hobart to an open stretch of sunshine, my partner and I hit the road to Huon Valley. Famous for its cider trail and cascading hills, the route took us down expansive winding roads, dotted with colourful little houses and glimmering water views.
Our first stop was Tas-Saff, a cheerful family-run saffron farm nestled on a lush hill. We were met with open arms (and paws) by owner Nicky Noonan and her cheeky pomeranian-chihuahua cross, Stevie Rocket. Nicky took us to the 'nerve centre' where we discovered it took 220,000 flowers to make just one kilo of saffron.
Resplendent valley views greeted us from the distillery windows as Nicky poured us a glass of their award winning saffron gin (pictured below), and let us taste saffron-infused goods like their medicinal tea. After sampling exquisite flavours, we ended our tour with a bag of goodies, hugs and a promise to visit soon.
Tas-Saff, 155 Dillons Hill Road, Glaziers Bay
THE FARMHOUSE KITCHEN COOKING SCHOOL
If Tassie's mouthwatering fare inspires you to try your own paddock-to-plate cooking, check out The Farmhouse Kitchen. Tucked away in Wattle Grove hills, the Farmhouse is run by three generations of Italian women — including Giuliana ('la mamma'), who has over 50 years of cooking experience, her daughter Genevieve and her nonna.
Master traditional recipes from Puglia, such as pillow-soft gnocchi, tiramisu with fresh mascarpone and authentic Italian pizza dough. Then, enjoy the fruits of your labour with the ladies, enjoying a leisurely lunch in the farmhouse over a glass of wine and snacks like prosciutto crudo and veggies from their garden. We didn't have time to cook this trip, but this kitchen school is top of our list for next time.
The Farmhouse Kitchen, 292 Sunday Hill Road, Wattle Grove
PORT CYGNET CANNERY
Next on our itinerary was Port Cygnet Cannery — specifically, the restaurant's farm, Gardner's Bay Farm, which truly put the 'paddock' in paddock-to-plate. Here, we chatted to head farmer and all 'round legend Phil, who told us about the closed loop system where nearly everything in the restaurant is made on-site — from the meats on the charcuterie plate to the fertiliser that Phil engineers to produce some of the freshest veggies you'll ever bite into.
We finished the tour of this top spot back at the spacious and ultra-buzzy restaurant, which is housed in a former apple canning facility. We drooled over delectable potato and pancetta pizza, fresh burrata, heirloom veggies and locally made cider — all while admiring the chefs expertly commandeering the giant woodfire pizza oven.
Port Cygnet Cannery, 60 Lymington Road, Cygnet
WILLIE SMITH'S APPLE SHED
Any trip to Huon Valley calls for a visit to Willie Smith's Apple Shed. You can discover just why the Huon Valley is known as the apple capital of the Apple Isle with a meandering trip to their HQ — a rustic distillery and former apple-packing shed built in 1942. A hub of activity, the lively location offers everything from cider tastings to distillery tours and some of the tastiest seasonal nosh the region has to offer.
Drawing on the wisdom of over four generations of apple growers, the distillery is home to award-winning Tassie cider and an apple museum with over 390 heritage apple varieties. Gaze over green pastures as you feast on seasonal delights, like their famous cider-braised pork or apple pie with vanilla bean ice cream.
Willie Smith's Apple Shed, 2064 Huon Highway, Grove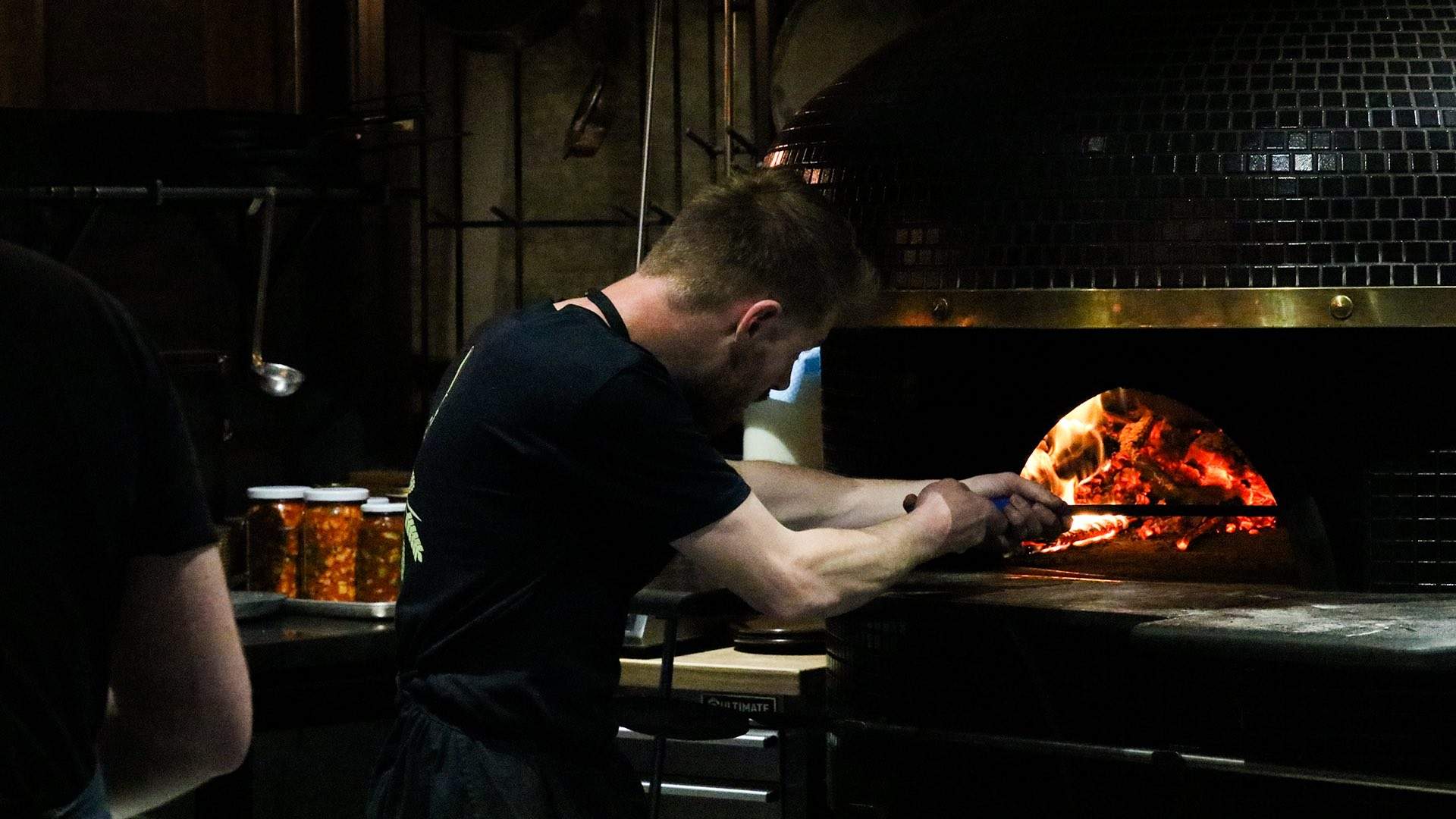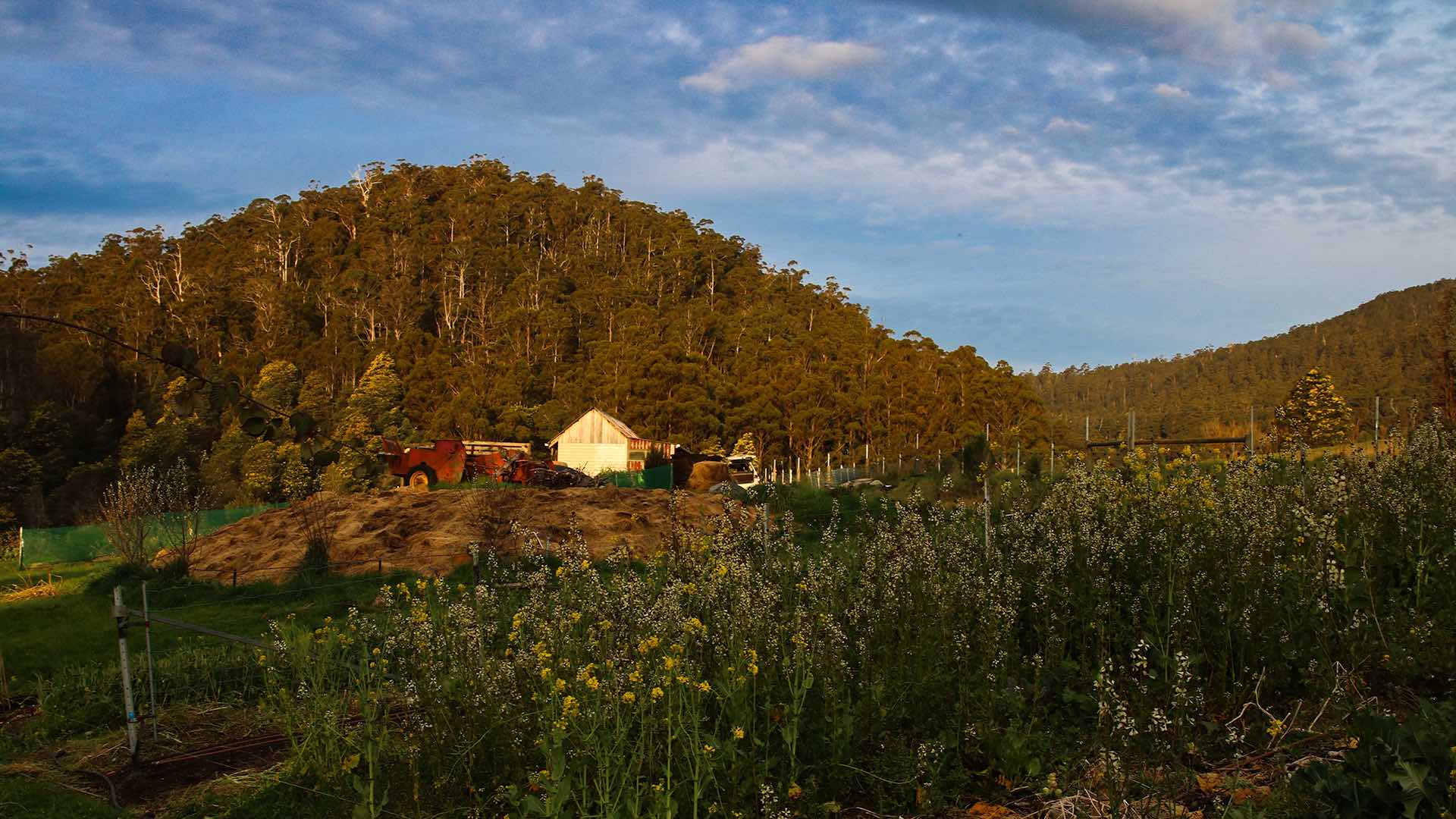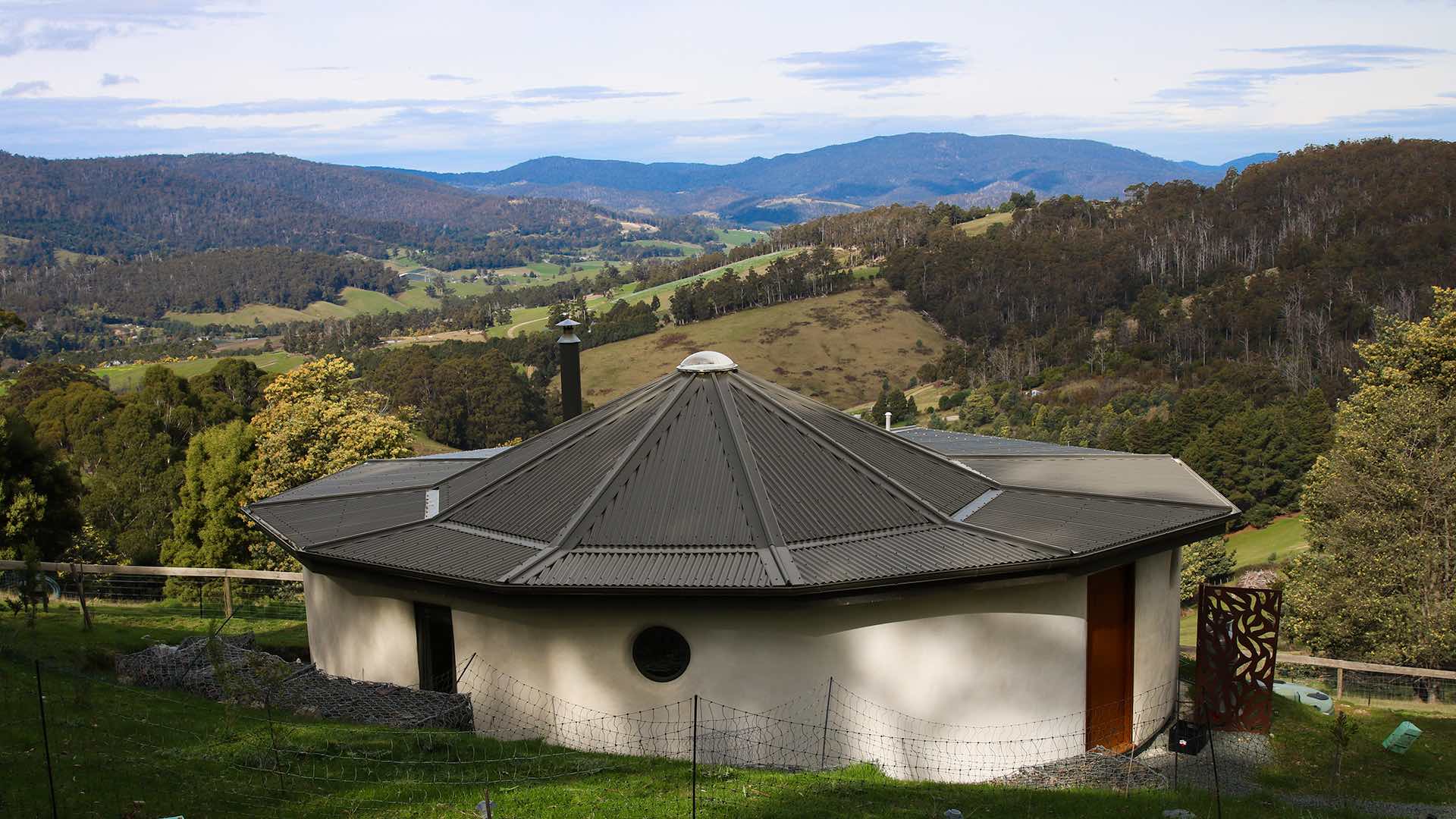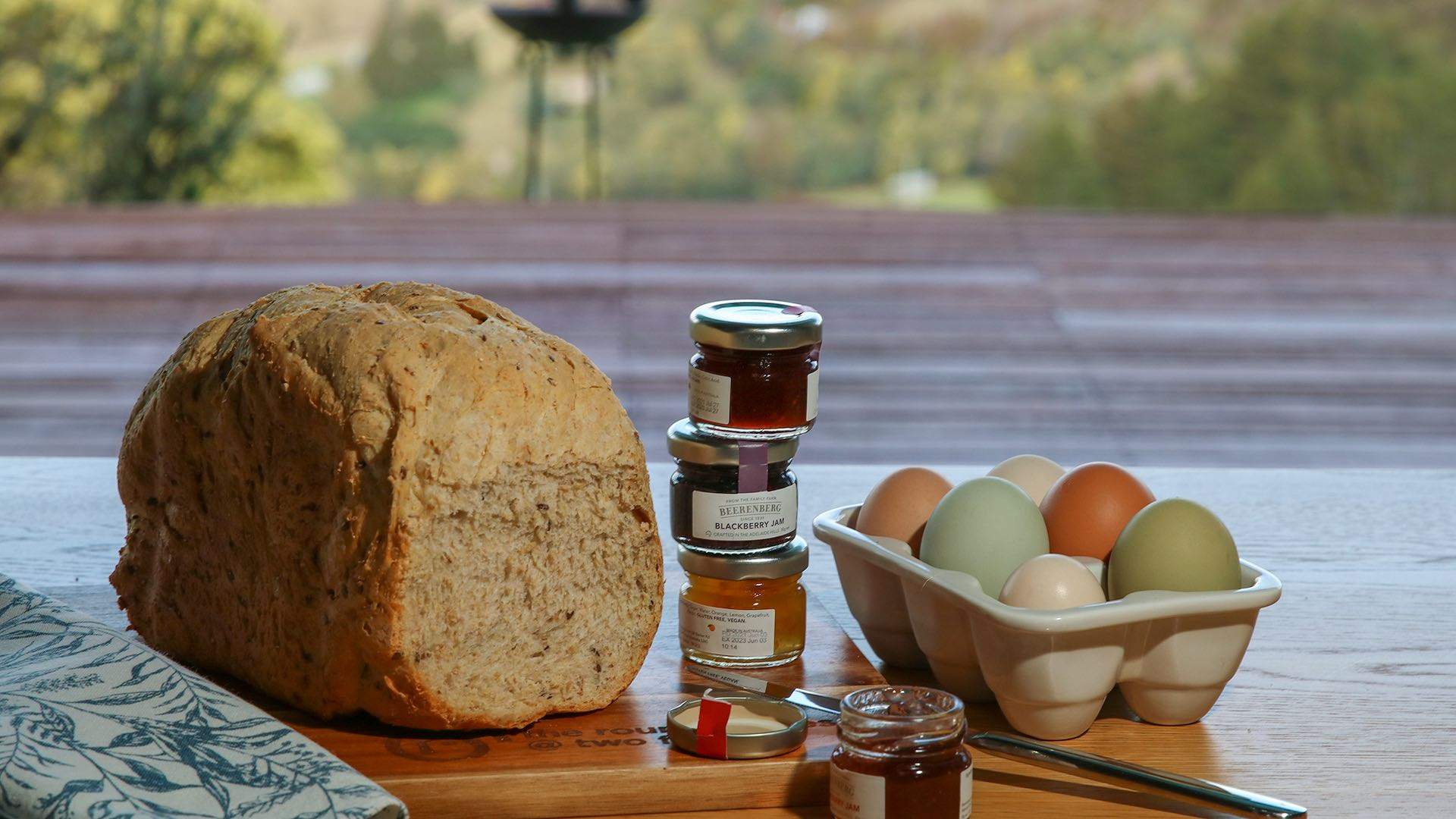 GLEN HUON DAIRY FARM
If getting up close and personal with animals sounds like your cup of tea, you can't miss a tour of Glen Huon Dairy Farm. A small-scale organic dairy farm that prides itself on animal welfare and exceptional milk quality, it's the key dairy source behind Bruny Island Cheese Co, which produces some of Australia's finest fromage.
As a working farm, the tour experience changes daily so you can expect anything from bottle-feeding newborn calves to seeing dairy cows get milked and meeting freshly-hatched chicks. It's also a wonderfully intimate experience — each tour is limited to 15 people, so you can ensure to have a quality chat with the lovely crew on site.
Glen Huon Dairy Farm, 1092 Glen Huon Road, Glen Huon
MASAAKI'S SUSHI
If you're a sushi lover, Masaaki's Sushi is the stop for you. Tucked away in the tiny town of Geeveston, Masaaki's is truly the stuff of food legend. Moving from Osaka to rural Tasmania for love, Masaaki Koyama is the charismatic, surf-loving sushi chef behind the spot.
Indulge your taste buds with Tasmanian-grown shima wasabi, nourishing miso soup and expertly sliced salmon sashimi sourced from some of the freshest water on earth. With fewer than a thousand residents, Masaaki has put both Geeveston and Tassie sushi on the map. Although we couldn't squeeze a sushi date in, Masaaki attracts queues around the block to try his exceptional dishes, so you know it's good.
Masaaki's Sushi, 17 Arve Road, Geeveston
FAT PIG FARM
Looking to enjoy an entire afternoon in a foodie paradise? You can't miss Fat Pig Farm. When it comes to describing this Huon Valley staple, you'll hear a lot of people use the word 'passionate'. That's because celebrity chef Matthew Evans, his co-owner and partner Sadie Chrestman, and the rest of the Fat Pig Farm crew are some of the most dedicated farmers, restaurateurs and educators in the biz.
If you're in the area, make sure to book one of their feasts, where you can kick back at their long farm table and indulge in fresh produce straight from the farm. In between each delicious course, you'll enjoy an intimate farm tour, learn the importance of sustainability and soak up the truly unique atmosphere. I, for one, will definitely be making us a booking when we return to this glorious pocket of the world.
Fat Pig Farm, 156, Dillons Hill Road, Glaziers Bay
THE ROUNDHOUSES
With full bellies, we checked into The Roundhouses. To say this was the stuff of travel bucket-lists would be an understatement. We drove up to two fairytale-esque cottages, surrounded by staggering valley views, friendly alpacas and an outdoor woodfire spa.
While petite from the outside, the sustainably designed cottage was spacious inside with luxurious linens on a huge king size bed you could lose your partner in. Floor to ceiling glass doors opened to a deck where we sat under a canopy of stars, enjoyed a glass of complimentary wine and savoured farm fresh treats left for us by the generous owners.
The Roundhouses, 215 Sandhill Road, Cygnet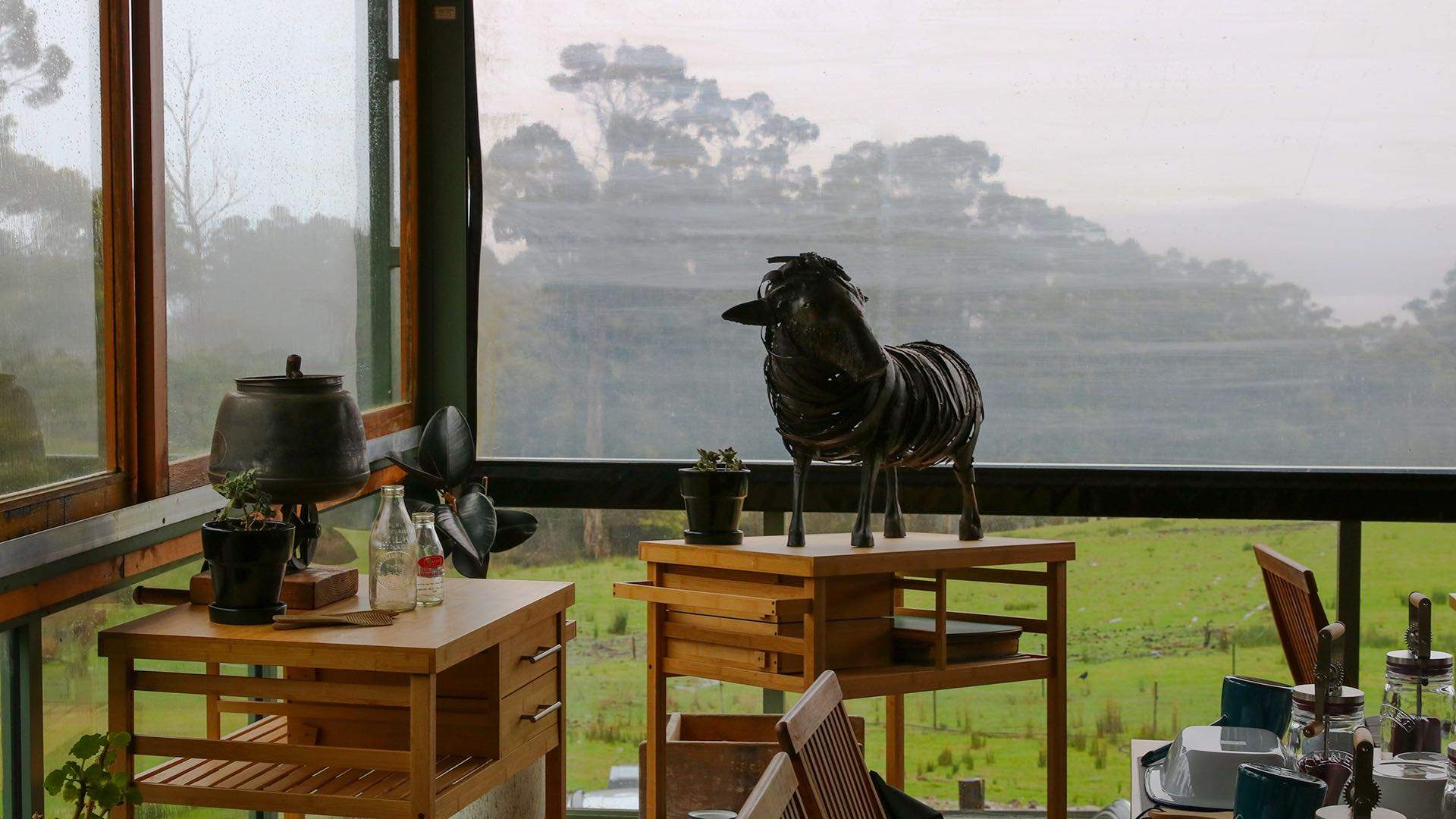 Day Two
Fluffy start to Friday
THE 'EWENIQUE' TASTING HOUSE
After one of the most relaxing night's sleep at The Roundhouses, we made off for our next spot — the Ewenique Tasting House which showcases spirits from the multi award-winning Hartshorn Distillery (pictured above) alongside the excellent range from Grandvewe Cheeses. We chatted to the owner Diane over a sheep's milk latte as we gazed at sweeping valley views.
If you've ever tried a shot of vodka in a dark bar and thought 'not for me' — think again. The team at Hartshorn are putting delicious Aussie vodka on the map, and they've won world's best vodka to prove it. Infused with native Aussie ingredients like strawberry gum and finger lime, I was truly, truly impressed by our vodka tasting and the sheep cheese served to us from sleek glass cloches. The perfect place for stocking your bar at home or sourcing gifts for someone special, this place is a must see.
The 'Ewenique' Tasting House, 59 Devlyns Road, Birchs Bay

MEWSTONE WINES
Next on our list was one of my favourite spots of the trip, possibly because I'm extremely partial to a natty wine, but also because the folks at Mewstone Wines are bloody legends. If you're keen for a spot for the proverbial picture books, Mewstone Wines is a must-see. Situated atop a lush valley overlooking Bruny Island, the former cherry orchard turned cellar door has been impeccably fitted out by owners (and brothers) Johnny and Mathew.
Succumb to stunning minimalist architecture with concrete walls and beautiful oak finishes by local woodworkers, along with the friendliest service, mouth-watering wines and some of the prettiest cheese boards I've ever laid my eyes on. Best of all was their resident dog and sommelier-in-training Solly, who let us pat him before we left full of stories and a bag full of some of Tasmania's best new wines.
Mewstone Wines, 11 Flowerpot Jetty Road, Flowerpot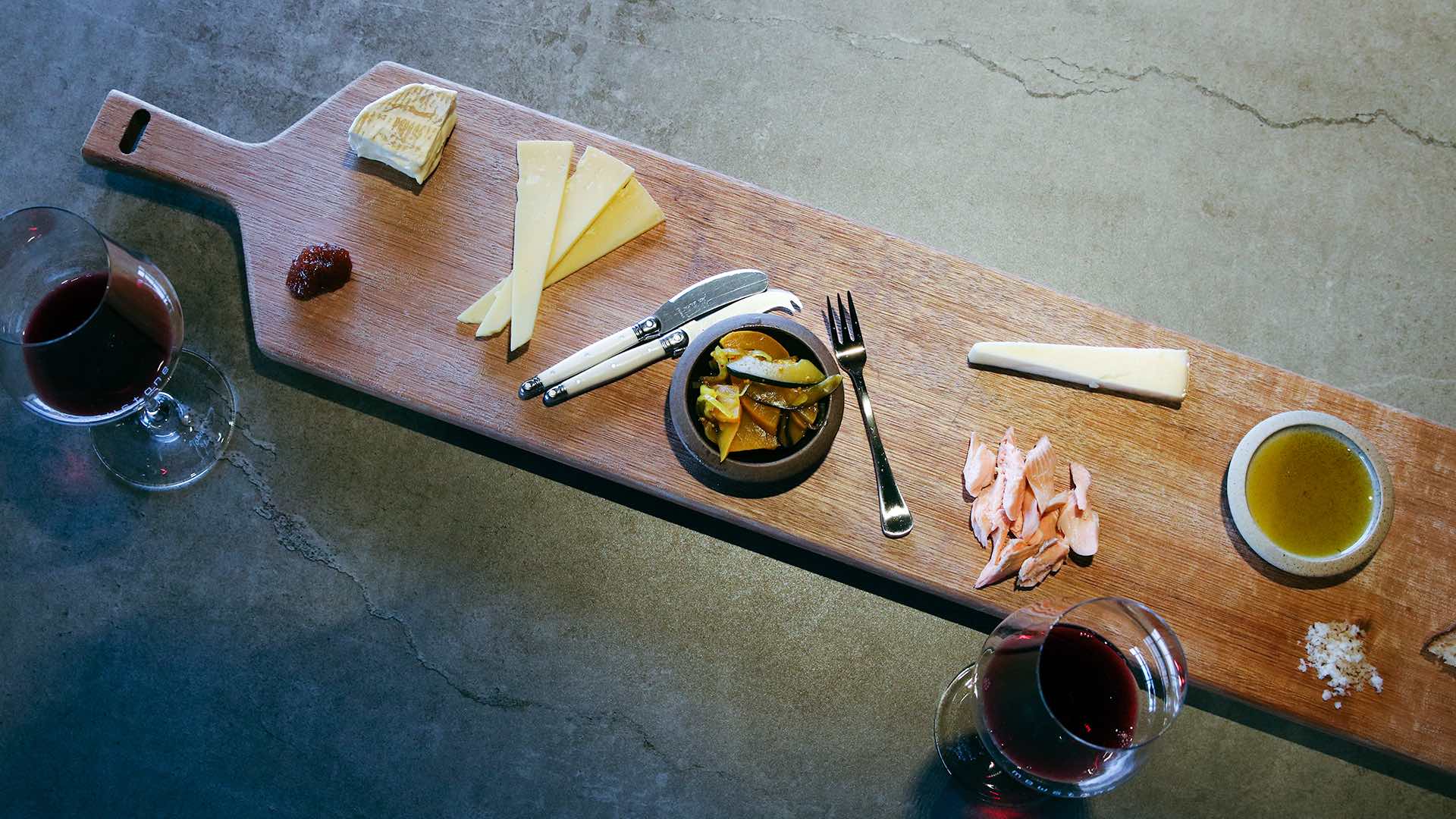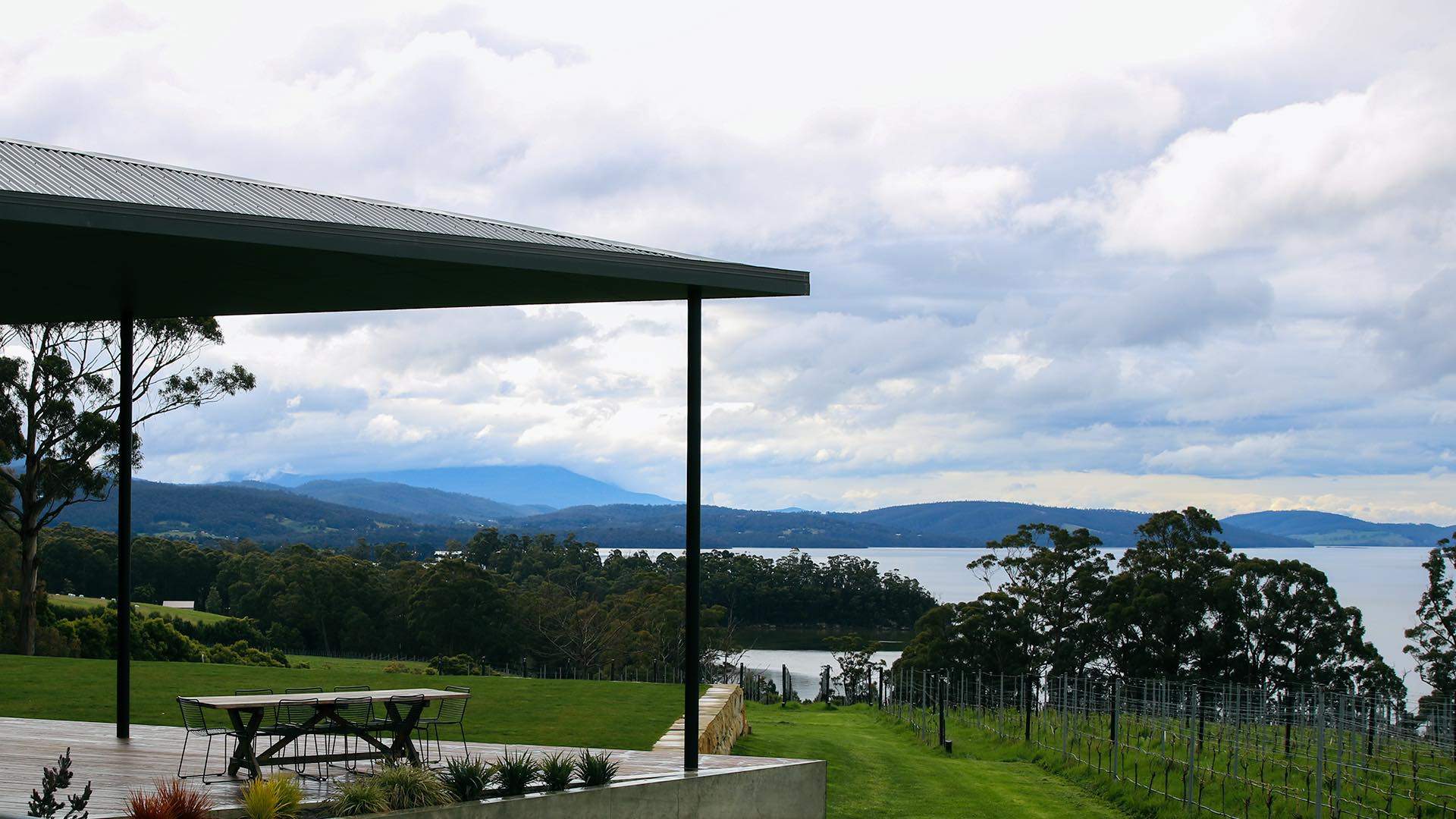 HOTEL BRUNY LODGE
After finishing a magical day at Huon Valley, we jumped on the Bruny Island Ferry and drove the scenic route to our freestanding, architecturally-designed unit at the Hotel Bruny Lodge. My jaw dropped at the sweeping sunset views from the lodge's floor-to-ceiling windows, which overlooked the D'Entrecasteaux Channel, Satellite Island and the elegant peaks of southern Tasmanian mountains.
We received two complimentary bottles of cider, which we enjoyed in the cosy window seat as we caught the last glimmers of the sunset. For dinner, we sauntered down to Hotel Bruny where we enjoyed a vibrant pub atmosphere and a filling meal of fresh-caught Tasmanian fish and thick-cut chips. Afterwards, I slept like a baby in the stylishly fitted-out lodge and woke up to a dramatic rainbow over the beach — the perfect start to our day on Bruny Island.
Hotel Bruny Lodge, 3959 Bruny Island Main Road, Alonnah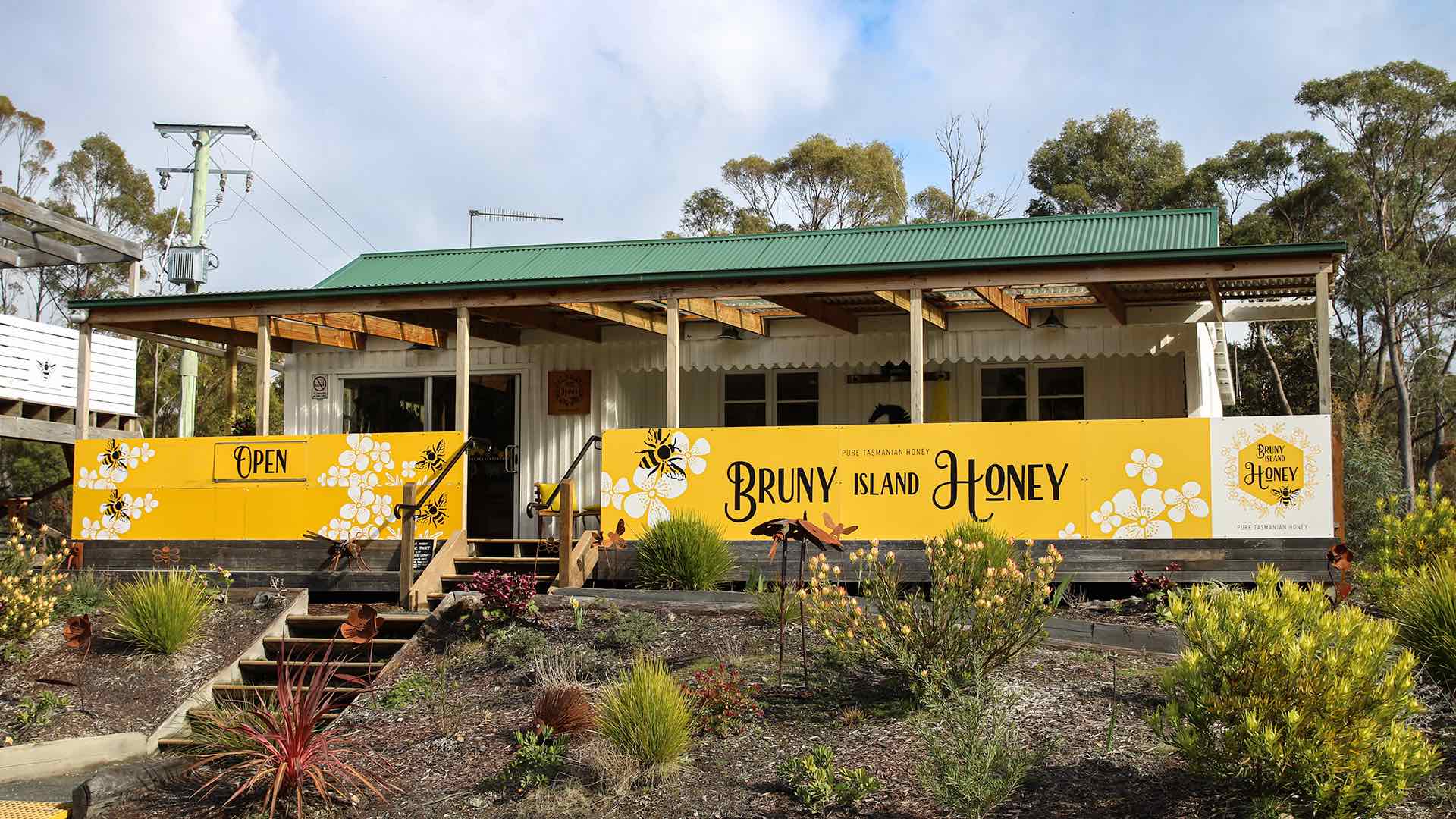 BRUNY ISLAND HONEY
First on our itinerary was Bruny Island Honey, a cute little cottage teeming with life and adorned with dazzling bee-themed decorations. We enjoyed complimentary tastings of their honey varieties, from blossom to medicinal Manuka. Run and operated by one family, this treasured spot is a hub of activity, with a glass hive where you can witness the honeybees at work, gorgeous skincare products and the perfect Tassie gifts like artisanal honeycomb chocolate and hot honey mustard. After stocking up on presents for family and friends, we enjoyed a scoop of their leatherwood-honey ice cream, which alone is enough to warrant a visit to this magical spot.
Bruny Island Honey, 2184 Bruny Island Main Road, Great Bay
GET SHUCKED OYSTERS
Just minutes down the road from Bruny Island Honey was Get Shucked Oysters, a beloved oyster farm famous for its bay-to-bar dining. Overlooking the oyster farm, this buzzy spot was filled to the brim with eager foodies who travelled far and wide to sample some of the freshest oysters in the world.
We ordered the mixed platter which had everything from melt-in-your-mouth panko-crumbed oysters, to the salty classic of original oysters fresh from the bay. After savouring world-class seafood and sipping Tasmanian sparkling, we chatted to the crew who shared that they often sell up to 450 dozen oysters a day, so make sure you get in here before the crowds.
Get Shucked, 1735 Bruny Island Main Road, Great Bay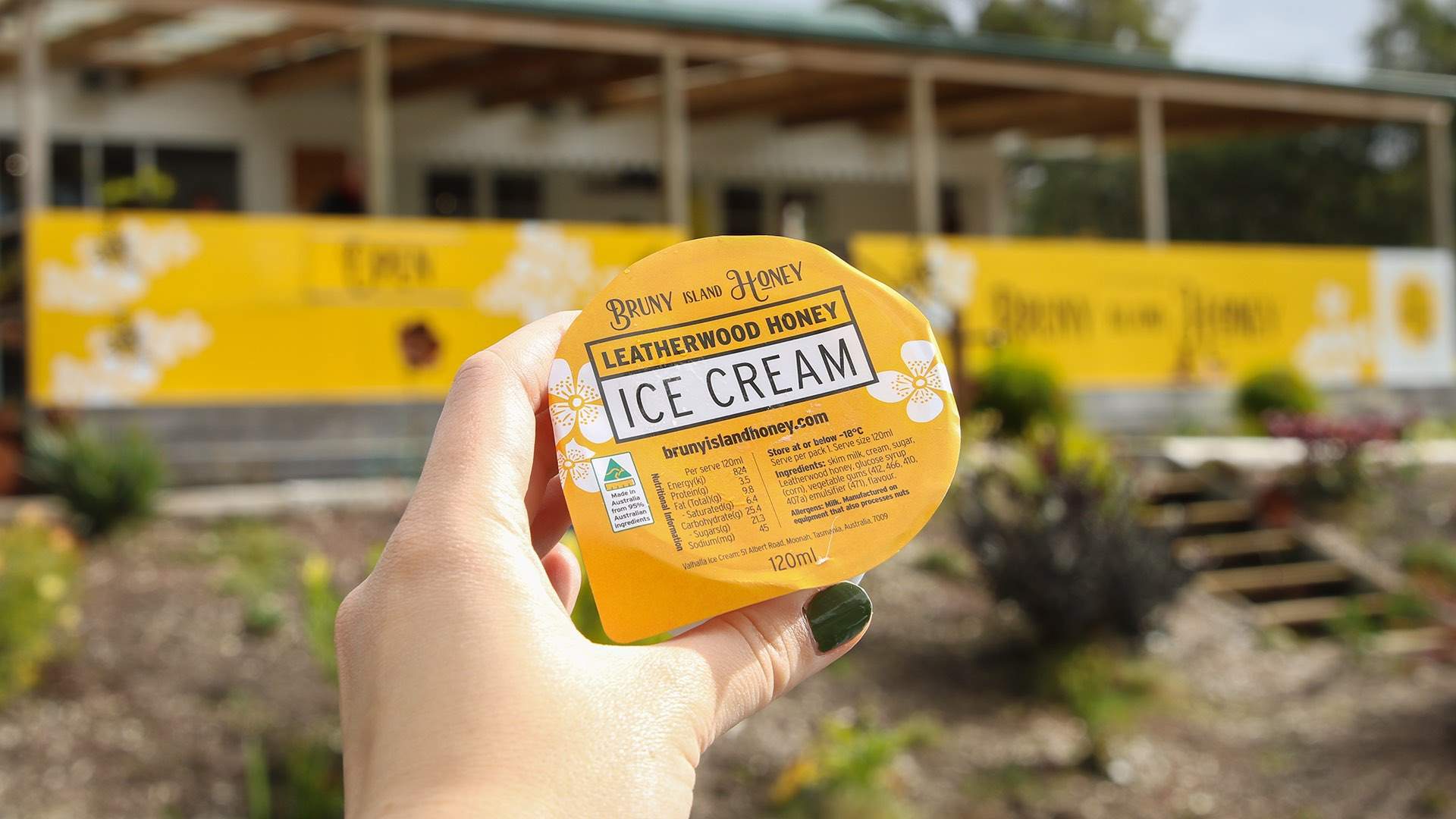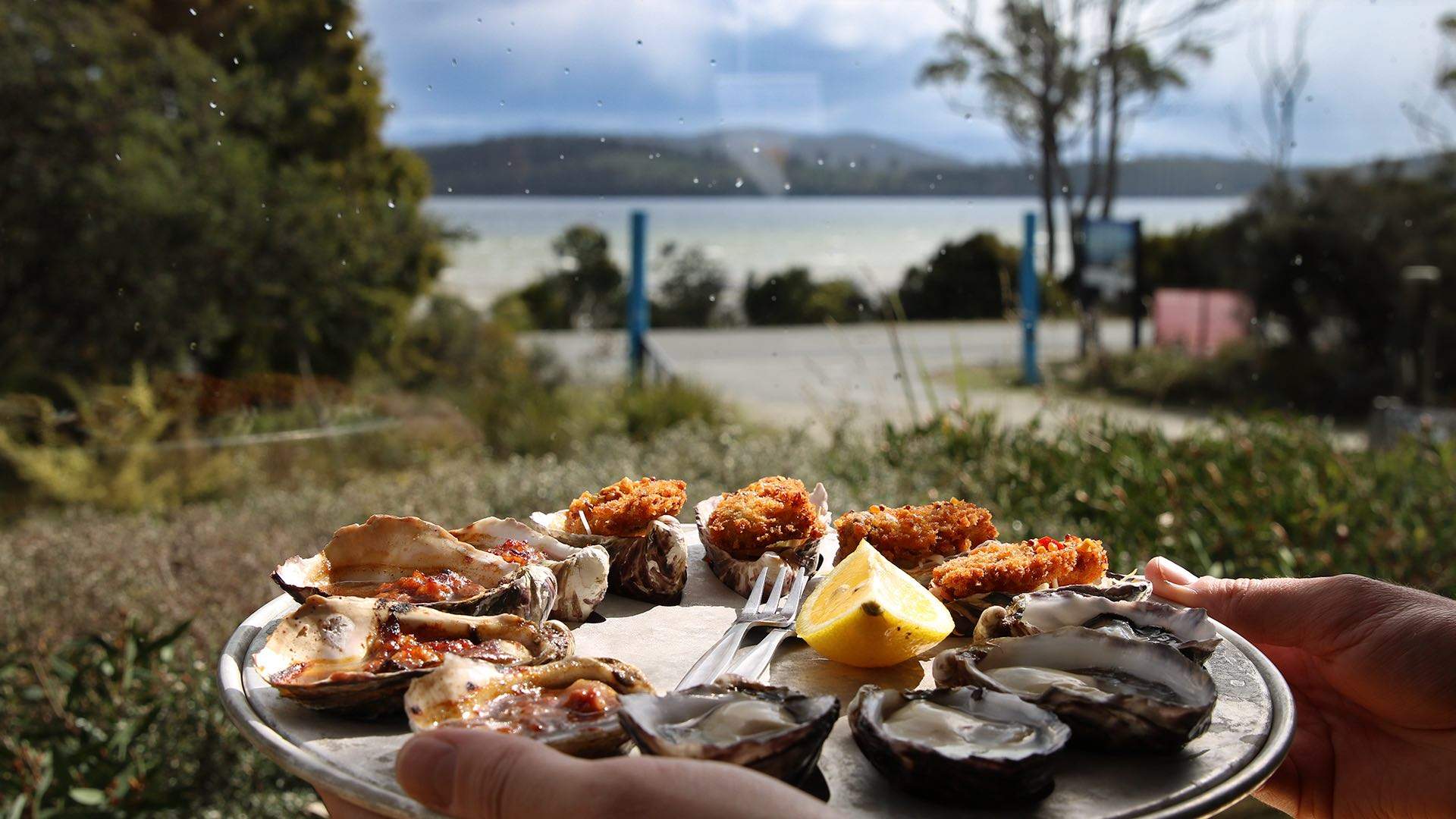 BRUNY ISLAND PREMIUM WINES
For an early dinner, we made our way to Bruny Island Premium Wines, the southernmost winery in all of Australia. We were welcomed by Bernice, a fourth-generation Bruny resident and the knowledgeable owner of the family run business. She guided us to a lovely sun drenched table overlooking sweeping views of the vineyard.
Here, we ordered mouth-watering platters of Tasmanian cheese, scallops and seasonal veggies along with a glass of their famous chardonnay. The mood at the winery was immaculate, with young couples enjoying romantic dates, friends on girl trips sipping on pinot and cheerful locals enjoying a wine on a sunny afternoon.
Bruny Island Premium Wine, 4391 Bruny Island Main Road, Bruny Island
BRUNY ISLAND CHEESE
Although we didn't squeeze a stop in (for fear of missing the ferry!), we heard that no trip to Bruny Island is complete without a visit to Bruny Island Cheese (pictured above). Woodfire bakery, cheese factory, cellar door and brewery, this vibrant spot has it all. It's an ideal place to spend a lazy afternoon — lounge under the Eucalyptus trees, crack open a cold beer and dig into their exquisite cheese platters or wood-fired pizza.
Pop in here to see cheese being made by masters, enjoy a cheese tasting or grab some things for the road, with everything from wood-fired sourdough to decadent salted caramel sauce being sold in their shop. We'll be back for the dairy, Bruny.
Bruny Island Cheese, 1807 Bruny Island Main Road, Great Bay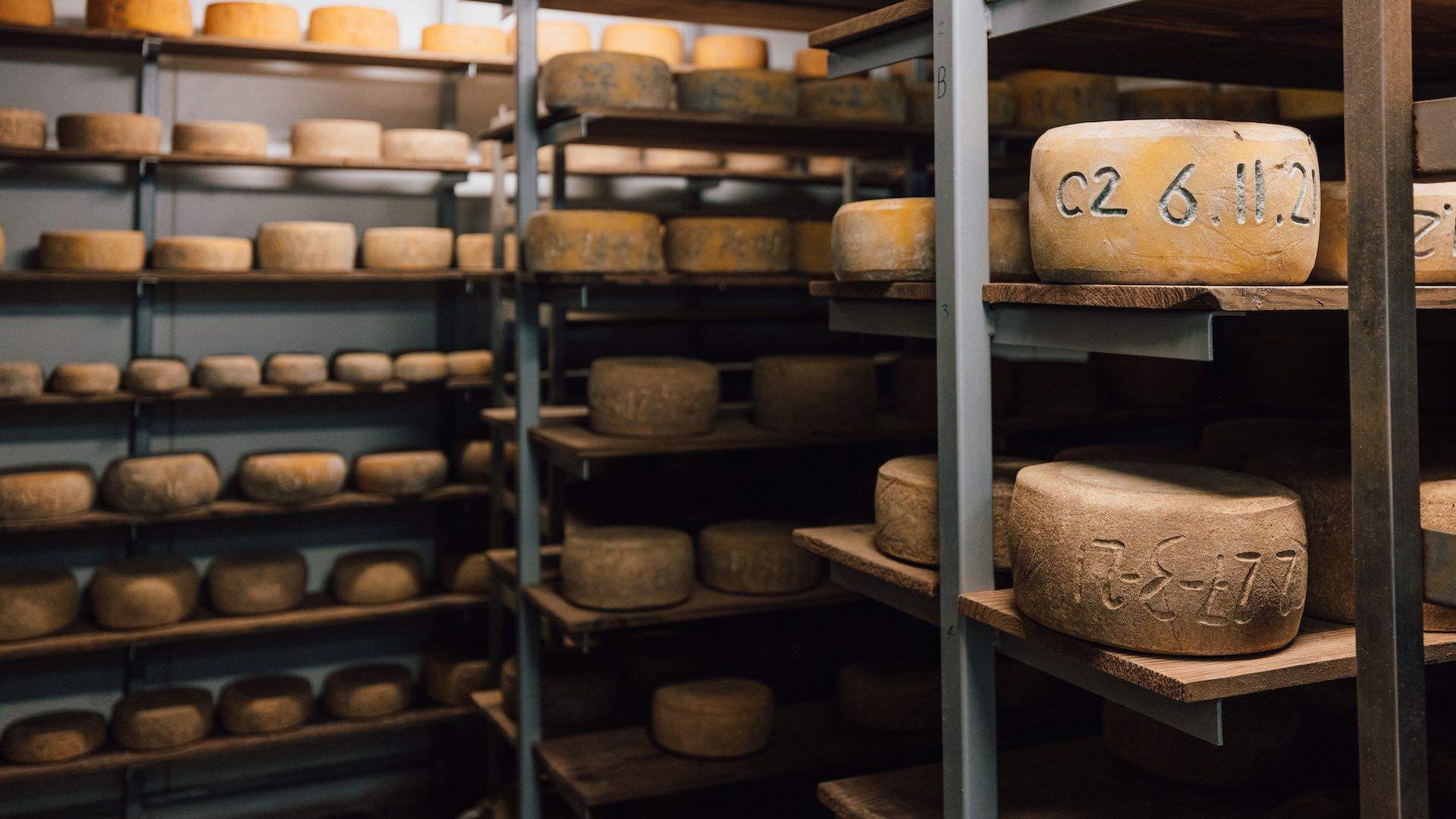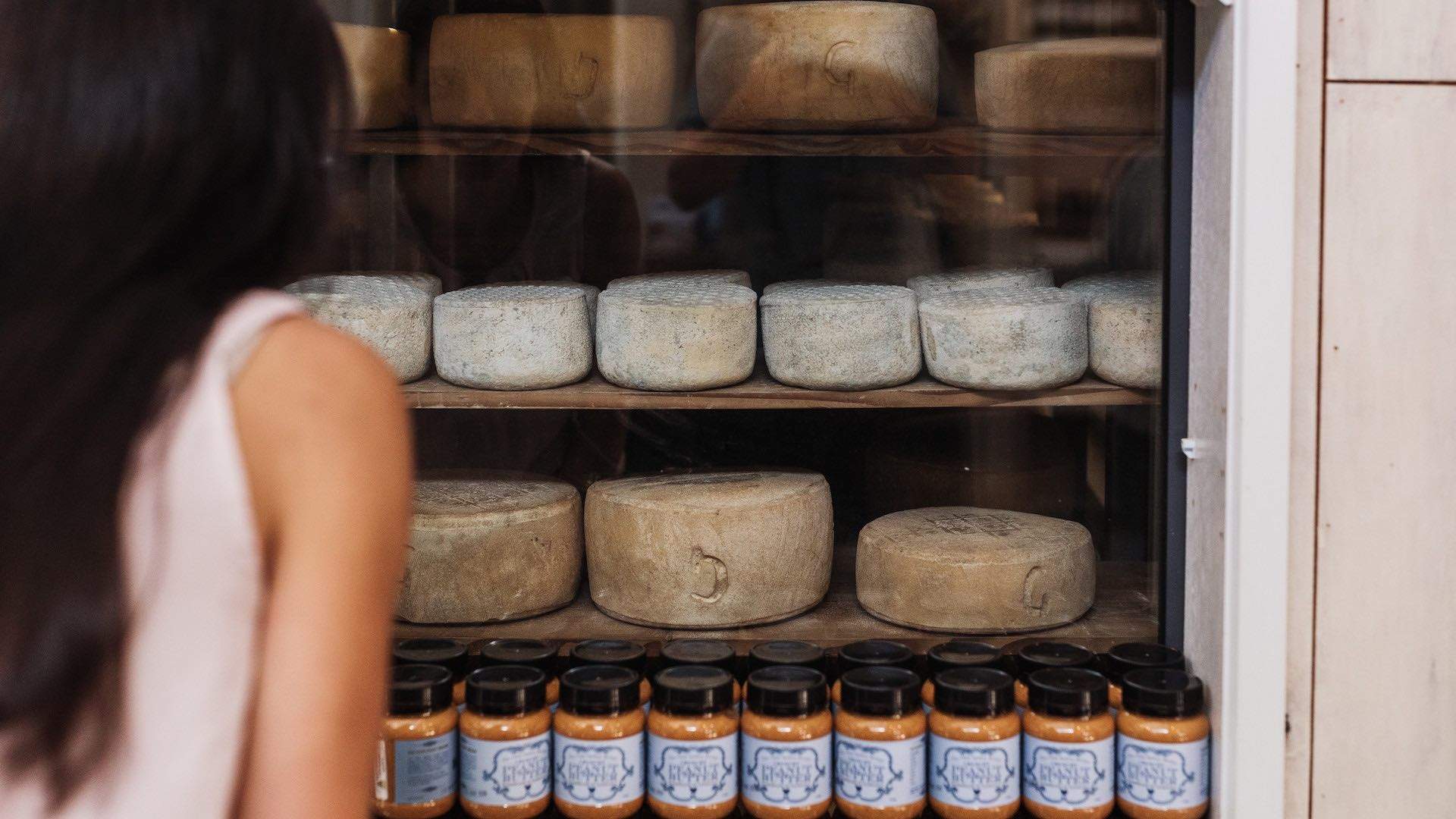 Whether you're a foodie, wine connoisseur or lover of the open road, southern Tasmania has you well and truly covered. While catching the Bruny Island Ferry back across the D'Entrecasteaux Channel, I couldn't help but dream of making a sea change to this beautiful part of the world. And while I love a scenic road trip with good company as much as the next person, this road trip rivalled almost every journey I can recall. Southern Tasmania surpassed my wildest foodie dreams and I'm willing to bet it will surpass yours too.
To start planning your own Southern Edge road trip, head to the website.
Concrete Playground Trips
Book unique getaways and adventures dreamed up by our editors