An Ode to the Old: Ten Long-Standing and Historical Sydney Pubs to Add to Your Must-Drink List
Grab a pint and soak up the history at one of these historic Sydney stalwarts.
Henry Lawson once quipped that "beer makes you feel the way you ought to feel without beer". While the Australian writer's final years were spent tramping around the streets of Sydney, penning poems for a pittance, there was an earlier, brighter time when he was known for enjoying a casual drink with his bohemian set in some of Sydney's famed pubs and hotels. Some of which, somehow, still stand.
Sydney has a fetish when it comes to knocking down the old for the new — or if not knocking down, then refurbishing until it resembles an airport cafeteria designed by an IKEA intern. But, a few unlikely establishments have managed to maintain an old-fashioned charm, which makes for a brilliant place to down a schooner.
So if you're nostalgic for an age gone by, there are still some watering holes that will deliver. A hundred years since Lawson met his untimely demise, here are ten of the best inner-Sydney pubs where you can wallow in the threadbare velvet of Victorian Sydney and wonder if you're sitting with the ghost of our most beloved, and possibly tragic, writer. The kind of place where you just might pen a poem, as Lawson surely did.
THE HERO OF WATERLOO, 1843
Several pubs in Sydney claim to be the oldest, and while The Hero of Waterloo almost certainly isn't, none transport to the early days of Sydney with as much authenticity. Standing for 179 years, the Waterloo serves as a guide to our dark colonial past. Be it the hand-chiselled sandstone walls or the smuggler's tunnel leading to the harbour, which is a Historic Australia Landmark as classified by the Heritage Council and The National Trust. It's not just a living museum but a wonderful place for a drink. It's also as haunted as a pub gets.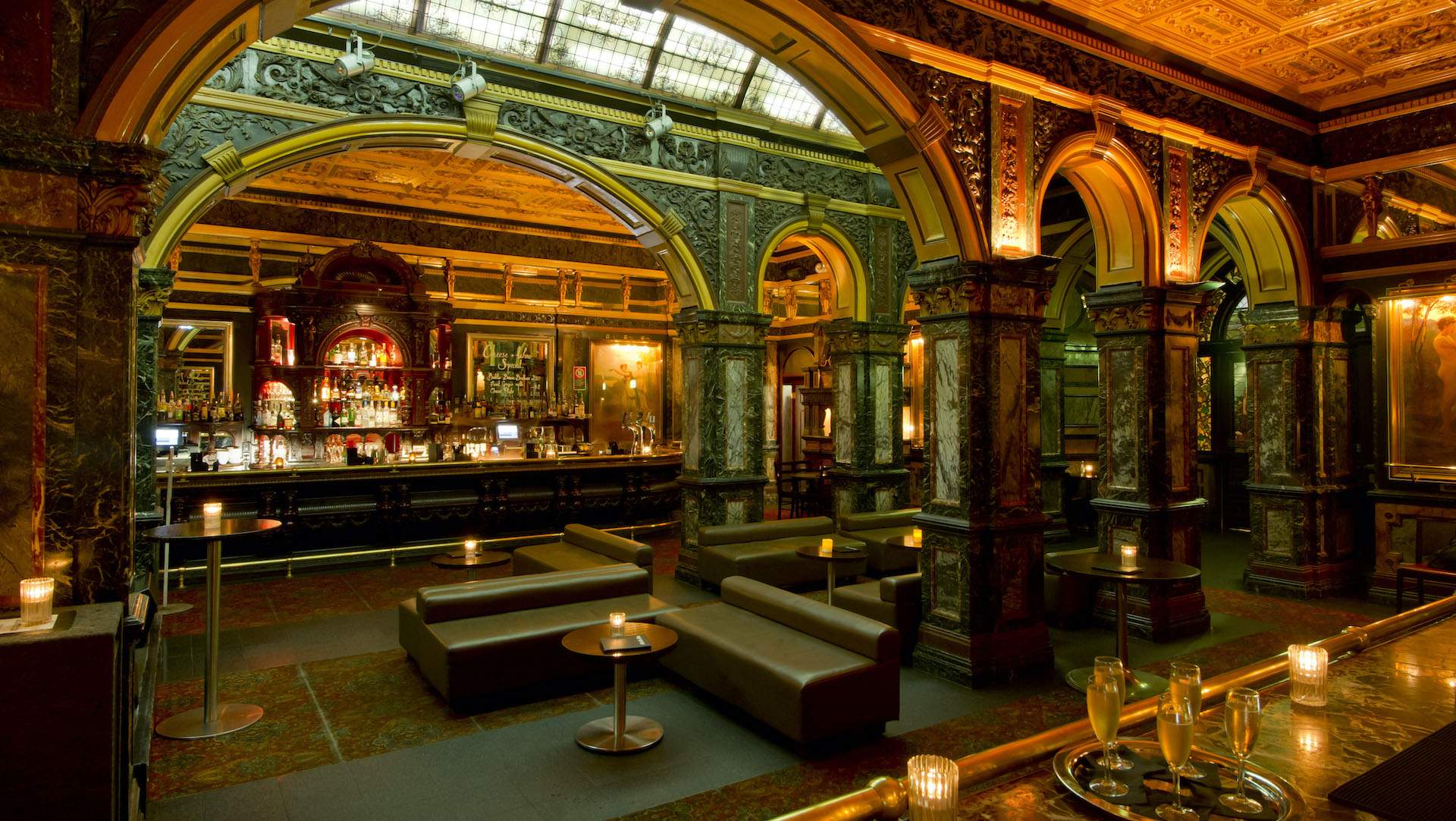 MARBLE BAR, 1893
Once above ground and now thoroughly below, George Street's Marble Bar was not a victim of a sinkhole, rather a rare story of development done well. Built in 1893 by man-about-town George Adams, it would eventually be dismantled and reassembled underground when the Hilton arrived in 1973. Crafted from the finest marble in Africa and Belgium, it cost a fortune but it gave Sydney something it lacked — an establishment to rival the finest saloons of Paris and London. Liza Minnelli once battled through a schooner here but I'd opt for a cocktail. A martini or a sazerac for the finest room in Sydney.
THE LONDON, 1857
Once the local of literary heavyweights Germaine Greer and Clive James, Balmain's London Hotel is among the finest examples of convict-era pubs. With its sandstone exterior, an interior decked out in South Australian timber and a brass-lined bar, it doesn't matter where you pull up a stool, you're bound to be enchanted. For a true Balmain experience, turn up on a sunny Sunday afternoon and wrestle your way to a spot on the balcony or the street-side beer garden. If you manage a piece of Sydney's finest real estate you'll soon understand why this 1857 landmark is the jewel of Darling Street.
SHAKESPEARE HOTEL, 1879
Rising out of the backstreets of Surry Hills like a pirate ship run ashore, the Shakespeare is a Sydney treasure. Built in 1879 there's a kegful of charm here, be it the blue tiles cascading down the bar or the Victorian-style rooms above, every nook and cranny has a story worth telling. Famed for journalists, skaters, actors and all the bohemians Surry Hills could conjure, it's the kind of place where you can bring your dog, have a Reschs on the street and a schnitty at the bar — everything a pub ought to be. For a genuine experience, grab a drink before catching a Bunnies vs Roosters match up the road.
THE EAST SYDNEY HOTEL, 1856
It's hard to say what most impresses about the East Sydney. It could be the fact it's pokies-free, the live jazz on Sundays or its effortless country charm. Regardless, it's a wonderful place to indulge yourself on an afternoon, especially since they offer up their own craft beer and have revitalised their bistro. Dating back to 1856, it's a landmark pub in a suburb of landmark pubs, but what stands out is its simplicity. No bells and whistles here, just a genuine nineteenth-century inn, with a commanding wooden bar, copper nail floorboards and an interior decked out like the Parisian Salon. It's a bush poem come to life.
THE NAG'S HEAD, 1865
Glebe might be the finest suburb in Sydney for a pub crawl, and if you're so inspired be sure to finish at The Nag's Head. Built in 1865 and named for God-knows-what reason, the true essence of the Nag is found on the second-floor balcony while enjoying a schooner. With its elegant front bar, a wonderful bistro and regular live music, if this ends up being your local then you're doing better than the rest of us.
THE BALD ROCK HOTEL, 1876
Complimenting the tranquility of its native Rozelle, The Bald Rock is a delightful pub designed to spend an easy and unassuming afternoon. Built in 1876 in the Victorian-classical style, the hotel retains its original sandstone interior, which gives it a bygone feel you just can't fake. With a storied history of booze-smugglers and drunken horses, it's now a family-friendly venue with a leafy courtyard and a high-quality bistro. Swing by on a Sunday night for live Irish music and the best guinness in Sydney.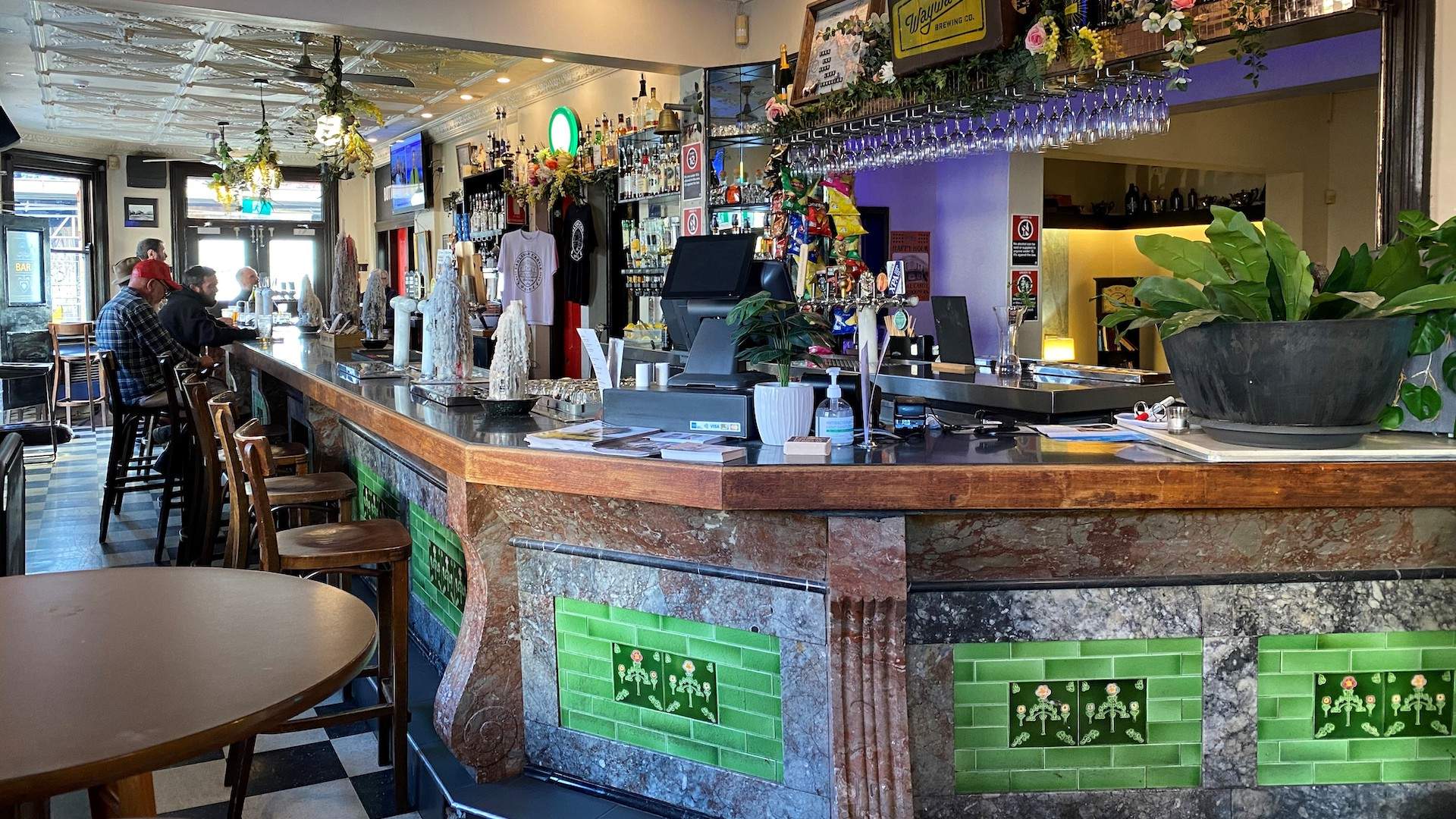 THE CARLISLE CASTLE, 1876
Somewhat sheltered from the madness of Sydney's most eclectic suburb, if you're lucky enough to stumble across the Carlisle Castle then prepare to be floored by Australia's best-looking old-school bar. Built in 1876, the Carlisle was refitted by Reschs in the twenties to include a glorious (and damn expensive) marble bar from Italy. It became the centrepiece of a hotel long adored by artists, musicians and locals. There's also a pool table, a dartboard, a piano parlour and more often than not, a dog on a stool enjoying a pint (of water). It's perfectly, unashamedly, Newtown.
THE LORD WOLSLEY, 1881
Gone are the days when this Ultimo institution was frequented by the movers and shakers of Sydney's criminal class. Now it's all craft beer and garden jazz on Sundays in New South Wales' narrowest pub. Standing tall since 1881, The Lord Wolsley boasts a killer bistro and a leafy ambiance brought to life with classic wooden finishes and suitably blood-red carpet.
THE LORD DUDLEY HOTEL, 1895
Enjoying a pint outside the Lord Dudley in Woollahra, the late, great Anthony Bourdain fell in love with a uniquely Aussie tradition. "Daytime drinking is really underrated," Bourdain observed. And we agree, few things are better than a pint of ale on a sunny Sydney afternoon and there are few places better than this eastern suburbs classic. Since 1895, this Tudor-like pub with creeping-vine exterior has been a drinker's paradise (a foodie's too, with scotch eggs, Guinness pies and lamb-fry). And if the sun ain't shining then park yourself by the ornate wooden bar, the dartboard or the open fireplace.
Top image credit: East Sydney Hotel Woolloomooloo by Cassandra Hannagan, 2020. 
Concrete Playground Trips
Book unique getaways and adventures dreamed up by our editors