FOOD & DRINK
Brix Distillers Is Sydney's New Inner City Craft Rum Distillery
When it opens this year, it'll be the first Sydney distillery to make rum in 200 years.
Brix Distillers Is Sydney's New Inner City Craft Rum Distillery
When it opens this year, it'll be the first Sydney distillery to make rum in 200 years.
---
It's no secret that few things get us excited as food and booze. But one place in particular is getting us really, really excited. When it opens later this year, Brix will not only serve booze — it will make it on-site. It's set to be the first craft distillery to make rum in Sydney in over 200 years.
Rum? Yes, rum. We're all pretty up to speed and pumped about locally distilled gin, thanks to the likes of (the game-changing and continually impressive) Archie Rose Distillery, but rum, generally speaking, is yet to infiltrate our collective craft spirit radar.
Brix will be a working distillery, shop, barrelling room and bar. It won't open for another few months, but we got a sneak peek into the construction site on Bourke Street in Surry Hills. The three passionate guys behind the whole thing are James Christopher, Damien Barrow and Siddarth Soin, and they're justifiably enthused about seeing their vision — which has been over three years in the making — come to life. The co-founders are old friends (and are also partners in Cammeray's popular local restaurant Public) and together they want to change the people's attitude to rum.
Like a lot of spirits that we potentially had a bad experience with and wrote off for eternity, rum could do with a bit of a lift in reputation — and these might be the guys to do it. "People can come in and learn about the versatility of the product of rum, how it's made and the nuances of the different styles and flavour profiles," Barrow says.
Part of their job will be to educate the public about the diversity of the spirit, which runs from a clear rum in a mojito to a syrupy spiced rum. "Or an aged rum, similar to whiskey — you can have it on the rocks and it has all the complexity to match — but it's not really widely appreciated in that way," adds Soin.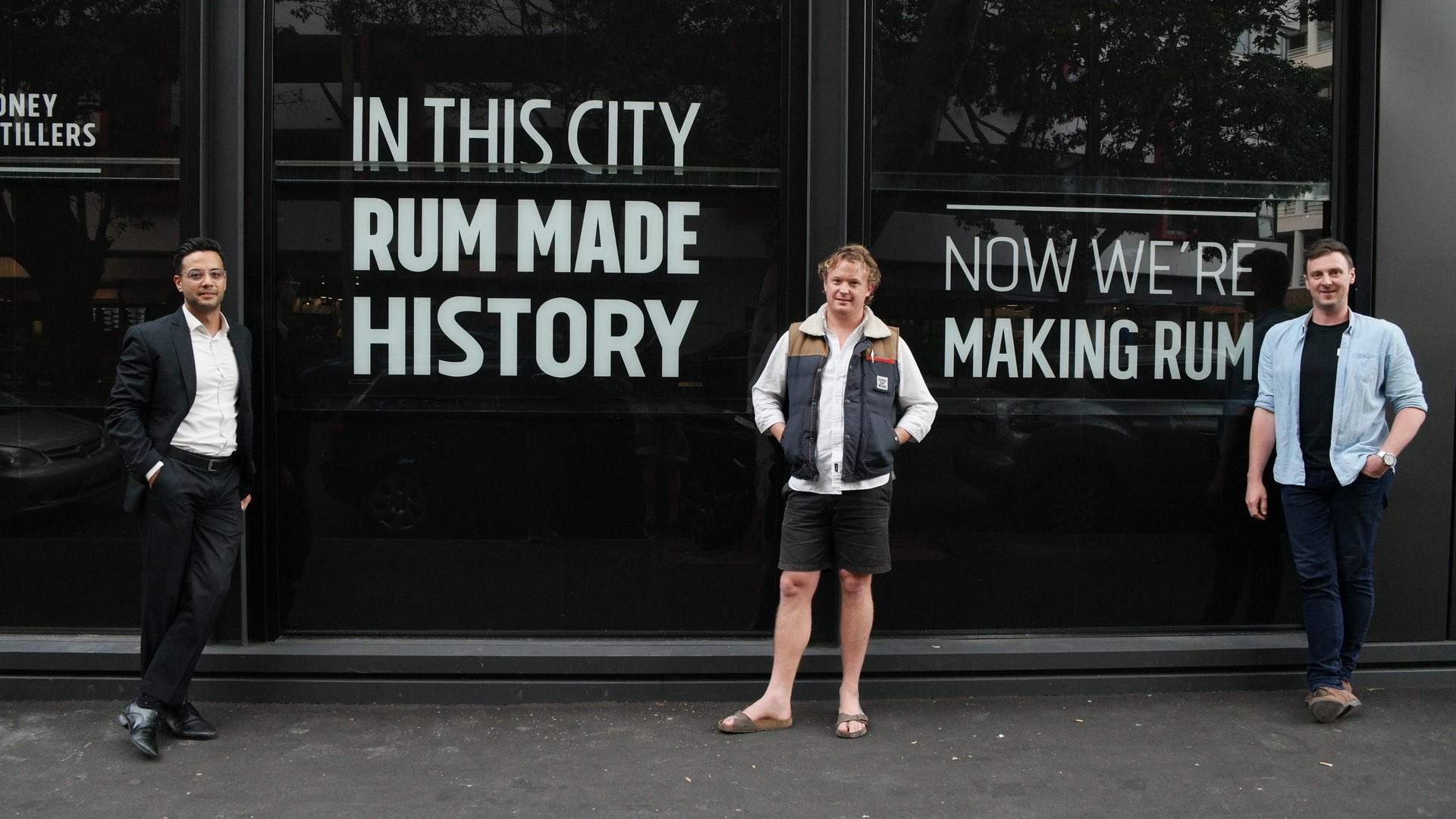 Grounded in transparency, the Brix experience is about changing the perception of rum in our culture and, according to Barrow, "celebrating its rich history via re-education, all the way through to appreciation". The venue will feature a fully working distillery with a 1200-litre still and will be overseen by a master distiller. They will start by distilling a white rum, turn one into a spiced rum and one into an aged. All will be available to buy as they will be bottling their own new-to-market craft rum product. It'll also be put into drinks as well as learning about the process in tours, tastings and private barrelling sessions with the head distiller, where guests can even buy their own 20-litre barrel of rum to take home.
Words like "craft" and "local" are bandied about, but the team behind Brix are doing things authentically, from the copper of the still being Australian-sourced, to the menu that features predominately local and craft spirits, beer and wine. The barrels used in ageing are sourced from the Hunter Valley and the base product of sugar cane or molasses is sourced nationally. The spiced rum will also use native Australian spices and botanicals.
As well as its own haul, Brix will have a 'rum wall' with over 100 varieties from around the world. The grand space, which has been designed by interior design firm Amber Road, will integrate the open production of the distillery into the aesthetic, as well as showcasing the raw ingredients as they arrive. There'll be a more intimate mezzanine barrelling room overlooking the still upstairs, and an open kitchen with counter dining, banquette seating and bar tops fitting around 80 people on the ground level.
Brix won't be a restaurant, but "food will still be important" — the team is still nutting out the menu. It'll open from midday to midnight six days a week, and are hoping to swing the doors open in the middle of the year.
As for the name, 'brix' is a measurement of sugar in a liquid and is actually part of the rum making process. "At some point the distiller has to measure the brix of the liquid he's about to throw yeast into," Christopher explains.
So what is the rum making process, in short? "Rum is made from sugar cane juice or molasses that is fermented, then yeast is added to produce alcohol. "It's then boiled at a temperature below boiling water, which makes the alcohol evaporate, leaving water behind, the alcohol goes into the column of the still as a gas, which is re-condensed, turning back into the clear liquid," he says. It can then be aged, spiced, mixed and blended at the hand of a distiller, and as Barrow says, "it's science up to a certain point, when it comes out of the still, and then it's an art — that's when the craft element comes in".
And if you skimmed over all the sciencey part of that explanation, fear not — things will make a lot more sense at the distillery.
Perhaps one of the most promising aspects of this pending opening is the fact that this is the first producer wholesale license to be granted in Sydney since the relaxation of the free zone laws. The approval of this venue shows real hope for the reinvigoration of our beloved and embattled hospitality scene. Damien says, the City of Sydney was "incredibly responsive and cooperative, in fact we'd like to tip our hat to them and say thanks". As we said, a fair bit to be excited about.
Brix Distillers will open around mid-year at 352 Bourke Street, Surry Hills. We'll keep you updated on an opening date and you can check brixdistillers.com.
Images: Ming D. 
Published on April 13, 2018 by Monique Lane