Darlinghurst's Mrs Palmer Is Selling Takeaway Sandwiches Created by Some of Sydney's Best Chefs
Expect next-level sangas from the likes of Tetsuya's Josh Raine, Aria's Joel Bickford and Merivale's Jordan Toft.
Opening in late January, Mrs Palmer didn't have much time to establish itself in Darlinghurst before the lockdown hit and cafes were forced to close to dine-in customers. As the sandwich shop and margarita bar is still allowed to offer takeaway, though, it's doing just that — with a helping hand from some of the city's best chefs.
Mrs Palmer is teaming up with ten top chefs to create limited-edition sandwiches, with each one available for takeaway for just two weeks. Over the last fortnight, Josh Raine, executive chef at Japanese fine diner Tetsuya's, was on the pans, whipping up an American-Japanese number with burnt burger cheese bechamel, smoked bacon, kombo fried chicken and saké pickled cucumbers.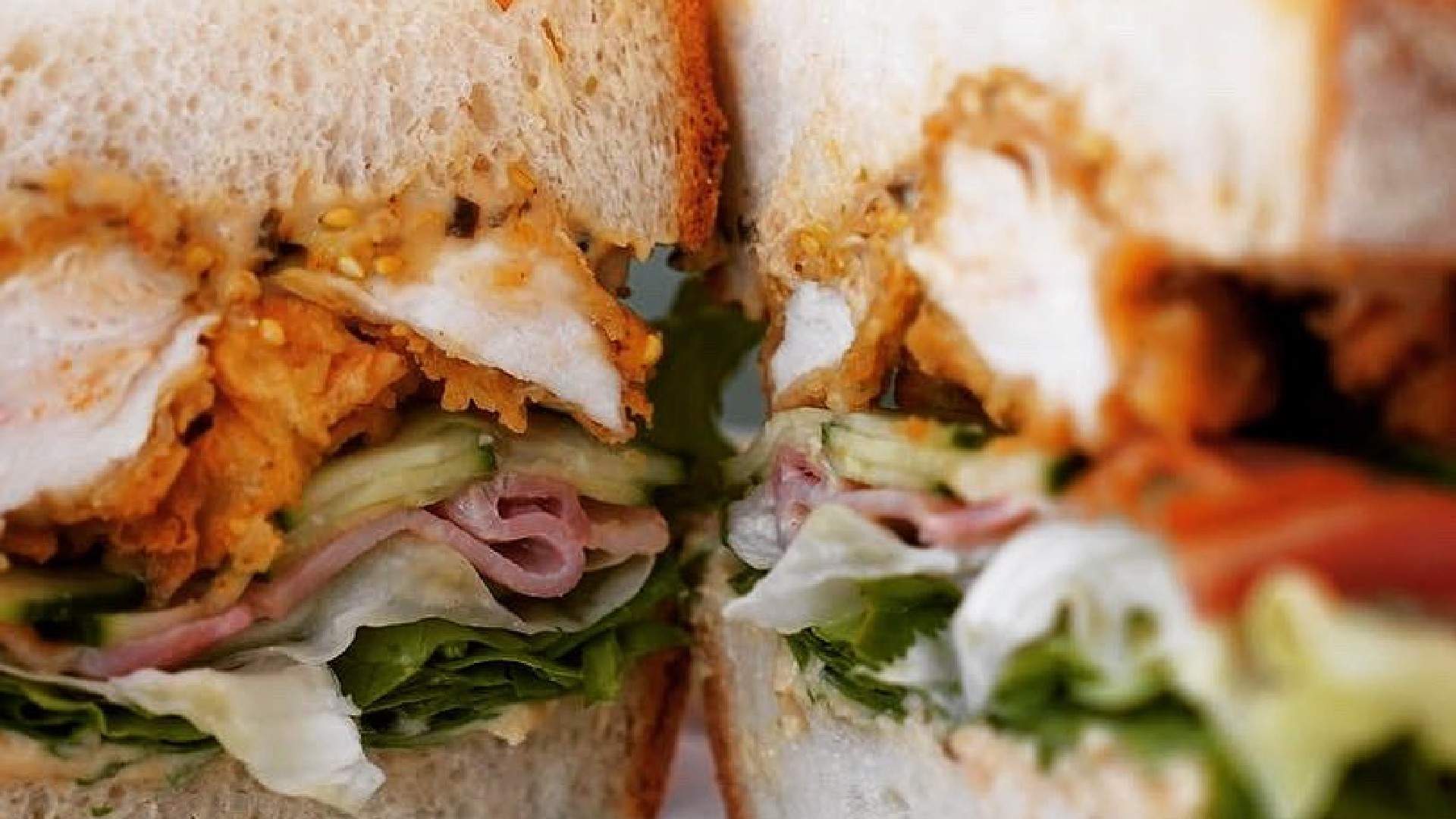 On the menu now until Friday, May 8 is a dry-spiced short rib sandwich ($20) from Aria's executive chef Joel Bickford. Two thick slices of bread are slathered in fermented chilli and piled high with wombok, hand-foraged pickled mushroom and fried shallot. You can watch the creation of the masterpiece over here.
This sanga will be followed by a number from Merivale's Jordan Toft (Bert's, Mimi's), Limone Dining's Luke Piccolo and not a chef but a DJ, Hayden James. More chefs are expected to join the lineup in the coming weeks, too. Exactly what these chefs will be creating is under wraps for now, but keep an eye on Mrs Palmer's Instagram to find out. Each sandwich will cost between $13–25 depending on what is inside it.
If the fortnightly sandwich special doesn't quite tickle your fancy, the shop also has a falafel sanga with garlic sauce ($11), one with crispy pork belly ($14), The Cure ($13) with three different cured meats (wagyu pastrami, spicy salami and mortadella) and a riff on a parmigiana ($14). There are also two salads and four types of fries (including tater tots and haloumi fries).
Mrs Palmer is located at 81 Stanley Street, Darlinghurst and open from 11.30am–3pm Monday–Friday. To preorder for pick up or organise free local delivery around Darlinghurst, call 0400 475 710.