FOOD & DRINK
DZ Deathrays Have Released Their Own Beer
They've teamed up with Young Henrys to make 'Pils 'n' Thrills'.
Musicians dream of many things: playing packed-out gigs, releasing a hit album that rockets up the charts, and attaining Kanye-levels of fame and fortune, just to name a few. Getting your own beer has to be on the list as well — and that's a rockstar achievement DZ Deathrays now has covered.
No, bandmates Shane Parsons and Simon Ridley haven't cooked up a batch of homemade ale (well, that's not what they're unleashing upon the world right now, at least). And no, there's no rum involved, even though the duo both hail from Bundaberg. Instead, the ARIA-award winning Brisbane outfit has teamed up with the fine folks from Sydney brewery Young Henrys to make their very own brew. If Queen and Pearl Jam can have their own tipple, why can't they?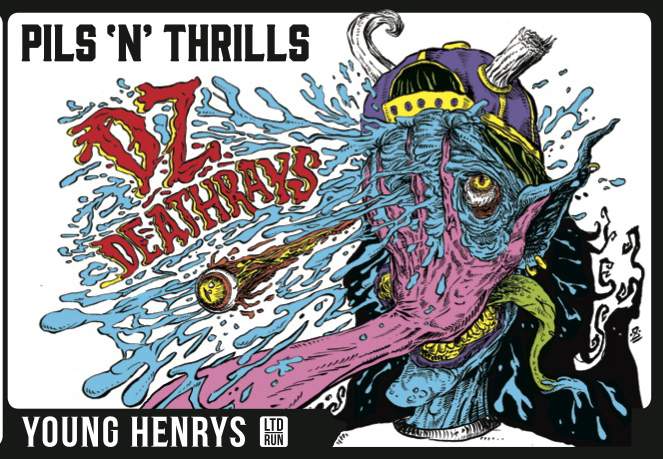 Called Pils 'n' Thrills (Wellington's Garage Project will be raising a few eyebrows, they've already released a beer called Pils 'n' Thrills), DZ Deathrays' beverage of choice is a Czech-style pilsner complete with a stripped-back, classic, compact malt bill and a surprisingly hoppy palm to the nose. If you don't speak beer speak, that means that it's flavoursome, tasty and refreshing, i.e. all the things you want in a pint.
Of course, Pils 'n' Thrills is a limited-edition affair, so you'd best head to your local stockist to get your fix quick smart. Then, next time you indulge in one of life's simple pleasures — aka enjoying an ice-cold beer while listening to your favourite band — you can do it with DZ Deathrays' very own drinks in your mitts.
For more information about Pils 'n' Thrills, check out the Young Henrys website. 
Image: Luke Henery.
Published on April 19, 2016 by Sarah Ward