FOOD & DRINK
How to Shop For Wine Like a Sommelier
Make sure that cheap bottle you're buying is a good one.
in partnership with

Shopping for wine can be a complicated, overwhelming experience. There are often just too many shelves, labels, varieties and styles to choose from. When you don't know a lot about wine (or even when you do), picking a good bottle is a difficult job.
We asked sommelier and wine expert Eddie Schweitzer from online wine store Vinomofo for some advice. How do you find out what style of wine you like? How do you get a decent bottle at a reasonable price? When is a bottle worth more than $100? And most importantly, should I be swirling the glass?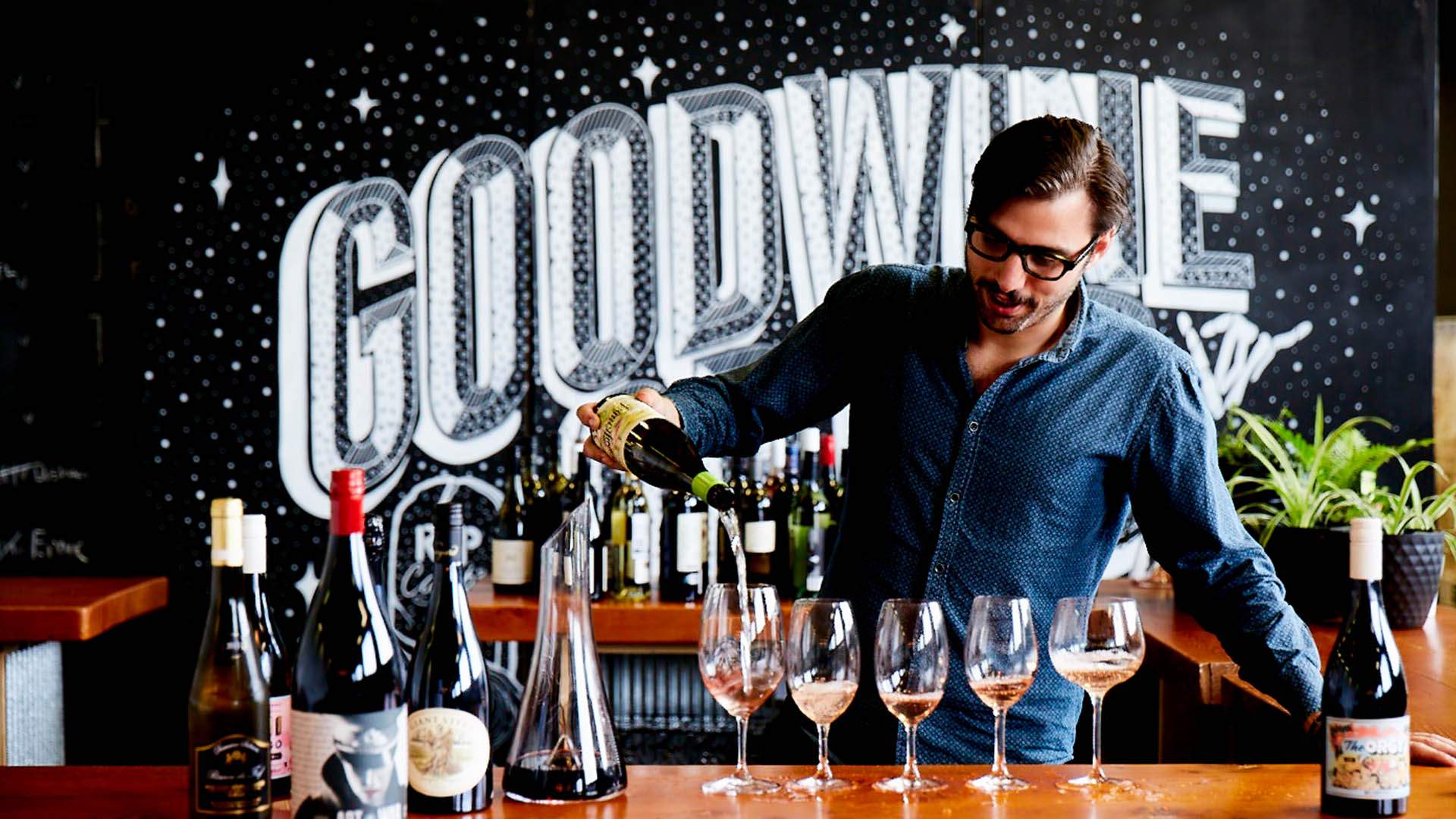 Hi Eddie, I know nothing about wine — how do I shop for it?
"Taste a few wines until you find a region or variety that you know you like, then take little steps to try new things. If you like a Pinot or a lighter-bodied red, ask the bottle shop what other wines they have in that style. If you can find somebody in a good wine store that you trust, that's fantastic because you can ask them for advice. Don't just go in and say, 'I want a good wine at this price,' or just buy what's on special for the sake of it — work with what you know you like."
How do I buy a decent, relatively cheap bottle?
"Australian consumers are shy of blends for some reason, we really like having one variety on the label. But often at a lower price point, you can get much better wine that's a blend of different varieties. A GSM — a blend of Grenache, Syrah and Mourvedre — is a fantastic, crowd-pleasing, easy drinking wine that a lot of people don't pick up because they think winemakers are just putting the cheap bits together, but that's very rarely the case. Steer away from anything that says 'Wine of Australia' or 'Wine of South Eastern Australia' because Southern New South Wales all the way through to South Australia is a big area. It's big, bulk wine that's very commercial. Instead, get a wine that has a specific region. If you like bigger, richer reds, go for a wine from a warmer climate region. Lighter-bodied reds, like a Pinot, should be coming from a cooler climate region."

Is bulk wine automatically of poorer quality?
"It doesn't mean it's not a good quality wine, but people drink wine because it has personality. That's what makes wine different from a VB or a Carlton, it's talking about a vintage or a specific place. If you buy bulk wine, it could be fine, but it will usually be pretty boring and bland. A $6 bottle might be fruity and drinkable, but it's not going to give you much of an experience. We don't sell anything 'Wine of Australia' because it usually lacks any interesting flavour."
What's worth paying a little more for?
"Pinots and Chardonnay are only made well in cool climates, are a little harder to grow and are in high demand. If you want a good bottle of either of these types you'll have to spend a little more — probably about $15-25. Sauvignon Blanc and Shiraz on the other hand is made in much bigger volume, and has a lower production cost, so you can get a good value wine in a lower price range."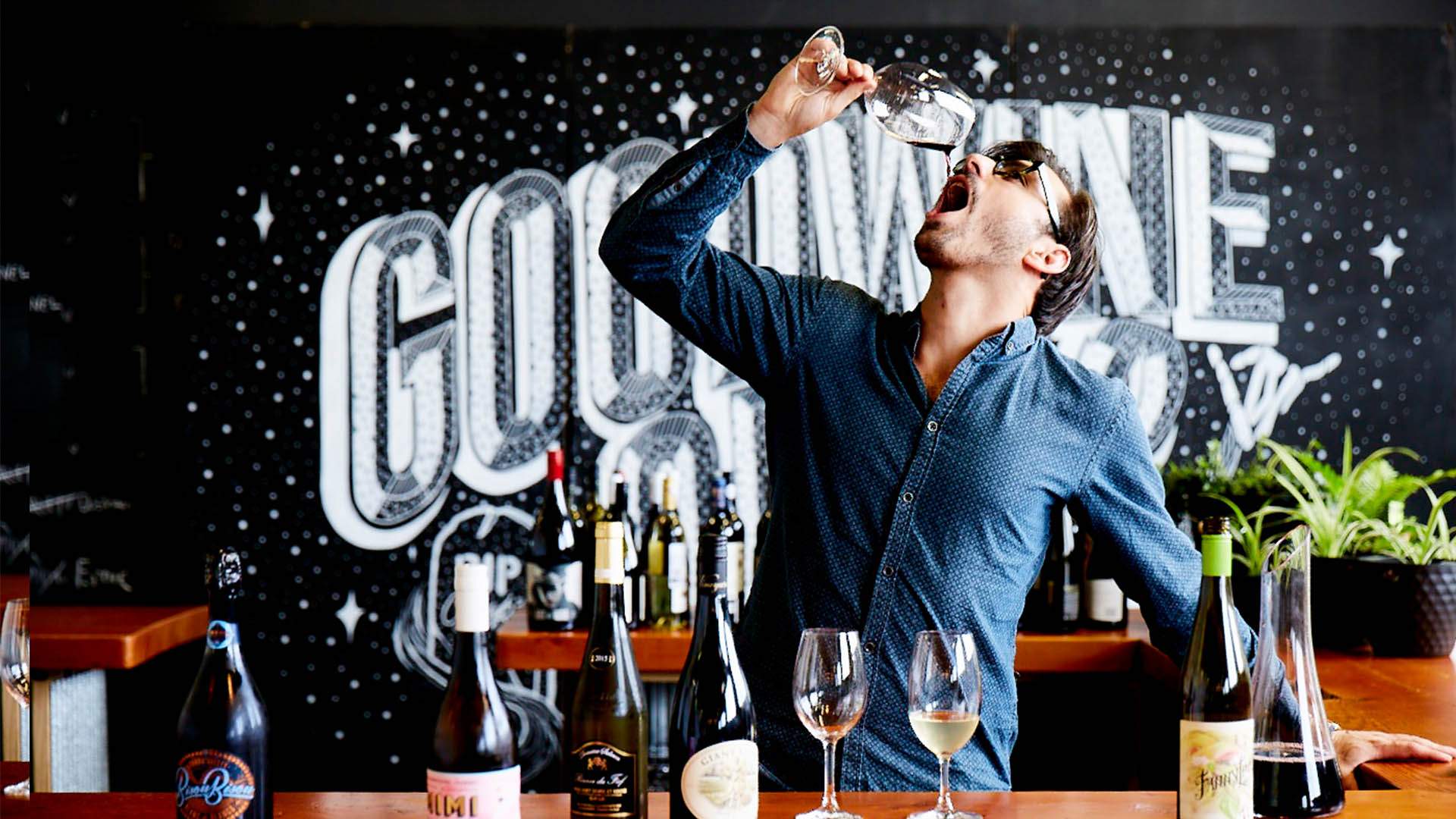 When is a bottle of wine worth more than $100?
"There are a few things that can make a bottle of wine expensive. The first is the cost of production. Some wines are expensive because the vines only produce a few grapes, and the grapes are really sought after. Other production costs like how long it spends in oak and how long it's aged for can affect the price. Tasmanian wine tends to be a little bit dearer, because they don't produce a lot of grapes, and they're doing great things with food and wine at the moment so they're in demand. You'll spend a little bit more, but whether it's worth it or not is up to you."
So if I buy a Pinot Noir in Tasmania that costs $100, and one in South Australia for $30, there's no guarantee that the more expensive option is going to be better?
"No. It's about the enjoyment you get out of the bottle, not the price. At Vinomofo we're all about connecting people to really good wine, and good wine is personal. First and foremost, it's about what you find enjoyable to drink."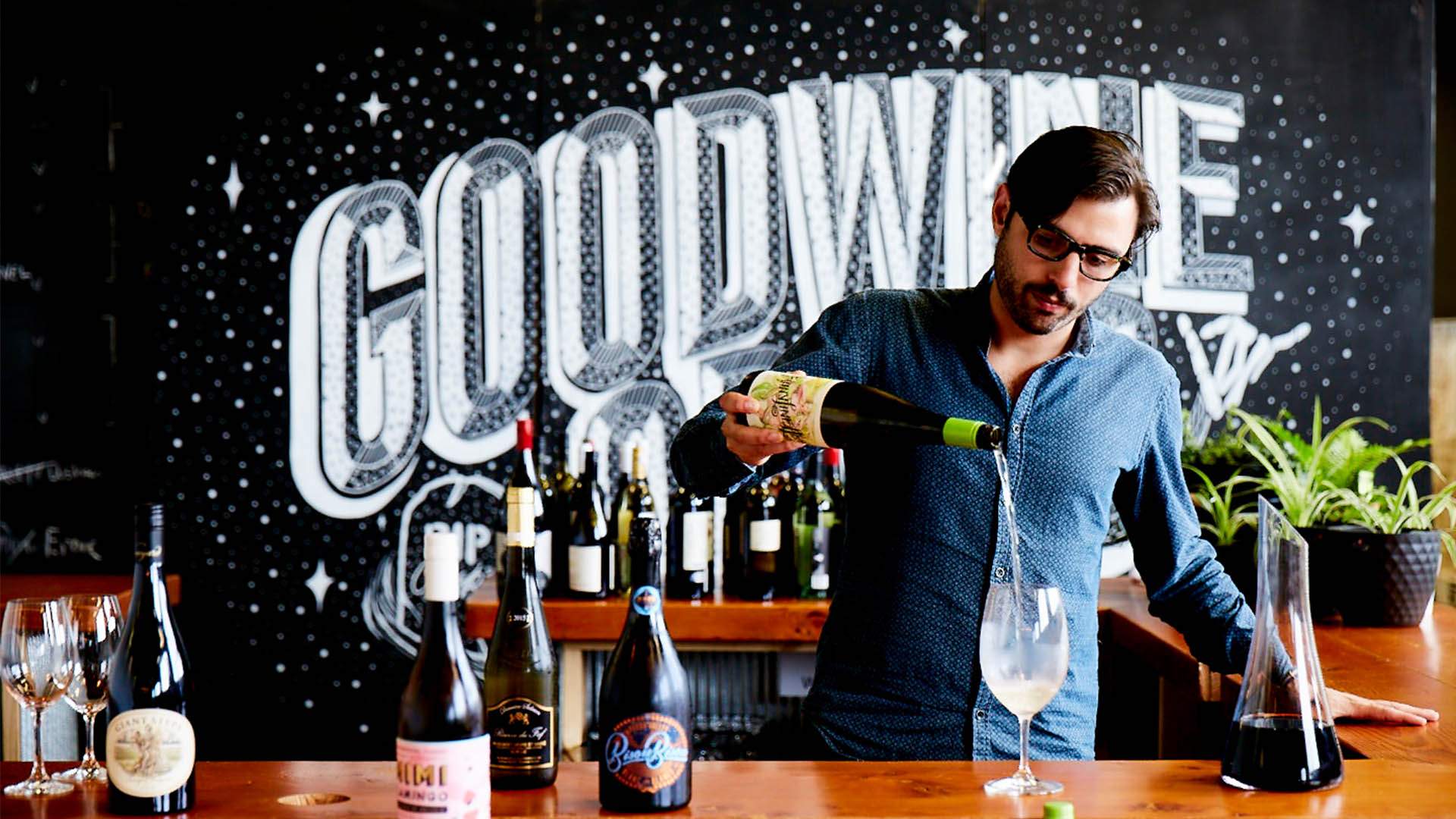 I'm scared of wine tastings — how do I do one properly?
"When I taste wine, I'm tasting it so I can describe it to people, so I'm paying attention to acid levels and alcohol percentage and other things. But you should be just smelling and tasting the wine to see if you enjoy it. Most of your perception of flavour comes through smell. Your brain puts the smell and taste of the wine together and decides if you like it or not. Have a smell, and a taste and think 'Hey, do I like this? Or don't I like this?' Then you can ask, 'Why do I like this? What is it about this wine that I'm liking?' Maybe it's a little bit lighter, or fruitier, or maybe it's got this really interesting herbal flavour. Or maybe it has something that you don't like. The more you pay attention to what you're tasting and what you like, the easier it will be to shop for wine."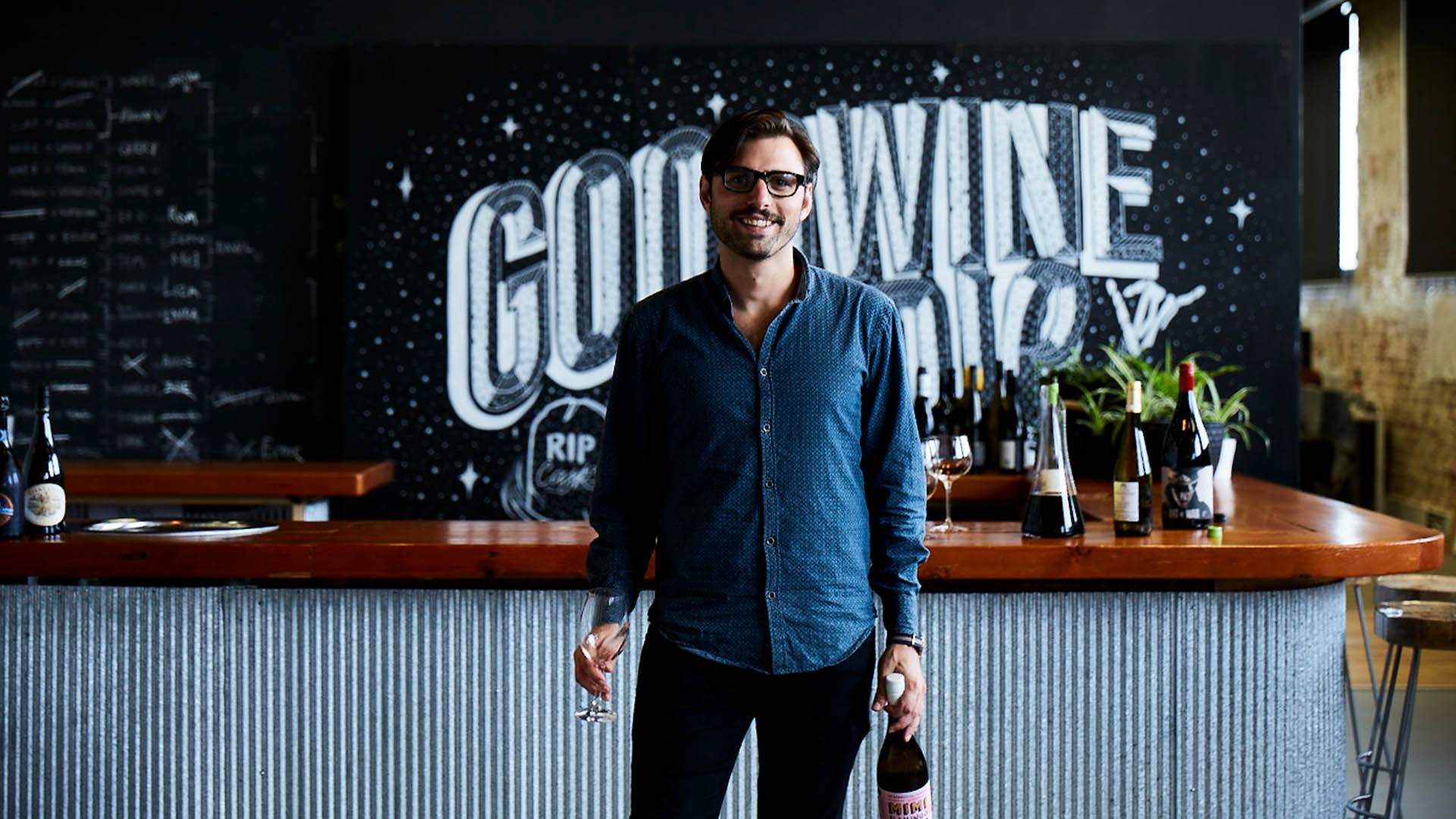 Should I be swirling the glass?
"Yes. While the wine is in the bottle think of it like it's in bed, asleep. Giving it a swirl is like throwing it in the shower and waking it up, so then it can really come to the party and let you know what it's all about. On a technical level, by taking the wine out of the bottle and swirling the glass you're exposing the wine to oxygen, which releases the aroma of the wine. Then you can taste the wine properly."
Any final advice?
"Wine is a very personal thing. Just because someone says a wine is really good, that doesn't mean you're going to like it. Get a mixed case from Vinomofo and sample a bunch of different wines to find out what you like. Don't be scared to ask for advice — ask someone at a boutique bottle shop, or give us a call and tell us what you like and what you don't and we'll help you out."
Visit Vinomofo and delve into a world of wine. Use the code 'CONCRETEPLAYGROUND' at checkout to receive $25 off your first order.
Images: Chris Middleton.
Published on February 21, 2017 by Kelly Pigram